Персональная демонстрация
Оставьте заявку и мы проведем для вас персональную демонстрацию сервиса, предоставим пробный период и предложим комфортные условия для старта использования инструмента.
Is entity SEO the future of search?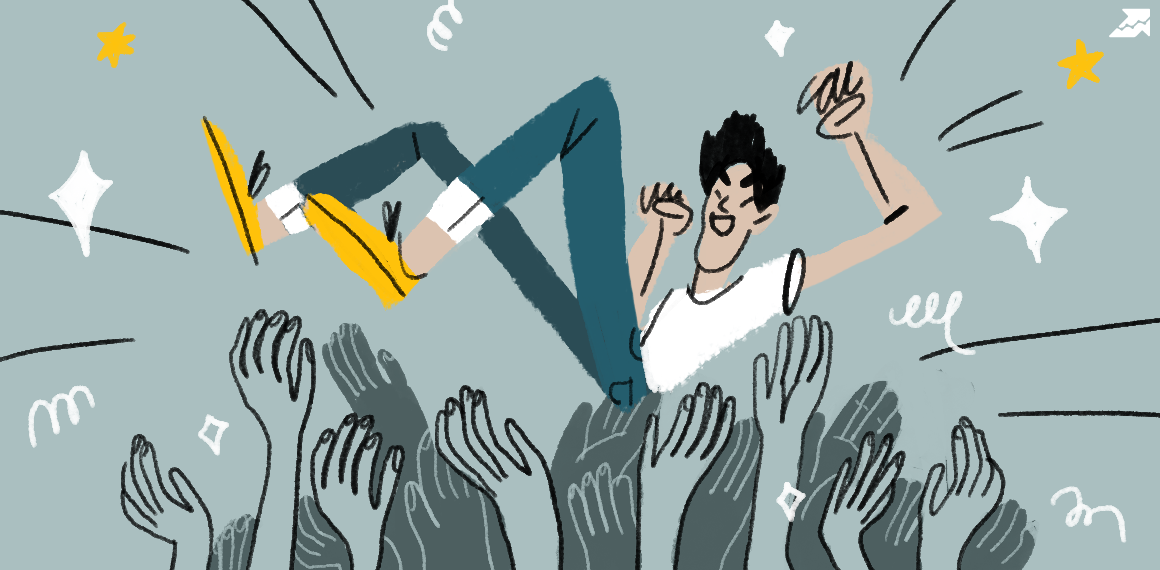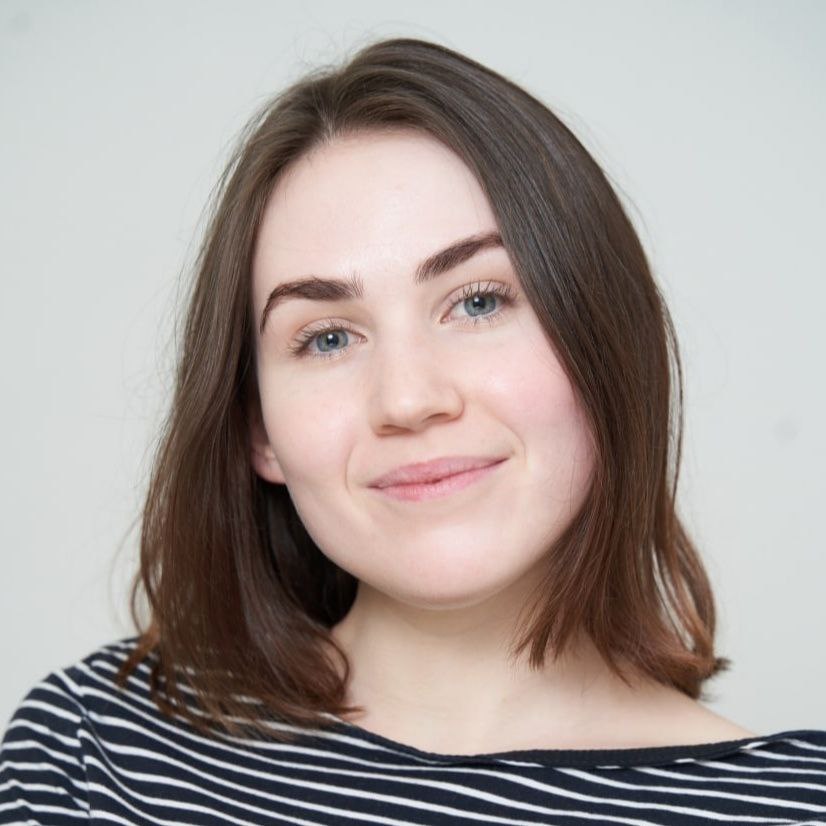 Entity SEO sounds like something ultramodern. But is it actually new?

Let's start with defining what entity SEO is.

Around 10 years ago the search page was full of low-quality search results and Google started to introduce updates like Panda to provide users with better information. One of the significant changes in 2012 was the introduction of Google Knowledge Graph.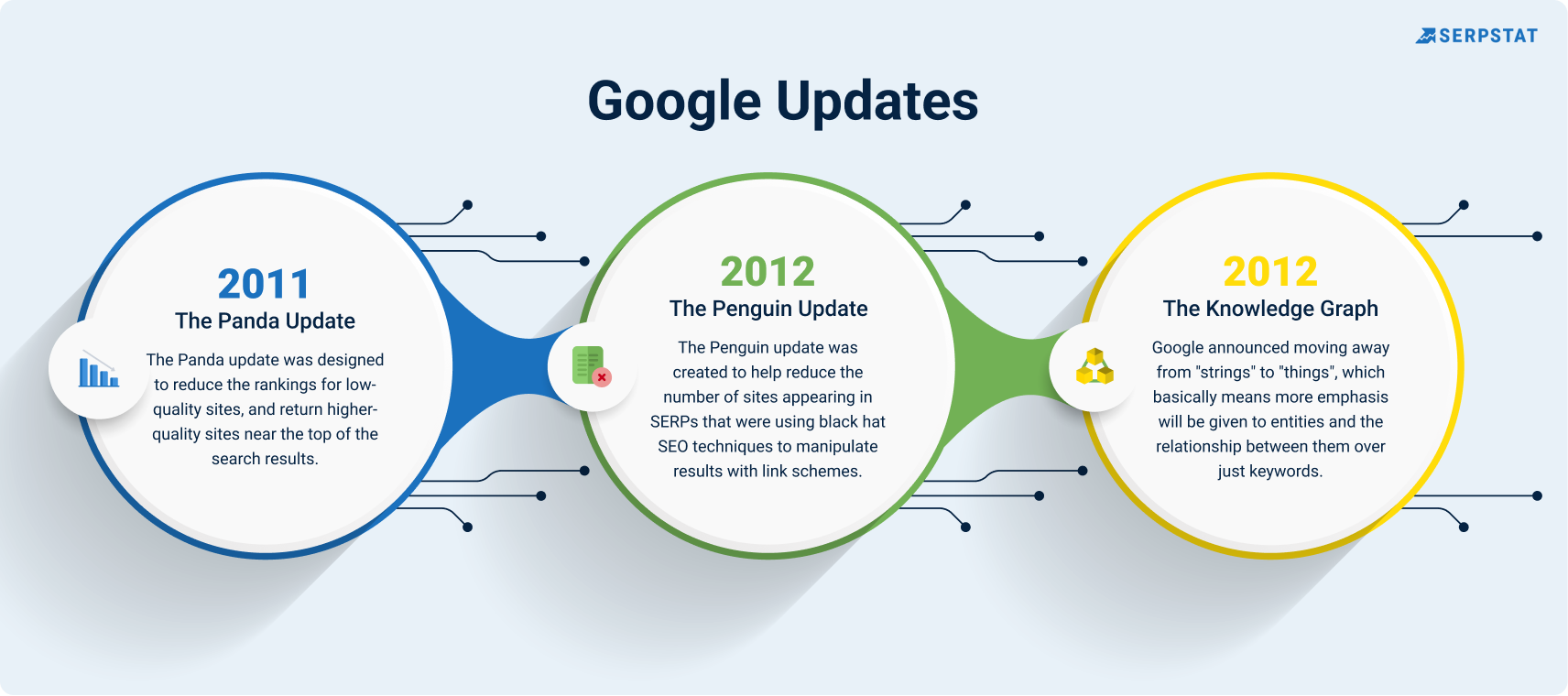 It helps you easily find the best information and go in-depth to broaden your knowledge about the topic.
How is it connected to entities?

To understand that entities are not a new concept let's take a closer look at the Knowledge Graph. I was looking for the highest mountain in the UK and Google provides me not only with defense of links or primary data. It shows information that's somehow connected to our search query.
That happens because Google Knowledge Graph is a semantic network, represents a network of real-world entities and illustrates the relationship between them.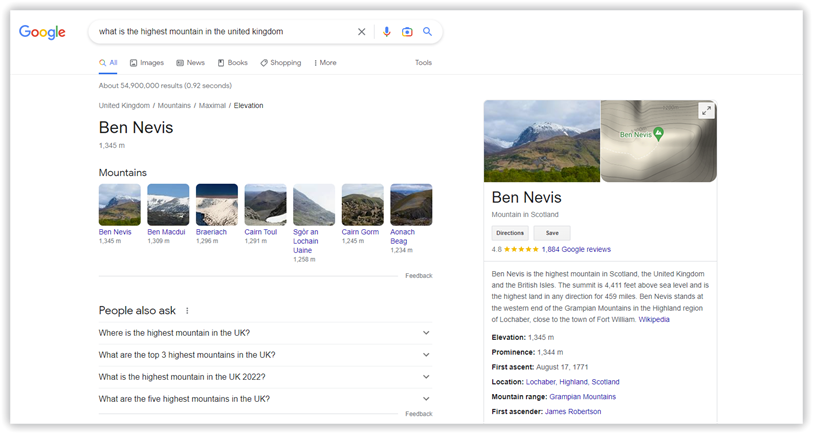 Entity SEO is not new. I think the name is fresh, but the concept has been there for years. Even back when I started doing SEO in 2014, one of the things I learned about was related to "topics" that need to be present on the page that is not a direct derivative of the main keyword.
For example, if you talk about flying to Paris, something you need to mention naturally on the page is the "Eiffel tower" even though it's not a part of your usual keyword research and no keyword research tool will return the "Eiffel tower" when you use it to find related keywords for "flying to Paris".
In other words, entity-based SEO helps users find information based on context rather than keywords alone.

What is the difference between the keyword and entity?
It can be hard to distinguish keywords and entities since at first glance they are pretty familiar. But still, it's easy to catch the difference, if you see it once.
According to Google, "entities include things or concepts represented linguistically by nouns."
Google identifies entities as part of its algorithm and stores them in its knowledge graph. Google shifted its focus from "string" and words to "things," i.e., entities.
Entities are nouns, so they can literally be anything physical, an idea, or a concept. People, places, events, and objects can all be entities.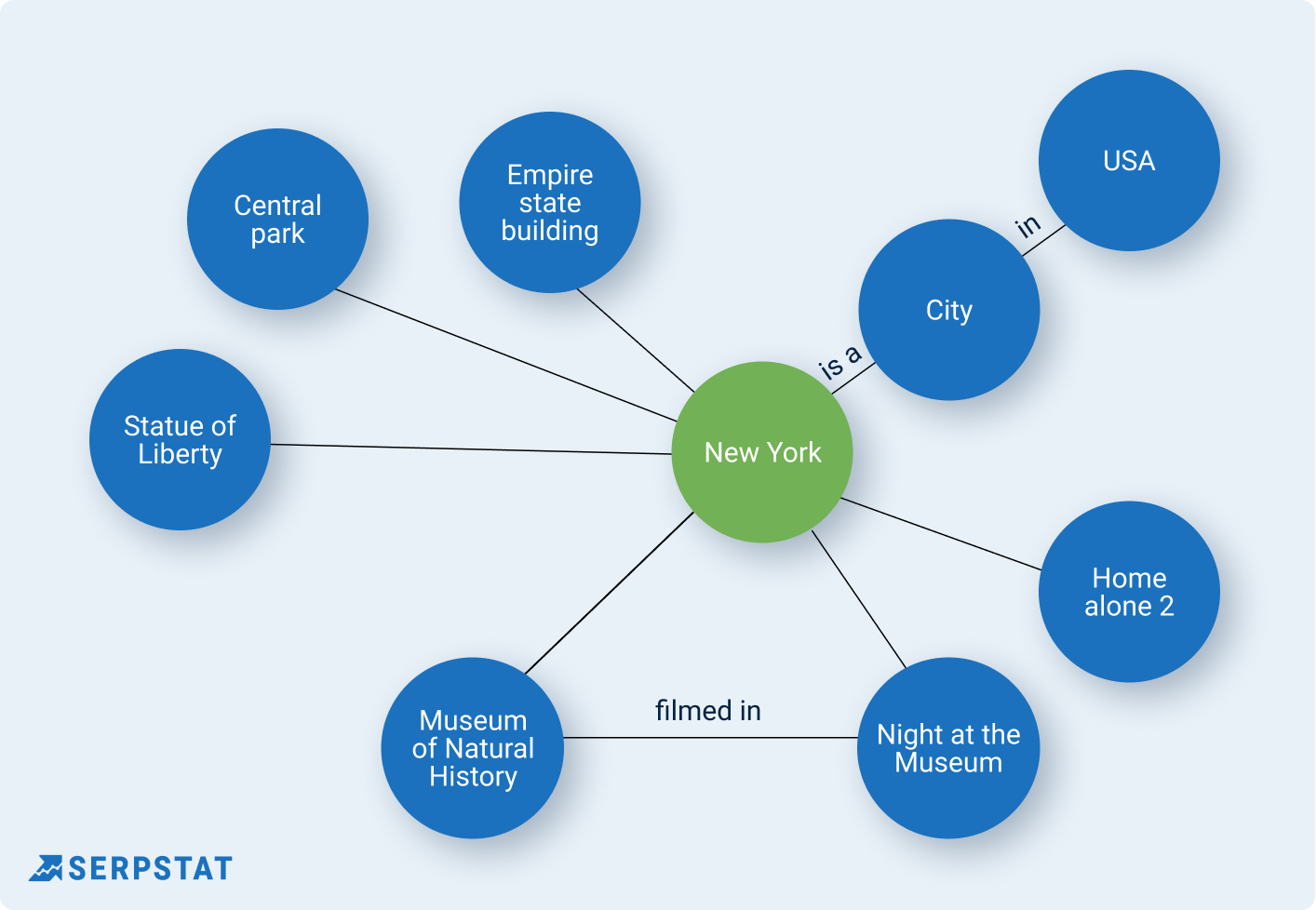 The concept of keywords comes from "search queries," or what the user types in Google to find information. But entities are the words that relate to your primary keyword. So they are not necessarily part of your target keywords.
For example, if you are looking for "how to cook pasta," other keywords can be:
Pasta cooking;

pasta cooking instructions.

But entities can be: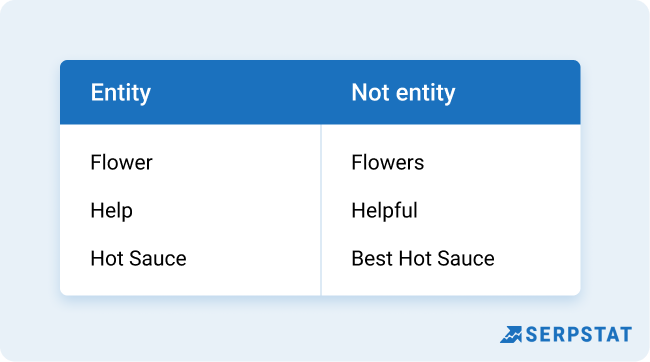 What is the context for an entity, and how to create it?

The most interesting part about entities is their connection with each other. So how does it work? 

In general, if two terms are commonly used together (for example, "Tim Burton" and "director of Wednesday") you get something like: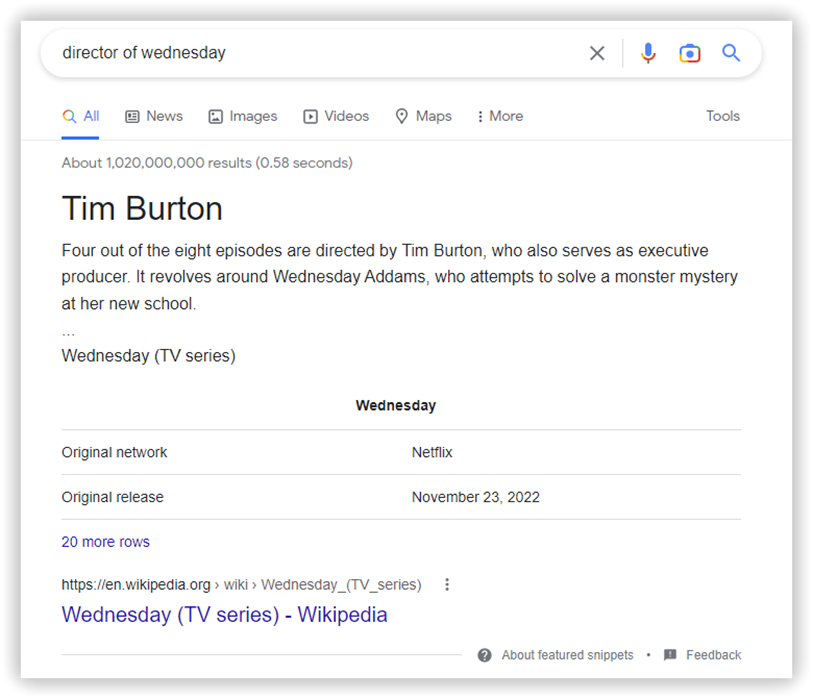 Sara considers that entities is the one of the criteria how Google defines the relevancy of the content.

Google uses entities to determine relevance, topical authority, and how in-depth a blog post is about a specific topic. So if you write about "how to live in Cairo" and do not cover anything about "traffic," this can signal to Google that the content is not thorough enough.
To create relevant context for your entity you need to go deeper in the topic and investigate the connected entities. 

For example you're writing about a trip to Nashville, a small town in Indiana. It's easy to mix it up with Nashville in Tennessee. So to help identify it correctly you need to mention Brown County State Park, which is located right near the city or some other significant places.
By mentioning Nashville in the context of other locations or landmarks, you make it clear which of these entities Nashville belongs to.

What tools can be used to find entities? 

We basically need to do some research to find related entities to the topic we are writing about. There are many ways this can be done, such as image search or analyzing competitors' entities with various tools like the "Google Knowledge Graph Search API." You can also brainstorm them. Once we have our list of related entities, we need to ensure they are sewn naturally within the content.
You can use numerous open sources such as Google Image Search, Google Trends, Wikipedia, search suggestions and many more. As well, sometimes entity search can be done just with a brainstorm.

But let's take a quick look at some unobvious tools to find entities quicker. 

1.
Topical connection tools
There are some tools that can show you connected words based on your entity. For example, entityexplorer, textrazor, topically.

You just need to enter your topic and you will have a scheme with related words.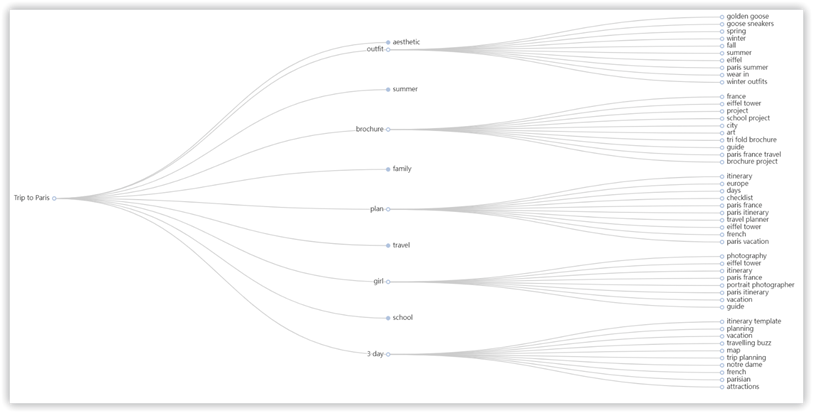 Of course, ChatGPT is something that people have been talking about for the past month, and everyone probably already knows how to use it for text generation. But is it possible to apply AI functionality to entity SEO?

Kushal Byatnal, co-founder and Advisor of Stir, shared in his Twitter that OpenAI can help in entity recognition. Which can benefit both developers and SEOs.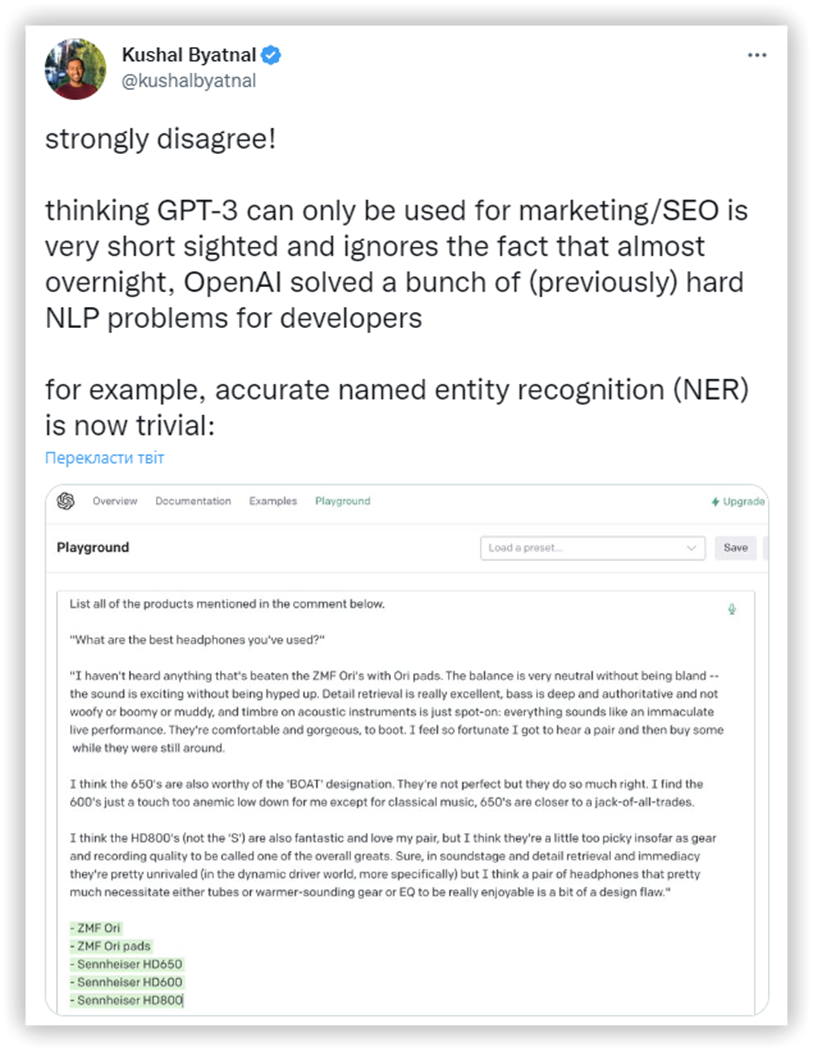 How to optimize a website for entity search?

Considering the importance of entities for relevant search results, the main question is how to incorporate them into your strategy. 

Here are a few steps from Sara:

1.
Create a topic map
A topic map depicts related ideas to your topic. It helps to understand how fully you have covered the topic, thus achieving topical authority.
2.
Prioritize the topics
After you have created a topic map, choose the topics that are important to talk about first. Keep in mind that some topics may require several publications.
3.
Conduct keyword and entity research
Using the tools and tactics mentioned earlier, conduct entity research. You can organize them into a visual diagram for convenience.
4.
Create a schema
Using an outline to mark up the objects that exist on a page helps Google to better understand the content of the page, and therefore can contribute to better search results.
Use mainEntity if the webPage is about a specific entity.

You may also want to add schema referring to other entities on the page as if there is no schema.org type for your entity.

To do this, you can use an automatic tool like inlinks, or use a structured data testing tool for manual generation.
5.
Don't forget about internal linking
This point is not new, but it is no less important. Use the best linking techniques and link to entities.

Links and internal links help establish topical authority. We've been talking a lot in the SEO industry about content clustering, which is what internal links are used for. External links help vouch for this content's value but also give more information to Google through anchor text and anchors.
Speed up your search marketing growth with Serpstat!
Keyword and backlink opportunities, competitors' online strategy, daily rankings and SEO-related issues.
A pack of tools for reducing your time on SEO tasks.
The opinion of the guest post authors may not coincide with the opinion of the Serpstat editorial staff and specialists.
Found an error? Select it and press Ctrl + Enter to tell us
Cases, life hacks, researches, and useful articles
Don't you have time to follow the news? No worries! Our editor will choose articles that will definitely help you with your work. Join our cozy community :)
By clicking the button, you agree to our privacy policy.