A Complete Guide To Amazon PPC: How To Create Profitable Campaigns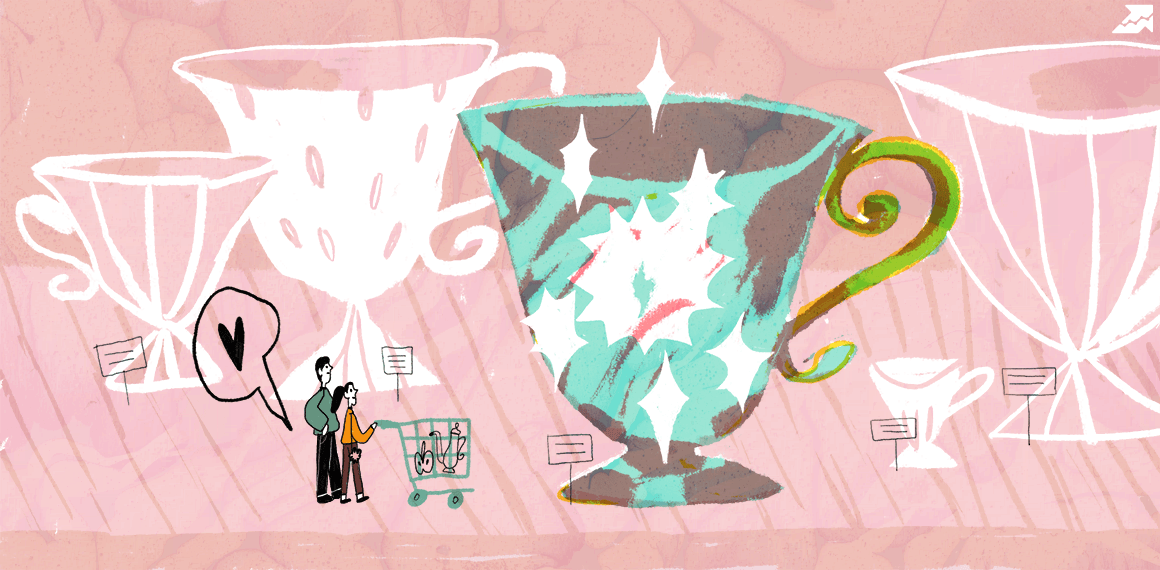 Amazon is the ultimate shopping destination of the online world and for a good reason: Amazon has everything. From random kitchen supplies to fashion staples, you'll find whatever it is you are looking for. It's like a huge mall you can browse through from the comfort of your own computer.

Unlike other online selling platforms, the competition is tough on Amazon. Its diversity gives potential buyers a lot to choose from. Most buyers think that because a certain product is displayed first in their search results, these are the products that are high-quality and authentic. However, this is not always the case. Sellers need to be smart when crafting their marketing strategy on a large platform such as Amazon, and the best way to do this is to set up an Amazon PPC campaign. Not only is it cost-effective, it is simple as well.

Whether you are new to Amazon PPC or are looking to expand your current portfolio, I'll run you through everything you need to know about Amazon to help ensure success for your business.
What is Amazon PPC and why advertise on Amazon?

PPC means pay-per-click, a campaign scheme that allows you to build a strategy where you only have to pay for certain actions the viewers do in relation to your ad. As the name implies, you pay each time someone from your audience clicks on your ad. However, it is not limited to only actually clicking your ad. Different websites and online platforms have different structures for PPC.
Amazon, in particular, only launched its PPC suite back in 2012. Now, almost six years later, it has come a long way in equipping professional sellers with the necessary tools to compete in a thriving online marketplace. In fact, an
online survey reports that 70% of shoppers on Amazon purchase from stores that are shown on the first page of the search results. This means that the higher ranked the product is, the more likely it is to be trusted and bought by customers.

Advertising on Amazon using a pay-per-click scheme is like being in a physical store and having brand ambassadors with you to grab customers' attention. Picture it for a moment: you have popular influencers who can relate to the audience you want to reach, engaging with them and asking them to check out your store.

In the same way, Amazon PPC has been proven to effectively spread brand awareness in the online marketplace. In fact, in 2016, PPC clicks by customers grew over 150% and $1 billion in sales was generated by Amazon Business worldwide.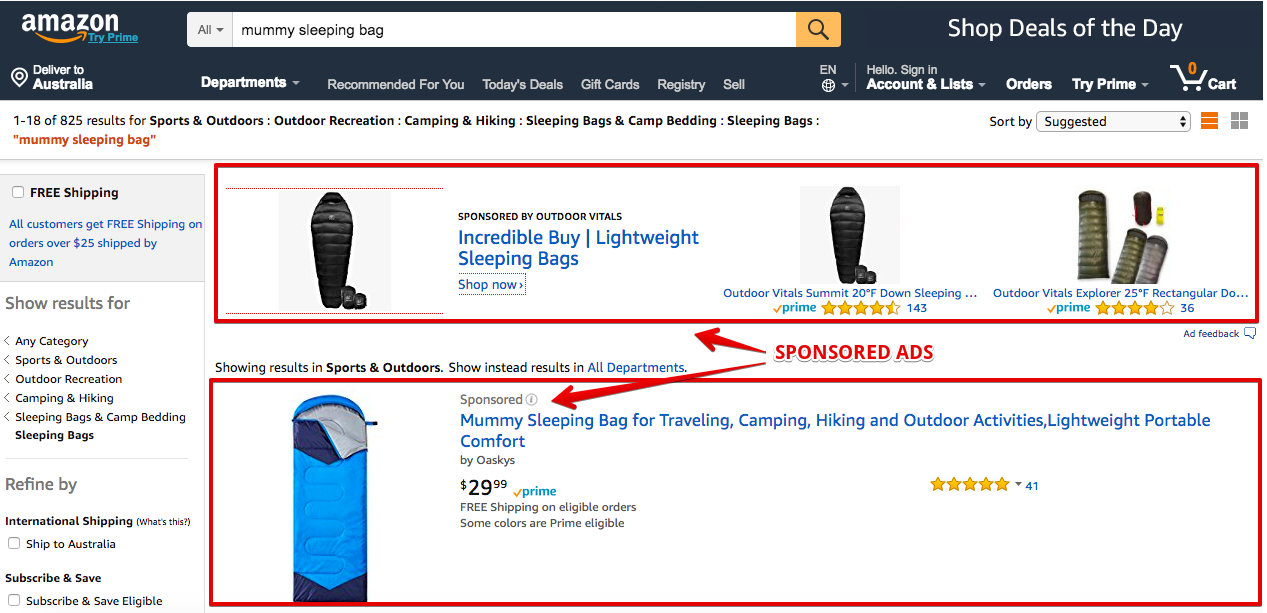 How do I use Amazon PPC to boost my sales?
Setting up your PPC campaign on Amazon is barely any different from other platforms available online. It is highly consumer-focused and simple. For the most part, you will simply have to determine what you want to achieve with your ad campaign and set it up on Amazon.

Here is a detailed step-by-step guide on how to get your products seen by more customers and generate sales through Amazon PPC:

How much are you willing to spend? Here are the three metrics you need to consider to come up with your default bid:
target Advertising Cost of Sale (ACos);
product's conversion rate.


You will find your product's conversion rate in your Amazon Seller Central account. As for your ACoS, it will be your tool to measure how well your PPC campaign is doing. It's essentially the ratio of the amount you pay for ads and your sales. That is, it's your ad budget divided by your product sales. For example, you spend $450 on ads and earn $3000 in product sales, your ACoS is 15%. Once you have set your ideal ACoS, you can monitor your ACoS for the duration of your campaign in the Campaign Manager section of Amazon Seller Central.
Remember that your ACoS has to be lower than your profit margin to make sure that you aren't spending more than you are earning. Once you have your target ACoS, you can then determine your default bid.
Placing a bid can be tricky, it has to be high enough to win but low enough to remain profitable. For each Amazon PPC ad, you will have to place a bid on the specific keywords you want to rank for. Since it is a pay-per-click bid, you only pay the amount once a customer clicks on your ad.
Here's a simple formula:
ACoS × the price of your product × conversion rate + 40-50% (to improve your chances of winning)
Say, you have a target ACoS of 50%, and your product costs $35 with 5% conversion rate. That's 0.10 x 50 x 0.05 + 0.50 = $0.75.

Next, you will have to calculate your daily budget for each ad campaign. Simply set a monthly ad budget you will be willing to spend on and divide it by the number of Amazon ad campaigns you intent to run. This formula ensures that you have enough for each campaign. However, if you intend to appropriate a certain amount, say 30% of your monthly budget to a single campaign, simply multiply that amount with your total monthly budget.
Step #2: Begin a campaign
Now that your budget is set, it is time to start your campaign. Log in to your Seller Central and navigate to the Advertising section, where you will find the Campaign Manager tab. This page is where you can set your ad campaign name, daily budget, campaign time frame, and whether you want to target to be automatic or manual.


Automatic targeting allows Amazon to target your ads solely based on the information you enter about your product. Because you won't have to enter keywords, automatic targeting saves you a lot of time. On the other hand, manual targeting gives you the control over which users will see your ad. You enter specific keywords for which your ad will rank.

Manual campaigns

When you choose a manual campaign, you will be directed to a page where you select the ads you want to group together and assign them a name. You will then choose a default bid that you set in Step 1. Then you need to select keywords either from Amazon's suggestions or ones that you come up with on your own.

Keyword types come in broad, phrase, and exact types. For broad keywords, your ad will appear when users search for your keyword or any word closely related to it. On the other hand, a phrase keyword allows your ad to appear when users search for your keyword with other keywords placed before and after it. In addition, for exact keywords, your ad will only appear on the results page when someone searchers for the specific keyword you entered. Also, it is recommended that you create three different ad groups (broad, phrase, exact) within your manual campaign.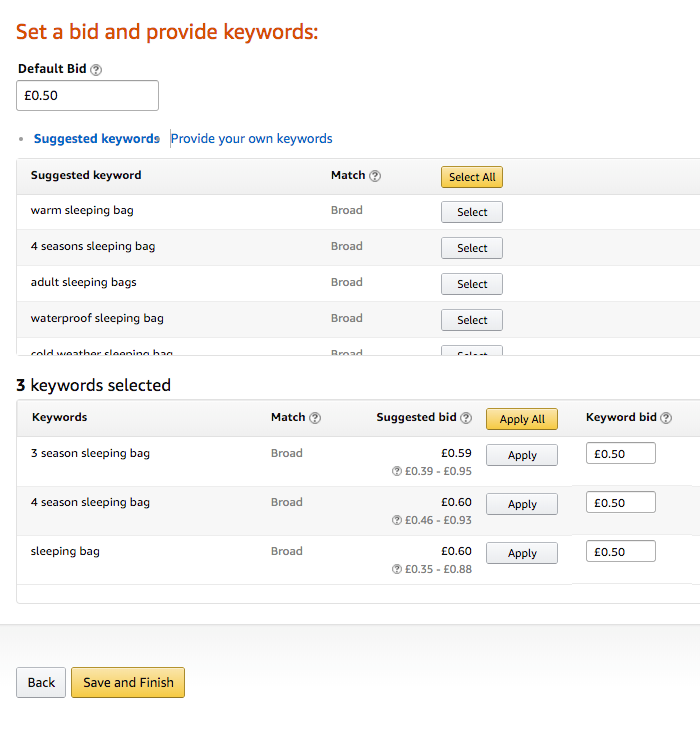 Automatic campaigns

Setting up an automatic PPC campaign is a little simpler since you will not have to research keywords. True to its name, you simply have to determine a maximum bid, set it up in your account, and Amazon works from that.

Amazon automatically matches your ad with keywords and phrases based on your product's information, then shows your product to keywords and phrases relevant to them. This can come in handy as Amazon also pulls keywords from listings and products related to yours. However, this gives you less control over the keywords because you won't be bidding on them yourself.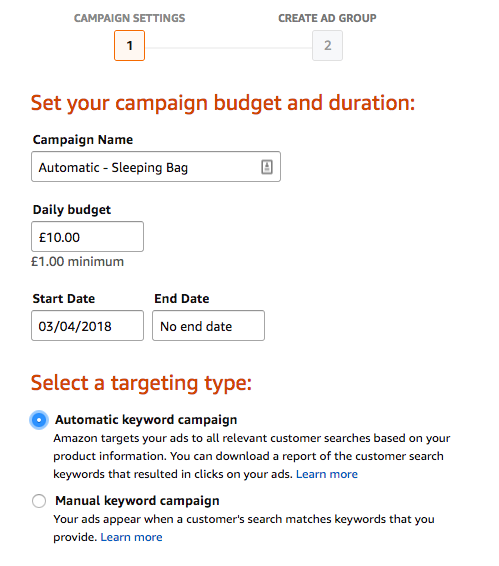 Step #3: Monitor your PPC ad
Once your ad campaign begins, you need to track it regularly to make sure it is running as planned. To do this, go to your Amazon Seller Central and click on Campaign Manager. On this page, you will see whether your ad is cost-effective or not. It will show you your ad Spend, Sales, and also your ACoS metrics.

Spend a few hours each week to see how your ad campaigns are doing and study how users are responding to it. By doing so, you will learn which practices are leading to your goals and which ones you can do without.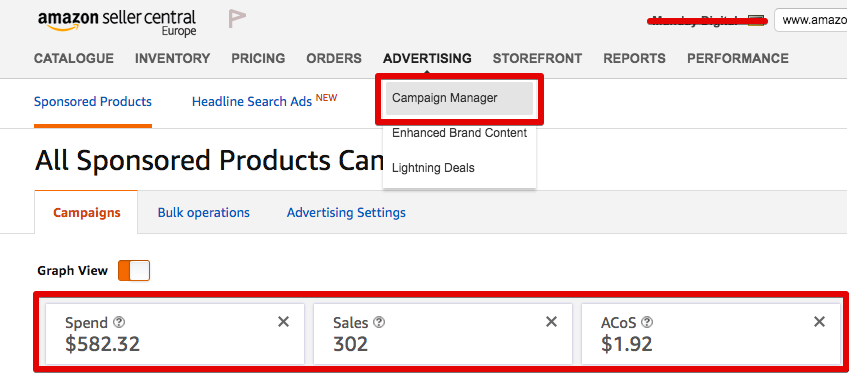 Step #4: Adjust your campaign as needed
As your ad campaign runs, there are bound to be changed in trends. It is important to adjust your campaign based on the data shown to you on Seller Central. You can adjust your end date, daily budget, and even your keywords.

Keywords are based on user behavior, so it is also important to check whether it is still effective. Check which keywords get the most clicks and conversions. You can also find this at the All Sponsored Products page, under the Keywords subsection.

Adjusting your ad campaign as needed will give you more value for the money that you spend. It also allows you to see what the customers want and the products they are interested in, which will eventually lead to exposure and sales of your products.

It is recommended that if you see a search word/keyword converting in your broad or phrase match ad groups, then you add it to your exact match ad group. This will allow you to target users more specifically for that keyword, and should decrease the ACoS.


In the table above, you see two examples taken from a Sponsored Products Search Terms Report. In example 1, there's our broad match keyword 'sleeping bag' that has triggered an ad when a user searches for 'kids sleeping bag'. Since the sleeping bag we are selling is for adults, the users search intent doesn't match our product. In this example, we would need to add the keyword 'kids' into our negative keyword list. This will stop any search term containing 'kids' for triggering our ads.

In example 2, you can see how we have added an exact match keyword for 'mummy sleeping bag'. Since our product is, in fact a 'mummy sleeping bag', the users search intent is a perfect match. Hence the sale of 1 sleeping bag for $24 and an ACoS of $4.41. This is a perfect example of learning how users search using the broad match keyword setting, and then further refining it with exact match keyword targeting.
Like most marketing strategies in the online world, the most effective way to stay on top of the competition by spending extra time researching keywords, tracking your campaign, and adjusting your campaign to users' needs. Pick up trends, put up seasonal campaigns, and see how your targeted buyers respond. Also, remember to make sure your product is well presented, with stellar photos and informative product descriptions. You can't expect your ad to fully convince the buyer; it gets the word out and it's your job to keep them interested.
With the many options that are presented to customers, it can be difficult for brands and sellers to stand out. Highlighting a product among a sea of other options may be difficult, but not altogether impossible. With a good Amazon PPC strategy and
Amazon PPC management tools, you'll get necessary exposure for your products and generate more sales.
Amazon PPC is not only a great way to make more sales, it also improves your best seller rank and will eventually translate to better organic rankings.
Speed up your search marketing growth with Serpstat!
Keyword and backlink opportunities, competitors' online strategy, daily rankings and SEO-related issues.
A pack of tools for reducing your time on SEO tasks.
Found an error? Select it and press Ctrl + Enter to tell us
Cases, life hacks, researches, and useful articles
Don't you have time to follow the news? No worries! Our editor will choose articles that will definitely help you with your work. Join our cozy community :)
By clicking the button, you agree to our privacy policy.