Article builder
This tool is an advanced analog of Article generation.
With the Article builder, you can generate the title, the structure of your article, and the text for each paragraph in a step-by-step manner, allowing you to rewrite it.

The process of article creation is very flexible because the tool is divided into steps and at all stages, you can edit the text sent for building. You can also skip unnecessary steps and use only the necessary functionalities.

Article builder will be useful for:
Copywriters;
SEO specialists;
Website/Business owners.
Marketers;
Use case:
Fill a product card; Publish or update an article/post; Create a Terms of reference;
Generate a title meta tag within the Article builder, or via Title Generation. Then enter the generated title and create a plan that fits your niche content.
To optimize the text, get more traffic and affect the trending topics of the search results, gather the list of keywords via Keyword trends and enter them in the field. Click the "generate" button to generate unique text in the third field (paragraph).

Scroll down to the bottom of the page after generating an article plan and writing a unique text, you can preview the result!
How to use the tool
Enter the token from the

profile;
Add text or a list of keywords to generate the title;
Enter the title and generate an article outline;
Enter the text of the article that fits the article plan. You can paraphrase the text in the block by pressing the "paraphrase" key, as well as delete the entire block of information by pressing the "delete" key. On the right side of the input box you will see included and not included keywords in green and red (if you have added keywords to the "include keywords" line);
Check out the result of the generated content using the Article builder.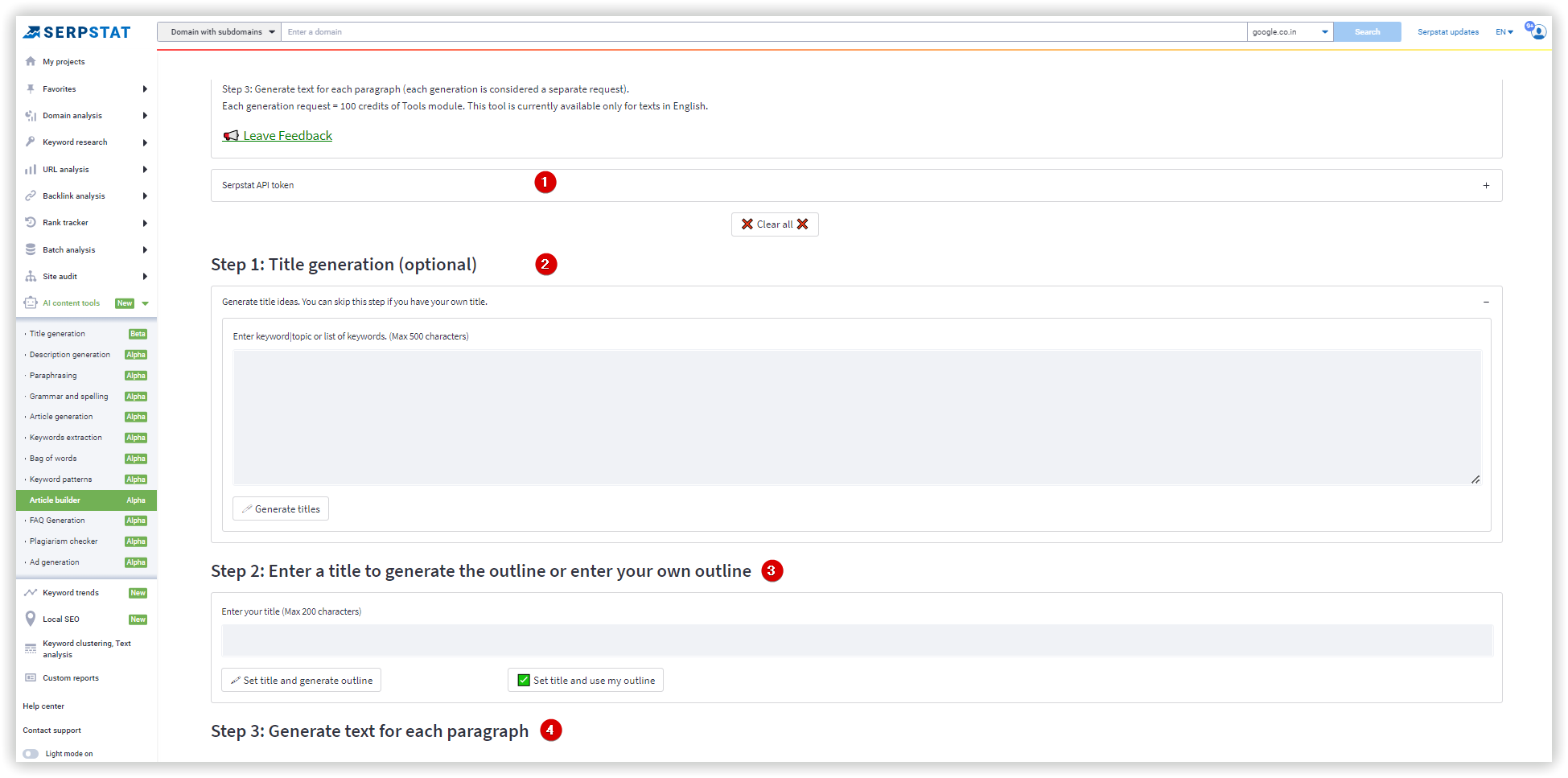 Available to:
Users with a Team subscription or higher.

Credits:
1 request = 100 credits of the Tools module. The name of the article you specify for generation should not be longer than 50 characters.

If you still have any questions, contact the tech support chat.

To learn more about how the tool works, you can watch the attached video!