Personal demonstration
Leave a request, and we will conduct a personal demonstration of the service for you, provide you with a trial period, and offer comfortable conditions for starting exploring the tool
Trusted by






Get a steady growth in business profits!

Use Serpstat SEO features to find new niches, integrate the best practices of competitors into your projects and quickly solve routine promotion tasks. Serpstat will help solve a number of problems relevant to E-Commerce projects:
TOP Serpstat Opportunities for Corporations
and E-Commerce Companies

Check out how relevant these options are for your business!
In-depth Competitor Analysis
Identify your competitors in organic and paid search results;

Choose the most effective solutions for online stores in your niche and implement new ideas for content, tags, categories;

Analyze multiple competitors at the same time and find missed opportunities at the intersection of their strategies.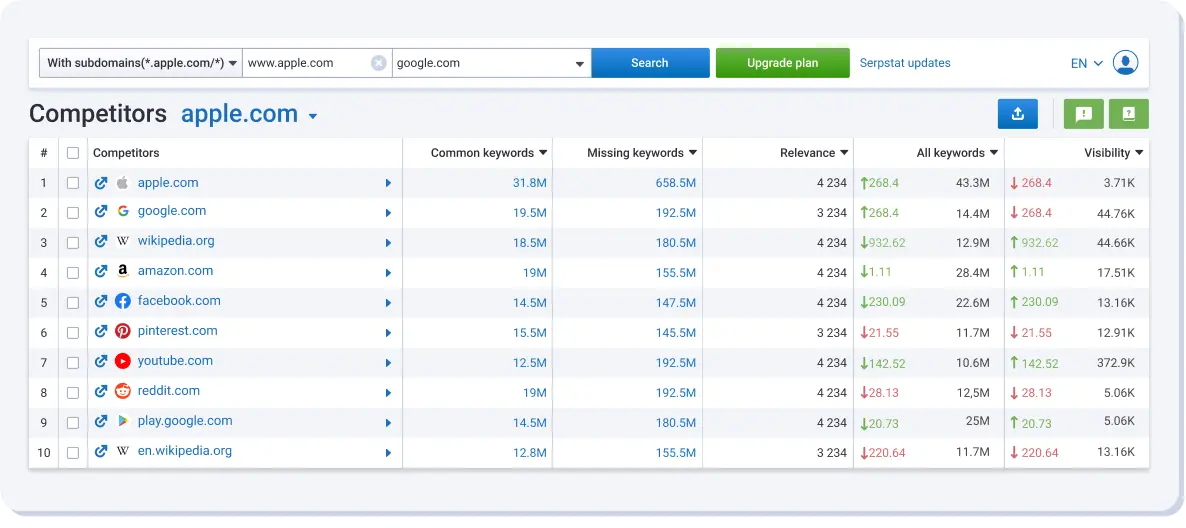 Keyword Research
Add to your projects the keywords for which competitors rank on the search pages;

Collect keywords that were missed in texts;

Find all variations of keywords: synonyms, suggestions, low competition keywords. Implement them to improve the effectiveness of existing content;

Use clustering and text analysis tools to prepare tasks for copywriters. Quickly group keywords, form the optimal site structure and recommendations for specific pages.
Backlink Analysis
Find relevant sites to get quality links based on the intersection of competitors' profiles;

Find out how your competitors are distributing link power within the site using the Top pages report in the backlink module;

Wondering if PBN works in your niche? Redirecting domains will show if competitors are sticking entire domains to their sites.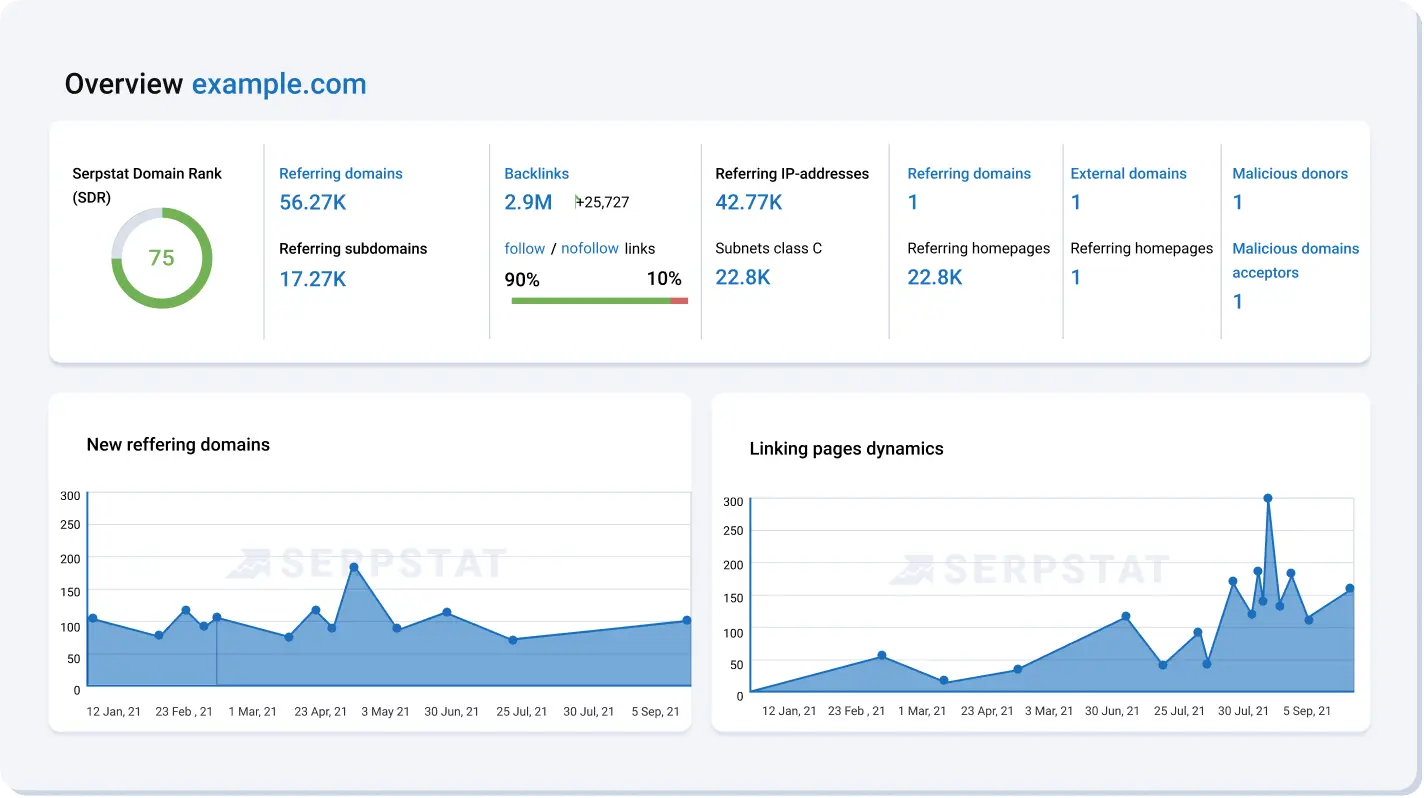 Flexible API
Automate your work and save time working with Serpstat without a third-party interface;

Choose the necessary reports, filters and other options without switching from your site;

Integrate service analytics into your internal tools.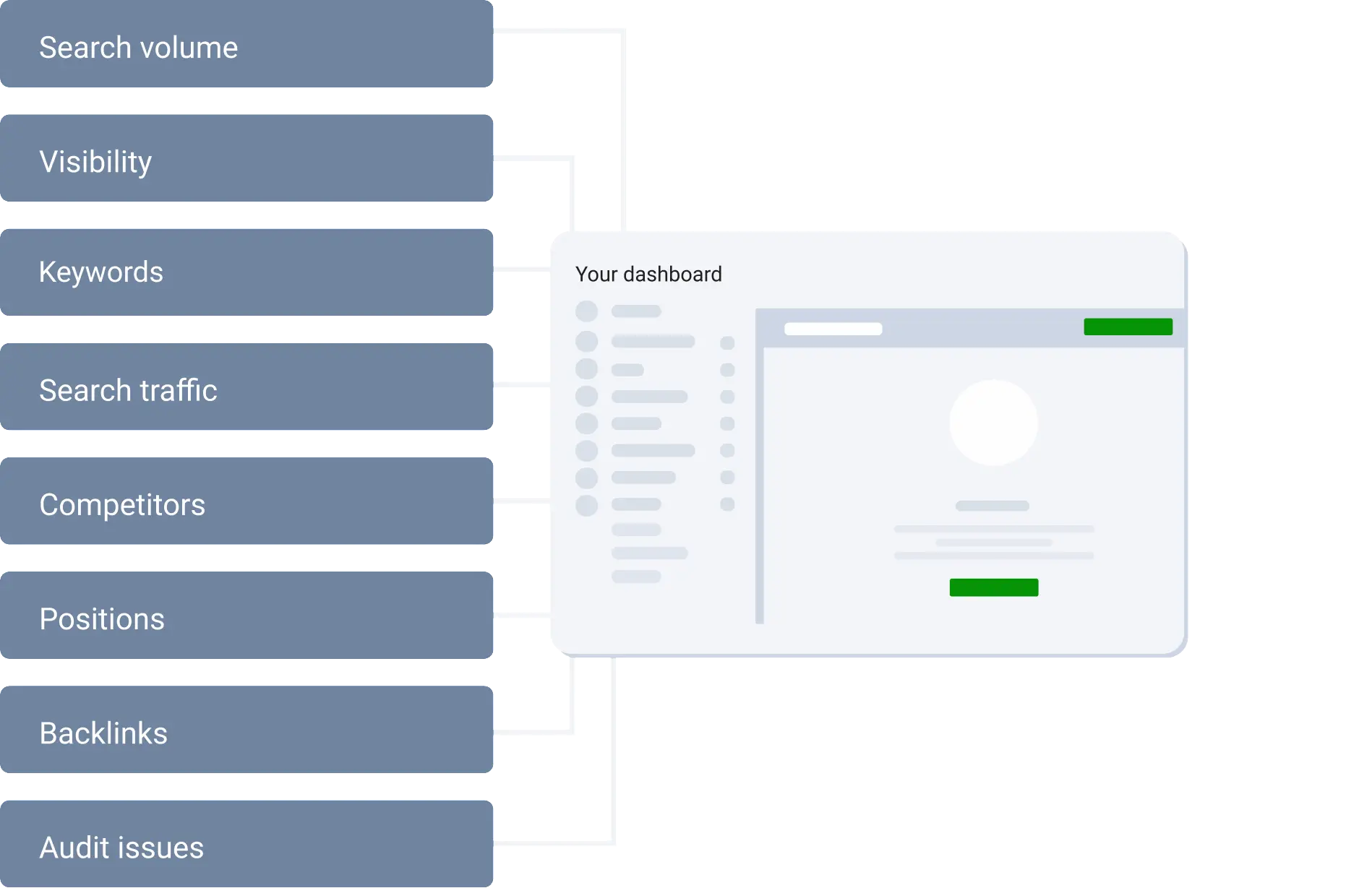 Multi-user mode: a convenient option for an in-house team
Differentiate between specialists' access to projects depending on their tasks;

Distribute credits so that each employee gets the tools that he or she needs in work;

Create task lists for team members, monitor the effectiveness of each, and receive automatic reports on their work.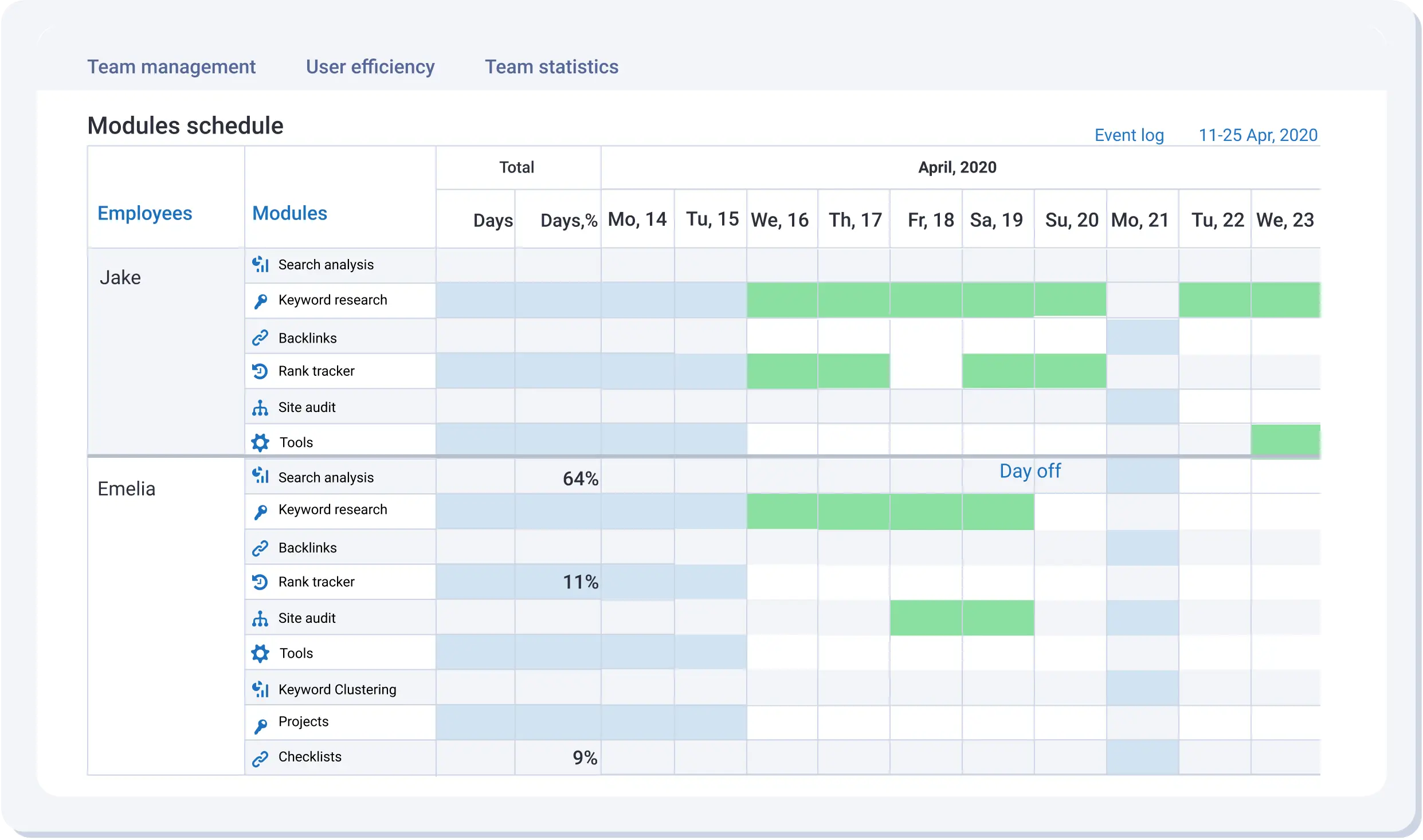 Most E-Commerce projects choose these Serpstat pricing plans

Find out which tools are included and compare features:
Options and limits

Team
$ 119 / month
Agency
$ 479 / month
Tools for team work and reporting

Members in a team


3

30

Additional users for reports mailing


5

50

Projects to track, analyze and audit


25

250

Number of accesses per project


50

500

Rows export per month


250,000

2,500,000

Branded reports


White Label


Access to the API

API rows

Keyword, domain, URL analysis and Link analysis

Requests per day


500

5,000

Results for requests for Keyword, domain, and URL analysis


10,000

100,000

Results for request for links analysis


10,000

10,000

Rank tracker

Position checks per month


50,000

500,000

Competitors rankings


Daily updates


Organic keyword rankings


Paid keyword rankings


Desktop and mobile rankings


Site audit

Pages to audit


150,000

1,500,000

Pages to audit per scan


25,000

Unlimited

One page audit


Tools, including AI for content tools, Clustering and Batch Analysis

Credits for tools


25,000

250,000

AI for content tools


Clustering


Text analysis


Keyword, domain and link batch analysis

Additional options for E-Commerce projects

Databases of search results for all regions of the world
230 Google databases for keywords analysis and comprehensive research of competitors.Choose any region to promote your business and use data to promote itall over the world.

Choose any region to promote your business and use data to promote itall over the world.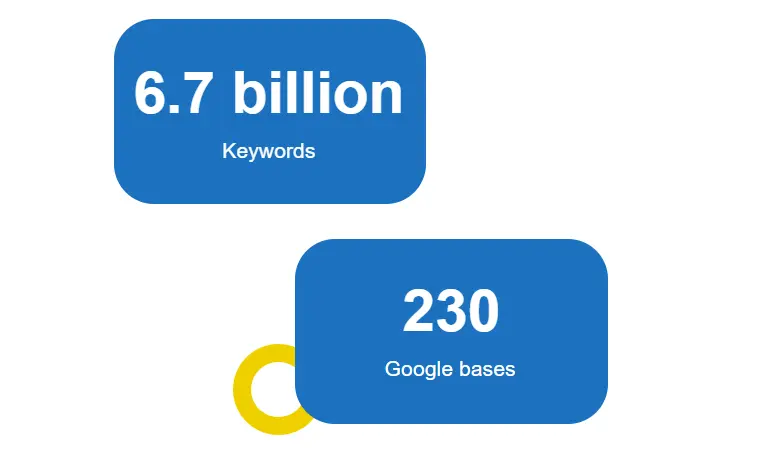 Rank tracking
Increase visibility and traffic to landing pages by tracking local and global site positions. Assess the potential of your site accurately.

Get a solid understanding of your organic and paid market position.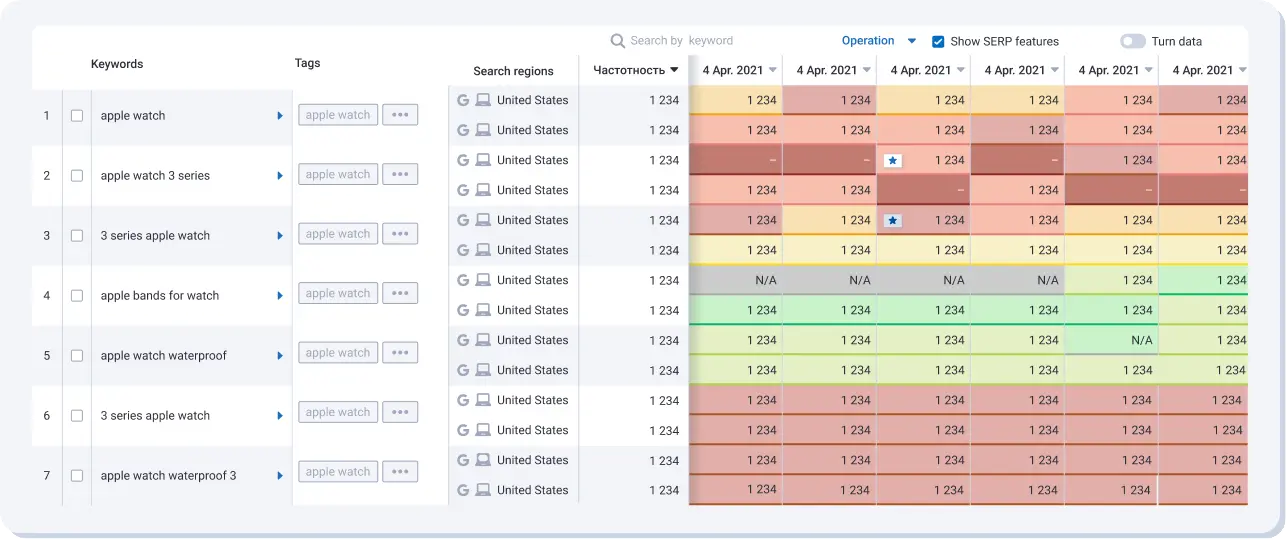 Lists of tasks for projects
Use ready-made templates or create your own lists to develop and improve created projects.

Keep a record of the status of work on a specific project.
Site audit and page audit

Find errors on individual analyzed pages of your site and those of competitors

Conduct a regular technical SEO audit of your site to improve rankings in search results and fix errors. Track the growth dynamics of a website optimization level.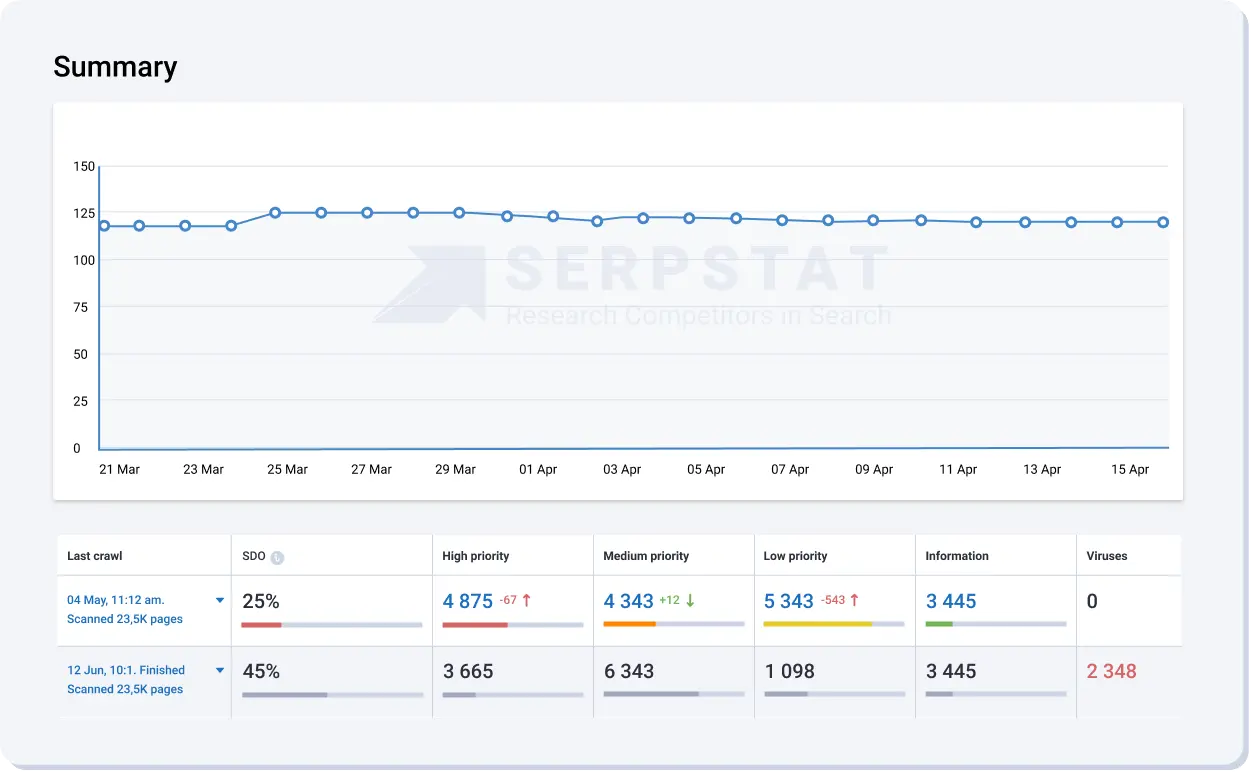 Additional services for E-Commerce companies

Try services for parsing Google results and for mass analysis of search results. Detect trending queries, check the frequency of thousands of phrases on a schedule, and collect complete data on an array of keywords in search engine results.
What professionals say about our tools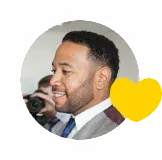 JANEIRO BLACKMON

DIGITAL MARKETING CONSULTANT, DESIGNBLAZE MARKETING

For my use, there is much to like about Serpstat. I really like the site audit tool and information I can gather on competitors.
Most of all, I like all of the training and support they provide.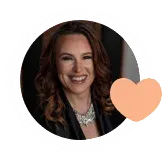 JENA APGAR

MARKETING STRATEGIST, 2XMYBIZ.COM

I love that it tracks SEO over a time period tracking keyword growth across your site and competitors over time. I'll leverage it
on client meetings to show how their current SEO guy is failing.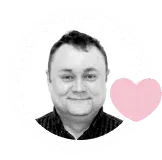 JOHN NEWTON
MARKETING DIRECTOR, OXYGEN FINANCE

Helps you understand how your site and sites belonging to competitors are performing in paid and organic search, and what to do about things you want to improve.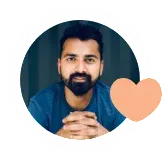 HARSH AGRAWAL

FOUNDER AND CEO, SHOUTMELOUD

Serpstat is another comprehensive keyword research tool that I discovered recently. They've done some really good work when it comes to helping us identify winning keywords.