Keyword Clustering Tool
Upload up to 50 000 keywords to the clustering tool 

Get them grouped automatically based on SERP similarity

Add keyword clusters to website pages to improve rankings and SEO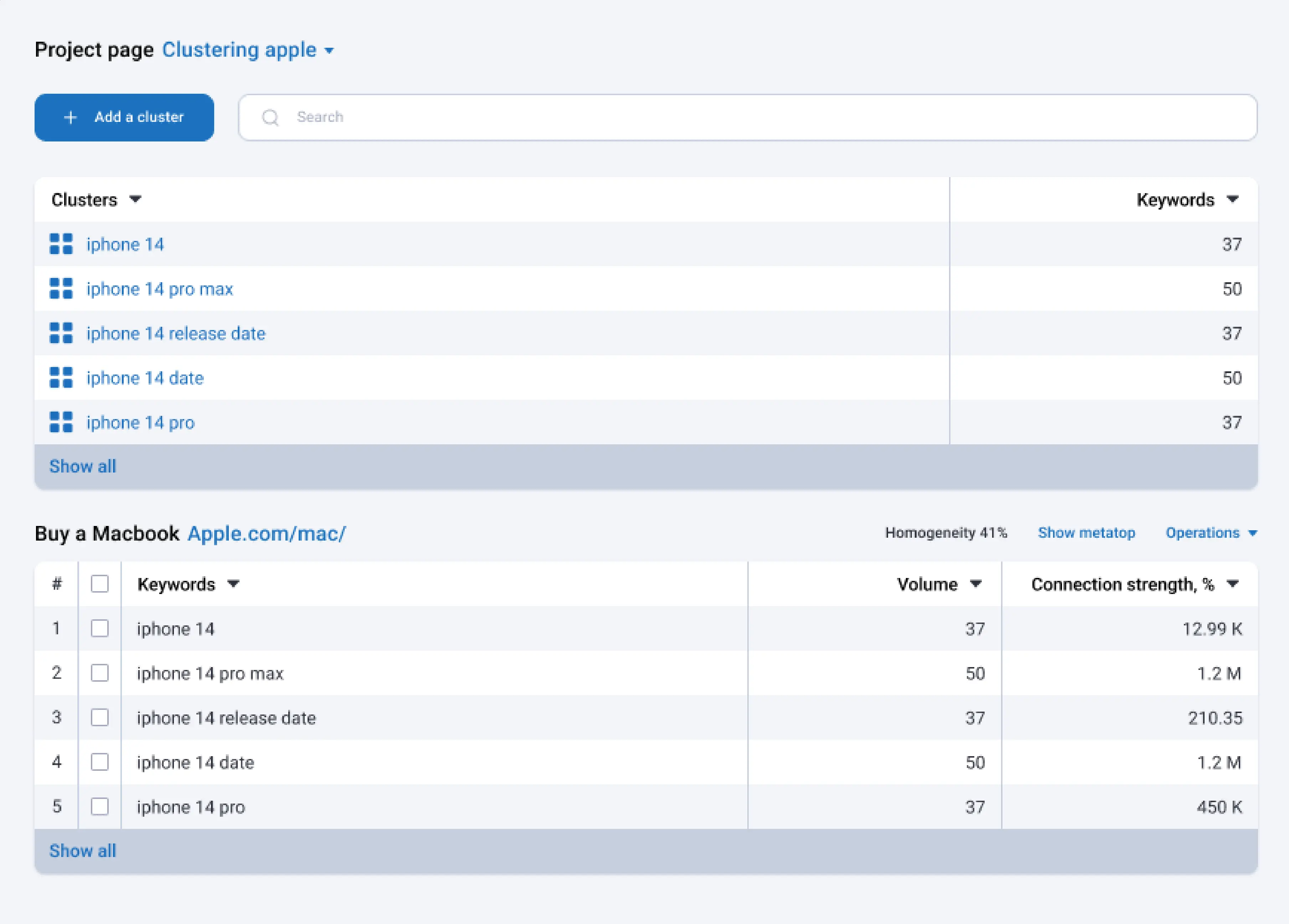 Trusted by






Keyword Grouping Steps
Add Keywords to the Clustering Project
Paste up to 50 000 keywords to the window or use import from csv or txt file


Skip invalid keywords which consisting only of symbols, numbers, double spaces, punctuation mark, etc.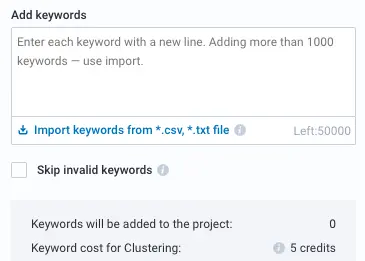 Customize Clustering Parameters
Enter title for the clustering project, select search engine and country

Use optional parameters such as adding domain name and choosing certain region and city if you need local keyword grouping


Choose Connection Strength to group keywords in clusters with closely related thematics. Medium strength is optimal for most of the projects.

Set the Type of Cluster to group keywords by matching URLs in the top 30 search results.

Press "Save" button to start keyword clustering.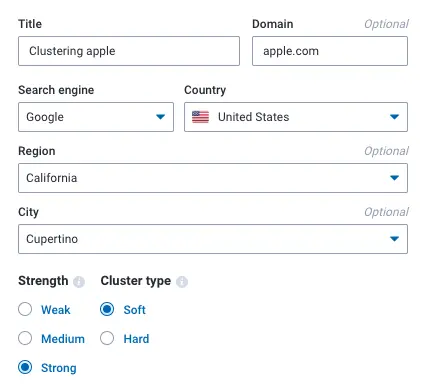 Get Keyword Clusters Ready to Export
Get a list of created clusters and keywords included in each cluster.

Compare keywords volume and connection strength; add, delete or move keywords to other clusters manually.

Export keyword clusters in suitable file format for further processing.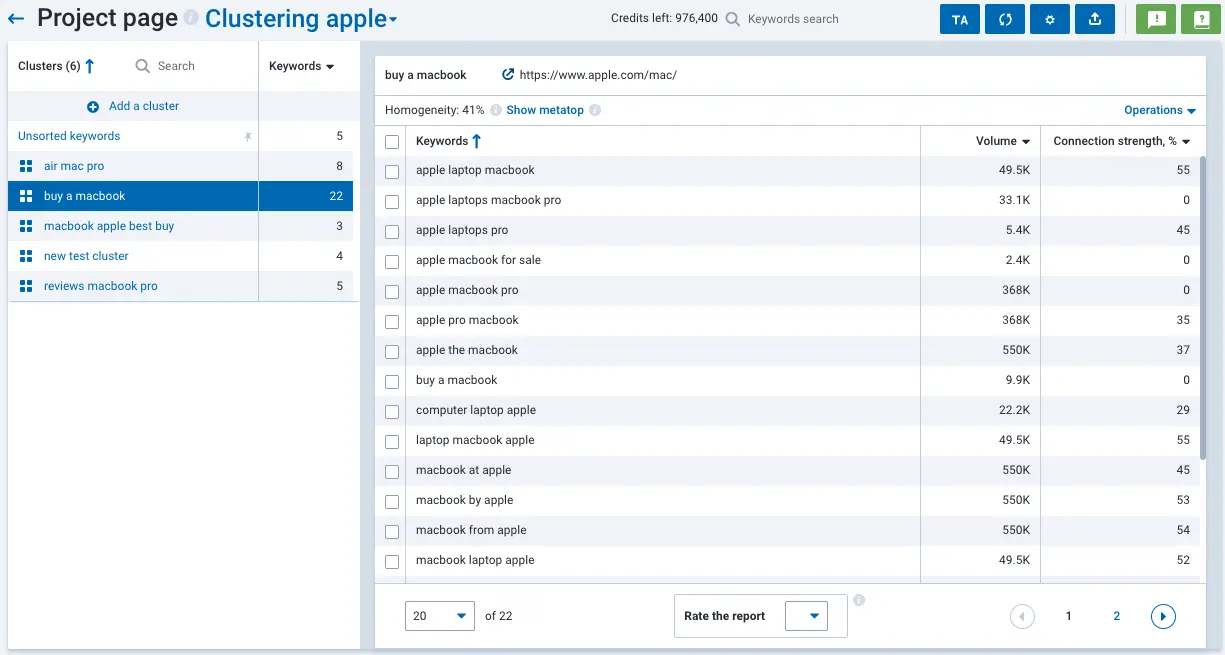 Frequently asked questions about Clustering
What is keyword clustering?
Keyword clustering is a way of organizing keywords into categories that can be used for SEO purposes. It involves grouping related keywords together in order to make them easier to manage and optimize for search engine rankings. This allows you to identify keywords that should be targeted for content creation, link building, and other SEO-related activities.
Who needs keyword clustering?
Keyword clustering is used by marketers, content writers, and web developers to more effectively organize, target, and optimize content for search engine optimization. It helps identify keywords that are relevant to the content being created and provides a strategic system for grouping them together. By clustering related keywords, marketers are able to create campaigns that are more structured and effective in targeting the audience they are looking for.
How Serpstat keyword clustering works?
Keywords grouping into clusters accordingly to the number of URLs top of SERP for each keyword and depends from Connection Strength and Clustering Type
What are advantages of Serpstat keyword clustering tool?
Serpstat Clustering tool is automated, have variety of settings and regions and easy to use.
Our beloved and thankful customers rate us highly
What professionals say about our tools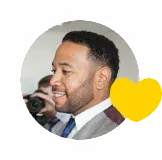 JANEIRO BLACKMON

DIGITAL MARKETING CONSULTANT, DESIGNBLAZE MARKETING

For my use, there is much to like about Serpstat. I really like the site audit tool and information I can gather on competitors.
Most of all, I like all of the training and support they provide.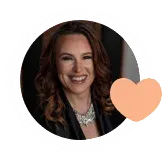 JENA APGAR

MARKETING STRATEGIST, 2XMYBIZ.COM

I love that it tracks SEO over a time period tracking keyword growth across your site and competitors over time. I'll leverage it
on client meetings to show how their current SEO guy is failing.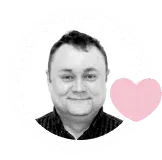 JOHN NEWTON
MARKETING DIRECTOR, OXYGEN FINANCE

Helps you understand how your site and sites belonging to competitors are performing in paid and organic search, and what to do about things you want to improve.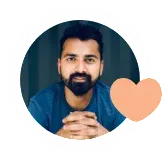 HARSH AGRAWAL

FOUNDER AND CEO, SHOUTMELOUD

Serpstat is another comprehensive keyword research tool that I discovered recently. They've done some really good work when it comes to helping us identify winning keywords.