// В этом файле есть те нужные стили которые в других файлах нет.?>
How To Find And Remove Bad Backlinks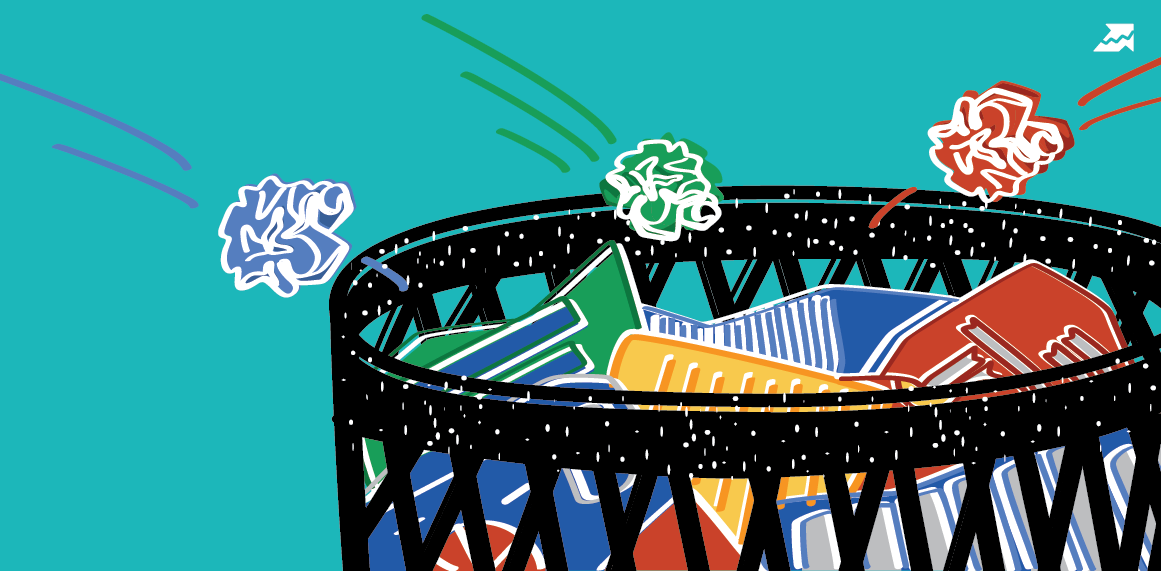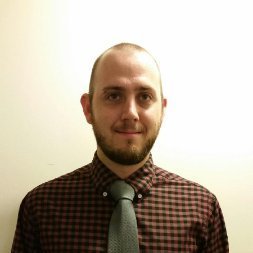 Matthew White
Owner at
iDisk SEO
.
The rapid changes in the industry makes him stay up to date on all the latest SEO trends, strategies, and ranking factors. He enjoys writing about the industry he loves and sharing knowledge with other SEO experts.
I am sure many of you have received those pesky backlinks, from random non-relevant sources, that contain high spam scores, and hinder your potential SEO ranking.

When you get unwanted backlinks from irrelevant sources, it hurts your ranking because google sees the sites linking back to yours as untrustworthy.

If you're looking to remove some backlinks that are affecting your website in a negative way, I have good news!
Removing bad
SEO backlinks
doesn't have to be a daunting task. With the right template and tools, you can easily get rid of the backlinks that are holding your website back and improve your SEO ranking.
Below are some of the best ways to get rid of troublesome backlinks,
find out how many backlinks website has
and boost your websites ranking. So, grab a cup of coffee and get ready to improve your site.
There are many free options for finding backlinks to your site, but paid solutions provide accurate results with an easy to use interface. Paid backlink monitoring tools provide specific insights on a backlinks spam score, index status, trust flow and other useful information that can help to improve your link building efforts.
You can also quickly see new backlinks and get specific insights, which is helpful for identifying bad backlinks and keeping your Google trust flow in the green. This is a crucial step that needs to be continuously monitored to avoid any penalties from non relevant spam sites who create bad backlinks on google.
One of the easiest ways of removing bad backlinks is by using the
Serpstat Backlink Analysis tool
.
However, for the sake of this article, we are going to assume you are on a budget or don't want to spend money on any paid backlink tools.

The first step in removing bad backlinks is to understand where our backlinks are coming from. To start off, we will be using the Google Search Console to locate our backlinks.

Log into your Google Search Console and navigate to "Search Traffic" > "Links to Your Site."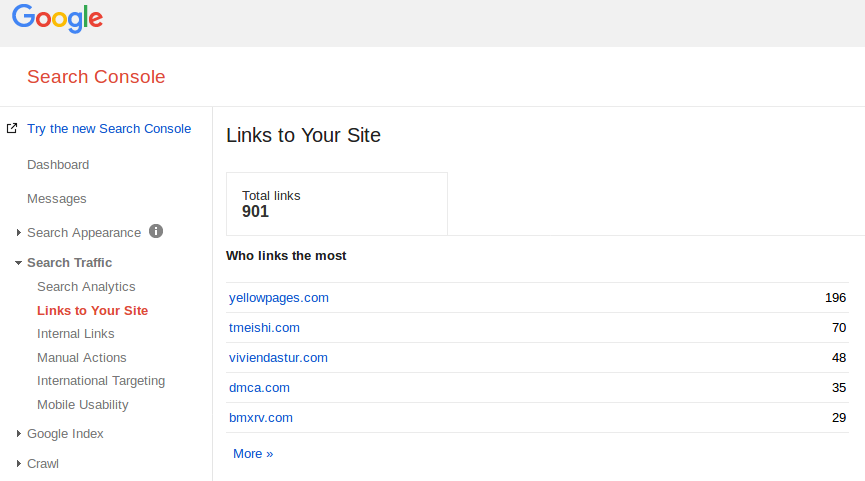 Сlick More under Who links the most.


Then click "Download more sample links" and save the .CSV file for further examination.
Now we have a .CSV file of all backlinks detected by Google Search Console, but we are not quite finished yet. We still need to further examine the links in our new file to determine what links are actually adding value to your site and what ones are not.

Now I know what you're thinking, there are hundreds of links in here, how will I ever go through them all?

Don't worry, you will not have to review every link from that domain, most of the time if one backlink is bad, all the links from that domain are bad as well.

Determining bad backlinks
All right, you have your list, now you need to ask yourself these three questions every time your auditing a backlink.

Is the content relevant to your site?
It's plain and simple: content needs to be relevant to your site. Google uses this metric to determine the trust flow to your site (link juice). If you have a website about music, make sure all the backlinks to your website are music related.

Is this site Indexed by Google?
If running a search on google for site:domain and it shows up with no results, the site is most likely being penalized by Google and this can affect your rank.Below you can see an example showing how this search is performed.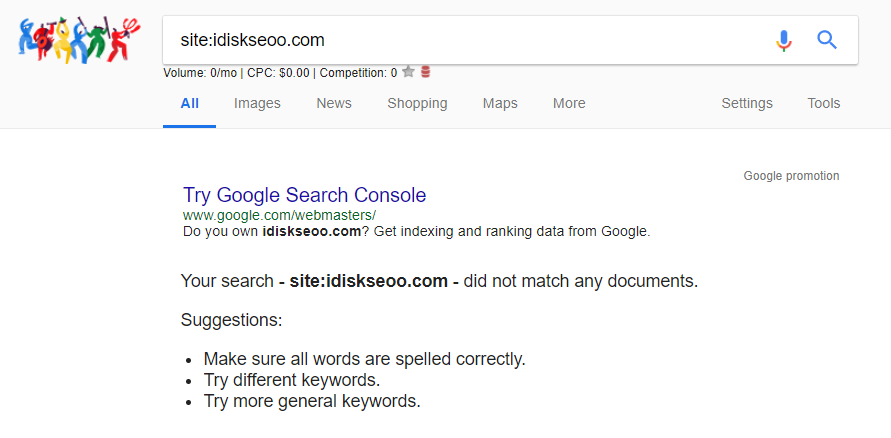 Does this site have a spam score?



The easiest way I have found to determine a sites spam score is to use
Moz Open Site Explorer
. All you have to do is input your URL, and the spam score will be displayed.
Outreach to websites for removal of backlinks

Google prefers that you outreach to these sites to request a link removal, however, most of the time when they are coming from a spam site it can be next to impossible to get someone to reply.
If you want to attempt to reach out to the site owner, you can usually find the owners email using
hunter.io
.
Create a new account if you don't have one already, install the extension and when you browse to the target website click the fox on your toolbar and it will display a list of emails you can use to potentially contact the owner.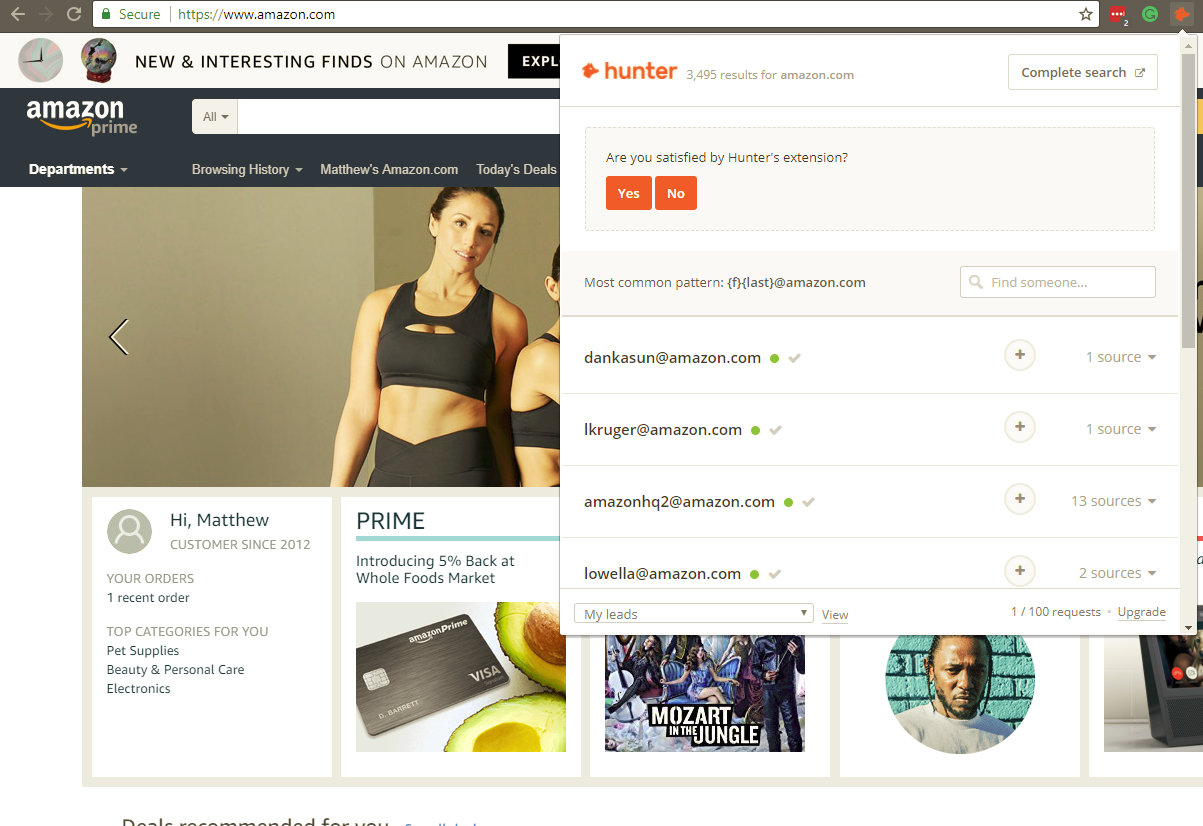 How to build your Google disavow file
After you determine your bad backlinks, we need to start building our disavow file.

To get started open a text editor on your computer, create a new file and save as disavow.txt. I like to start off by adding to comments to keep my disavow file organized.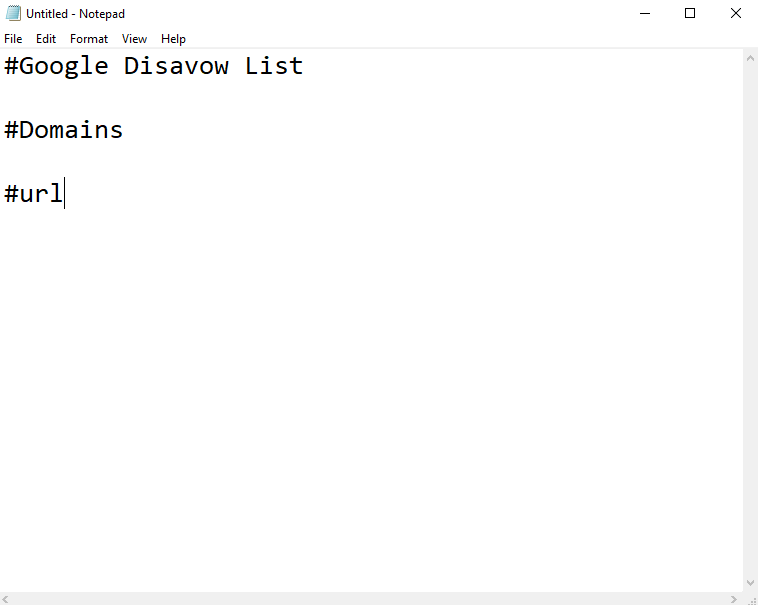 Anything with a "#" in front of it is used to create comments and can help you to organize your disavowed domains and individual URLs.

When you are adding a domain to the list, you need to include domain:website.com and if the site uses "www." Make sure to include "www." for domains that use it and make sure to leave it out on domains that do not.

If you are only looking to disavow a couple particular backlinks and not the whole domain, just include the whole URL.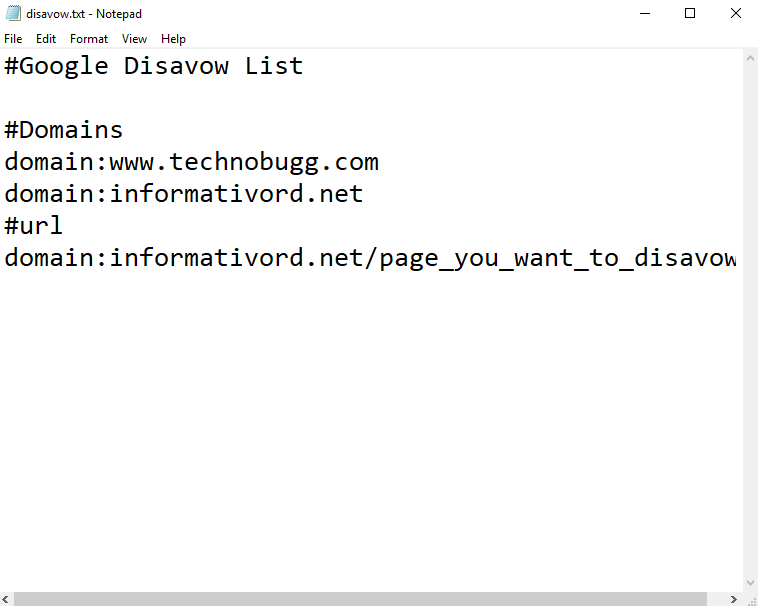 Above is an example of a properly formatted disavow file. Lastly, save your file, take a deep breath and pat yourself on the back. You have finally gone through all those bad backlinks and can rest easy knowing your website will soon rank a little higher SEO wise.
But we're not done yet. Navigate to
Google's Disavow Tool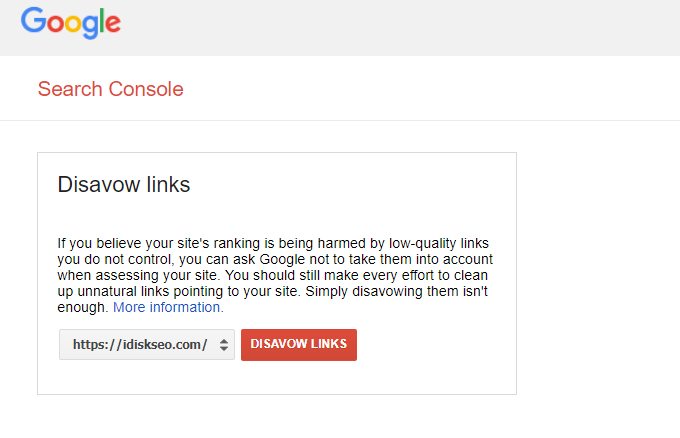 Select your domain, click "Disavow Links" and a window will pop-up asking you to choose your file. Then click "Submit".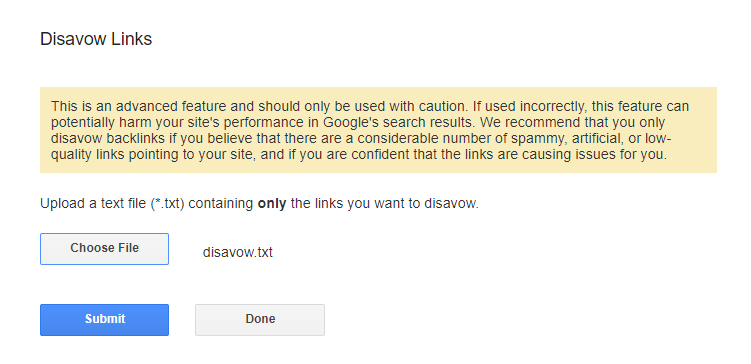 Now that you have successfully removed those bad backlinks, you will soon see a ranking increase. It can take a couple of days or weeks for Google to update their system. But once Google's system is updated you will be able to see the increase, as a result of your hardwork removing bad backlinks. Be patient, your boost in SEO rankings will come shortly.

Removing bad backlinks is one of the easiest and most effective ways to boost your websites SEO ranking and could be the only thing stopping you from achieving your dream of ranking their site in the #1 position. Google uses backlinks as a form of trust to boost your domains authority, so you need to make sure all of your sites backlinks are relevant, trustworthy, and in good standings with Google.
If you have any questions about bad backlinks or how to boost your SEO ranking, feel to ask in the comments section below, I will try to respond to each and every one of you. Check our
search engine optimisation site auditing tools
for full experience.
For more information about how to boost your websites ranking, be sure to check out
SEO Ranking Factors of 2018
.
Learn how to get the most out of Serpstat
Want to get a personal demo, trial period or bunch of successful use cases?
Send a request and our expert will contact you ;)
Found an error? Select it and press Ctrl + Enter to tell us
Cases, lifehacks, researches and useful articles
Don't you have time to follow the news? No worries!
Our editor Stacy will choose articles that will definitely help you with your work. Join our cozy community :)
By clicking the button, you agree to our privacy policy.