How-to

–

13 min read

–

July 22, 2022
How To Collect A Keyword List To Cover All Areas Of Your Business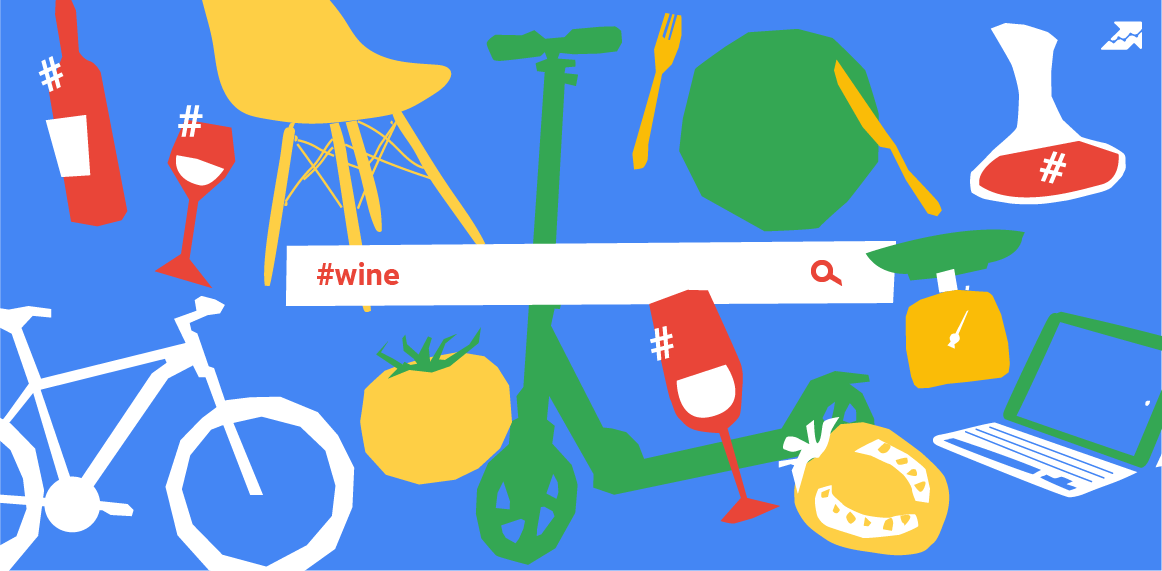 How To Collect A Keyword List To Cover All Areas of your Business
Keyword research is an integral part of website success in organic search results, as using relevant keywords in your content is exactly what allows your target audience to discover you.

This way you signal to the search engine to recommend your website to your potential customers and encourage the users to visit your website. So making your keyword list as complete and relevant as possible will help you expand your reach and drive more traffic.

Even though the process gets very time-consuming and sometimes daunting, at the end of the day, it's worth it. Also, there's good news. Some tips and tricks can make it a bit less of a hassle, which we will get to in this article.
The keyword list is the foundation of your website, it's a collection of words and phrases, that should fully cover all areas of your company's business.

When creating your website structure, writing the meta tags, and H1-H6 headers you should focus on relevant keywords, by which users tend to discover specific pages of your website.

What's the Ideal Number of Keywords?

The answer is simple yet complicated: there's no universal number of keywords that would work for everyone.

It varies from a few hundred keywords for narrow niches and specific services, to a hundred thousand or even a million, when it comes to a large online store. The aggregator websites can use up to several millions of search queries, or more.

The size of the keyword list mostly depends on the type of website and business area, it's not really about the number of existing pages. Deciding on the website structure is only reasonable after you're done with the keyword research.

But still, how do you determine how many keywords you need for your recently created website?

That's where competitor keyword analysis comes in. Go ahead and analyze your competitors' keywords in the top search results. Most likely, you shouldn't have less than they do. However, it doesn't mean you should make an exact copy of your competitor's keyword list, but rather use it for borrowing some ideas.

Identify your Competitors in Organic Search
There are two ways to search for competitors: manual and automated, so let's go over both methods.

How to find competitors manually

To search for direct competitors manually, you need to have a basic set of keywords you want to rank for. These may include your website categories, main types of services or goods, etc.

Based on them, head to Google to check what other websites rank for the same keywords at the top of organic search results.

Type each keyword into the search bar and collect a list of websites that rank on the first search result page. Keep in mind, that search engines tend to heavily personalize the search results according to your previous searches.
So make sure to use the Incognito mode in your browser to get accurate data. In Google Chome, you can just press the following combination: Ctrl + Shift +N.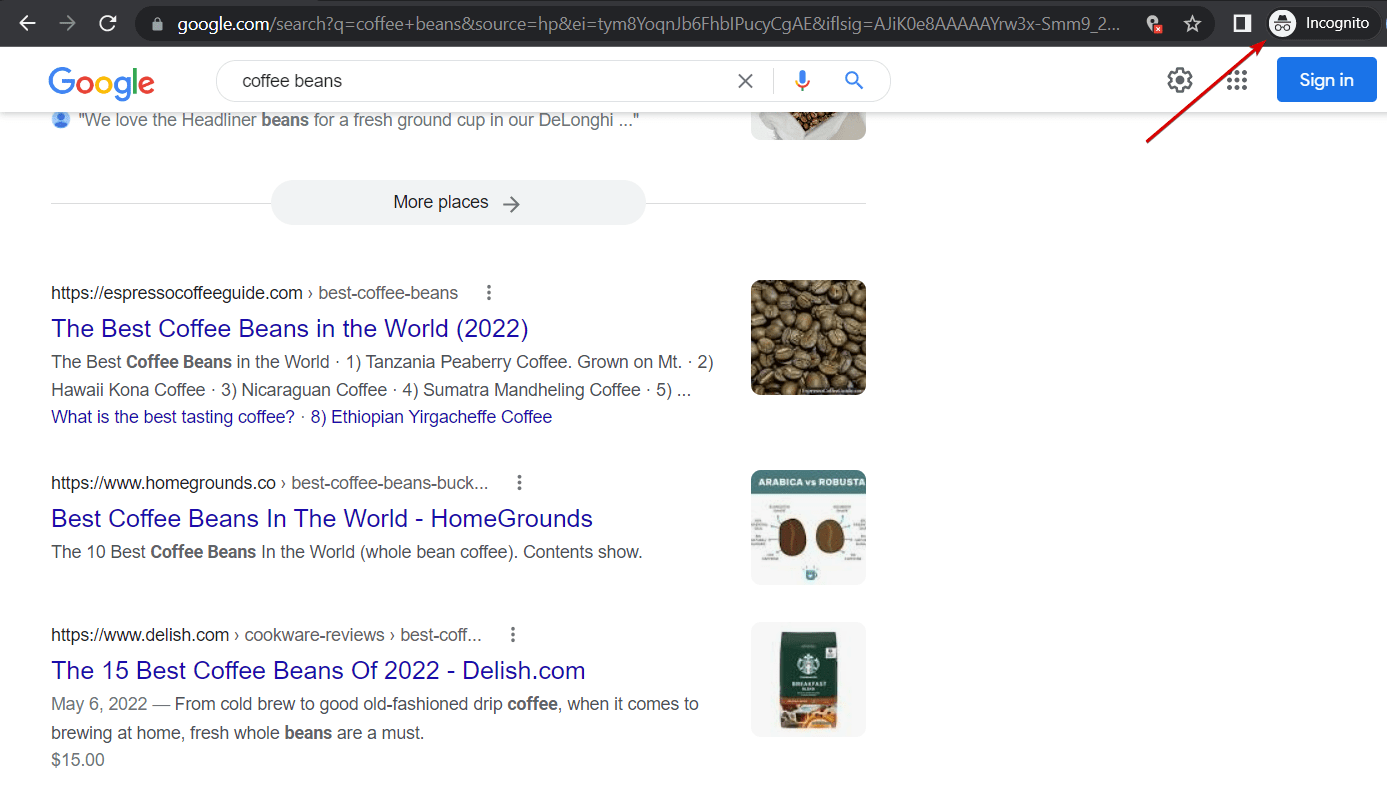 Enter all your basic keywords into the search bar one by one, as the search results for each of them will vary.

Add all the websites into the table (Google Spreadsheets, Microsoft Exel) that rank for the keywords of interest. You will get a basic understanding of the competitive landscape in your industry and figure out your closest competitors. Now you have the foundation for your further analysis.

However, manual search for competitors has some significant disadvantages you should take into consideration:

It's very time-consuming;
The data might be inaccurate;
There's a risk to miss an important competitor or keyword;
It's difficult to keep pace with the industry and ensure your data is always up-to-date;
How to Identify Competitors with Serpstat

To speed up the search for direct competitors and get more accurate and up-to-date information, you can automate the process with specialized SEO services. I'll show you how to quickly collect a list of competitors' websites using Serpstat.

If you already have an established website and there's enough data about it in the index:

Type the domain address into the search bar → select the database (region) → click Search. By default, you'll be directed to the Domain Analysis Overview Report. Scroll down and take a look at the Competitors Graph.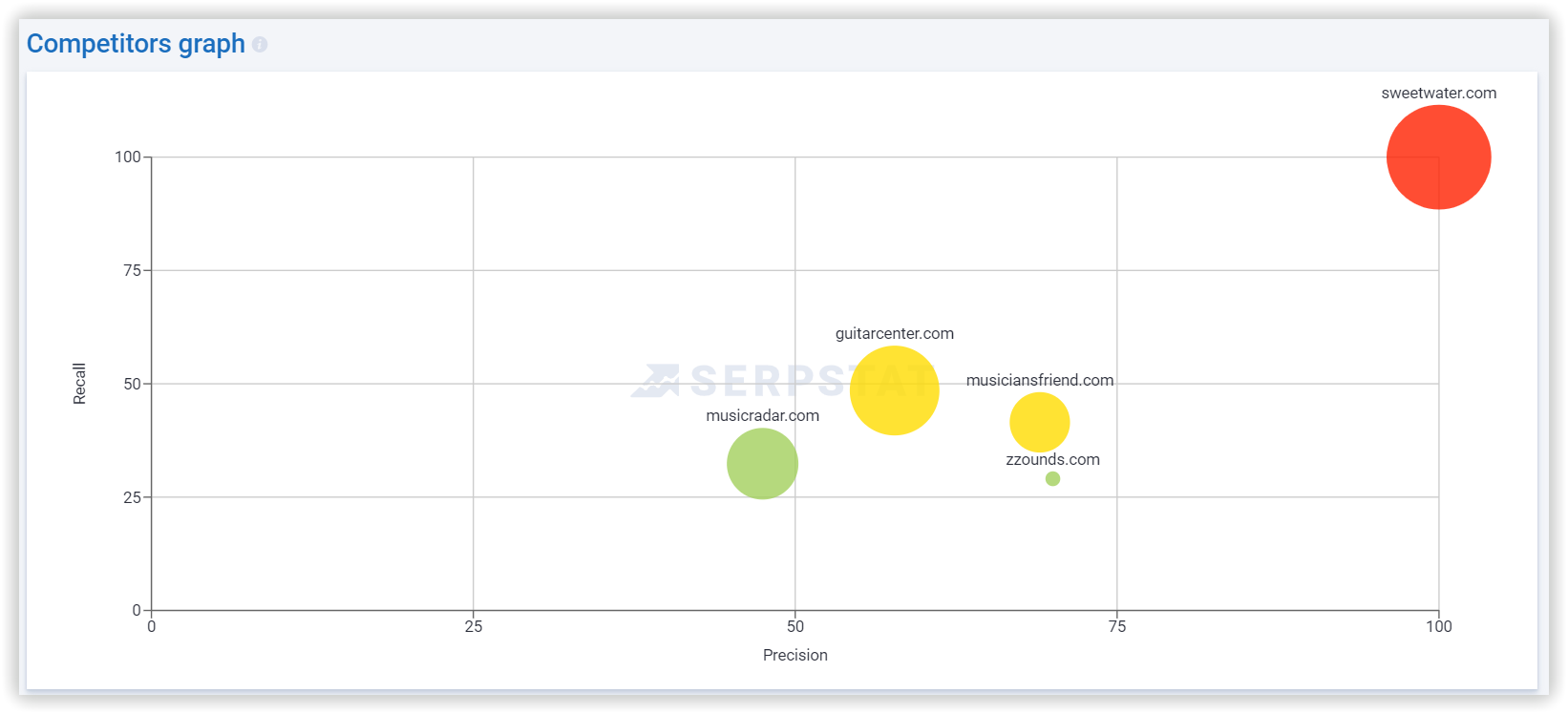 The graph shows your domain's closest competitors based on keyword intersection.
The analyzed domain will always be in the upper right corner of the graph. Direct competitors are those sites that are located closest to it at the intersection of axes.

To get a complete list of relevant competitors, go to the Domain Analysis → SEO Research→ Competitors, which you can access in the menu on the left.


To work further with the list of your competitors, download the data in a convenient format: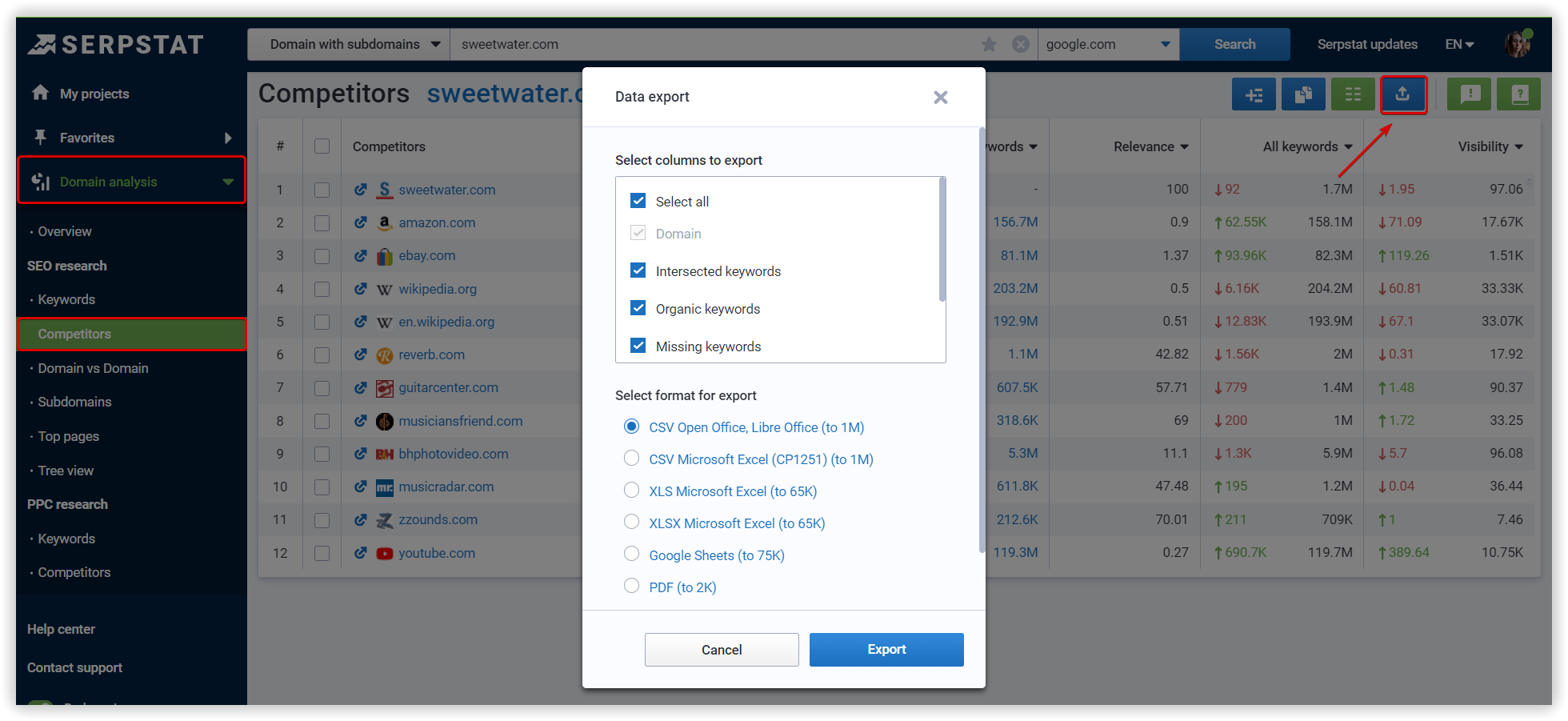 After downloading, clean up the list a little bit to only leave commercial websites. Also, make sure to get rid of irrelevant websites like Youtube, Wikipedia, Amazon, etc. While they technically are your (and everyone else's) competitors in organic search results, most likely you are not going to compete with them in terms of business, right? :)


When the website is new or there's not enough data about it:

In this case, you can take a different approach — analyze the website categories.
Type in the keyword from an area of your business (let's take "electric guitar" as an example) and go to Keyword Research → SEO Research → Competitors.


Export the list in a convenient format and remove irrelevant competitors.

There are plenty of things you can do with this competitor list, such as analyze their keywords (and borrow the most relevant ones for your website), website structure, content, backlink profile and the list goes on.
Collect Keywords to Cover All Categories of Your Website

Now, that's where we start collecting keywords for your website.

Keep in mind, that this stage is crucial. We need to cover all areas of our business and all stages of the buyer's journey – collect as many keywords as possible, filter them, and cluster them into categories.

For each category, we collect the most fundamental and relevant keywords and then expand the keyword list with the synonyms.

Go to Keyword Research → SEO Research → Related Keywords. Type in the name of your category (let's say it's electric guitars). Now you have a list of all semantically related keywords you can sort and filter however you want.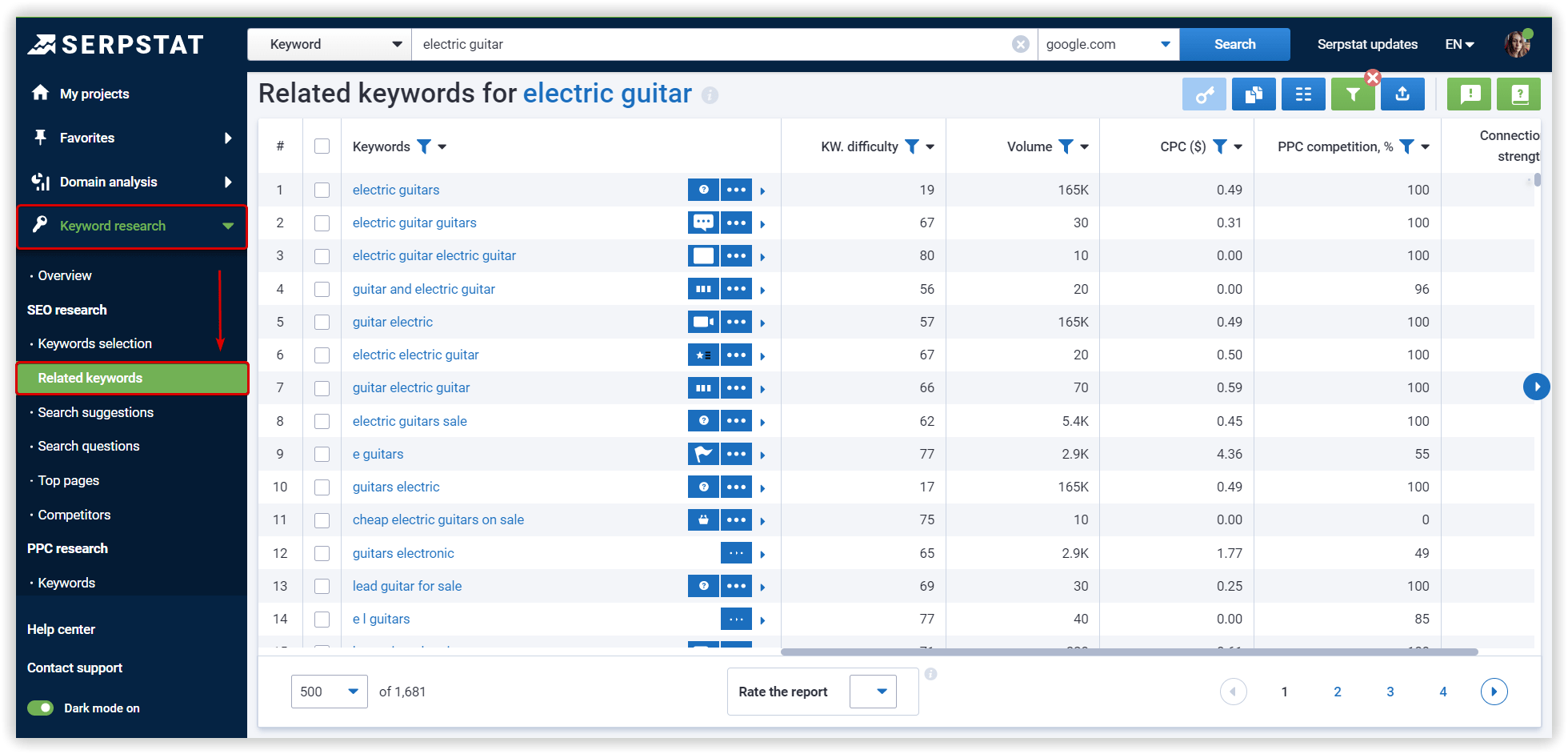 Then, switch to the Search Suggestions report to collect the related queries Google offers to users when they type in a keyword: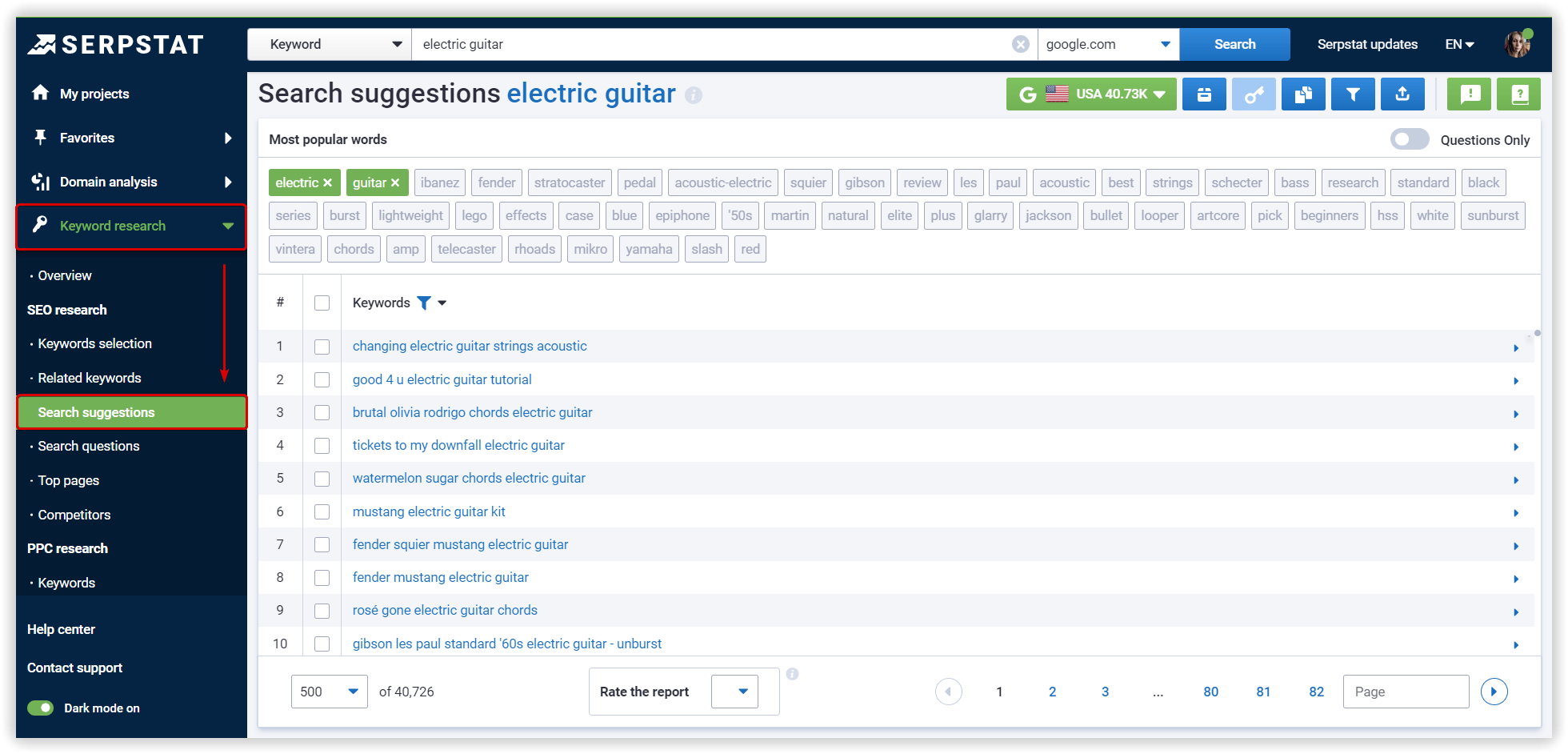 If your website has a blog, a great way to generate content ideas, titles, and headers for your articles is the Serpstat Search Questions report. It will provide you with the questions users actually ask on Google, and if you give an informative and comprehensive answer to them on your website, it's going to drive more organic traffic.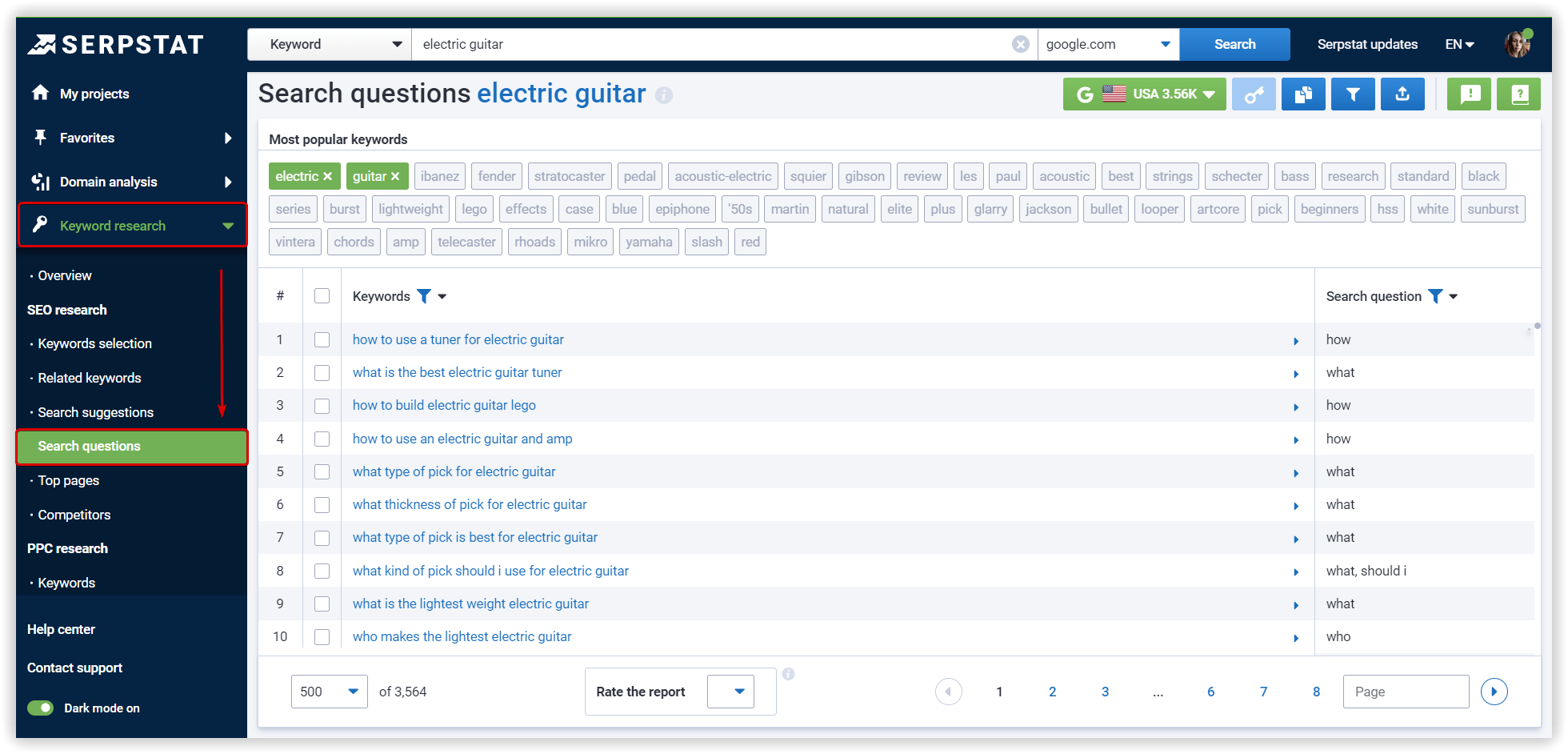 Then, go to Domain Analysis → SEO Research → Keywords. Enter the competitor's domain name into the search bar (which we've collected previously), and select your database.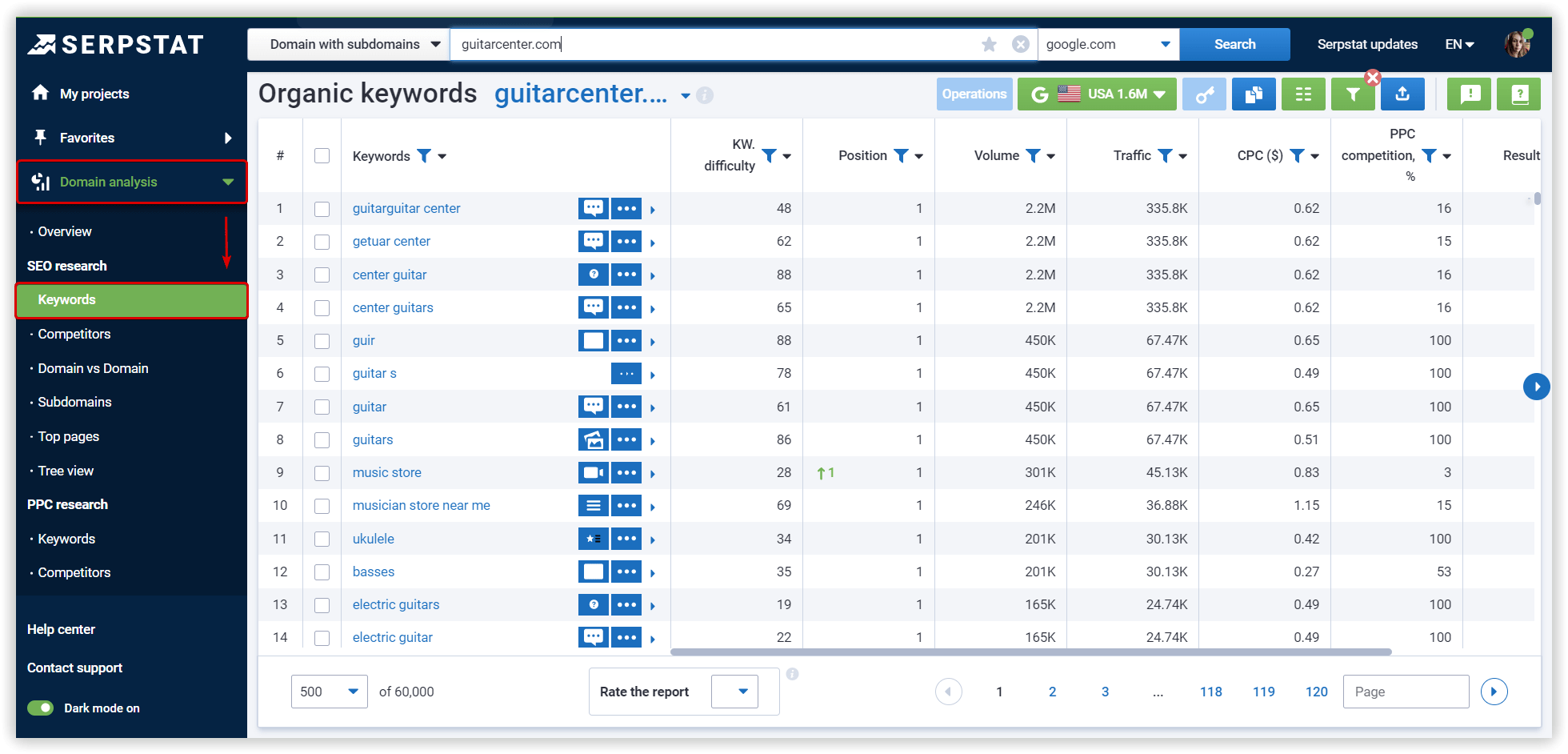 Great! Now you have a list of your competitor's keywords, from which you can collect ideas for your own website.
Our specialists will contact you and discuss options for further work. These may include a personal demonstration, a trial period, comprehensive training articles, webinar recordings, and custom advice from a Serpstat specialist. It is our goal to make you feel comfortable while using Serpstat.
Clean Up and Cluster Your Keyword List

Let's say you've already collected a keyword list with all possible options. Next, you need to follow these steps:

Remove negative keywords. These may include keywords that are irrelevant to your topic or location, misleading queries, competitor brand names, subjective characteristics (e.g., the best), etc.

Divide the search queries into informational and commercial, and high, medium, and low search volume.
Group keywords by existing categories of your website and note which pages you need to create additionally.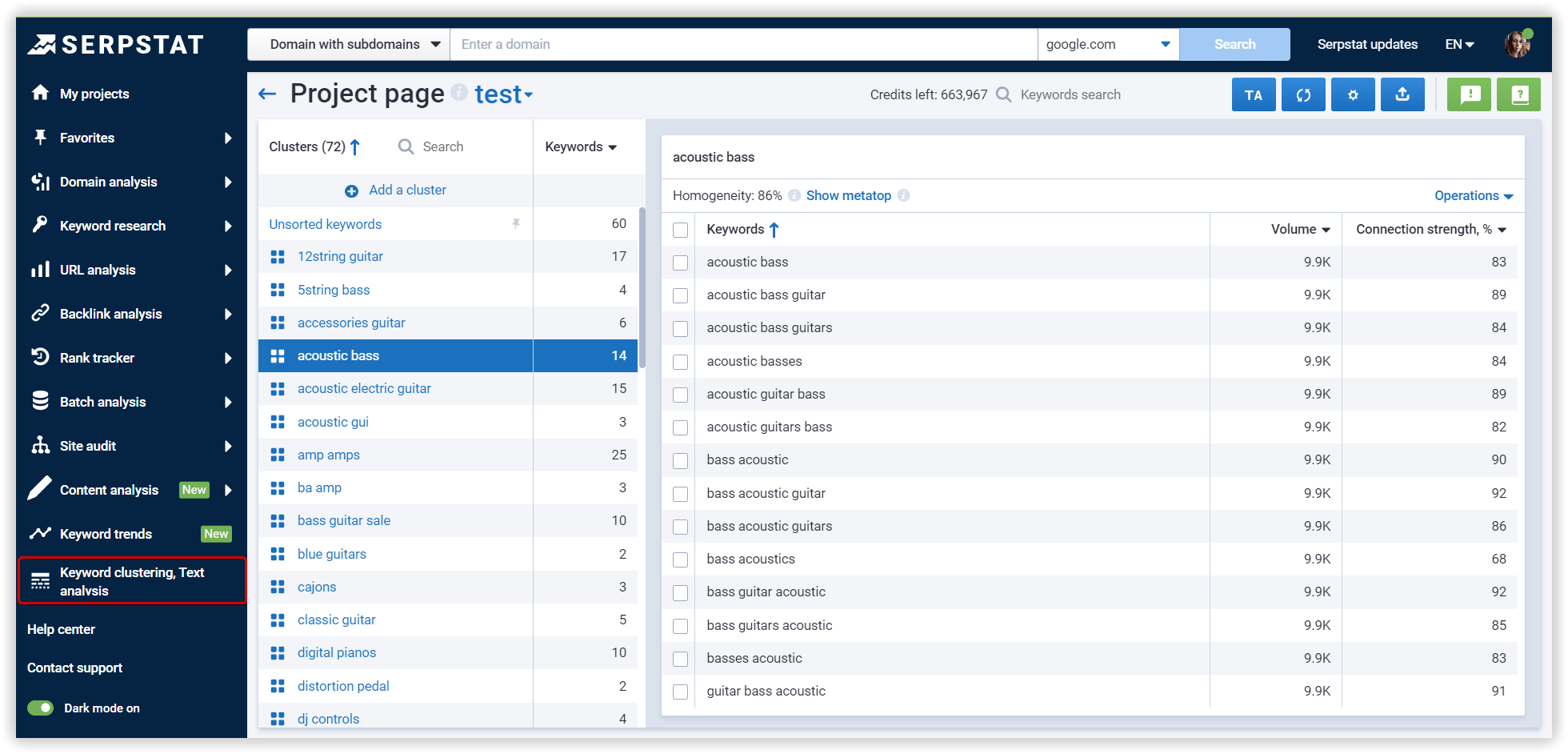 However, that would need a whole separate article.

Luckily, we already have it on our blog ;)
This article is a part of Serpstat's
Checklist
tool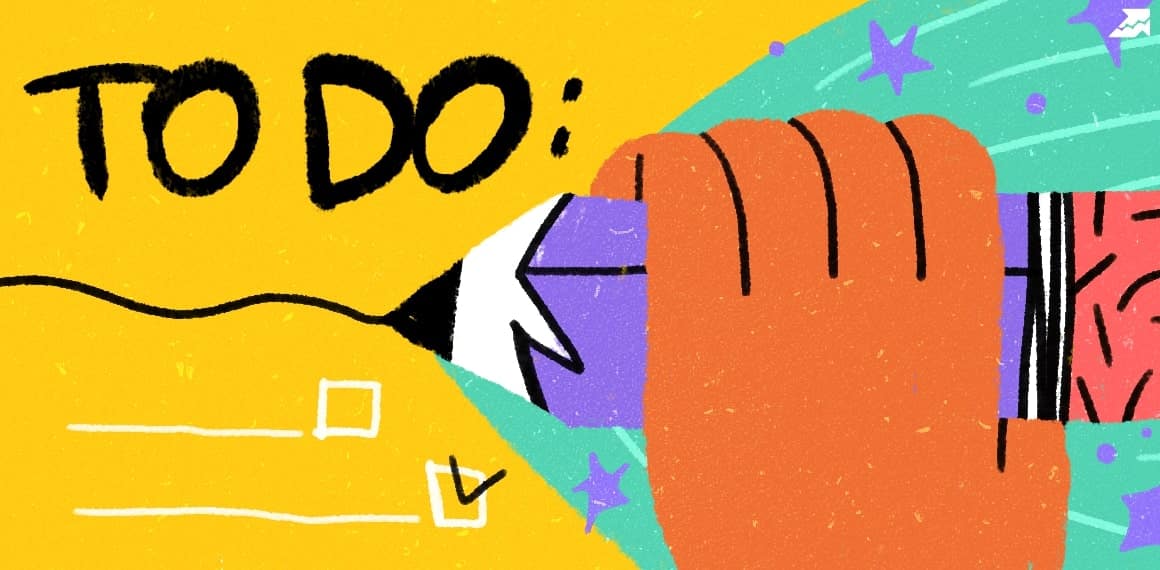 Checklist is a ready-to-do list that helps to keep reporting of the work progress on a specific project. The tool contains templates with an extensive list of project development parameters where you can also add your own items and plans.
Speed up your search marketing growth with Serpstat!
Keyword and backlink opportunities, competitors' online strategy, daily rankings and SEO-related issues.
A pack of tools for reducing your time on SEO tasks.
Found an error? Select it and press Ctrl + Enter to tell us
Cases, life hacks, researches, and useful articles
Don't you have time to follow the news? No worries! Our editor will choose articles that will definitely help you with your work. Join our cozy community :)
By clicking the button, you agree to our privacy policy.