Compare URL
The tool complements the Competitor report. It helps you compare three pages semantics at the same time, forming a result with unique and common URL keywords among them. This way you will quickly get keywords for which competitors' pages rank in search, but the analyzed page does not.
"Total" and "Unique" keywords are indicators that will help to expand the semantics. By exporting the keywords to yourself, you will receive a list of keywords by which the competitor is promoting.
"Total" — the keywords that the two analyzed domains have.
"Unique" — the keywords that the two analyzed domains have, and this does not include the zone of the third domain.
To make it clearer, let's look at an example:
By analyzing URL1 and URL3 (gray area in the graph), "total" is the key that these two pages have. On the graph, these are the zones marked with numbers 1 and 2.
"Unique" — the keywords that these two domains have, but the third one does not. On the graph, this is the zone with the number 2.
The indicators in the table are clickable and to see the full list, click on the indicator and these keywords will be presented under the graph.
The change dynamics are visible near the positions:
"New" means that the domain wasn't previously ranked within the top 100 Google for this keyword.
Note that the green indicator points downward and the red indicator points upward. These indicators are compared with the desired domain, so if the indicator is directed upwards, then the positions have grown, in red this is bad for us.
And vice versa, the indicator is directed downwards positions have dropped and green because this is great for us.
Frequency (average per month over the last year) — how often users typed this key into a search.
CPC — cost per click in USD.
Competition will show how difficult it will be to promote a given keyword in PPC (max. 100%).
Use case: collecting unique keywords
The report will save you time searching for the keywords your page is missing. Having selected the necessary pages for analysis, you can upload a list of unique keywords, focusing on their indicators.

Export the table in a preferred format: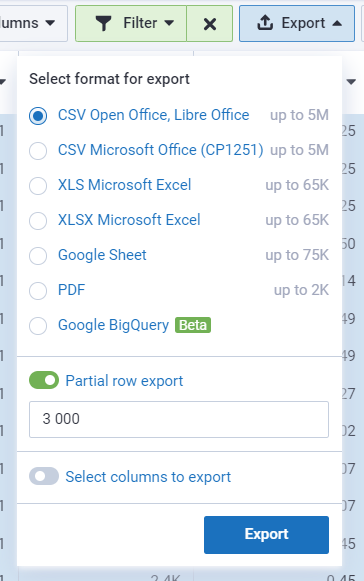 To export to Google (Sheets, BQ), connect your Google account to Serpstat. Then, exports will be done only to the connected account. You can change the account for export by changing the account email in Settings or disabling access directly through Google Settings.