SEO Research / Competitors report suggests competitors based on common keywords.

Metrics:
Common Keywords - common keywords for the researched domain and its competitor.
Missing Keywords - keywords the competitor ranks for, but the researched domain does not.
Visibility - the visibility score of competitors;
Relevance - competitor relevance score on a scale from 0 to 100. Helps to identify direct competition based on the amount of common keywords.
Changing the List of Competitors
You can edit the competitor's list by adding or removing competitors. Click on Change the List of Competitors box, enter a new competitor or remove an existing one, and click on Apply.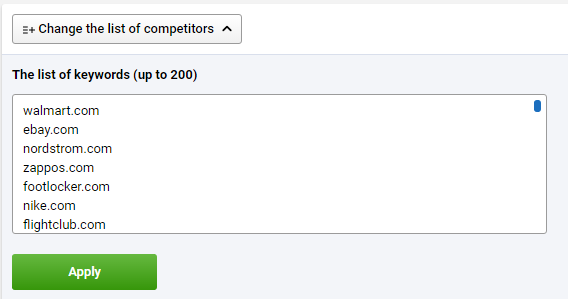 Data Export
The report can be exported in one of the seven supported formats: CSV Open Office, CSV Microsoft Excel, XLS Microsoft Excel, XLSX Microsoft Excel, Google Docs, PDF, or TXT. PDF export option supports branded reporting (starting from Plan C, users can upload their own logo to be added to the exported report).