User Guide
Keyword Research tool lists all keywords related to the researched query based on the full-text search.

Metrics:
Volume Google - the keyword's average monthly search volume over the previous 12 months
Volume (last month) - the number of searches for the keyword over the past month
CPC - the keyword's cost-per-click in paid search
Competition - the level of competition on the keyword in paid search
Results - the number of results returned by the search engine in response to the query
Social domains - social media domains that come up in search results for the keyword
If any additional elements appear in the search results for the keyword, you'll see small icons next to the keywords. You can find out their meaning by hovering the over the icon, or you can look up for the icon's meaning in Filters.
Filering and Sorting
The returned list of keywords can be sorted by:
search volume in Google Adwords;

domain position for a keyword;

competition level;

cost per click;

presence of toponyms;

presence of additional elements in the results;

number of results that have been returned the search engine;

presence or absence of specific words in a keyword;

keywords with wrong spelling;

number of words in keyword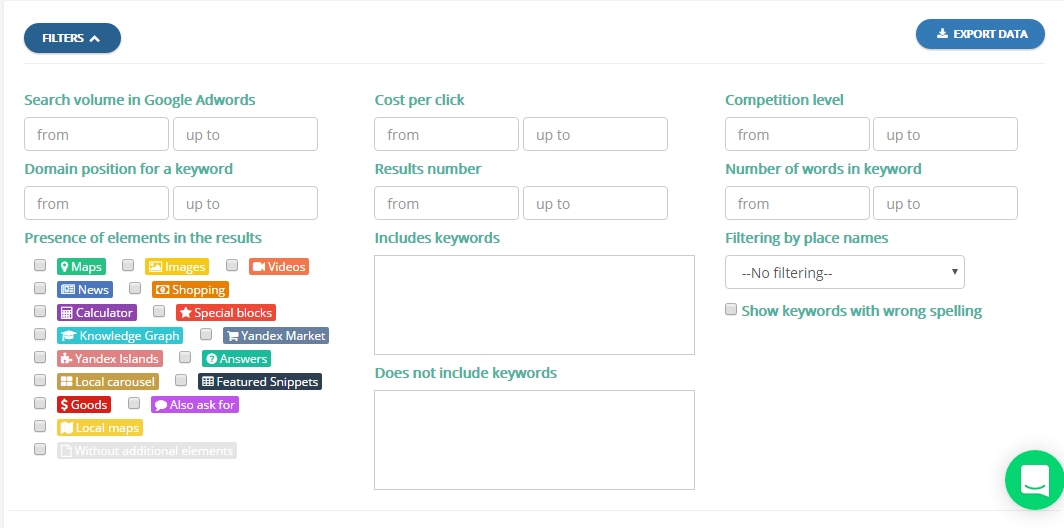 Data Export
You can export the list of competitors in one of the seven supported formats: CSV Open Office, CSV Microsoft Excel, XLS Microsoft Excel, XLSX Microsoft Excel, Google Docs, PDF, or TXT.