User Guide
Positions report lists all keywords the researched domain is ranking for in top 100 search results.


Metrics:
Pos - the domain's position for the keyword. The green arrow indicates that the domain has improved its ranking for the keyword, and the red arrow means that the domain's ranking for the keyword has deteriorated.
Volume Google - the keyword's monthly search volume according to Google AdWords.
CPC - the cost of the keyword according to Google Adwords
Competition - the level of competition on the keyword in paid search. Data is taken from Google Adwords.
Results - the number of pages returned by the search engine for the query;
URL -the page that comes up in search results for the keyword.
Small icons to the right of the keyword show that the search results contain some additional elements like images, videos, maps, knowledge graphs etc. To learn what they mean, hover over them. Also, you may find the meaning of additional elements in the Filters.
Filtering and Sorting
Domain's keywords can be sorted by:
search volume in Google Adwords;

domain position for a keyword;

competition level;

cost per click;

presence of toponyms;

presence of additional elements in the results;

number of results that have been returned the search engine;

presence or absence of specific words in a keyword;

changes in the domain's rankings for keywords since the specified date

URL that the keywords belong to

number of words in a keyword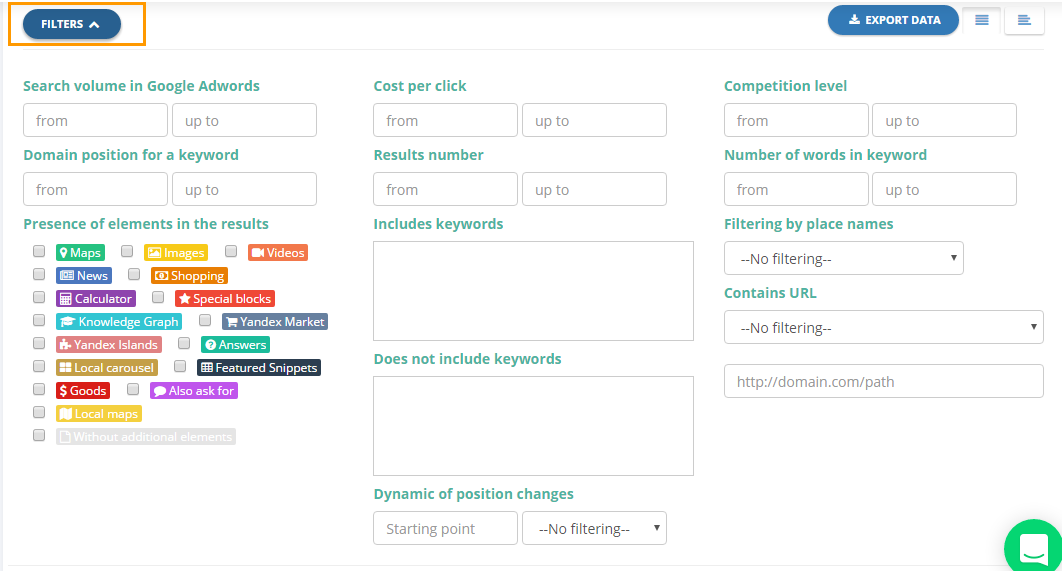 Data Export
Keywords can be exported in one of the seven supported formats: CSV Open Office, CSV Microsoft Excel, XLS Microsoft Excel, XLSX Microsoft Excel, Google Docs, PDF, or TXT.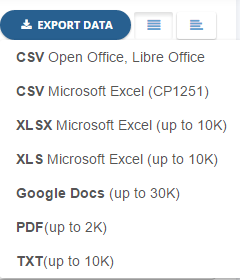 Creating a Custom List
You can export a custom list of keywords. Select the necessary keywords, name your list and click on "Add".
The list will be saved to your Projects, where you can view it or download to your machine.