Positions report lists all keywords the researched domain is ranking for in top 100 search results.


Metrics:
Position - the domain's position for the keyword. The green arrow indicates that the domain has improved its rank for the keyword, and the red arrow means that the domain's position for the keyword has declined.
Volume Google - keyword monthly search volume according to Google AdWords.
CPC - keyword CPC according to Google Adwords.
Competition - the level of competition on the keyword in paid search according to Google Adwords.
Results - the number of documents returned by the search engine for a query.
URL -the page that is ranking for the keyword.
Small icons to the right of the keyword show that the search results contain some rich answers like images, videos, maps, knowledge graphs etc. To learn what they mean, hover over them. Also, you can find out the meaning of these icons in the Filters.
Filtering and Sorting
Domain's keywords can be sorted by:
search volume in Google Adwords;

domain position for a keyword;

CPC;

number of results

competition level;

number of words in a keyword;
special elements in SERP

presence of toponyms;

misspelled keywords;

duplicated positions;
presence or absence of specific words in a keyword;

URL.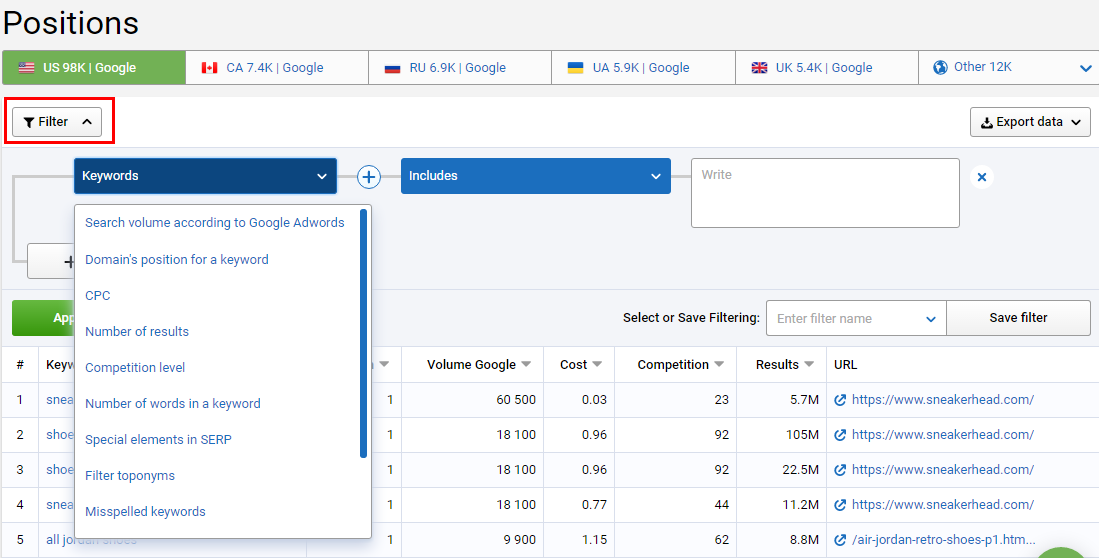 Data Export
The report can be exported in one of the seven supported formats: CSV Open Office, CSV Microsoft Excel, XLS Microsoft Excel, XLSX Microsoft Excel, Google Docs, PDF, or TXT. PDF export option supports branded reporting (starting from Plan C, users can upload their own logo to be added to the exported report).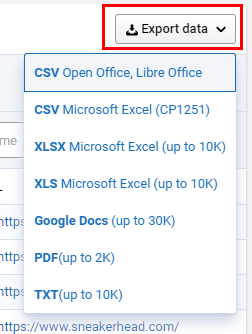 Creating a Custom List
You can export a custom list of keywords. Select the necessary keywords, name your list and click on Add. The list will be saved to Tools, where you can view it or download to your computer.