How to check the ranking of a website and competitors daily?
We suggest you use our tool to automatically track rankings of your and competing sites in the search results.

Test Serpstat Rank Tracker to check the dynamics of changes in the sites' ranking in search engines regularly and automatically.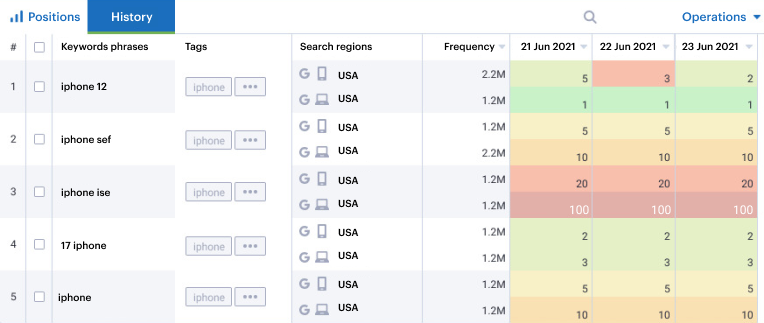 Companies we are proud to call our clients


Stages of checking website's ranking
Collect a keywords database

To track a site's ranking, you first need to collect a database of keywords.

Serpstat will allow you to collect keywords that contain the desired query, similar queries, competitor's semantic core, as well as search queries and questions.

Keyword rank tracking

Regular rank tracking of the site allows you to solve a list of tasks: to track ranking of your site and competitor sites, collect data on keyword rank tracking in the niche, monitor SERP bounces for certain dates, and compare the progress of niche players. Serpstat allows for:
 ● Rank tracking in organic and paid search results
 ● Setting any frequency of rank scanning, as well as rank update "on request".
 ● Keyword grouping by tags to track ranking of sections, categories, page groups.
 ● Selecting the SERP type for the devices to get to your site: mobile and desktop.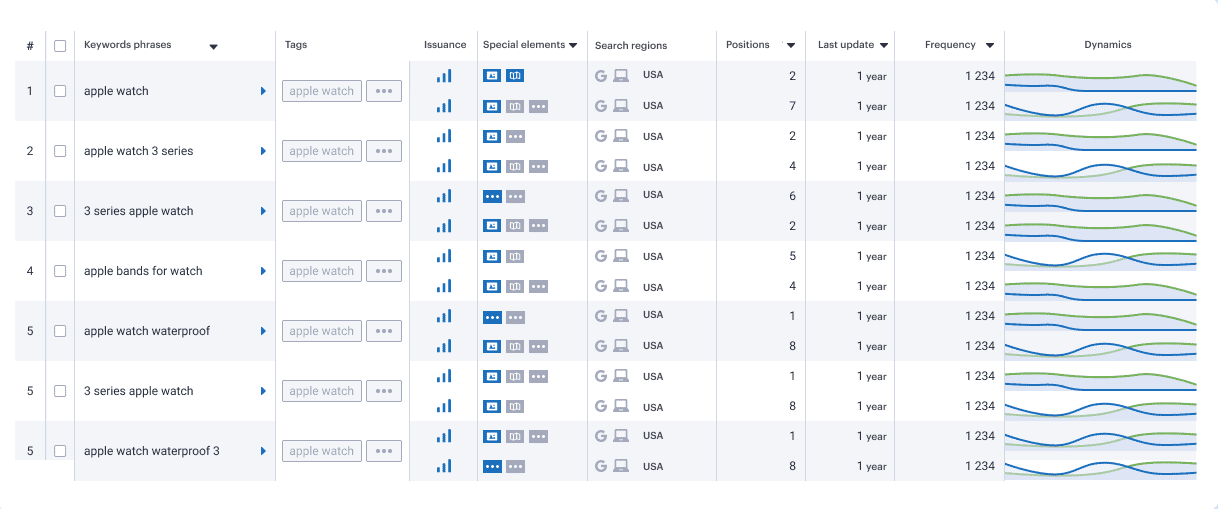 Track competitor changes

Check the ranking of competitors' websites in the search results to find their strengths and weaknesses, and incorporate their best strategies into your project.
 ● Select relevant competitors based on competitor analysis.
 ● Add other competitors to your project to receive regular reports on their SEO success.
 ● Receive a rank tracking report of competing sites via email to keep up with the competitors' progress.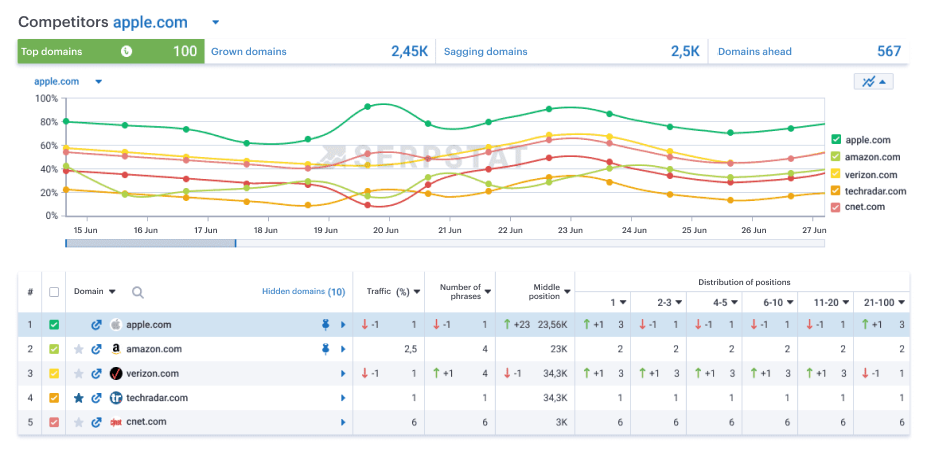 Analyze ranking changes
Once you have completed the rank tracking for each keyword, both for individual landing pages and for entire categories, follow these tasks:
 ● Identify which keywords are gaining or losing ranking on your site.
 ● Track ranking by keyword, ranking of competitors' sites to compare traffic distribution, visibility, and dynamics of changes within your projects.
 ● Find out which special elements appear in the SERP according to your keywords and adjust your strategy consequently.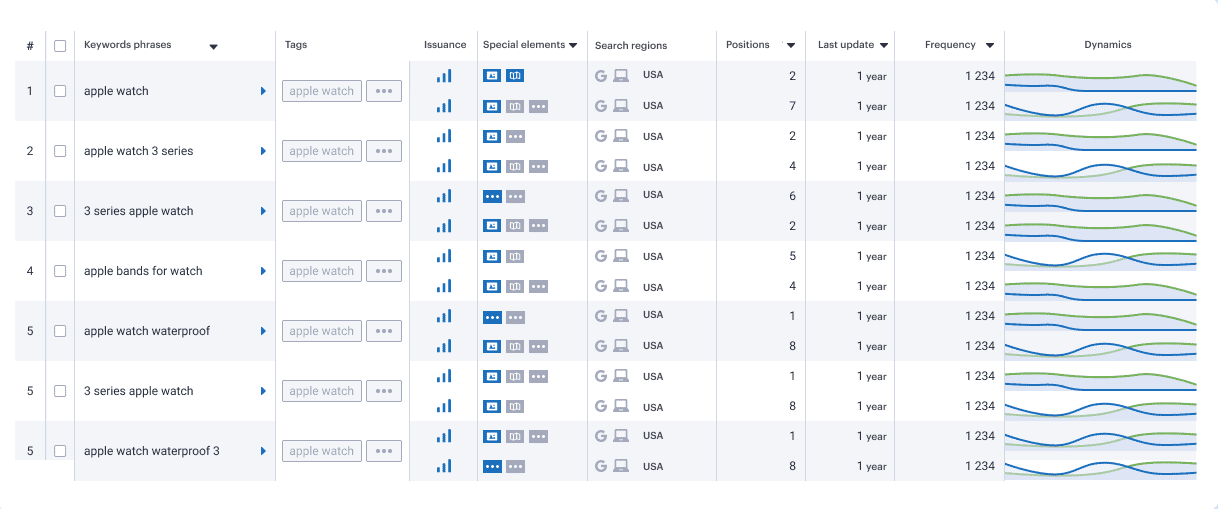 Tasks to solve with rank tracker
Compare organic and paid SERP for a set of queries for your project.

Analyze site ranking and competitors in the keyword pool and the niche.

Compare mobile and desktop SERPs to understand users behavior.

Track several search regions at the same time and compare site ranking.

Set tags for a group of keywords and compare your site with a competitor.

Track the special elements in different types of SERPs and regions.

FAQ. Common questions about rank tracking
What is site rank?
Site rank is the place that the site occupies in organic search engine results for certain keyword. This term is relative, since you can analyze ranking on a specific page,or on the whole site. The webmaster's task is to track the number of sites in similar niches that link to the promoted site. Often the site's rank depends on the citation index score, so it is crucial for credible sites to link to the promoted site.
How to find out the site's rank in Google?
In order to track ranking of the site in Google or other search engines, you can perform manual and automatic tracking.
To track ranking manually , the webmaster needs to switch to incognito mode, set a specific query and check the site's rank in the search results. This is a free and fast way to track ranking, but it allows you to analyze only a limited number of rankings, since tracking an extensive list is time consuming.
Automatic position track , can be performed using specialized tools, such as Serpstat Rank Tracker. By setting a specific domain, you can check data such as:
ranking by keywords;
competitors' semantic core;
niche top pages;
rankings in SERPs of a particular site.

You need to set up rank tracking for your tasks by specifying the following parameters:
Search engine type: Google.
SERP type: PPC or organic.
Mobile or desktop.
Schedule: from daily to any other interval.
How to track the site's ranking?
For multi-page sites and commercial projects, track the site's ranking with the Rank Tracker tool: create a project, select the search region, search engine, SERP types and tracking frequency. Use the suggestions and start tracking. Rank tracking allows you to check the search engines broadly. Track your domain and competitor sites that are ranked for the same keywords. Based on the tracking results, you can adjust the promotion strategy to spend wisely and grow traffic. For example, you may discover that your competitors only rank at the top on desktop and are easily surpassed on mobile. Or you may see that the competition in SEO is too stiff, so it may be worth focusing on context.