Technical Website SEO Audit online tool
Carry out a comprehensive technical SEO audit, find and fix on-site issues, boost your Google rankings and enjoy white label reports.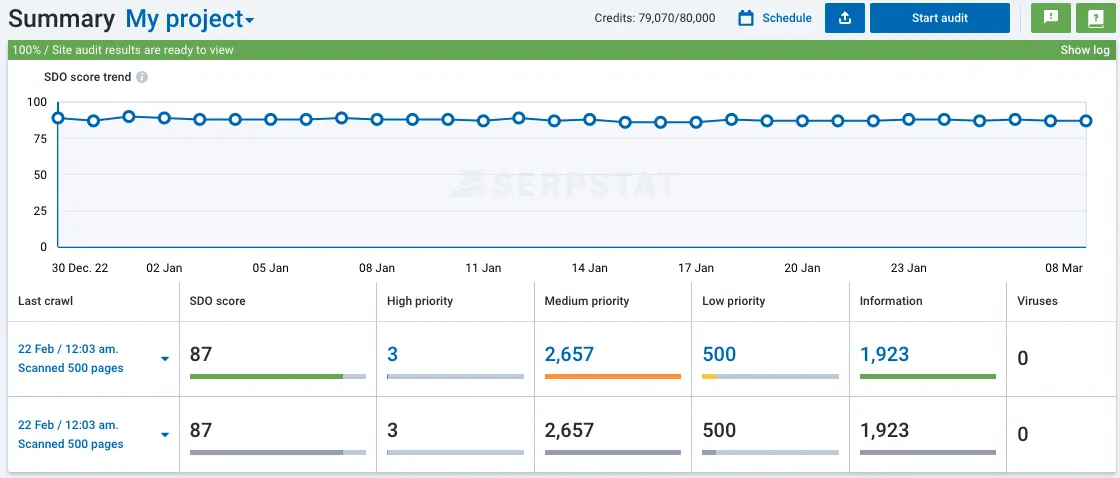 Trusted by






Perform website SEO audit
Our online SEO audit tool performs SEO analysis and scans websites for technical SEO issues. Find errors that hold your site back in one click:
 ● Find all issues divided into groups, depending on their priority: high, medium or low.
 ● Estimate the level of site optimization by a set of criteria and our Domain Optimization Score.
 ● Track the growth dynamics of the site optimization level.
 ● Get recommendations on speeding up site pages for computers and mobile devices.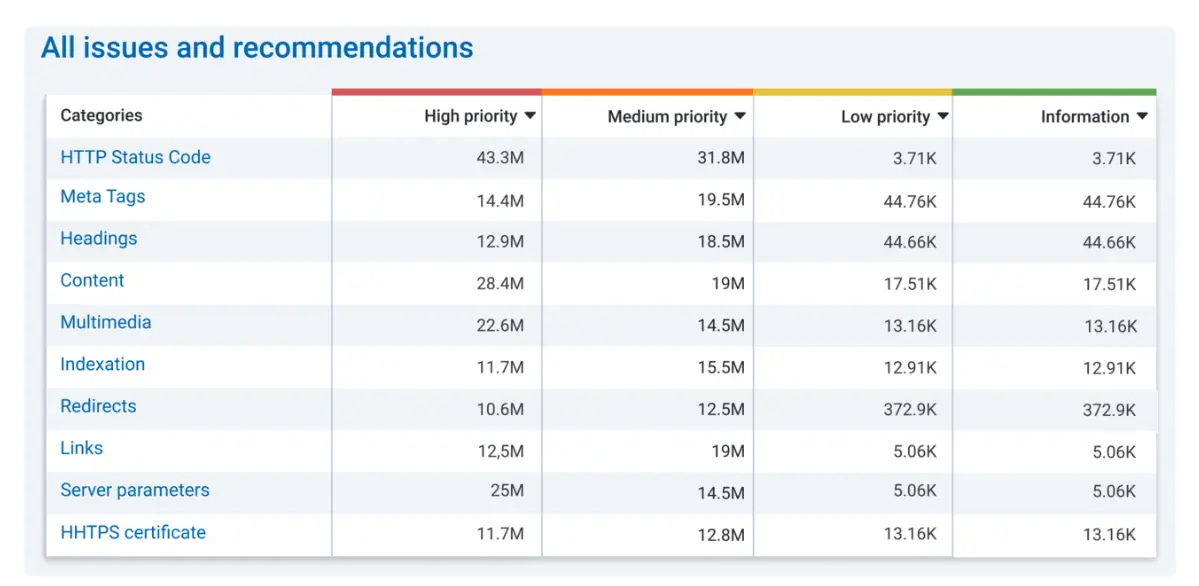 Get scheduled SEO audit reports 
Export Audit Summary report and get the issues for all pages in a single file. You can schedule a weekly/daily/manual SEO audit online and Serpstat will automatically start crawling your website. You'll get a notification in your inbox when it is finished.
Check SEO audit report online, and monitor if the number of issues found is decreasing.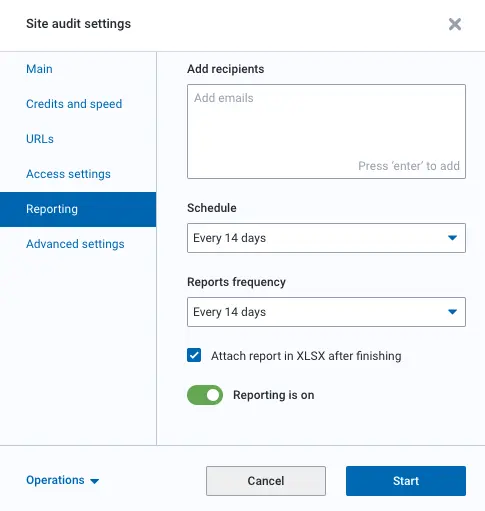 Our beloved and thankful customers rate us highly
Why is Website Audit important?
Your site technical optimization is crucial for search engines and site visitors. Serpstat SEO Website Audit is the right choice as it provides:
 ● Description of every issue and a way to fix it.
 ● Clear and handy graphs.
 ● Custom Overview report with powerful filters.
 ● Custom settings of the audit according to any of your needs.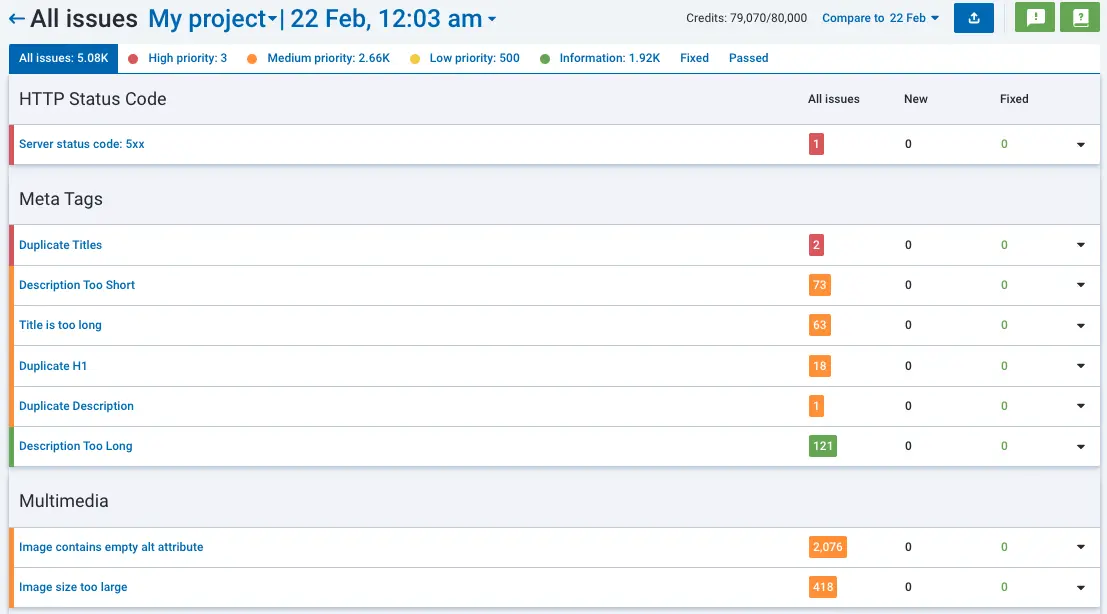 Advantages of the Site Audit Tool

Use our Technical SEO Guide to detect page failures more quickly.

Only you decide how many pages to scan, with individual scan parameters.

Page Audit Report to quickly review your campaign results.

Get a customized detailed report, save it as a template.

Work together with your teammates to complete the project.

What professionals say about our tools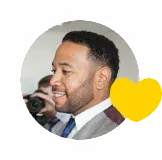 JANEIRO BLACKMON

DIGITAL MARKETING CONSULTANT, DESIGNBLAZE MARKETING

For my use, there is much to like about Serpstat. I really like the site audit tool and information I can gather on competitors.
Most of all, I like all of the training and support they provide.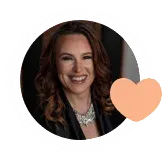 JENA APGAR

MARKETING STRATEGIST, 2XMYBIZ.COM

I love that it tracks SEO over a time period tracking keyword growth across your site and competitors over time. I'll leverage it
on client meetings to show how their current SEO guy is failing.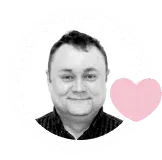 JOHN NEWTON
MARKETING DIRECTOR, OXYGEN FINANCE

Helps you understand how your site and sites belonging to competitors are performing in paid and organic search, and what to do about things you want to improve.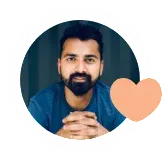 HARSH AGRAWAL

FOUNDER AND CEO, SHOUTMELOUD

Serpstat is another comprehensive keyword research tool that I discovered recently. They've done some really good work when it comes to helping us identify winning keywords.

Website Audit FAQ
Why is SEO audit important?
SEO audit plays a vital role in determining the performance of your website. Google constantly checks how your website performs and updates its algorithms countless times, and SEO audit helps you find out how to adjust your website to meet the requirements. Moreover, it helps you find and fix technical issues that can slow down the website and drop your rankings.
What is SEO Audit tool?
SEO Audit Tool is one of the best ways to find the technical issues of your website that have a negative impact on its rankings. With just a few clicks, you can find out an overall SEO health score, missing or wrong metatags, download speed, troubles with content and multimedia, server parameters, links, and more. SEO audit allows you everything else you need to know about the SEO performance of your website.
What is an SEO audit?
SEO audit is essential if you want to keep your SEO strategy up-to-date. It's basically a health check for your website, that helps you, as a website owner, analyze its ability to rank at the top of search engine result pages. It is important, as it helps you detect and fix errors, analyze how to steer your SEO optimization, and also have a peek at your competitor's SEO strategy to compare them and improve yours.
What is included in technical SEO?
In order for your website to rank higher, the technical part of it should be optimized, and that is why technical SEO is needed. Technical SEO includes such characteristics of a website, as a secure connection, a responsive design and a fast loading speed. This data helps technical engines access, crawl, interpret and index your website faster. Since this part has nothing to do with the actual content of your website, it is called technical.
How do I run a technical SEO audit?
The easiest way to start a technical SEO audit is to choose a tool you will do it with. With Serpstat SEO Audit online tool, you can do it in just a few steps. As a result, you will get a clear description of every issue and recommendations on how to fix them, clear graphs, custom overview reports and custom settings of your audit according to any of your needs.
How is SEO audit done?
In order to perform an SEO audit, you need a suitable tool. Once you detect all the issues and errors in your website's SEO strategy with the help of an SEO Audit tool, you should dedicate some time and effort to fix them. With Serpstat SEO Auditing tool, you will receive clear recommendations on fixing every technical issue your website has. With just a few steps, your website will be optimized for SERPs.
How can I check my website SEO?
You can quickly analyze your website SEO by running an express audit of any page of your website. It shows you an instant in-depth analysis of your page, as well as the errors in optimization and ways to fix them. It will show you how effective the pages of your website are and quick solutions to any issue that was found.
How do I audit a client's SEO report?
Once you have the SEO audit report, you can export it and get all the issues for every single page in one file. You also have the possibility to have a custom Overview report with multiple filters, so the process of your website SEO analysis will be easier. The report comes with recommendations on the ways of solving the technical issues, so you or your client can do it quickly and effectively.
How can you audit your competitors' website?
Try to begin by analyzing the main or landing pages of your competitors in Page Audit. You have to add a URL and click start. Add the domain in the project, configure the scan speed option and scan type across all pages, page list or sitemap.xml, choose the depth of scan, select the email to receive the report. Set up your own parameters for tech SEO audit, press start, get a cup of coffee you will get all the results soon!
What to look at first when analyzing a site?
Let's have a look.on SEO audit checklist with high priority issues: HTTP Status Code, missing title and description tags, missing heading on the page, too large page size, missing body text, lorem ipsum placeholder text, broken images,multiple rel="canonical' tags, missing Favicon, to many URL parameters, URL is to link,configured redirect to the site version without www, configured redirect from HTTP-version to HTTPS-version, term of certificate