Personal demonstration
Leave a request, and we will conduct a personal demonstration of the service for you, provide you with a trial period, and offer comfortable conditions for starting exploring the tool

Serpstat: the largest database of Google SERPs
12 reasons to consider Serpstat

Keyword database for every Google region – 230 countries
Own backlink index – 1.1 T
Every pricing plan includes access to API
Up to 7 users at no additional cost
Daily keyword rankings for every city and language
Free support, customer success, onboarding and educating
Multiuser management system for large teams
The largest keyword database for Yandex regions
Every pricing plan shows top 100 ranking positions
No daily and weekly limitations for exporting data
Flexible and customizable pricing
Full access to historical data
All plans include access to 30+ features
✓ RankTracking
✓ Market Share Tracking
✓ Site Audit
✓ Mobile Rank Tracking
✓ Backlink Analysis
✓ Keyword Research
✓ Keyword Difficulty

✓ URL-analysis
✓ URL-vs-URL
✓ Missing Keywords
✓ Tree-view Tool
✓ LSI Keywords
✓ PPC Research
✓ Competitor Research
✓ Reports and Infographics
✓ Keyword Clustering
✓ Text Analysis
✓ Page Audit
✓ Keyword Trends
✓ Search Suggestions
✓ Search Questions

✓ API Scripts and Integrations
✓ SEO-checklists
✓ Chrome Extension
✓ Mozilla Extension
✓ Domain vs Domain
✓ API Access
✓ User Management
And significantly more limits for a lower price. Serpstat is the most affordable SEO platform for large agencies and individual specialists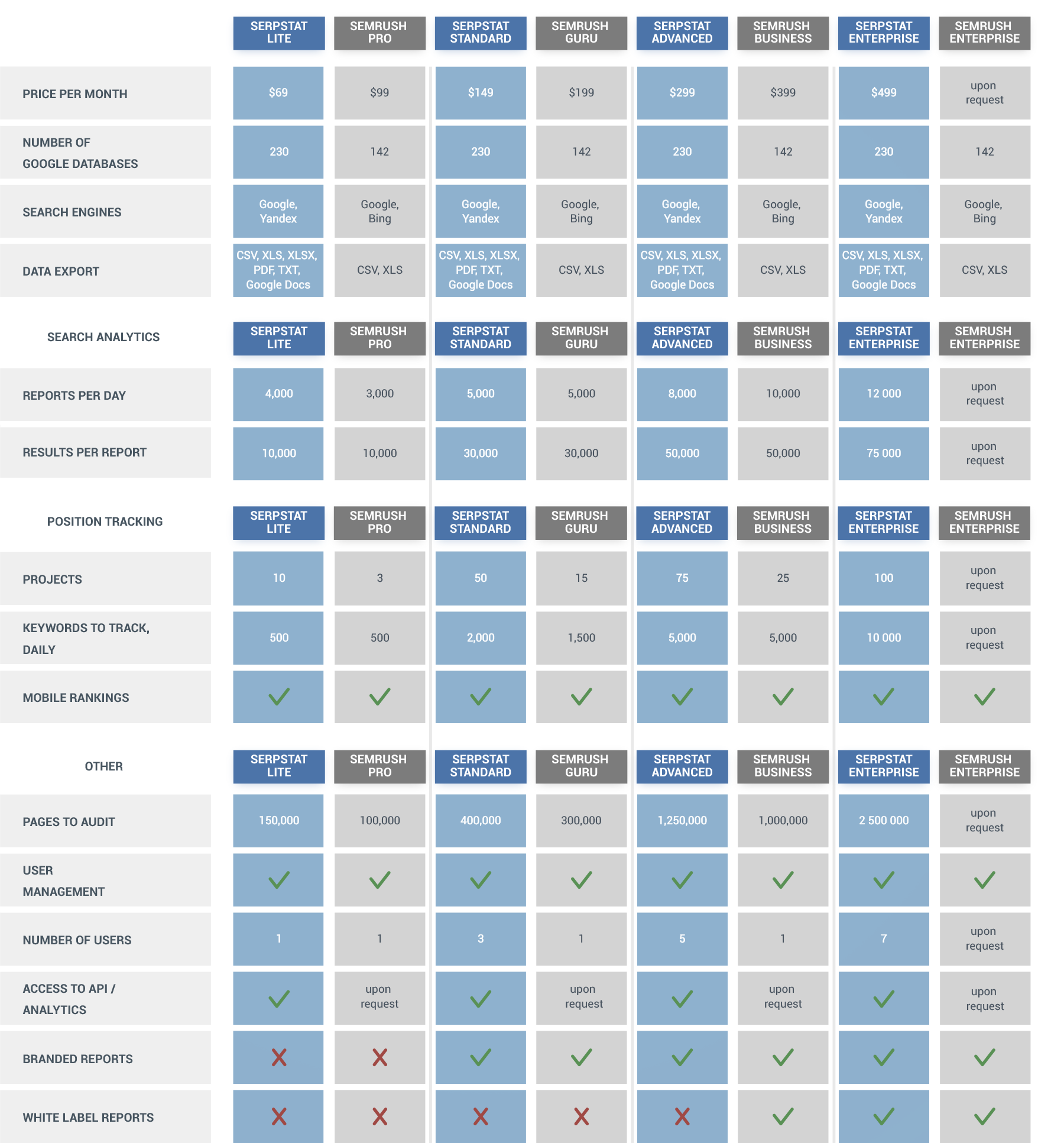 Personal demonstration
Our specialists will contact you and discuss options for further work. These may include a personal demonstration, a trial period, comprehensive training articles, webinar recordings, and custom advice from a Serpstat specialist. It is our goal to make you feel comfortable while using Serpstat.
Serpstat vs. SEMrush comparison according to G2Crowd
Other product review platforms

Using Serpstat features, our account managers have decreased our research time, developed targeted content calendars, and more effectively leveraged PPC to develop sharp Local SEO strategies.

After extensive research into finding the most comprehensive and reliable search data provider, we found clear reasons to go for Serpstat... soon to discover that this was the right choice, for reasons of both data quality and service. Not only has the dataset been larger and cleaner, but the service we have received from after-sales/support has been extremely high standard.
What our customers say about us
Love the rool and so much excited to see it having a blast on ProductHunt! If you are into search engine optimization, PPC or content marketing, give it try! It has a ton of cool features you`ll never find anywhere else (like missing keywords and questions). Play with the filters too!
Companies we are proud to call our clients