For a high-quality SEO site reputation , it is important for the website not to be associated with spam and malicious resources. There are Google guidelines for identifying and removing such links. Save time and resources by quickly and accurately collecting data on malicious links by using
Serpstat's malicious sites tool
.
Learn more about using the tool to find malicious links and other Serpstat features in a free 30-minute demo. Are you ready to try it?
How to detect malicious links?
Checking the backlink profile quality
Make sure your site isn't affected negatively by low quality links. To check your backlink profile and get a quality rating, follow these steps:
If there are a lot of links, but few IP and subnets, the site is either under the threat of a link attack or works with PBN.

On the Serpstat main page, enter the required domain in the search box and click "Search";
In the toolbar on the left, find the "Link Analysis" section;
In the Summary Report take a look at the Serpstat Domain Rank (SDR), which displays domain authority based on all backlinks.
Dynamics study of backlink profile growth

Conduct a site
backlink profile check
to identify which sites you are getting the most links from and which ones are of low quality. Analyze referring page dynamics to get answers to these questions. Next steps:
When analyzing the site's backlink profile, pay attention to the following: if the natural backlink profile of the site has grown dramatically, we recommend checking link sources and removing links from malicious resources. If you find low quality links, try to contact the webmasters, remove links or close the indexing in the Google Disavow Tool.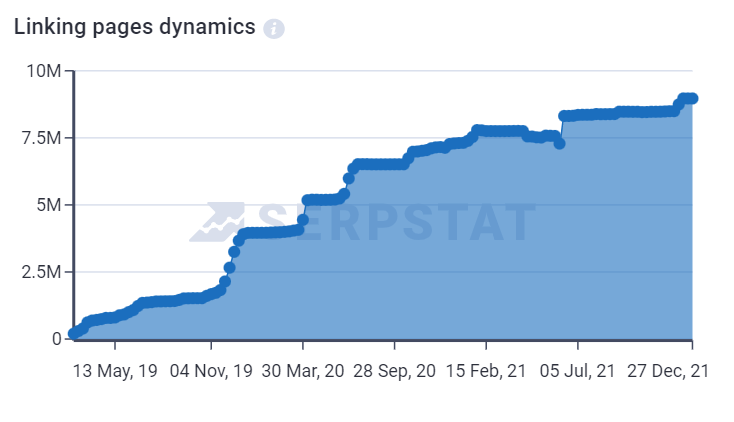 In the Summary report, look at the dynamics of referring pages chart;
Determine the rate for backlinks' number change; Keep in mind that the chart changes every week as new data becomes available.
Analysis of anchor list

Make collecting data on backlink anchors easy. It is crucial to know which anchors contain spam keywords.

This can easily be done as follows:

If necessary, you can also sort anchors by word count from 1 to 5.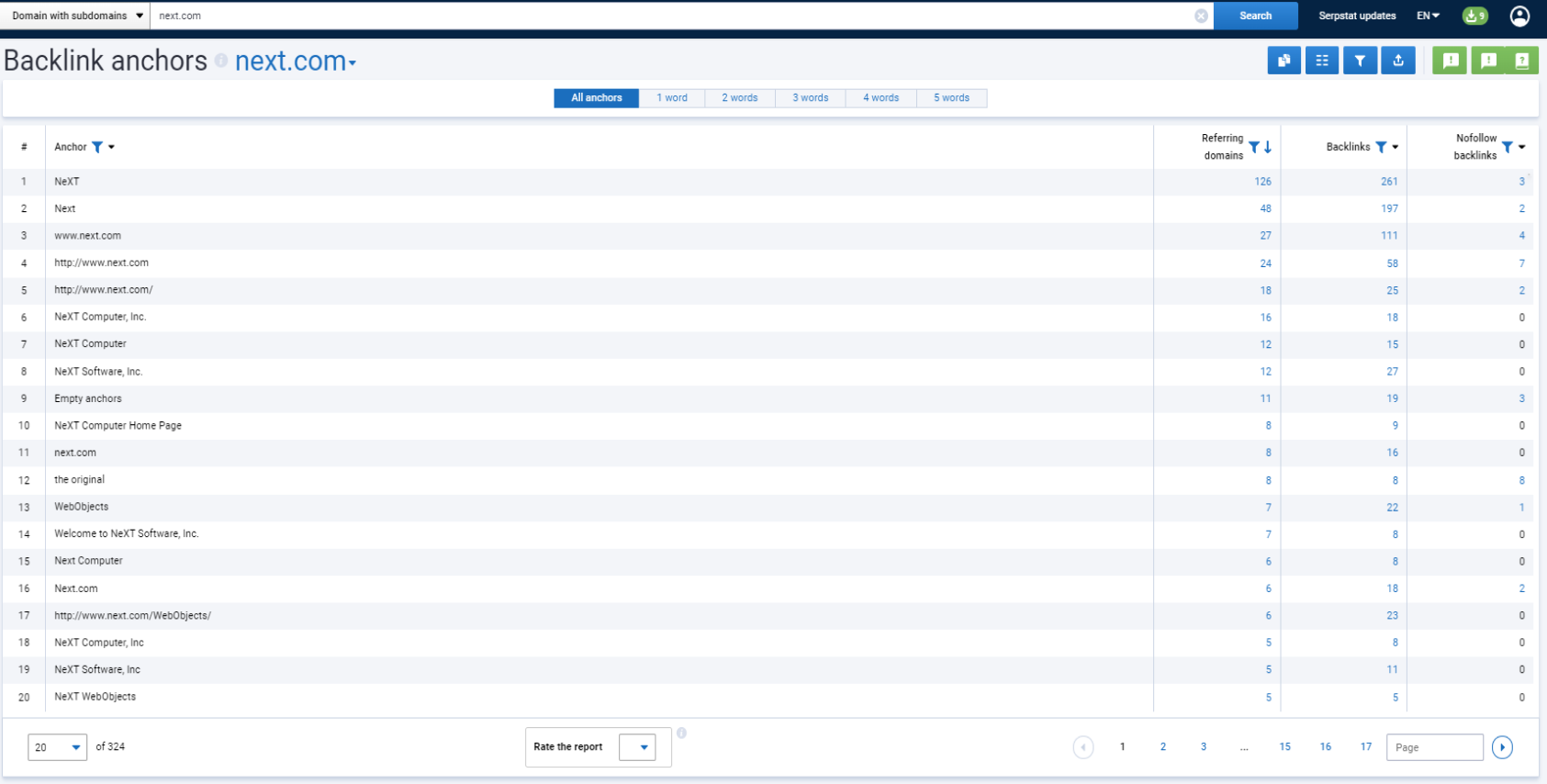 In the toolbar, find the "Link Anchors" section;
The table contains data on the backlinks anchors for the desired domain;
If necessary, use the filter to sort out branded queries, spam links and other anchors that are relevant to your project. The filter icon is in the upper right corner.
Search for malicious site links

Discover which of your domain's referring sites are flagged as malicious by Google Chrome.

Malicious links check is available in one click:

Get a ready-made list of malicious sites, data on the number of referring links, as well as the types of possible vulnerabilities.
Protect your site by removing or closing every malicious link that appears in the report.
Tasks That Can Be Solved Using the Malicious Links Report
Checking the backlink profile quality and the domain authority level
Dynamics studying of the backlink profile and finding low-quality links
Analysis of the list of anchors and search for spam links
Automatic links collection that Chrome marks as malicious
The largest Google SERP data and own link index:
Serpstat Key Benefits
Use Serpstat to quickly find malicious links, block them and protect your site from threats. Analyze anchors and identify spammy links which should be blocked.

Learn more about the power of link analysis tools by signing up for a free 30-minute consultation. Are you ready to try it?

Find malicious links in a few clicks to protect your website and improve your rankings
FAQ. Common questions about finding malicious links
1. How to find malicious links on a site?
Such links meet the following criteria:
located on sites with low traffic;
located in the footer of the site;
published on a website with low trust;
come from a page with poor content;
filed as an anchor with a commercial wording or as an explicit keyword;
bought on the link exchange.
You can find malicious links using specialized tools like Serpstat. Follow these steps:
Enter the start URL in the search box, select a search engine and click "Find".
Go to Link Analysis → Referring Domains and Referring Pages.
Use the Export button to export the table in one of 6 formats.
Filter out malicious links based on your Serpstat Domain Rank (SDR).
2. What is a Site Backlink Profile?
A site's backlink profile is a collection of all links and anchors that lead to this site. The link profile of the site consists of both its organic (natural) and artificial links. If the site has information that is useful and interesting for users, other sites will refer to it, so it will develop a natural backlink profile. An artificial backlink profile is created when links to the site are bought or rented on specialized platforms.
3. What are the signs of a malicious link?
There are a number of criteria by which malicious links can be identified:
Low traffic from the site. If a site has low traffic, search engines do not perceive it as people-oriented, which is why such a site has a low trust.
The link is in the wrong place. If the link is published in the site's footer or even below it, as well as in the sidebar area, it will be hard to see, which means that no one will follow it.
Low trust implies not only bad traffic, but also a mismatch between the number of backlinks and the number of external links.
Low quality content. The site has a small amount of content and it is of low quality (copy-paste or low-quality rewrite). Such content is of no benefit to users.
Unnatural anchor. Anchor has the form of a key query, for example "Buy a smartphone online".
Purchased links. This includes links purchased on link exchanges.
A non-thematic link that does not match the content of the page on which it is located.
A site-wide link opened for indexing with a commercial anchor.
Personal demonstration
Leave a request, and we will conduct a personal demonstration of the service for you, provide you with a trial period, and offer comfortable conditions for starting exploring the tool