AI Content Tools

AI content analysis accelerates the processes of content creation: generate meta tags and articles, check grammar and spelling, highlight important insights from competitor texts etc. The set of tools is based on Artificial Intelligence and Machine Learning.

Trusted by

Who Needs AI Content Tools and Why?

These tools will help you to increase your website traffic and engage with your target audience. Create unique high-quality content, extract text from video, generate Ads, and rewrite texts automatically.

AI Content Tools could be used by: writers, content marketers, editors, SMM-managers, PR-specialists, SEO or PPC specialists, marketing agencies, small or large businesses.
Article Generation

Description
Generation
Title
Generation
Grammar
and Spelling
Generate Title

Title is the first thing seen by people and search engines, don't miss the opportunity to get higher rankings by adding relevant title to website pages. Get a ready to publish title for the page based on a short piece of text.
Generate Description

Description tells search engines what your website pages are about and attracts the target audience. Let artificial intelligence help you with that.

The tool analyzes a fragment of the text from the page and composes a description according to the requirements of search engines and the analysis of competitor pages in the search results.
Paraphrase text

The tool allows rewriting of content in a few seconds to avoid plagiarism and duplicates. Use effective texts for your business and remake them into unique ones.
 ● Don't waste time on manual text rewriting.
 ● Publish articles faster and always create fresh content.
 ● Be sure that a text sense remains consistent.
 ● Add descriptions to dozens of product cards in two clicks.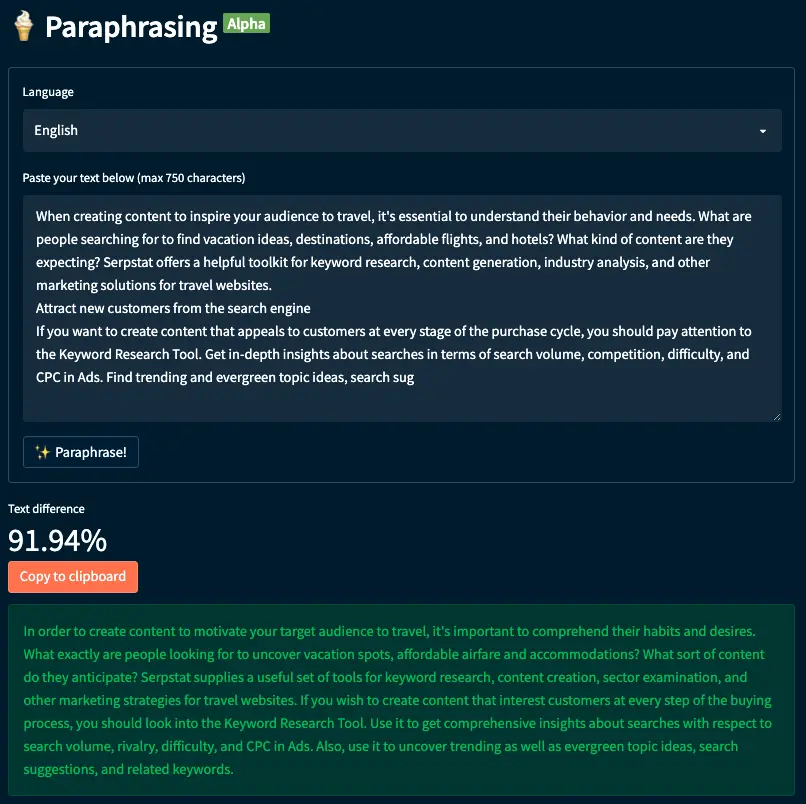 Check Grammar and Spelling

 ● Check your text for mistakes and correct them immediately. Don't spend extra time for manual text correction!
 ● Get rid of manual texts correction.
 ● Accelerate the process of publishing articles.
 ● Add correct text to a website content.
 ● Check texts for PPC campaigns.
 ● Improve the UX of your company.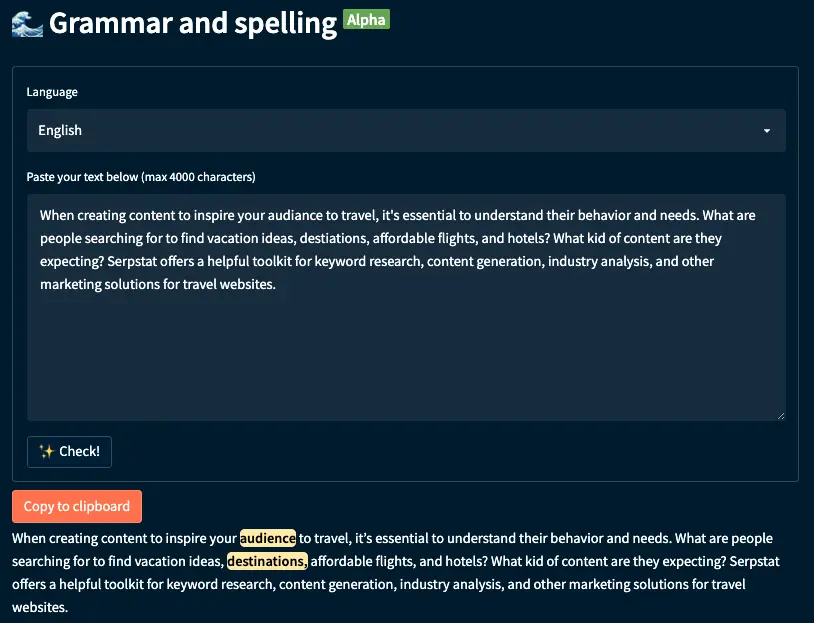 Generate Article

 ● Create content from a single sentence with our AI-based tool.
 ● Input article topic and get results in a few seconds.
 ● Find out Keyword Trends via the self-titled tool at Serpstat.
 ● Copy the desired query to the Article generation and get the on-the-topic article in two clicks.
 ● Find popular topics with low competition using Keyword Research and publish evergreen content.
 ● Get traffic with content that is attracting to your audience.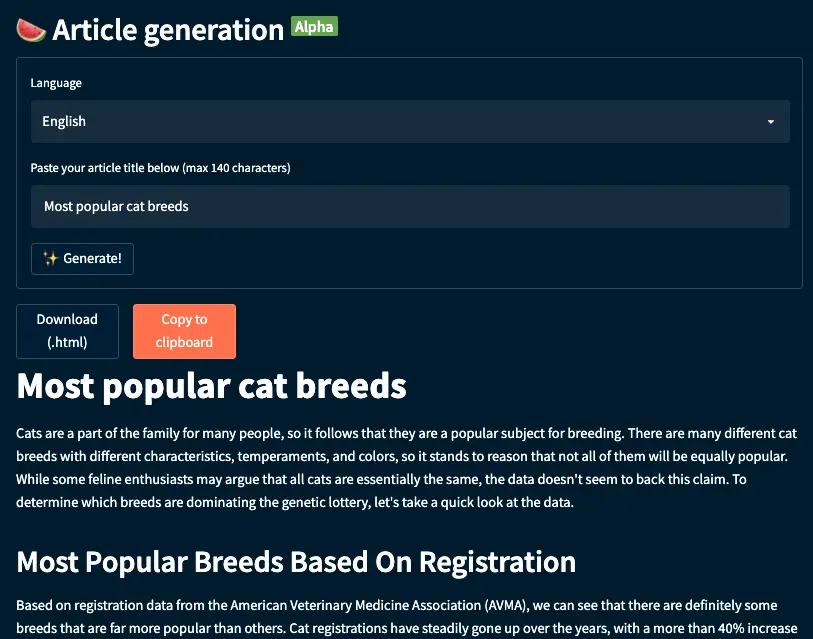 Our beloved and thankful customers rate us highly
AI Content Detection
● Recognize AI-generated texts in a single click.
● Find out if editor uses AI tools for content creation.
● Compare the percentage of handwritten and AI-generated text in your content.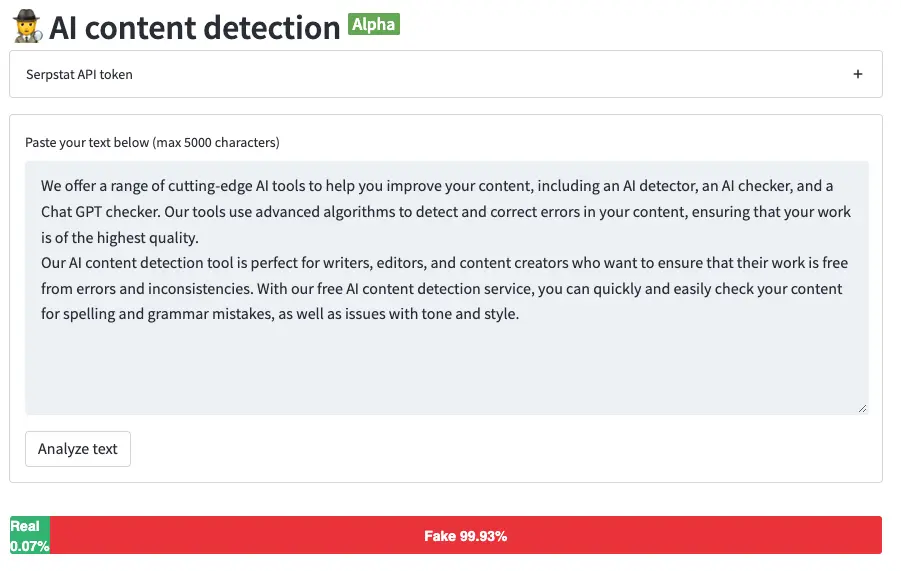 YouTube Video Transcription
Save tons of time using the YouTube Video Transcription tool, which allows easy transcription from video to text. Create text content from YouTube video in a few clicks.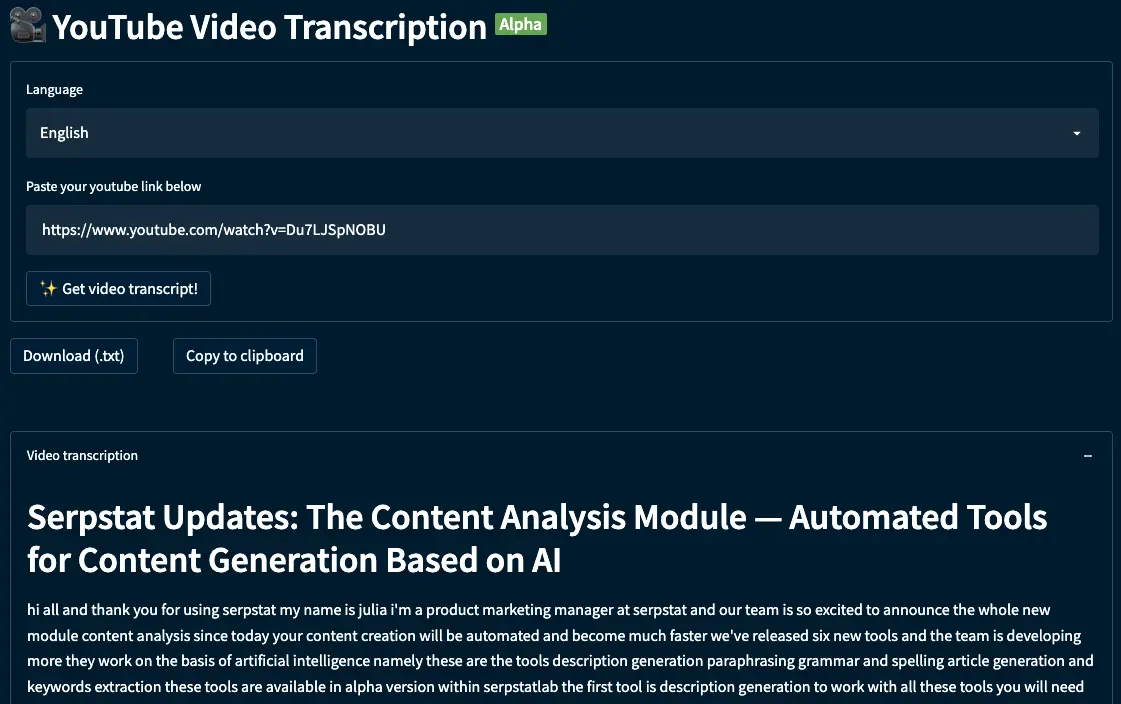 Ad Generation
Launch relevant PPC campaigns in a flash! Now AI creates texts for ads basing on real ad examples. Input the target and related keywords to get ready to use Ad in a few seconds.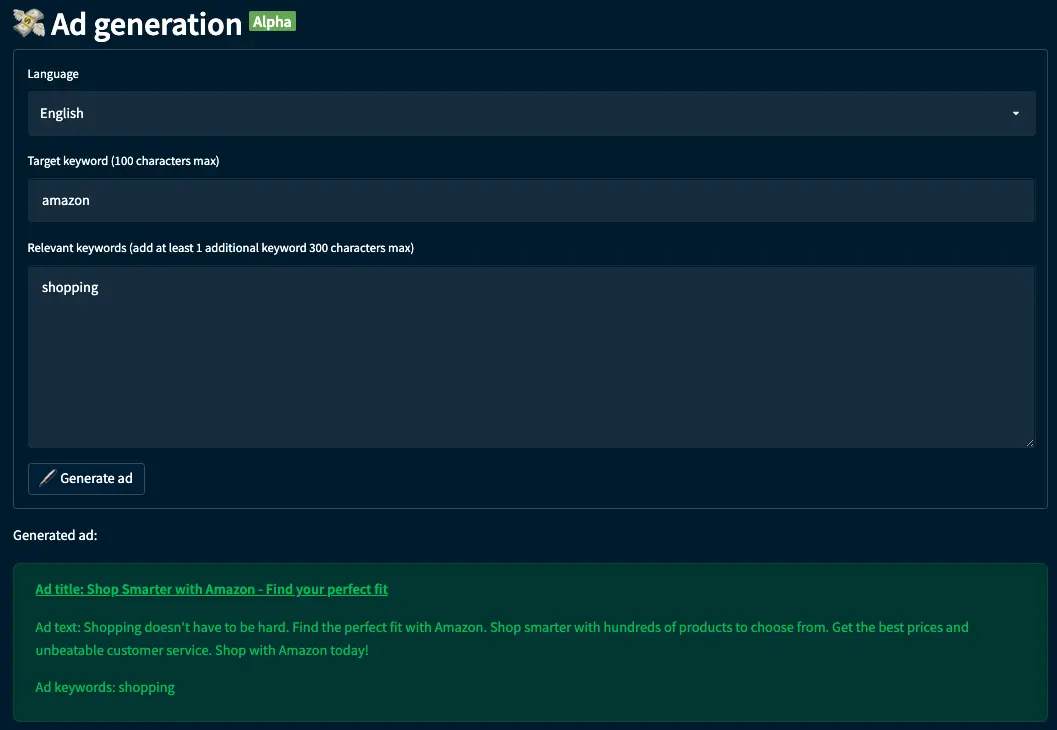 Examine unique of the text
Plagiarism tool examines added text for content duplicates and displays percent of similarity. Before you add new text to your site, enter it into the plagiarism checker tool to ensure it is unique. The more original the text, the better your site will be ranked.

You can also check the existing text on your site to see what level of plagiarism it contains and edit it if needed.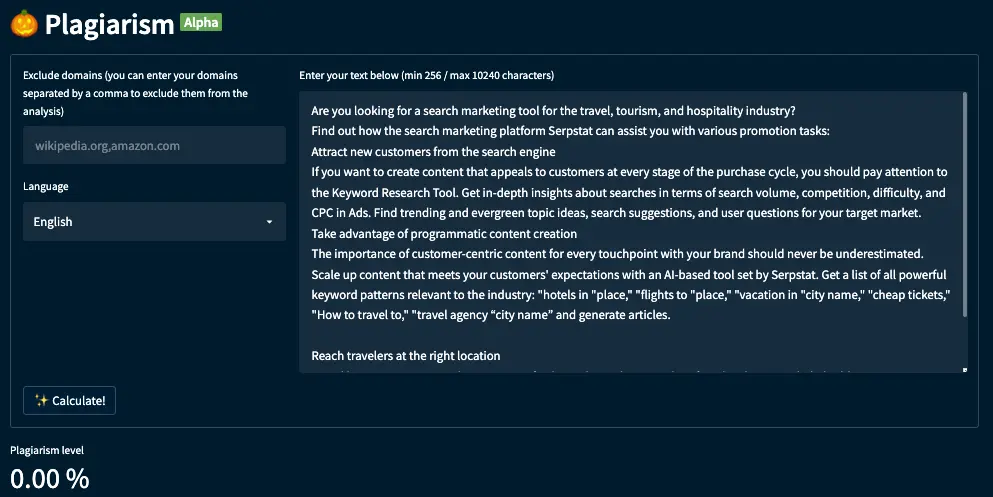 Keywords
Extraction

Bag
of Words

Keyword
Patterns

Article
Builder

FAQ
Generation

Extract Keywords

 ● Extract most used keywords from any text.
 ● Get a list of keywords and understand the main message of the text.
 ● Spot great content writing opportunities – sift through competitors' website content and extract the most frequent keywords.
 ● Automate the ticket tagging process for customer support teams.
 ● Check the main message of your texts.
 ● Analyze several reviews or comments to highlight the main thing.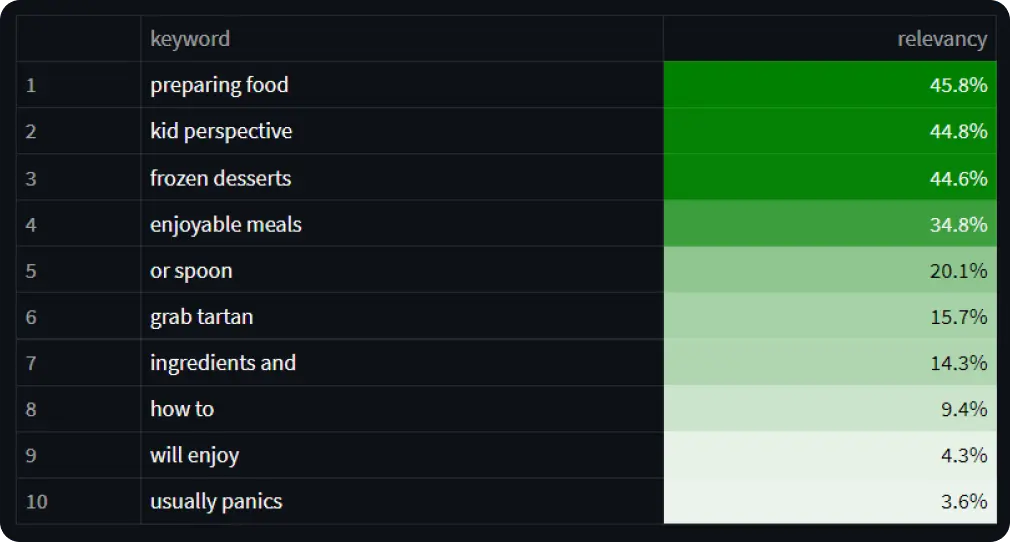 Collect the Bag of words

The Bag of words tool returns a list of relevant keywords extracted from the text or URL you analyzed. The tool displays the most commonly used keywords in the text, as well as the frequency with which they appear.
 ● Get the idea of the text
 ● Delete spam keywords
 ● Find out which keywords could be repeated more frequently
 ● Separate keywords by theme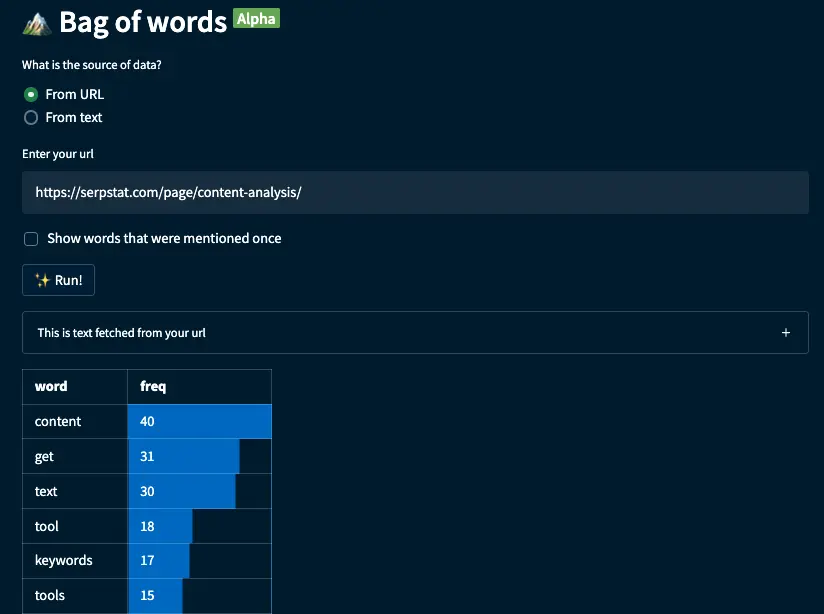 Group keywords into patterns

The Keyword patterns tool made to identify common keyword combinations, show how frequently they occur, and provide examples of words that could be replaced in a pattern.

This tool can be used to identify the primary topics or intentions within a given list of keywords.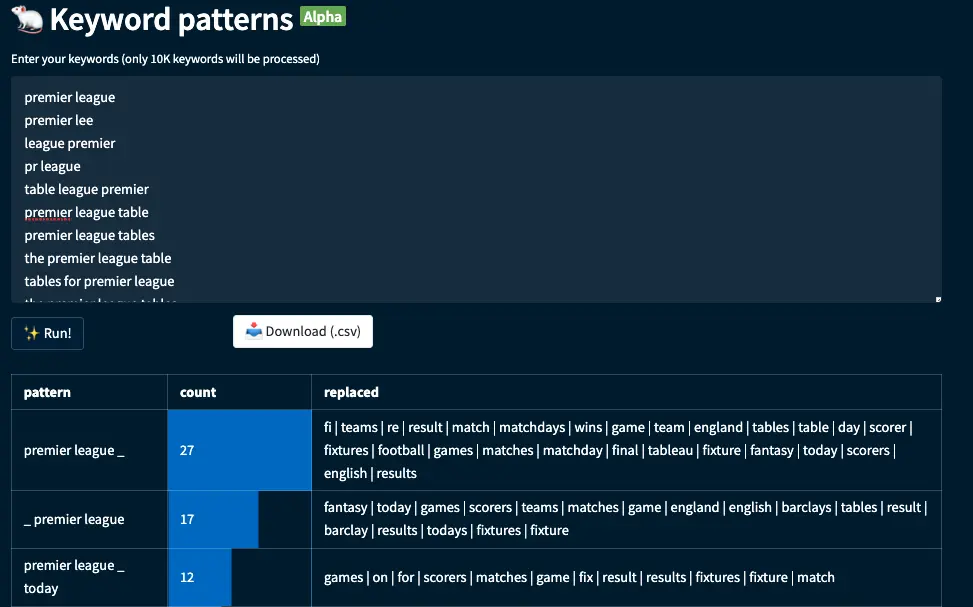 Builde Article

Article builder allows generating an article step by step, editing title, structure of the article, text for each paragraph and make changes manually if needed.

The process is flexible because the tool automatically generates articles considering corrections, such as required keywords in the text.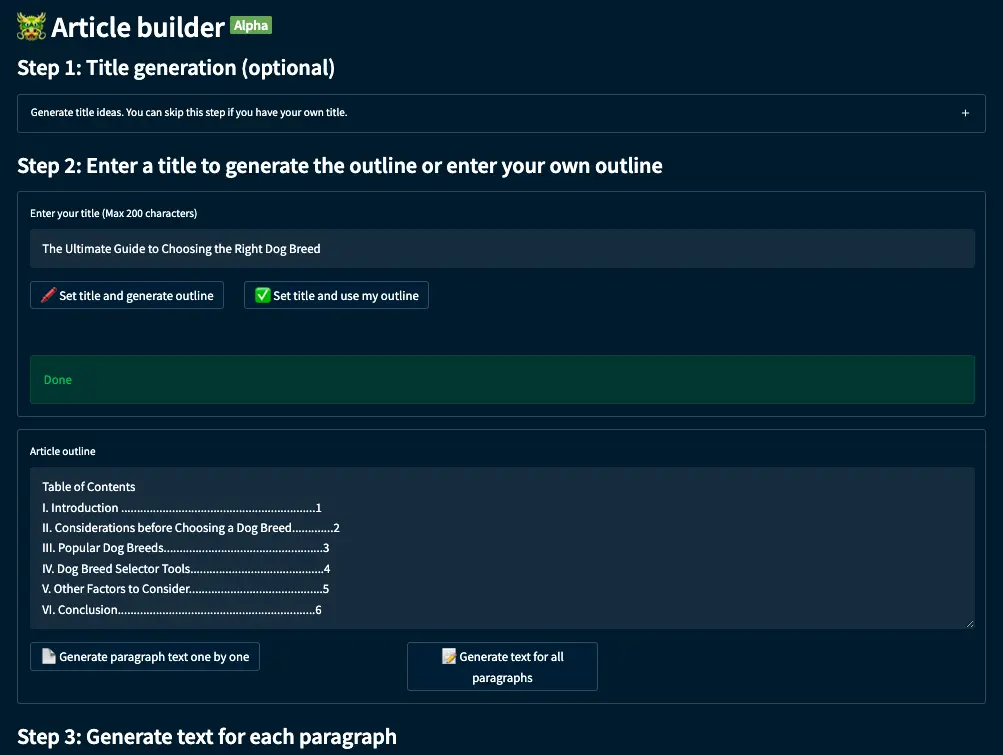 Generate FAQ

The FAQ generation tool finds frequently asked questions for certain keyword and generates answers for these questions, or for questions that you added manually.

Export is available in HTML schema.org format, which allows ranking in Google SERP feature known as "People also ask".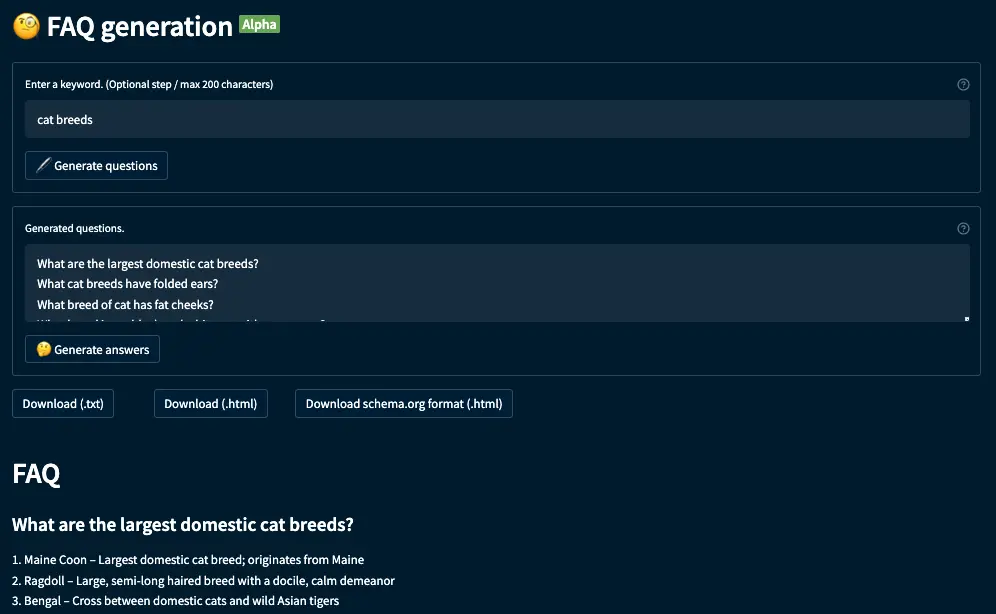 Jacob M.

Our overall experience is incredibly useful. We found many issues on our mobile version and realized that we should improve visibility of our blog posts. Serpstat is constantly improving with new tools and data. I pull up our Rank tracker dashboard every morning. It helps our content marketer to find hot topics and create an effective content plan. With Serpstat, you can improve your visibility on Google, and this way lower your cost of acquisition.


Elle M.
It's so easy to set up a project and pull up keywords for sites I own and compare them with others. It allows me to get an idea of which keywords to invest my time in to improve my rankings. I want to create better content and improve its visibility, so couples looking to improve their finances can find helpful resources. Seeing what the site is ranking for and where it is not, I can go back and improve the articles. I'm also seeing more organic traffic with this effort.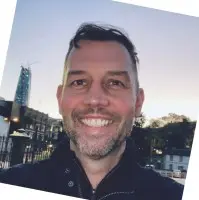 Joshua J.
Super robust, Serpstat has thought of just about everything. Sometimes, lots of tools in a single product can mean that no one tool is outstanding, they are all just 'good' - but Serpstat is excellent across the range! We mainly use tools for Keyword research for blog posts and online content on our website. Since using Serpstat (alongside some other tools), we are ranking first page of Google consistently AND get better click-through quality

AI Content Tools FAQ

Who needs content generation and analysis tools?
These tools could be useful for writers, content marketers, copywriters, SMM-managers, PR-specialists, editors, SEO- or PPC-specialists and others, who wants to automate the creation of content and generate it on a large scale.
What is AI-generated content?
AI-generated content is a content created by Artificial Intelligence using Machine Learning. Machine learning makes software applications more accurate at predicting outcomes without needing to be explicitly programmed to do so. Machine learning algorithms use historical data as input to predict new output values.
Why do you need content tools that use AI?
AI can automate many of the tasks involved in content creation, making it easier to produce high-quality content quickly, even if you're not a professional writer. However, you'll still need to do some work by yourself, because the AI does not understand context, emotional aspects in texts, etc. Therefore, even when using such tools for generation, it is necessary to check whether the AI formulated the text correctly.
How to automate content creation?
The best way to automate content creation is to use AI content marketing tools. For example, the Serpstat tool set now has the following tools:

— Title generation
— Description generation
— Paraphrasing
— Grammar and spelling
— Article generation
— Keywords extraction
— Bag of words
— Keyword patterns
What is content marketing automation?
Content marketing automation is a strategy, that uses artificial intelligence for content creation and reduces human involving. AI cannot completely replace a copywriter or editor, but it can reduce time on routine tasks. For example, you can instruct the AI to generate titles, descriptions, or rewrite part of the text on the page. Such text requires only slight review by the editor or SEO-specialist.