Serpstat team develops and delivers data solutions powered by
Trusted by 863K+ users





Custom crafted data solutions to cover SEM needs of any demand
Site audit and rank tracking
12 months of search volume history + average volume and CPC
Current and historical overview of data points like search visibility and organic traffic
Organic and paid competitors + domain vs domain comparison
Detailed data on referring domains, active and lost backlinks, and external links
Overview of data points like total number of referring domains and backlinks
Top-performing pages and domain vs domain comparison
Traffic by website category
Keyword list expansion with similar, related keywords and search suggestions
Search volume, CPC, keyword difficulty, and other metrics
Competing domains in organic and paid search
Full control over website audit
Aggregated and detailed information on audited issues
Positions and SERPs history
Dimensions and metrics from any Serpstat report
Data aggregations on top of a combination of reports
Various data formats like CSV or JSON
Data use cases implemented and valued by our satisfied clients
Lead Generation for Agencies
This data solution is crafted to search for prospects in specific industries and locations and gain a clear understanding of issues to highlight in an outreach.

Data input

Keyword set for desired industry


Any desired location
Data result

The list of industry websites distributed by market share

Score of each website by Keyword, Backlinks, and Site Health performance metrics


Closest competitors of the desired prospect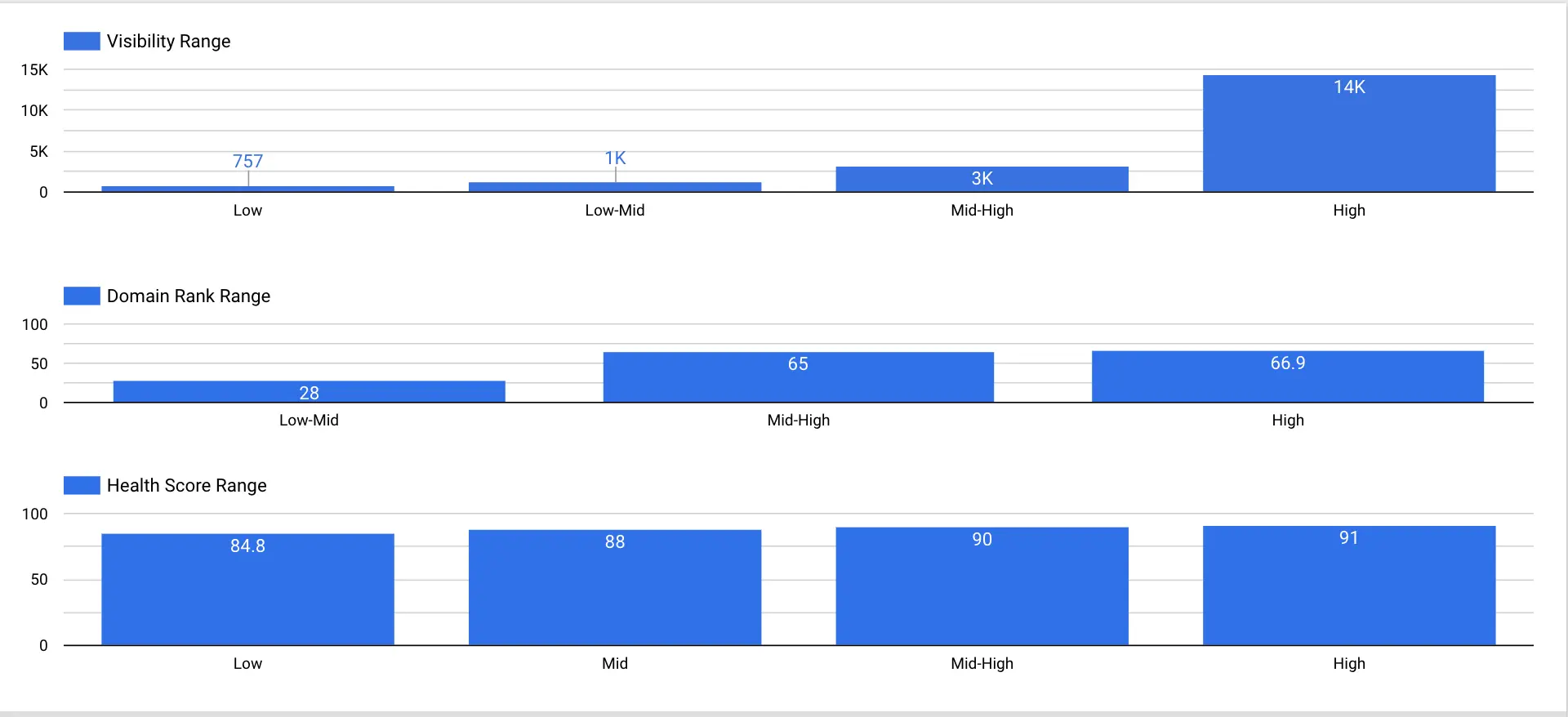 Benefits

An automated solution to search for prospects in any desired industry

One-click data update to ensure the team operates with the most recent data

Available for locations of any level


Hooks prospects with social proof by referring to closest competitors and actual website metrics
Content Ideas Research
This solution allows gathering content ideas for specified industries and locations distributed by potential search outcomes.

Data input

Industry

Region

Language


Website (optional)
Data result


Grouped up content ideas currently trending in the desired location


Prioritisation of topics based on search volume trends and competition level
Benefits

A ready-to-use solution for creating a long-term content strategy

Recent data for any industry and location throughout the real-time data collection


Ready demand dynamics evaluation for each content piece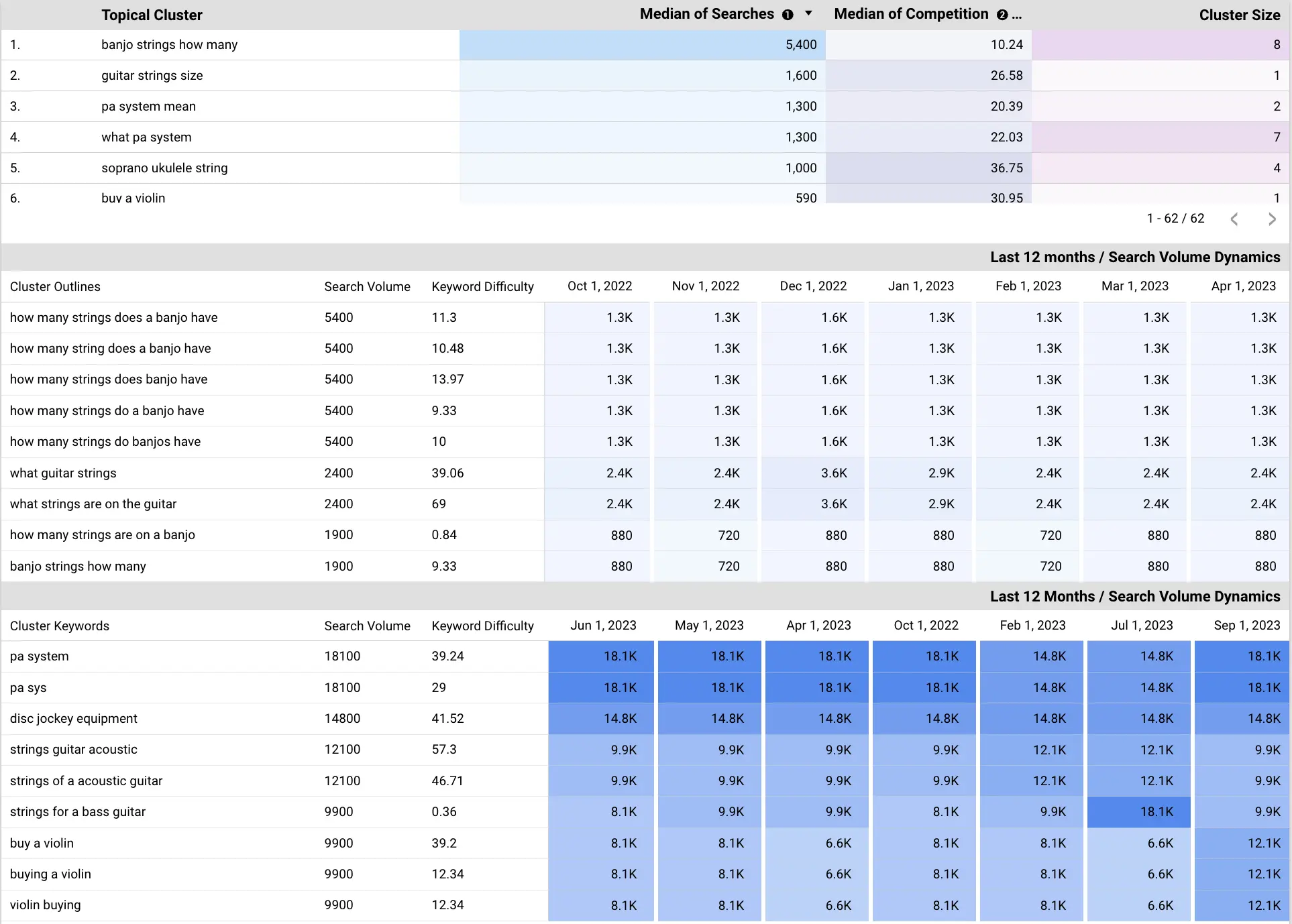 Collect keywords

Car rental can be used here as a topic that includes a huge number of keywords related to that topic. Get the initial keywords list by calling the Keywords selection API method. Then loop through this list and expand it using Search suggestions and Related Keywords API methods applied to each keyword.

To collect even more keywords apply all three methods to the resulting list several times. Use filtering and sorting options to clean up the keywords list. For instance, filter keywords by search volume to get only the most popular keywords.

Get SERPs

For each keyword in the final keywords list get the US SERP using SERP crawling API methods. Store all the SERPs data in a local database with the keywords data and a date of crawling.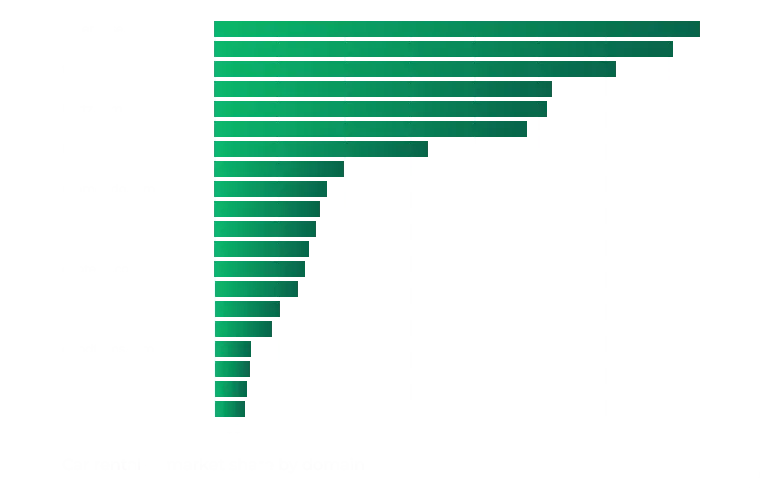 Calculate traffic share

Calculate search traffic for each keyword and each SERP position by multiplying keyword volume by CTR. Aggregate the results by domain to get the domain traffic as a sum of keyword-position traffic. Calculate domain traffic share as a percentage of domain traffic related to the traffic sum of all the domains.

A plot of the results might look like this:

Business case 2
US-based marketing agency expands its PPC market presence. They need a source of new prospects.
Solution

Agency gets a custom dataset with the US domains that are above the discussed threshold measured as a number of paid keywords and ads per domain. The dataset contains data on domain search traffic, domain visibility, number of referring domains and backlinks, and number of paid keywords and ads.

The data is uploaded monthly to cloud storage in CSV format. On top of this uploaded data, the marketing agency builds a prospect scoring system that helps the SDR team to find the most valuable prospects.

Business case 3
The global financial institution wants to assess risks and find opportunities in asset management in multiple regions.
Data pipeline
Collect keywords and domains

For each region collect a list of keywords related to the area of expertise using Keyword selection and Related keywords API methods. Use this list as a proxy for in-region demand estimation. Get the SERPs for each keyword using the Top by keyword API method or SERP crawling API. Extract all the domains from all SERPs.

Build a domain scoring model

For each region loop through the list of domains to get the data on search and backlinks metrics using Domain summary and Backlink summary API methods. Store the data in local storage and enrich it with the data from other data sources. Build a machine learning scoring model to get the relative strength of each domain.

Compare demand and supply

For each region get a list of top pages for each domain using the Top pages API method and the keywords for all these pages using the URL keywords API method. Use this as a proxy for supply estimation. Compare demand and supply to see the growth of new topics and companies in these topics.

Find investment opportunities

Estimate the marketing budget based on keywords CPC and search volume, number and quality of backlinks, and the amount of new content created. Build a market research report and get a list of investment opportunities based on domain score, demand, and marketing budget.

Business case 4
A newcomer in the highly competitive European market wants to build a complex search domination strategy to increase the market share.
Data pipeline
Prioritize marketing efforts

Collect low-volume keywords using keyword research API methods and create content to get the initial results from SEO efforts. With SERP crawling API collect SERPs to track the changes in a competitive landscape, news, sales, own indexing issues, and keywords cannibalization. Look for competitors' PPC daily bidding adjustments and PPC campaign expansion.

Collect low to no-competition keywords using the same methods and test PPC campaigns to find the blind spots in competitors' strategies. Use Tree view for initial keyword grouping and landing page analysis.

Find the balance between SEO and PPC


Balance SEO and PPC on a per keyword level. Both should support each other and add some incremental results but not just cannibalize the existing ones. Use SERPs data to adjust PPC bids according to SEO results.

Work with website technical issues

Run an SEO audit using Site audit API methods after each major website update or SEO-related fix to quickly react to issues that might affect website search presence. Also, run an audit on a staging server that is password protected from external traffic. Check if something is broken before the changes go live.

Audit competitors' websites to see when they have some issues and use that as a trigger in competitors-targeted PPC campaigns.

Business case 5
European company wants to perform keyword research in a narrow niche to boost SEO results.
Data pipeline
Find niche competitors

Create a list of common words that describe the niche and get a list of search competitors for these words using Competitors API methods. Collect keywords for each competitor using the Domain keywords API method. Use Domain vs domain API method to find out what keywords are common for all competitors and what are distinct.

Track seasonality and rankings


Collect the last 12-month keyword volume history for all keywords with Search volume crawling API to see the demand seasonality. Track rankings for all keywords with SERP crawling API to control the SEO progress and see the changes in the competitive landscape. Repeat the whole procedure regularly to see how competitors expand their business outside the niche.

Business case 6
US-based marketing agency wants to automate backlinks discovery strategy for dozens of clients

Data pipeline
Find competitors

Collect a competitors list for each client with Competitors API methods for keywords and domains. For each competitor get a list of referring domains with Referring domains API method.

Get backlinks opportunities


Check if competitors are using link networks by looping through the referring domains several levels deep. Find the intersection of all the lists with the Link intersection summary API method to get a filtered list of possible link sources. Reach out to these sources to get backlinks to your website.

Business case 7
UK B2B SaaS company wants to get more leads

Data pipeline
Get the list of domains

With Keywords research API methods collect the initial list of keywords that describe leads' niche. Get a list of websites that compete in the search for these keywords.

See the strongest pages for the domains


For each website use the Top pages API method to see if the company provides the services related to B2B SaaS. Check if some companies might be considered sales or marketing partners. Check the SERPs for company-related review search queries with SERPS crawling API methods to reduce the reputation risks related to potential partners. Offer SaaS to the selected companies.

Excited to try the existing solutions by own business or have a solution to be developed — schedule a call and leave the rest to Serpstat Team