First, you need to create a project for your domain. Go to List of Projects and click on Create New Project. Enter domain name and a project name. If you have already created a project for the domain, simply click on Start Audit on the project dashboard.

Serpstat will suggest you to set up the audit: select number of threads (simultaneous requests to server where your site is stored), number of pages to crawl, subdomain crawling (optional), and preferred user agent.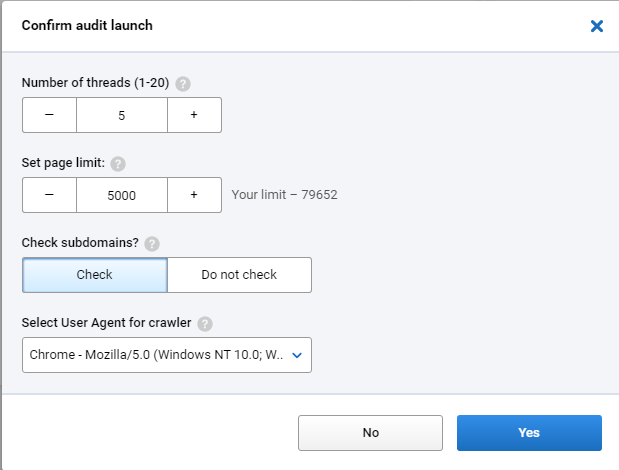 Upon the audit completion, you'll see the SDO Score on the project dashboard - it's a metric that measures technical website optimization on a scale from 1 to 100. SDO is calculated as the ratio of the site's number of errors and their importance to the total number of possible errors. The higher the SDO score is, the better is the website technical optimization.

For a detailed site audit report, go to Audit Summary. The first thing you'll see here is the domain's Comprehensive Analysis dashboard that displays number of found errors split into three categories: high priority, middle priority and low priority errors. Under Fixed you'll see how many errors have been fixed compared to the previous site audit (if you audited the site previously).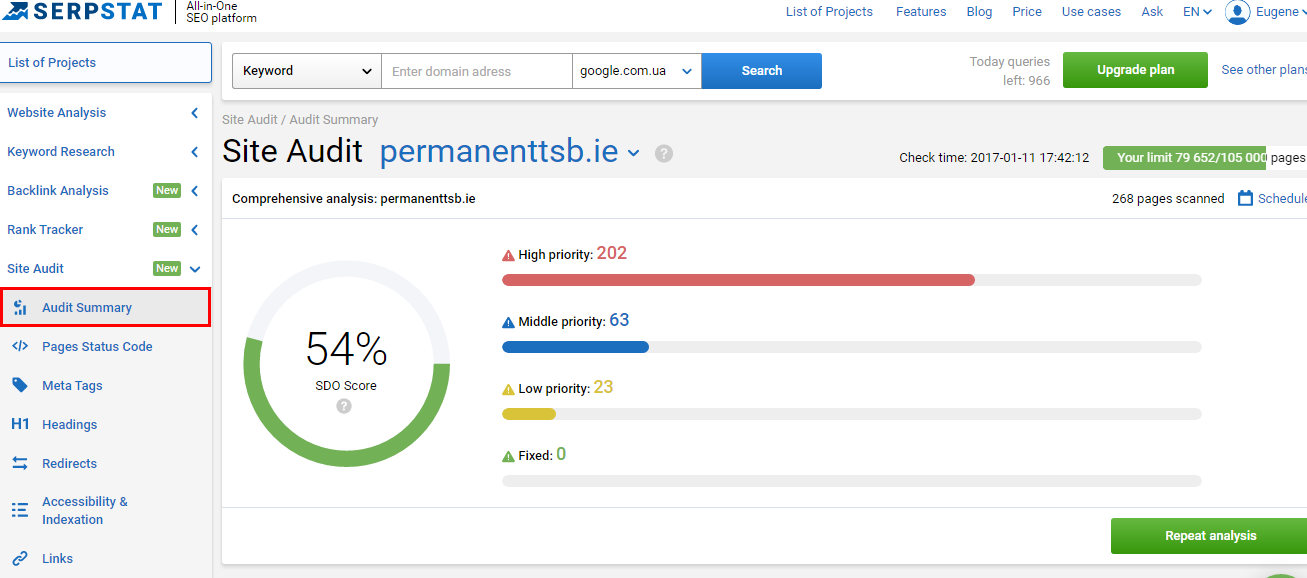 You can compare the site audit results with the previous audit by selecting the necessary audit date from the dropdown menu and clicking on Compare. Also, you can do the site audit again by clicking on Repeat Analysis.
High priority errors are the most dangerous and harmful to your domain rankings. Fixing those errors should be the first item on your to-do list.
Middle priority errors are not so severe as the high priority ones, but still they have a heavy impact on your online visibility.
Low priority errors are not so undermining for the website SEO and can be sorted out last of all
You have a few site audit scheduling options: daily, every 3 days or every 7 days. By default, the audit is to be launched manually when needed.
Audit Summary features Crawl Depth, Redirect Types and Status codes charts.

Crawl Depth - the number of clicks required to access a specific page from the homepage. The X-axis displays how many clicks need to be done to reach a page, while the Y-axis shows how many pages have a particular crawl depth score. The main page is set to 1.
Redirect Type - the number of pages that have particular redirect types. The X-axis displays how many pages have the type of redirect indicated on the Y-axis.
Status Codes - the number of pages that return specific HTTP status codes. The X-axis displays how many pages return the status code indicated on the Y-axis.
Detailed reports on particular errors can be accessed directly from Audit Summary or from the left dashboard in Site Audit tool.

.