New Backlinks report shows backlinks received by the researched domain/URL over the last 90 days.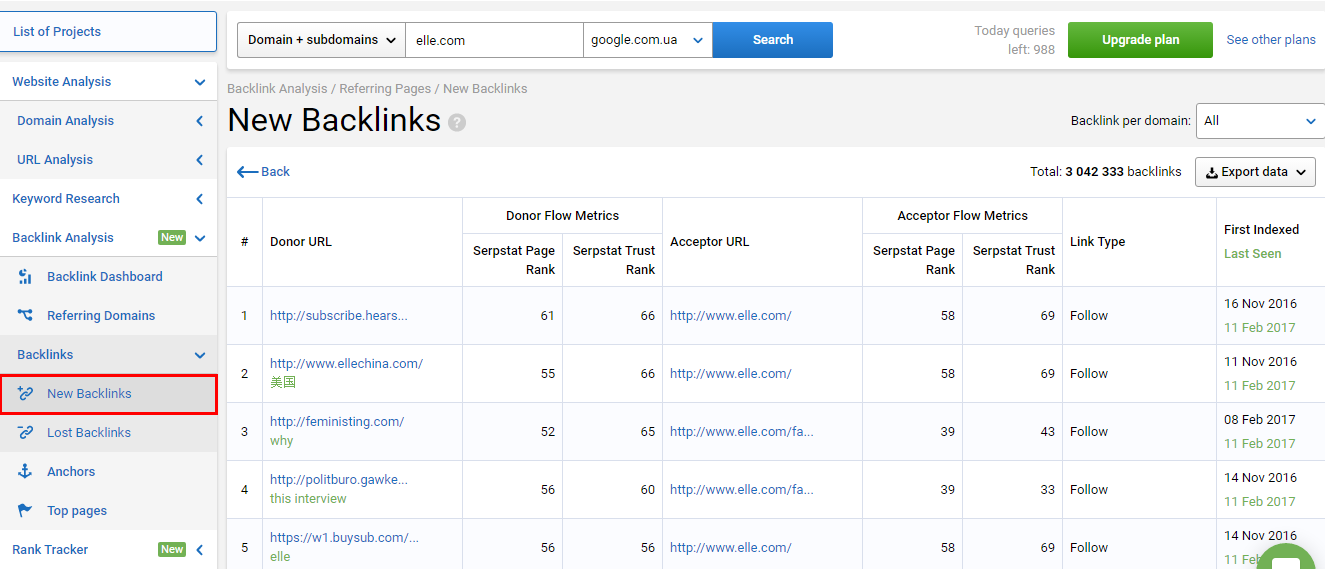 Donor URL - referring page.
Acceptor URL - page that received the backlink.
Anchor - the visible, clickable text in a hyperlink
Serpstat Page Rank (SPR) - a score on a scale from 0 to 100 which measures the domain/URL authority. Serpstat Page Rank predicts how influential a domain/URL might be based on the number of pages linking to it. Links are not measured with equal weight, so a strong link will have a relatively stronger influence on domain/URL.
Serpstat Trust Rank (STR) - a score on a scale from 0 to 100 which measures the domain/URL trust based on how trustworthy domains/URLs are linking to the domain/URL in question. A link coming directly from a trustworthy domain boosts the domain / URL trust score and consequently rankings, while toxic links damage rankings and the trust level.
Link Type - follow or nofollow link, i.e. a link that passes link juice or doesn't.
First Indexed - the first time the link was seen
Last Seen - the last time the link was seen
The tool allows you make a comprehensive analysis of your backlink profile or learn about where your competitors receive authoritative and trustworthy backlinks from. All links are clickable and open corresponding pages in a new tab.