Content Marketing

–

11 min read

–

March 2, 2016
25 Tips That Will Help You Promote on Reddit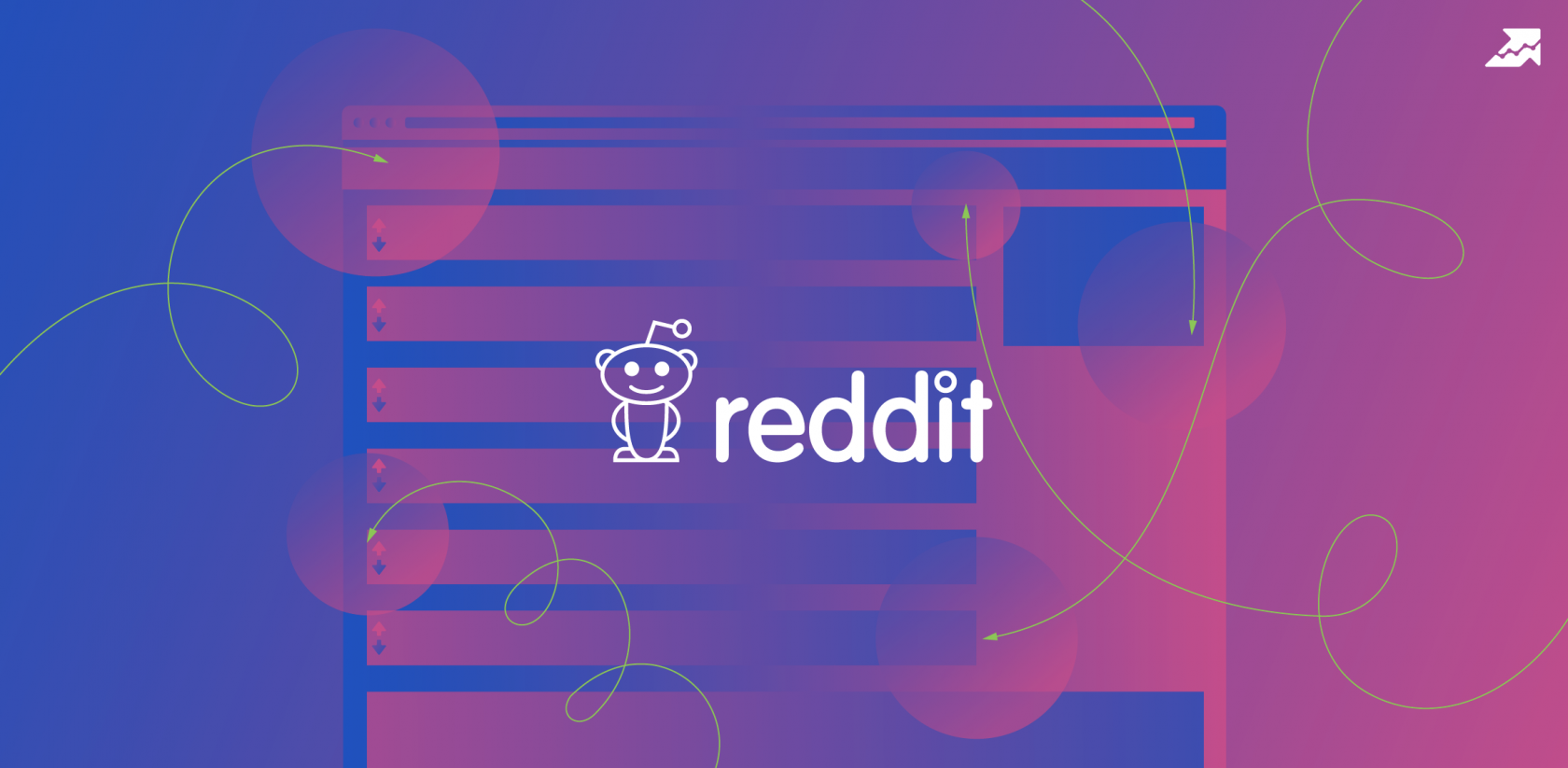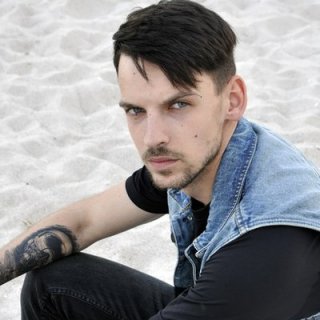 Igor Gorbenko

Digital Marketing Expert at Serpstat
Unless you've been living under a rock for the last few years, you know what Reddit is. What you may not know, however, is how to use Reddit for your marketing campaign. As
one of the most active internet communities
with more than 200 million unique monthly users and almost 8 billion monthly pageviews, Reddit sure can boost your marketing campaign.
The Reddit community has its own set of written and unwritten rules. In this article, I will share some tips and maybe help you with promoting on Reddit.
Let's cover the basics first

Feel free to skip this part, if you already know how Reddit works
Common terms:
Subreddit (sub) – a niche forum with its own set of rules, guidelines and moderators. Almost all subreddits are open and allow posting and commenting even without subscribing.
Default subreddit – a set of the most popular subreddits that collectively make up the front page for people without a Reddit account. (r/funny, r/pics, r/videos, r/askreddit, etc.).
Upvote/downvote – this one is self-explanatory; it means approval and disapproval in Reddit's voting system.
Sidebar – a menu that contains information, different for every subreddit, including rules, guides, suggested links, FAQs, moderators' contacts, suggested subreddits and whatever else the mods feel like adding to it.
Front page – a homepage where trending posts are displayed. For all unregistered users, the front page is the same, and it showcases current top posts from default subreddits. Registered users see personalizedfront page, it's based on subreddits that users subscribe to. Having your post featured on the front pagemeans a guaranteed increase in traffic, to the point where many websites simply go down because of theheavy load.
Karma – Reddit's useless internet points and the desire of every redditor. You get karma when other users upvote your comments or submissions. There are two types of karma – link and comment. "Link karma"(often referred to as "submission karma") is gained by posting new threads, and "comment karma" is gained by, well, commenting.
AMA – an abbreviation for "ask me anything," a thread where a topic starter (usually referred to as an "OP," for "original poster") answers questions from the community.
A complete glossary of Reddit terms can be found
here
.
Also, make sure to read these basic rules (
reddiquette
) to avoid getting in trouble. Pay extra attention to the "please don't" section.
Stop here, if you're skipping the previous part
I've been an active Reddit user for about five years now and have managed to learn a lot of tricks that many people will find helpful. Here they are in no particular order:
1.
First of all, become a real Reddit user.
You'll have access to a lot of content and active communities. Pick the ones you find interesting and engage.
2.
Install
Reddit Enhancement Suite
for your browser
; it makes using Reddit so much easier and so much more enjoyable – from browsing images on page to switching between different accounts in twoclicks.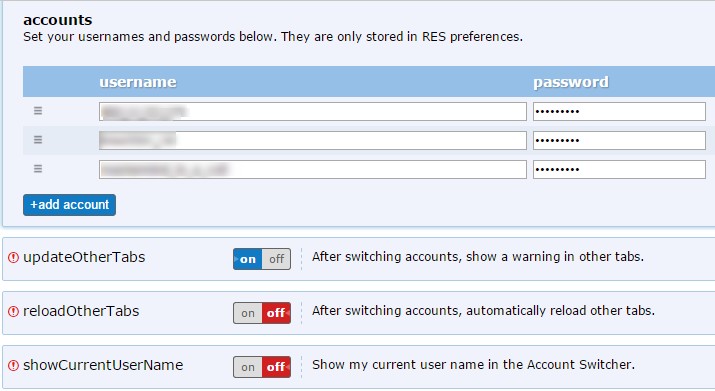 3. Set up several accounts. Creating accounts on Reddit is simple. All you need to do is pick a username and set a password (no verification required). I recommend setting up five accounts: one personal account, two accounts for marketing purposes and two backup accounts. It's better to have spare ones that are at least few months old, as trying to promote anything with a one-day-old account can backfire.

4. Don't use your personal account for marketing purposes. The most I do with mine is upvote some of my posts from my marketing accounts. Don't do that too often though (see tip #13).

5. Gain karma, or in other words, build a reputation. Don't try to promote anything with a new account that has zero karma. Start by commenting on submissions that you find interesting and it all will come naturally. Comment karma is a lot more important than link karma. Just make sure that your link karma is not negative.


Usually I start using accounts for marketing purposes when they reach 100 link
karma
and
1,000
comment karma.

6.
To build karma I usually comment on rising r/askreddit submissions
. These threads are easy to comment on and often "explode": if redditors find your comment funny or relatable, you can get hundreds of upvotes per post.
7.
Find subreddits
with your
target audience.
Reddit's internal search engine is rubbish, but it's capable of finding a subreddit that you're looking for. It's difficult to get noticed on big subreddits, so I mostly post on smaller subs. Sidebars of big subreddits usually list smaller ones related to the topic. For example, here's a list from
r/marketing
sidebar: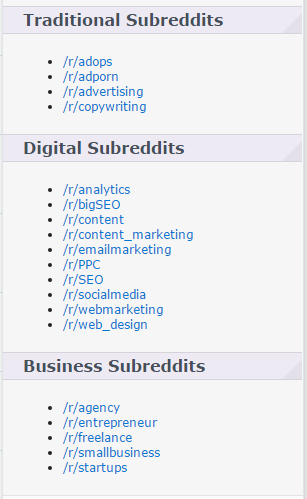 8.
If your post gets heavily downvoted – delete it.
No one will know, no one will remember and no onewill care. This is not the time for "any publicity is good publicity."
9.
Run advertisements on Reddit.
Reddit has a very efficient targeting system. Wonder how anyone can target anonymous users without any profile information? Here is some data on a random user gathered via
SnoopSnoo
: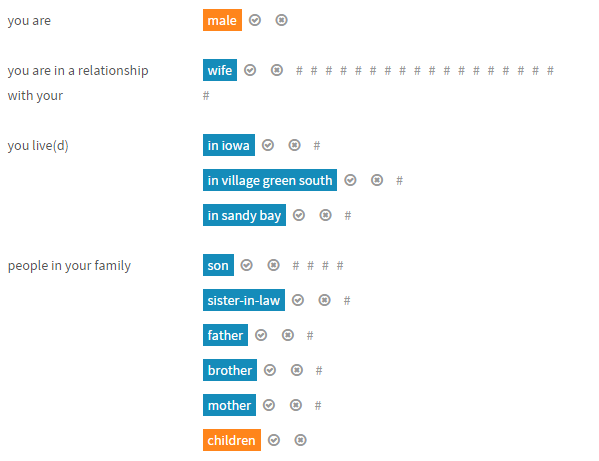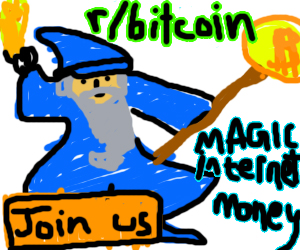 11.
Do an AMA, if you believe that someone is interested in what you've got to say.
Use this guide if you need any help:
10 Tips for Hosting a Reddit Ask Me Anything (AMA)
. And don't
pull a Woody Harrelson
by trying too hard to promote your products and ignoring all other questions. Someone
will
ask you if you'd rather fight one horse-sized duck or 100 duck-sized horses. Be prepared.
12.
Follow the rules.
Each subreddit has its own set of rules. Some will ban you on your first offence. Some will shadowban you and you'll waste your time writing comments that no one but you will see. Always check the sidebar before posting anything on a new subreddit.

13. Systematically upvoting your own posts with different accounts will not work. Reddit will pick on such activity even if you use a VPN or whatever. If account X upvotes too many posts by account Y, both accounts may be banned (especially if both accounts are relatively new and low on karma). RedditEnhancement Suite allows to see how many times you've upvoted a certain account, so you can keep that number low.


14.
Constantly check your target subreddits.
I constantly see related posts in my subs, where I can promote without being obvious.
15.
Don't add hyperlinks to your text.
"Website.com" would be accepted, while "
website.com
" may cause suspicion. Adding a link at the end of the comment works too. That way it seems like you didn't plan to use links at all, but just threw it in for the convenience of other users, e.g., "Comment text. (
link
)" or "Comment text. I'll add a link later if I find one. Edit:
link
." That way it looks like I wrote a comment then came back and edited it to add a link.
16.
Links from upvoted posts turn into dofollow links.
The number of upvotes, that you need to turn links into dofollow, varies based on a variety of factors, like post age, upvote/downvote ratio, etc. Five upvotes are often enough.
17.
Set up a tech support
subreddit for your product.
By that I mean, create a subreddit named after your product ("r/myproduct") where people can reach out to you, complain or simply discuss anything related to your product. Don't use a subreddit moderator account to promote. And don't expect people to be interested in your subreddit; keep it just in case, for when you brand grows.
18.
Cite your sources, if you post a controversial comment or submit something questionable.
There's a chance that someone will call you out for not providing a reliable source, and other users will think your comment is BS. It's up to you to prove that it's not.
19.
Don't post meaningless comments, like "this" or "I agree."
Your number of comments doesn't mean anything on Reddit.
20.
If you really want to showcase your website, go to
r/shamelessplug
or
r/promote
– these subredditswere created just for the purpose.
21.
If you need to increase your
traffic, at least temporarily, you can ask people to check your website's design
on
r/design_critique
or post in the
Feedback Friday
thread on
r/web_design
.
22.
Blatant advertising won't work, unless your product is really unique and interesting.
In that case,feel free to share it anywhere. Threads like "I've made X that does Y" often draw an insane amount of traffic to your website.


23. Redditors will ridicule your every mistake. No one will be sorry for making fun of your new and unestablished startup, damaging your reputation or ruining your dream, nor should they. So make sure that whatever you post won't play against you.


24. Contrary to the previous point, redditors are also extremely helpful, and they can help you solve almost any problem. Find a suitable subreddit and ask for help, whether you need to fix a car or bake a pie.


25. Most importantly,
use the time you spend on
Reddit to your advantage.
It's a constantly updated,unlimited source of very useful information on almost any subject.
Did I forget anything? Leave your tips in the comments and get credit on this awesome list!
Learn how to get the most out of Serpstat
Want to get a personal demo, trial period or bunch of successful use cases?
Send a request and our expert will contact you ;)
Found an error? Select it and press Ctrl + Enter to tell us

Cases, lifehacks, researches and useful articles

Don't you have time to follow the news? No worries!
Our editor Stacy will choose articles that will definitely help you with your work. Join our cozy community :)

By clicking the button, you agree to our privacy policy.

// В этом файле есть те нужные стили которые в других файлах нет.?>