The growth hacking tool for

Marketing

Content Marketing

SEO

PPC

Marketing

Search Analytics
Start using Serpstat, it's free!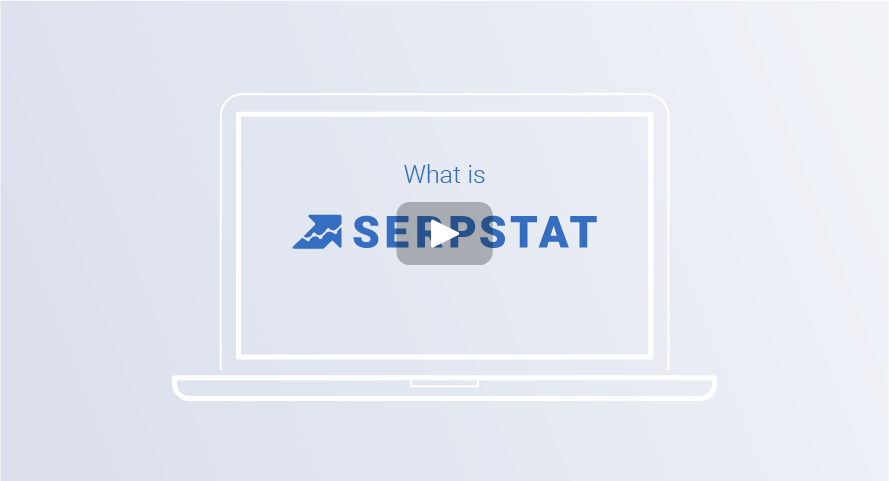 Start your introduction to Serpstat with this video
All-in-One SEO platform for professionals
Five Tools You Should Use to Rank Higher
Position Tracking
Backlink Analysis
Keyword Research
Site Audit
Competitor Research
The complete research of SERP with advanced analytics
Unlike other rank tracking services on the market, we keep track of all top 100 search results for a keyword, and not only the rank of one domain for the tracked keyword. Serpstat users benefit from this unique feature by gaining insight into exact positions of all top 100 domains for a keyword without the need to create separate projects for monitoring competitors' ranks.
SERP Historical Data
Serpstat store the top 100 search results for every keyword. If someone has previously tracked the keyword in question in a particular region or city, you'll get the ranking history for the keyword as a bonus from Serpstat.
Keyword Clustering by tags
There's no point in tracking and researching the top 100 search results for all your keywords - you'll get much more value from analyzing competition across particular items or services. For instance, if you run an ecommerce site offering various types of goods, your competitors will be different in the laptop and the video camera categories.
Insights into traffic distribution among domains
Introduction of rank tracking and keyword grouping capabilities has given us an opportunity to implement an algorithm that allows to find out the market share of every domain from top 100 search results for the tracked keywords and keyword groups. The SEO professionals will be delighted to get a tool that will allow them not only to track improvements in SEO rankings, but most importantly to see rises or falls in a domain's visibility.
Serpstat shows the market share fluctuations
We show not only the domain's market share, but also the changes in the market share. This gives more insightful data, and allows to monitor competition and research the market niche.
Local Search
Track your state, city or even postcode area to keep track of your most direct competitors all over the world.
Backlink data in one click
Get a detailed backlink analysis report with Serpstat. Get a list of anchors along with referring domains and pages. Monitor the backlinks of your website and your competitors' websites.
Full backlinks data collected over the last 120 days.
Serpstat saves data on all changes that happen to a domain's link profile: referring domains and pages, anchors and more.
Keep a track of your competitors' backlink strategies
Serpstat allows you to see how your competitors work with links. It also allows you to identify the times of change in backlinks, and tie it to competitor's positions for better analysis.
Get the quality scores of referring domains
Serpstat Trust Rank and Serpstat Page Rank will show you what domains will serve as a source of quality backlinks. Get backlinks from reliable sources to avoid penalties!
Find pages that attract the most links
Pages that are reffered to the most are usually the ones with the best content.
In-depth URL Analysis
Serpstat is the first page-oriented platform for a deep competitive analysis that helps you find competitors and define missing keywords for a single URL.
Insights on Search Questions
Research niche questions and find ideas for creating traffic-driving content.
"Tree-view" Keywords Distribution
Rank your URLs on the firstpage of Google search. Use Serpstat`s unique Tree-view algorithm to check your page's positions, improve the ones that are just behind the first page and gain more traffic.
Related Keywords
Discover all search terms and phrases that are semantically connected to the queried keyword.
Adaptable Filters
Set your own parameters and get exactly what you're looking for. Our advanced filters are the best on the market.
Serpstat Domain Optimization Score
Serpstat's unique SDO score shows how well your web site is optimised. It also allows you to compare the quality of your website's optimization to the quality of your competitors optimization.
Clean up your website
Start your SEO and linkbuilding by fixing errors on your website. We'll show you the optimization errors and the way to fix them. Don't let bad pages stop your improvement.
Don't miss new errors
Moving to HTTPS? Make sure you don't miss any duplicates and that your redirects are in order. Find missing H1, and check your website for any access and indexation issues. This will help you optimise your website for a better ranking.
Plan your SEM strategy and budget properly
Not sure if you should hire an SEO specialist? Check your website with Serpstat's site audit to find out if your website needs help.
Analyze all of your competitors online
Get the complete list of websites and pages in organic and paid search that rank for the keywords in the same niche.
Niche Leaders Identification
Find pages with the best visibility in your niche - not only by specific keyword. Find out what makes market leaders successful and use their tactics to improve your website.
Follow the visibility and keyword trends
Your competitors have weak points and strong points. Serpstat will show you both. Learn how your competitors improve their websites and keep up with them.
Monitor the progress of your competitors
Can't outrank your competitor? Serpstat will show you their weak spots. Find keywords that your competitors are losing grasp on and use the opportunity to take their place in SERP.
Get the keyword map of your competitor's website
"Find out where pages of your competitors website rank for certain keywords and what in position."
Position Tracking
The complete research of SERP with advanced analytics
Backlink Analysis
The complete research of SERP with advanced analytics
Keyword Research
The complete research of SERP with advanced analytics
Site Audit
The complete research of SERP with advanced analytics
Competitor Research
The complete research of SERP with advanced analytics
#1 selling SEO tool of all time
The most upvoted SEO tool
Top-5 best-selling product on Appsumo ever
What professionals think about Serpstat
Customer Success Resources
Personal demonstration
Serpstat is all about saving time, and we want to save yours! One of our specialists will contact you and discuss options going forward.
These may include a personal demonstration, a trial period, comprehensive training articles & webinar recordings, and custom advice from a Serpstat specialist. It is our goal to make you feel comfortable while using Serpstat.