URL Submission: reduce the site indexing time to a minimum
Do you spend a lot of resources on updating and optimizing your pages, but search engines "don't notice" the changes for weeks?
If you work with Bing and Yandex and want to speed up the indexing of your site, the Serpstat URL Submission will instantly notify search engines about the updates. Load up to 10,000 pages at the same time and speed up Yandex and Bing indexing as much as possible.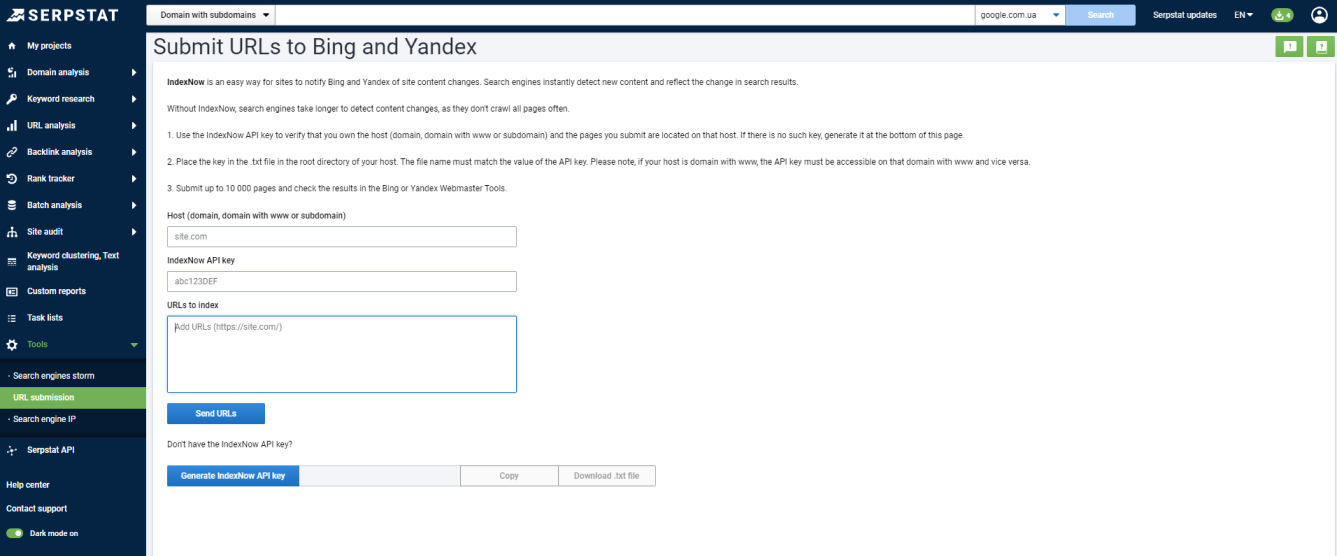 Why the site is not indexed
Are you making updates to the site and noticed they take a long time to be indexed? Are you constantly missing deadlines for your projects due to slow indexing? The problem is that it is quite rare for search engines to crawl every URL.

Therefore, updating a site in Bing and Yandex can take from several days to several weeks.
With the help of Serpstat's URL Submission tool you can instantly report changes to search engines. The systems then immediately know about changes to URLs and put them on the list of highest priority for indexing. This way you can limit organic crawls to discover new content.
Frequent problems with site indexing
Do you face frequent problems with site indexing? There may be a number of reasons for this. Check whether :
The URL Submission tool can help resolve issues related to slow site or document detection. This is an equivalent of an addurilka, which allows you to add information about updates on the site so that Yandex and Bing search engines can instantly see them.

the site has been added to the black list;
the search engine did not find the site or document;

the site is fully or partially out of reach for the robot;
a technical error was made;
there is poor quality of individual pages or sections.
Methods of speeding up the site pages' indexing
Do you want to see the results of search engines updates as soon as possible and learn how to speed up page indexing?

Use URL Submission:

Your pages now will be given priority in page crawling by the robot. In the near future, page updates will be indexed by Yandex and Bing.

Add a list of URLs (up to 10,000 units) that have changed;
Add the Index Now API Key;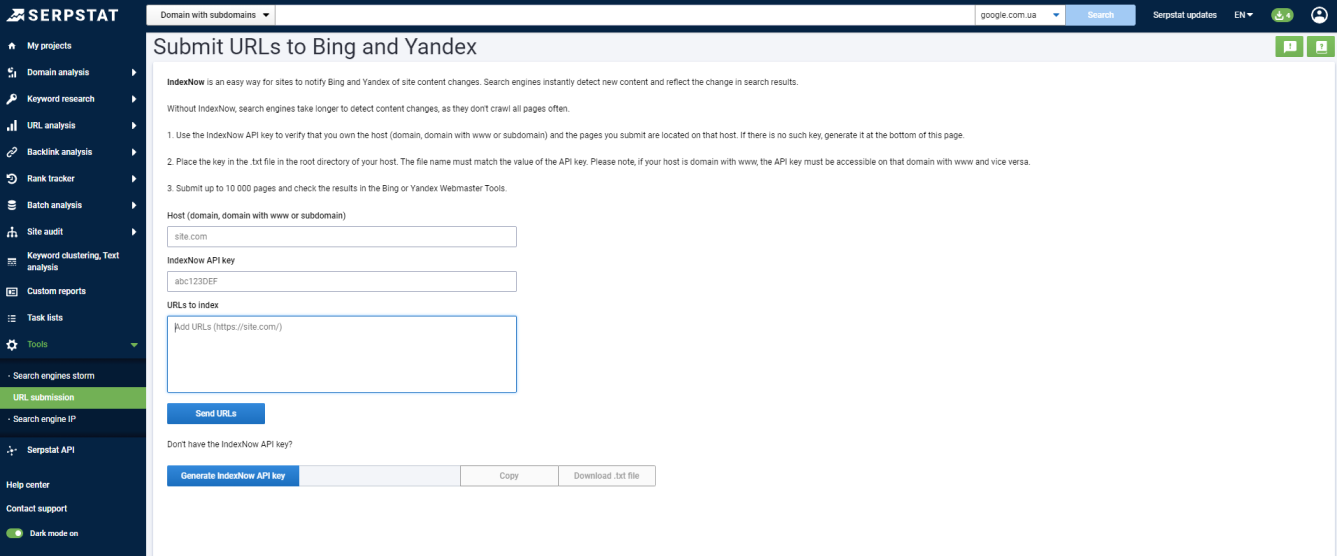 Tasks That Can Be Solved Using Serpstat URL Submission
Indexing acceleration of new and updated pages in Yandex and Bing search engines
Bulk pages' submission for indexing - up to 10,000 pages at a time
Stable site ranking in search engines with no pauses during indexing
The largest Google SERP data and own link index:
Serpstat Key Benefits
Don't wait a few weeks for a search bot to check your pages. With Serpstat you can get your site checked faster by the search robots and get a whole set of promotion tools.

Are you ready to try it?

Increase your site indexing speed by using the URL Submission Tool
More about site indexing and URL Submission
FAQ about site indexing and the URL Submission tool
1. Does hosting affect the indexing of the site page?
Hosting quality is an important factor in the speed with which sites are indexed. Let's consider some reasons why the indexing speed may decrease due to slow hosting: The indicator of a web resource uptime ideally should have a value of 99.98%. If, due to hosting problems, the uptime of your site is lower, it is likely that the site may be unavailable during the next visit of the search robot. Therefore, the indexing will be done only the next time the bot visits the site, which may even be in a few weeks. This site's rank drops in search engines. For stable maintenance and growth of rank, it is recommended to use paid hosting:
They are more trusted by search engines;
They have a higher data transfer rate.
The impact of free / weak hosting on indexing will be most noticeable for large, multi-page sites.
2. How long does it take to index a new page?
The approximate timeframe for indexing new pages and sites in Google is about 1 week, for Yandex it is 2-3 weeks.Bing will index a new page in about 2 days. It is important to remember that these figures are estimates and there is no guarantee that the indexation will take place within these timeframes.
3. If the site is set up correctly, how quickly does it display changes?
Are you updating the site and want to inform Google about the new page? First of all, make sure that all settings are correct. You can find out how to check the site ranking and evaluate usability in the articles on the Serpstat blog.
After checking, add URL Submission to the tool and then:
Enter the domain;
Add the Index Now API Key;
Add a list of URLs (up to 10,000 units) that have changed;
Click on "Add URL List".
The usual time for sites to be indexed in Yandex and Google is up to three weeks, but after using URL Submission, this will be significantly reduced, since the search engine bot will increase the priority of checking your page.
4. How to check whether Google saw changes on the page?
To check if Google has indexed and the search engine has recognized changes on the page, enter the following command in the search bar: site: [page address]. This way you will see all the site pages that have been indexed. You can check the date the site was last crawled by search engine bots. To do this enter the command cache: [address of the page being checked]. To check the indexing of a separate page, enter site: [page address] in the search bar. This verification method will work for Google, Yandex or Bing.
Personal demonstration
Leave a request, and we will conduct a personal demonstration of the service for you, provide you with a trial period, and offer comfortable conditions for starting exploring the tool