Boost you organic traffic with Serpstat offer from Investors club

Enter "InvestorsClub" code and get an additional 20% discount for Advanced plan subscription
1. Get the ready SEO checklist for boosting your project.

3. Track your website's online presence and market share.

4. Keep an eye on technical mistakes with automated reports.

5. Create new content and improve the existing one.

2. Analyze your competitors to unveil marketing insights.

6. Ongoing support from a personal manager for the whole period of subscription.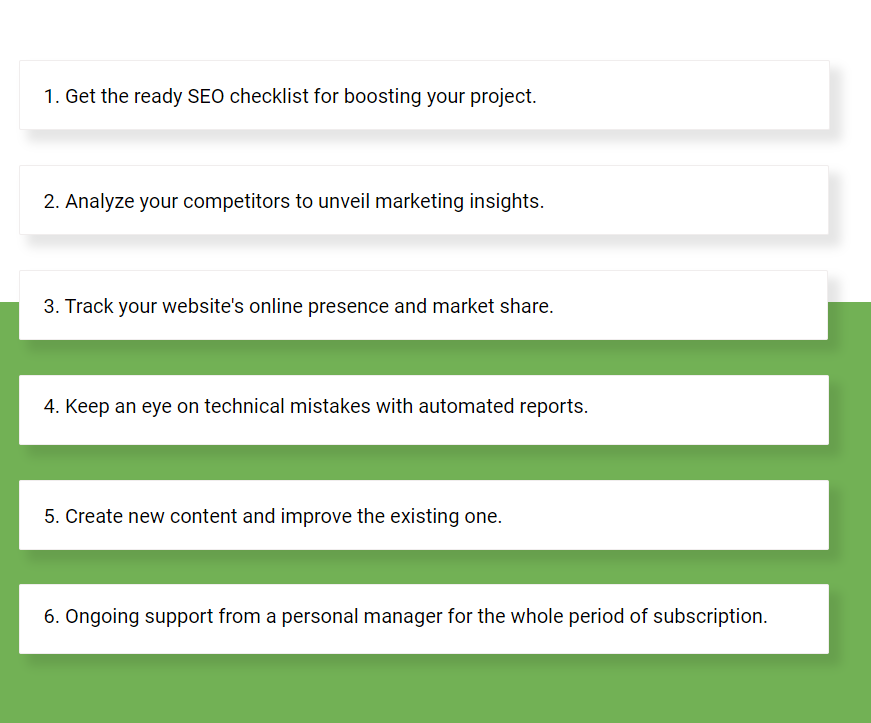 Competitor analysis
Learn key SEO metrics of competitors in a few clicks and compare with the performance of your site. Find the features they use to promote.

1
Expanded semantics

With Serpstat, you can collect the semantic core in a few clicks. We know which keywords you lack and tell you which queries will bring more traffic.

2
Site/Page Audit

Quick analysis of a site or page for errors and malware. Serpstat will identify errors on the site that worsen your rankings and give recommendations on how to fix them.

3
Search for competitors' most popular pages

Analyze the pages of the competitors who collect the biggest amount of traffic and find the missing keywords for which your domain is not ranked.

4
Track your positions in search results

Track your positions daily in paid and organic results of your site and all your competitors in search. Monitor the market share of your projects.

5
Control the quality of backlinks of your site

Control the quality of the backlinks of your site and find new sites for placing backlinks by analyzing the link mass of a competitor.

6
Keyword Clustering
Carry out keywords clustering and get keyword groups for individual categories of the site, products group and page.

7
Text analysis of site content

Start text analysis and get advice on the distribution of words in Title, H1, Body, based on competitor analysis.

8
Process automation with API
Get large amounts of data without using the Serpstat interface directly into your CRM system or corporate tools.

9
Need help or have questions regarding features or subscription plans?

Personal demonstration
Our specialists will contact you and discuss options for further work. These may include a personal demonstration, a trial period, comprehensive training articles, webinar recordings, and custom advice from a Serpstat specialist. It is our goal to make you feel comfortable while using Serpstat.
Watch your websites grow with us