How to analyze online competitors?
Find relevant competitors, evaluate their traffic and find out which pages are performing the best. Build your strategy based on the analysis.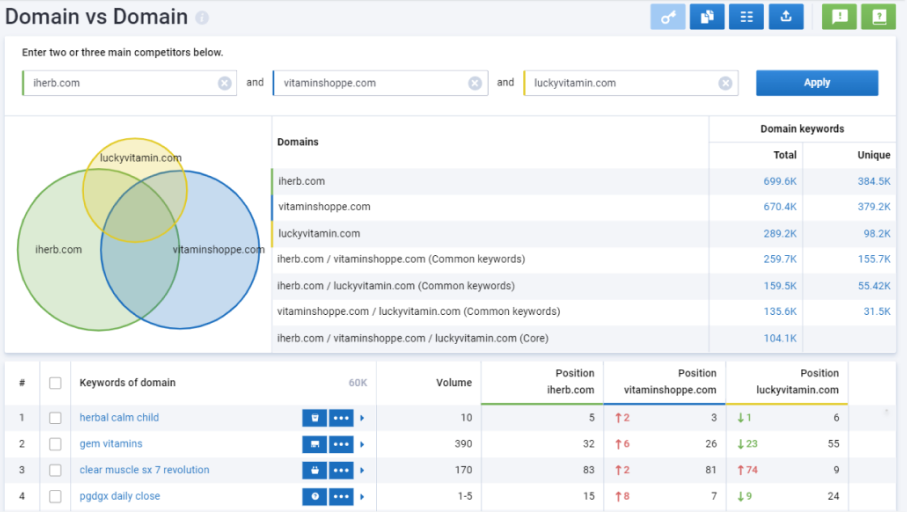 Stages of work on the online competitors' analysis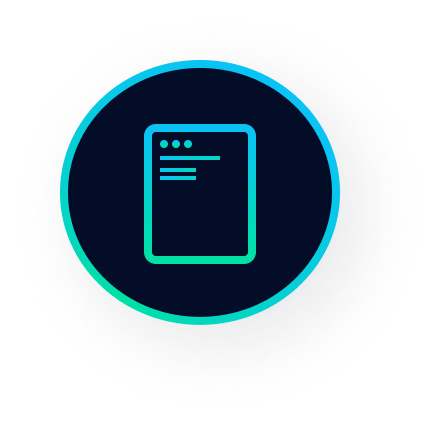 Find your closest competitors

Find out which competitors are most relevant to your business: use Serpstat to easily compile a list of the closest competitors in your niche.

The list contains sites that are in the top-20 Google for the same keywords as the analyzed domain. The semantic core of competitors can be analyzed in terms of common and missed keywords, relevance and visibility, all of which are already collected in this report.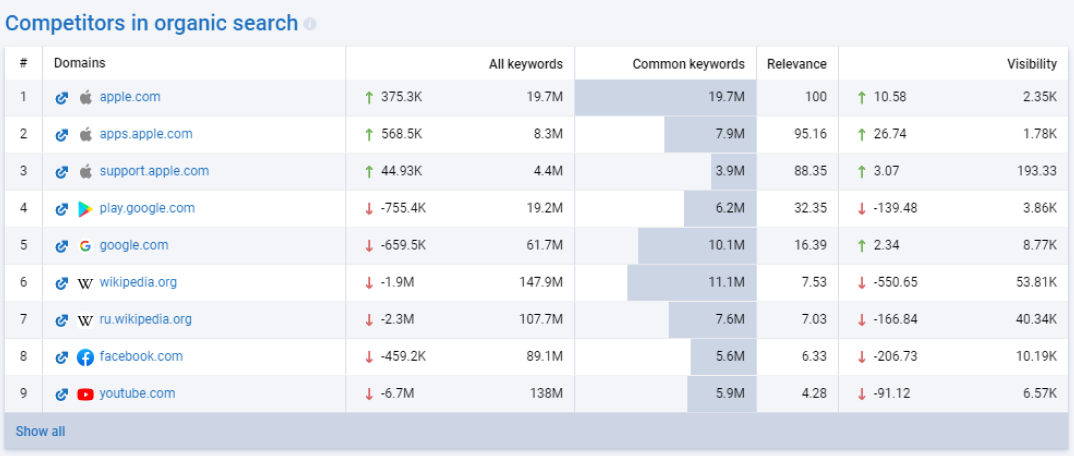 Enter the domain in the search bar and click search.
In the summary report, scroll down to the
Competitors
in the SERPs and click on it to get the detailed data.
Competitor's organic semantic core

Collect competitor's keywords used for SEO.
The Keywords in SEO
report shows the keywords a domain uses to rank in the top-100 organic Google SERPs.
Collect the most relevant keywords, sort them by difficulty, rank, frequency, traffic, competition, to incorporate them into the semantic core of your site.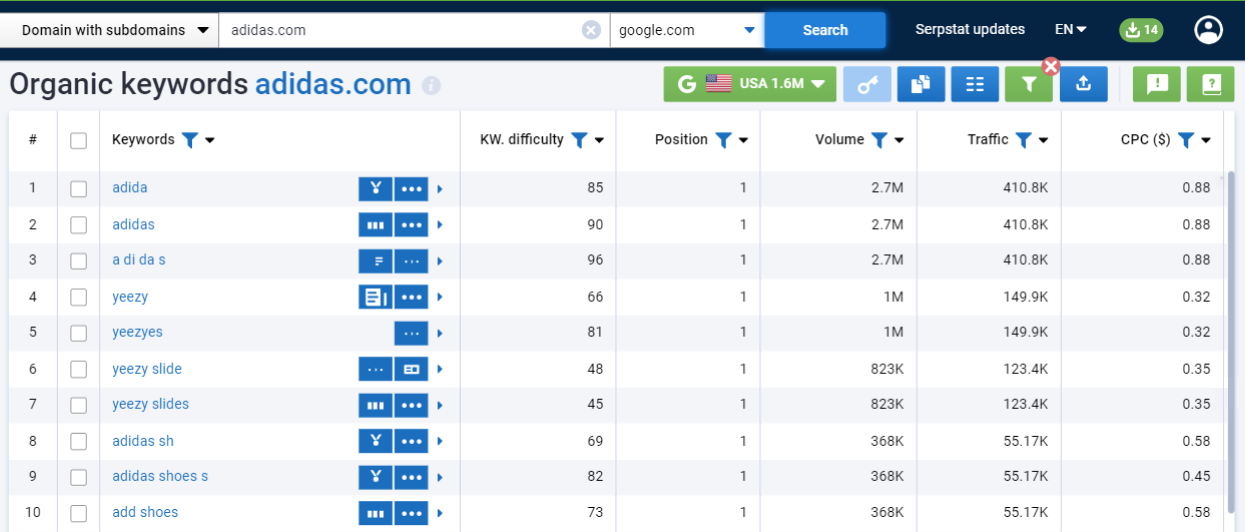 Competitor's keywords

Get a complete list of keywords a competitor uses to launch a PPC ad: use the
Keywords in PPC
report.
Report data can be filtered by difficulty, rank, frequency, cost, competition. Estimate the number of ads for each keyword and the number of pages the advertisements lead to.
Select the best keywords by cost and rank to use in your own Google Ads campaign.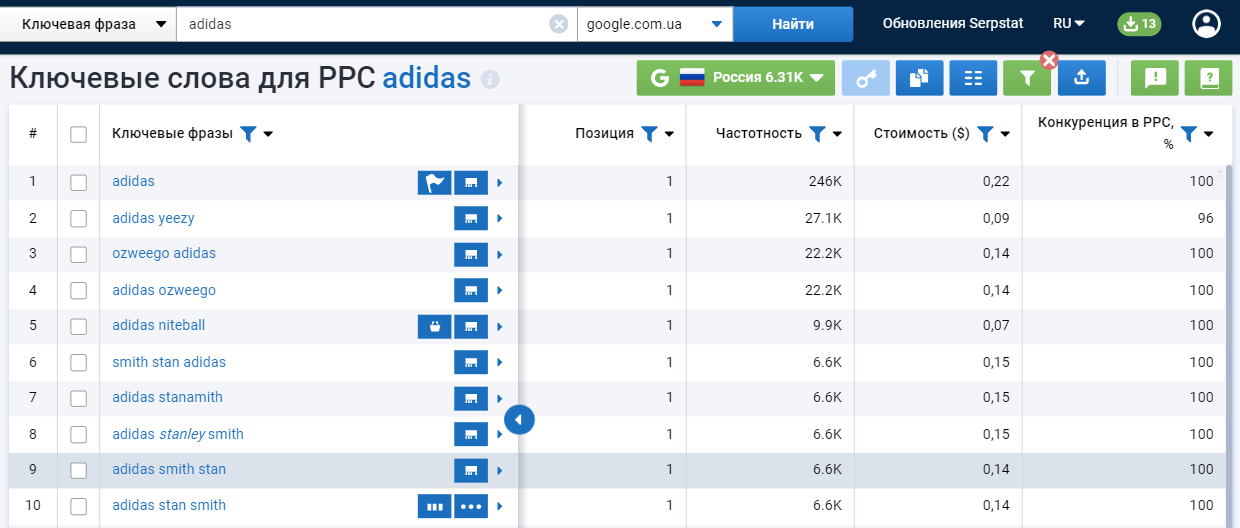 Compare your semantic core with your closest competitors

Determine the most successful keywords in your competitors' SEO campaign, and integrate them into the semantic core of your site.

Use Domain vs Domain to evaluate the volume of your semantic core and competitors' in a visual graph. Get a list of keywords that competitors use, but you still lack.

Evaluate keywords according to 5 indicators, and choose the most effective ones for your project.

Check website content

Analyze competitors' top pages content: what attracts the audience, what sections, categories, texts and illustrations are used to communicate with the visitor?
Use the
Top Pages report
to find the pages with the most keywords in the Google top 100 results and analyze them by difficulty, rank, frequency, traffic, cost, and PPC competition.
An analysis of this data will allow you to collect a semantic core from the competitors' top pages. Create pages for products, services or blog articles that are top performing for your competitors.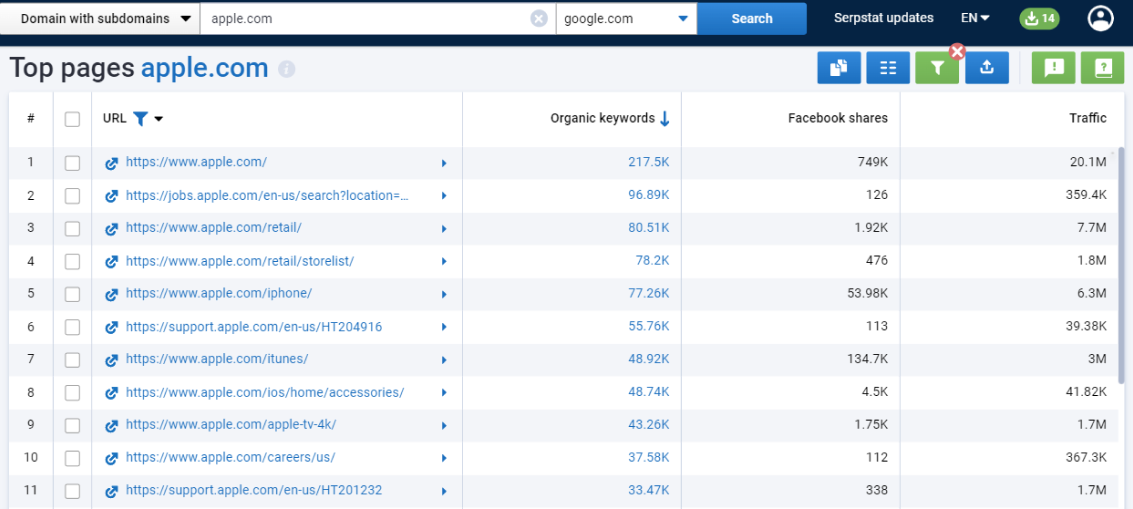 Check competitor's backlink profile

To find out how successful competitors are in link building, use
Serpstat's Backlink Analysis tool
.
Organize a list of backlink building tasks when you find relevant sites that have links to competitors, but no links to your site.

Tasks that can be solved when analyzing competitors with Serpstat
Search for the most relevant competitors in the top 20 Google results for related search queries
Collect and analyze the semantic core of competitors
Compare semantic core to find missing semantic core used by competitors
Find the top pages with the most keywords in Google's top 20
Competitor backlink profile analytics to find trusted link donors
The largest Google SERP data and own link index:
Serpstat Key Benefits
Take advantage of Serpstat to find competitors' top pages, crawl their semantic core and use them for your SEO and PPC campaigns. Analyze competitor content and backlink profiles to create successful link building and content strategies.

To learn more about the features of the SEO and PPC tool, sign up for a free 30-minute demo.
Analyze online competitors

FAQ. Common questions about competitor analysis
1. How to do competitor analysis online?
Competitor analysis online will help to identify strengths and weaknesses in the competitors' SEO strategies and allow you to find potential areas for growth in your project. To analyze competitors online follow these steps:
Step 1. Collect a list of competitors
Enter your domain in the search bar of the service and select the search base (the region in which you are promoting). You will get a detailed list of niche competitors that rank in the top 20 Google results for the same keywords as the domain analyzed.
Step 2: Create a competitor analysis table and add criteria.
Make a table with the competitors and the key factors you want to analyze. For example, the volume of SEO and PPC semantics and traffic, site structure features, top pages by traffic and backlinks. Fill in the required cells with the names of competitors obtained in the previous step.
If you want to analyze the holistic performance of a competitor, select the parameters that are relevant to you. For example: range, quality of content, order convenience, cash on delivery option, free delivery option, etc. It is important to evaluate the competitor's service from the perspective of a potential user. Enter these criteria in the table, then analyze the site of each competitor respectively and add the results.
Step 3. Create an infographic.
For additional clarity, draw a graph with the data obtained. The easiest way is to use a diagram, and you can use Google Slides or the Lucidchart tool to create one.
Step 4. Draw conclusions.
Analyze the data: identify the strengths and weaknesses of competitors. Use this data to address your weaknesses and play to your strengths.
2. How to analyze a competitor's website online by keywords?
An analysis of the competitor's keywords will help determine the competitor's semantic core, how effective the keywords they use are, and what growth areas can be found to rank higher in SERPs. Use Domain Analysis to evaluate metrics such as visibility ratio, estimated traffic, number of keywords in SEO and PPC.
3. What tools are available for online competitor analysis?
There are many tools to analyze competitors available online. They differ in the set of options and cost. The optimal tool for analysis is Serpstat because:
It contains 7 tools - Domain Analysis, Keyword Analysis, Backlink Analysis, Rank Tracker, Batch Analysis and others.
Semantic core analysis allows you to select effective keywords for site optimization and sort them by cost, visibility and traffic. The tool can be used to analyze the semantic core of competitors and incorporate their most valuable keywords into your project.
Site structure analysis is a unique Serpstat tool. It can be used to analyze a domain and get a graph of the site structure in order to analyze the number of sections, nesting levels, and the consistency of links between site categories.
Backlink analysis allows you to evaluate the level of domain trust based on the number and quality of backlinks. You can select irrelevant backlinks and disavow them to boost trust. The tool can be used to analyze the backlink profile of competitors. This is how you can find new sites for backlink building.
Personal demonstration
Leave a request, and we will conduct a personal demonstration of the service for you, provide you with a trial period, and offer comfortable conditions for starting exploring the tool