What is a URL builder and how to use it
URL builders are used to create ready-to-use links that include UTM marking. This service puts behind manual link generation carried out with the use of templates. Moreover, it eliminates the risk of possible mistakes that may occur in URL addresses.
An automated link generator that implies UTM marking and applies user-provided data is the actual URL builder. This tool arranges unique link parameters in a certain consequence.
Using URL builder and UTM marking, it becomes possible to track traffic sources and to carry out the analysis of their effectiveness. In addition, you can find out if there is any response from search systems advertising campaigns, social networks, mailing, and other sources.
To avoid the excessive length of the resulting URL, you can use alternative utility-programs that help to shorten links containing UTM marking. One а them is
Rebrandly.
It is important to use short and comprehensive links in the following cases:
the URL will be used on platforms with open advertising where users can observe link text;


if there are certain requirements to link length. To avoid automatic mark-up cutting, you should reduce the link length.


Having gone through the automatic generation, the marked-up link will look the following way:
https://site.com?utm_source=news4&utm_medium=blog&utm_campaign=bonus-za-pokupku
And here is its shortened variant:
What is the most recommended URL builder?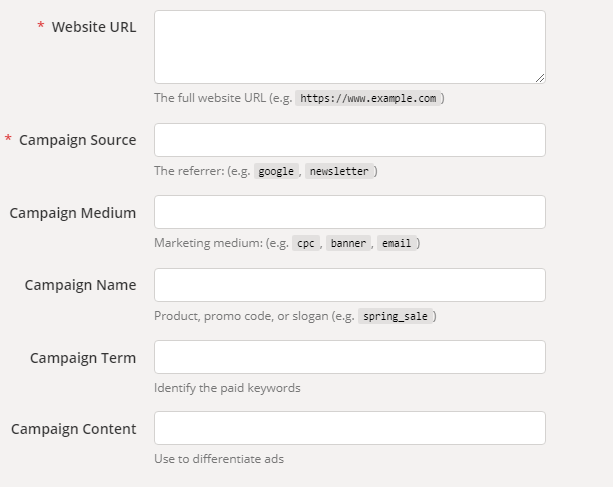 Fill in the two obligatory fields and provide additional information optionally:
Website URL is the link address that leads to the advertisement.
Campaign Source is the resource for advertisement implementation.
Campaign Medium is the resource type. It can be a banner, an email address, or another.
Campaign Name is the name of the campaign like "bonus for a book".
Campaign Term is the keyword used in the advertising message.
Campaign Content is the text of the advertisement. It is mostly used for A/B testing.
It is recommended to type in the text using the Latin alphabet and choosing general terms. The more unique words you use, the less comprehensive the campaign parameters will appear to outside people. For example, they may confuse outsourced experts that track traffic with analytics tools.
Google offers additional link building services that use the mark-up that is specially designed for advertising
Android or
iOS applications.
URL builders help to track the results of every advertising campaign in Google Analytics.
It is highly recommended to use automated link generators. The reason is that creating links manually using UTM may lead to mistakes that may negatively influence data analysis and their display in the administration tools.
Online URL builders are used to create proper links with correct mark-up and to track advertising on a certain platform.

In order to create such a link, you need to fill in two obligatory fields and supply additional information optionally.

Specially designed virtual utility programs can help you to shorten links with mark-up so that they can be effectively used on billboards, offline banners and internet platforms that set limits to link length.

Speed up your search marketing growth with Serpstat!
Keyword and backlink opportunities, competitors' online strategy, daily rankings and SEO-related issues.
A pack of tools for reducing your time on SEO tasks.
Found an error? Select it and press Ctrl + Enter to tell us
Cases, life hacks, researches, and useful articles
Don't you have time to follow the news? No worries! Our editor will choose articles that will definitely help you with your work. Join our cozy community :)
By clicking the button, you agree to our privacy policy.