// В этом файле есть те нужные стили которые в других файлах нет.?>
Twitter Chat Recap With Ann Smarty: All You Need To Know About Featured Snippets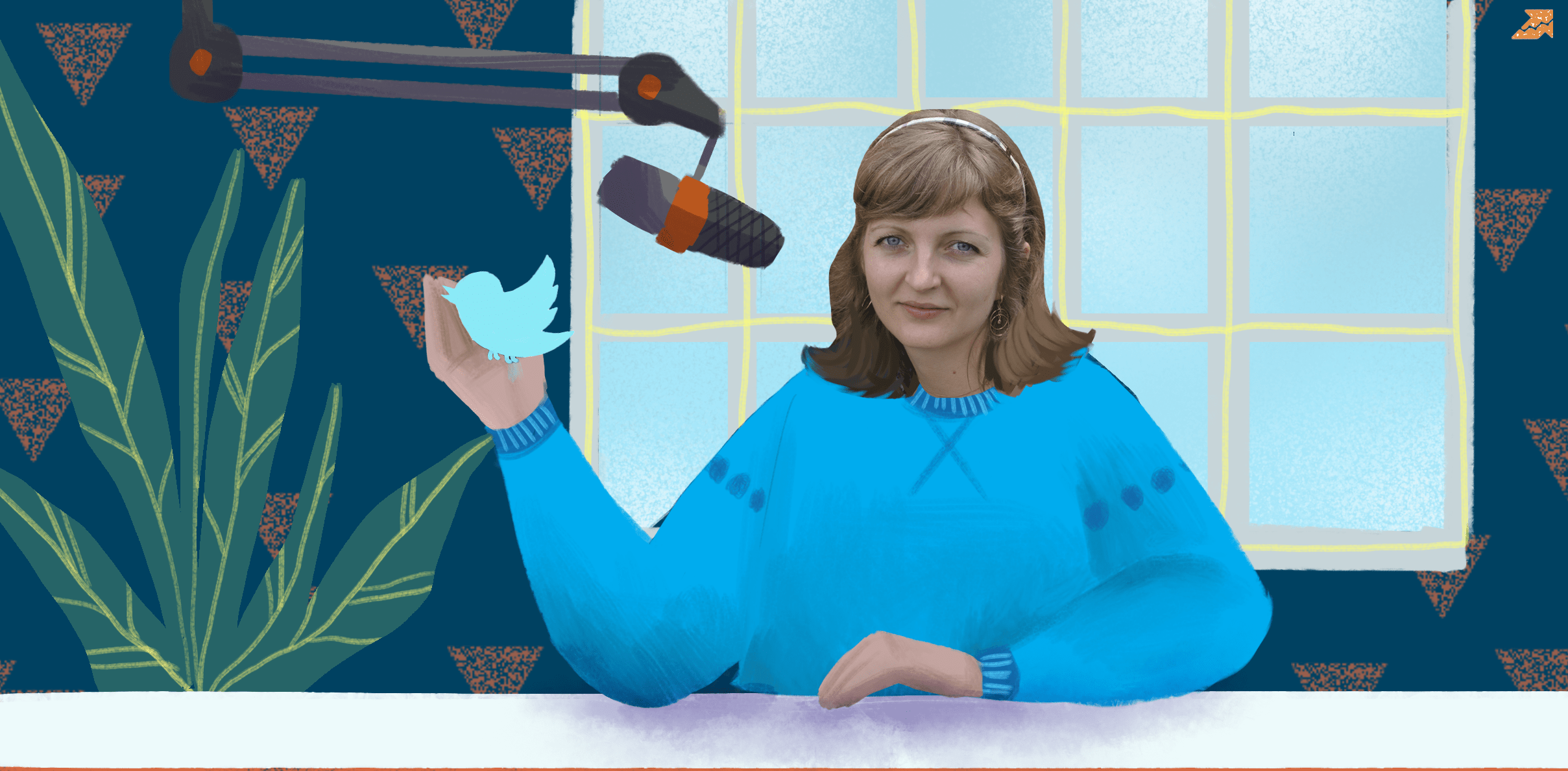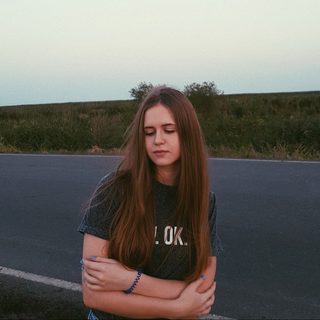 Stacy Mine
Editor at Serpstat
Last week we hosted a Twitter chat with
Ann Smarty
, digital marketing and SEO expert. She told us about an ideal featured snippet, types of content you need for it, and gave her recommendations on optimizing for Google. I prepared this QA article, in case you forgot to join our chat ;)
What is the structure of the ideal featured snippet?

Ideally, the perfect structure to get featured is a question-answer format. That being said, not all featured snippets appear for the question-type queries, but when you focus on answering questions, it's easier to snatch some (unexpected) opportunities.

Each question should be a H3/H2 subheading. The answer should immediately follow each question/subheading and be concise and to-the-point (factual).

And most importantly, each answer should align with the query search intent. For example, if the query implies a request for definition, your paragraph following the subhead should give a clear definition.

Which type of content has more chances to win a featured snippet?

Generally, question-and-answer content is the best for catching some unexpected featured snippet opportunities. The key is to provide the best content format for each query type. For some queries, Google features lists, for some they prefer tables, etc. Learning from those will help you find the ideal format to answer each query best.
Featured Snippet Tool
helps you analyze types of featured snippets appear for your important queries: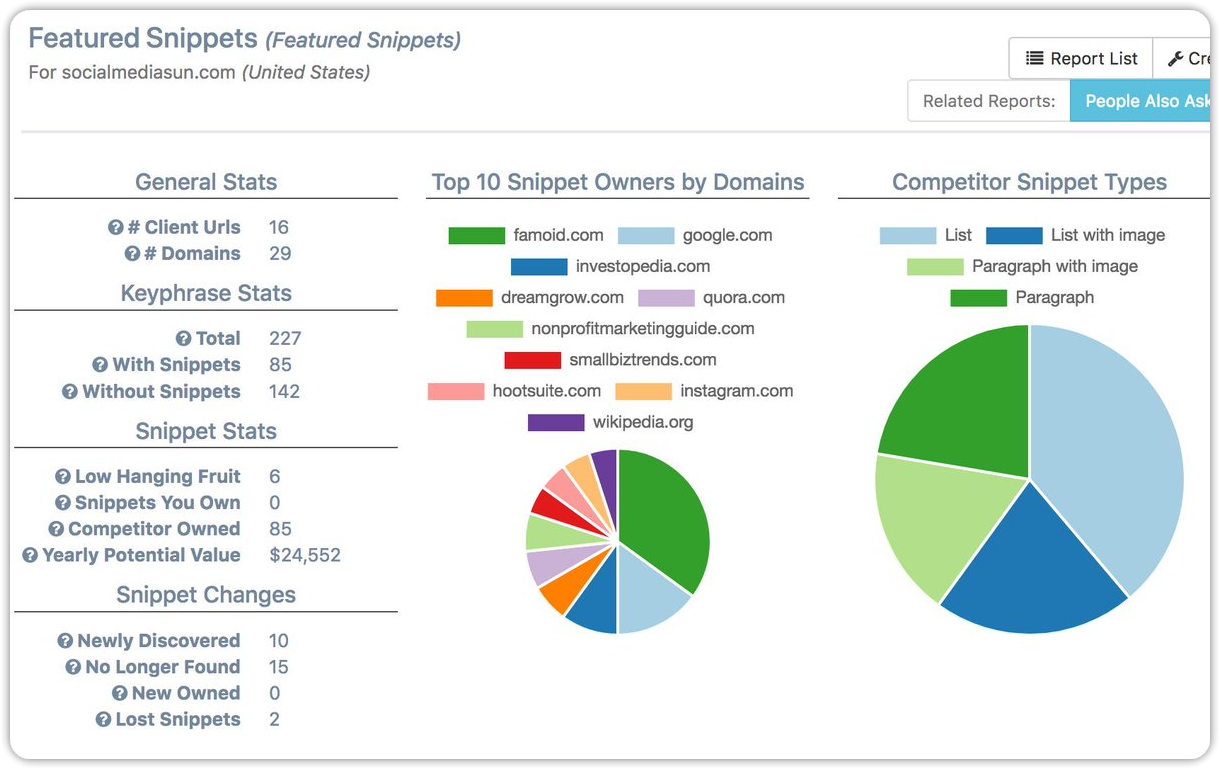 Should you be at Google page#1 to get into a featured snippet?

Most featured URLs already rank #1, so the key is achieving high rankings. Yet, there are lots of cases where featured snippets include a URL that ranks #2-#5 organically or (rarely) lower. Featured Snippet Tool shows those cases where the featured snippet page ranks below your page as "low-hanging-fruit" opportunities.

Is it possible to get integrated into Google featured snippets if your page authority is still weak?

Google Featured snippets often appear for long-tail keywords with quite low organic search competition, so your page may still stand a good chance of getting featured. You can research those queries by using Serpstat filters. Search for your keyword and then Add Filter → Special elements in SERPs → Includes → Featured snippet → Apply Filter.

You can also filter results by "Keyword" difficulty to see those queries that have the lowest competition AND trigger featured snippets. These are ideal targets for pages that don't yet have high authority.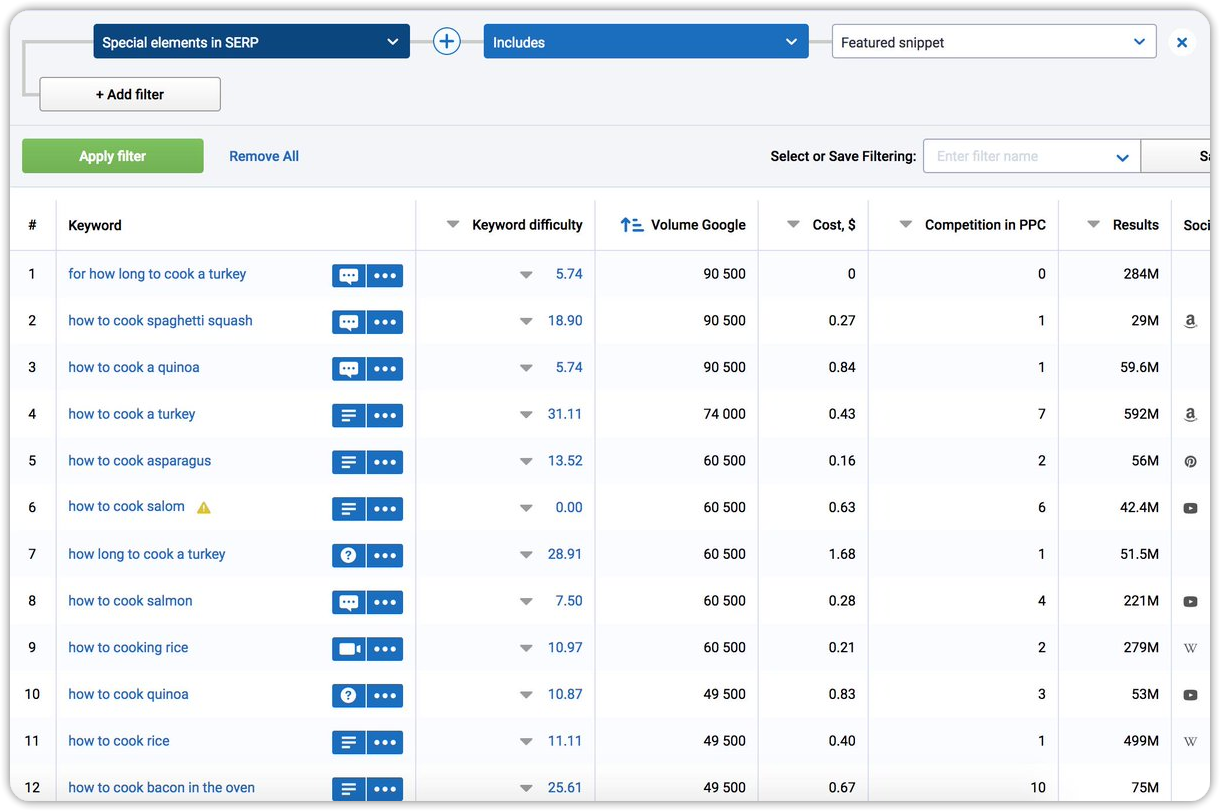 Can CTR help you win a featured snippet's position?

The simple answer is, no one knows. We do have educated theories that SERP engagement impacts rankings, however, we don't know exactly how. That being said, all kinds of positive signals (backlinks, click-through, engagement with the page after the search link is clicked) — all of them help with rankings and hence help with getting featured.

Can featured snippets decrease traffic?

What many people misunderstand is that featured snippets may steal traffic from ALL the search results as a whole (they eliminate the need for a click, especially if they do a very good job answering the query). Overall, featured snippets help with traffic. That is if your page gets featured, especially if you ranked #2-#5 and got featured. So in some cases, when a featured snippet starts showing up for your query, you may see a decrease in clicks, but so will your competitors ranking for that query.

Why does Google show featured snippets for posts that are not always the highest ranking?

Google usually tries to find an answer on the page that is already ranking #1 but it may not be easy. So they have to feature a page that has a clear concise answer that would make sense when taken out of context. This often happens for pricing-related queries (especially when pricing is complicated, like in the home improvement niche when there are many "it depends").

For many how-to and comparison queries Google struggles to find clear steps to feature. Sometimes there is a clear answer but it's too long / too detailed / too complicated to get featured. When you have to deal with a lot of data, a lot of steps, a lot of "it depends", make it a habit to provide quick "summaries" /takeaways to give Google a "featurable" answer.

How do you optimize for Google featured snippets?

So to sum up:

Always structure your content with H2/H3 subheadings to help Google and users find where you answer the query.
Always follow each subheading with a short, clear, concise, factual answer with user intent in mind (e.g. if the query implies a number (e.g. price), give that number! Best if it's 1-2 numbers. Don't go too much in detail). You can always elaborate further in the article but the paragraph following the subheading should be as concise as possible. Think of it as a "quick answer" that can fit the featured box.
Get into a habit of defining concepts (even if you think your readers may know what it is).
Use lists for steps and tables for pricing information.
Answer questions! All in all, being featured means doing the best job answering the query. Doing that will improve your overall content quality which will help in the long run, beyond being featured.

We hope that this chat was useful for you! Follow
Serpstat Twitter
to stay in touch with all our updates and interesting projects :)
Learn how to get the most out of Serpstat
Want to get a personal demo, trial period or bunch of successful use cases?
Send a request and our expert will contact you ;)
Found an error? Select it and press Ctrl + Enter to tell us
Cases, lifehacks, researches and useful articles
Don't you have time to follow the news? No worries!
Our editor Stacy will choose articles that will definitely help you with your work. Join our cozy community :)
By clicking the button, you agree to our privacy policy.