// В этом файле есть те нужные стили которые в других файлах нет.?>
How To Submit Your Website To Google In 2019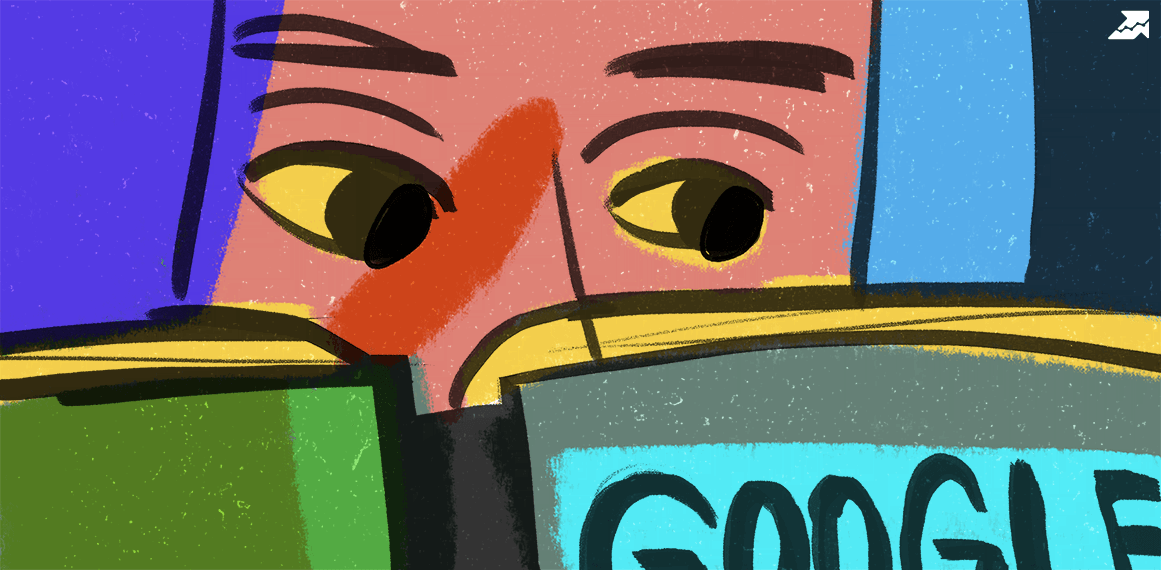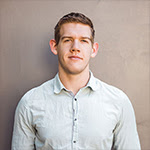 Joseph Jones
Indexing your pages on Google's search engine just got easier with the new Google Search Console. Let's discuss the new features and how to submit your sitemap and URLs!

Do I have to submit my sitemap to be found on Google?

Before we get started, let's quickly address this question. Technically, no. Even if you don't submit a sitemap, Google can still find your website. It may just take longer.
Sitemaps become more important the larger your site gets. This is because Google has over
130 trillion pages
to crawl and index. Sitemaps act as directions for Google and help them crawl pages more efficiently.
And it's never a bad thing to make things easier for Google when it comes to
SEO
. In order to do this, you'll need to use Google's own tool, Google Search Console.
What is Google Search Console?

Google Search Console
(GSC) is Google's free tool for webmasters. With Google Search Console you can check your website's indexing status and optimize your website's visibility on Google. This is also where you'll submit your sitemap.
A
sitemap
is an index of pages in XML (Extensible Markup Language) or HTML (Hypertext Markup Language) format for any version of your domain.
The sitemap you'll be submitting to Google is an XML sitemap.
Below is an example of an auto-generated XML sitemap of an http domain created by the Yoast SEO plugin.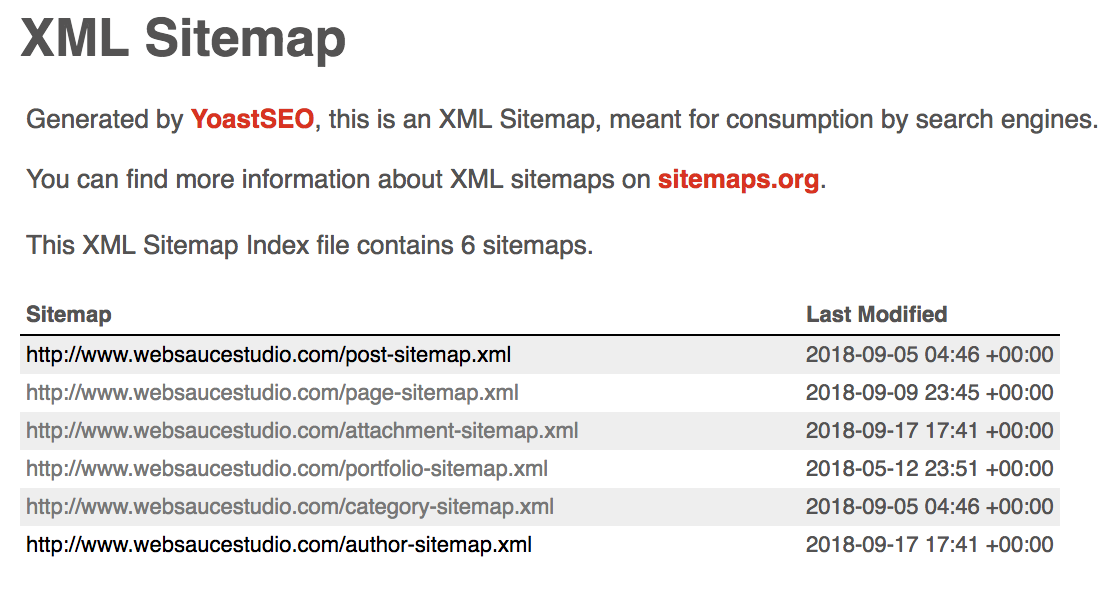 Auto-Generated XML File Example
Each page has its own URL specific to that page's identity.

Images and videos can be included and indexed as content on GSC, which can be found in these sitemaps. Looking at this example, the six sitemaps contain URLs of pages within their category. For example, the "/post-sitemap.xml" contains URLs of articles on our blog.

If you open a sitemap file (such as the examples above) more sitemap URLs will be provided. These sitemaps are individual files for specific pages. Example: If I opened the "post-sitemap.xml" file, this would show me sitemap files for each of our blog posts we've published.

You can either upload the entire sitemap known as "/sitemap_index.xml" which includes all sitemaps (such as the ones listed above) or you can upload individual sitemaps.

This has been great for indexing specific categories and pages whenever an update or new page was made within a category. Now it's far simpler (will explain later)


XML Sitemap Code Example
Above is what your XML sitemap looks like written out in XML code.

Depending on what web host or CMS you're using, a sitemap may already exist for your domain. In most cases, it doesn't and you'll need to create one.

Building a Sitemap from scratch

How do you
build a sitemap
? If your website was built from an independent server and not a CMS (such as Wordpress) then you'll need to create a basic sitemap including all of your website's URLs that you want crawled and indexed since there's no plugin to auto-generate a sitemap for you. This can be done by creating the XML or HTML file yourself, paying a programmer, or using a sitemap generator.
Here are some excellent sitemap generators that can help you do this:
Recommended:
If you plan on creating the sitemap yourself, it will look similar to the example above. Use an application or tool like Microsoft Excel to create the XML sitemap on a spreadsheet. Use a
guide
as a base for your sitemap code. Or, you can create a sitemap using one of the previously discussed XML sitemap generators. Once created, you'll export the sitemap as an XML file then upload to GSC.
Not recommended:
Search engines are more willing to accept an XML over an HTML file since it's a cleaner code design and easier to index (if made correctly). An HTML file is easier to view for visitors on your website, though you can still use it for search engine indexing. For an HTML file, create a
webpage
with links to each page you want to be indexed on Google. Once created, submit this page's URL to GSC for indexing.
Building a Sitemap using a plugin

If your website was built on the Wordpress CMS, all you need is to add a plugin that will make an XML or HTML file of your sitemap. An easy-to-use and SEO friendly plugin is Yoast SEO. This allows you to create a free sitemap on your WP website, indexing all of your pages and images.

Note: This plugin is only on a couple of CMS platforms (Wordpress, TYPO3, and Magento 2) so research which CMS you're using provides a plugin similar to this for sitemap creation.

Why use XML over HTML?
Both HTML and XML will lead Google's crawlers to your pages.
XML is a simple file that will
accurately
lead Google to the connected pages that you're indexing. Google can crawl either but HTML was made for human eyes and is what you'll typically find in the footer of a website to locate the page you're looking for. Whereas XML is
specifically designed
for search engines, which is why we use XML for SEO purposes.
Below is an example of the
USPS About
subdomain's HTML sitemap index.
Now, there may be content on your website that you don't want Google to index. Common scenarios where this is the case include:
Your site is live, but you may not want Google to index it just yet

You don't want Google to index your checkout pages

You don't want Google to index your action completion pages (such as your thank you page)

Robots.txt, aka robots exclusions protocol standard, can be a necessary text file for those pages/content that you
do
or
don't
want indexed. You might ask, "But don't I want all of my pages indexed?" Not necessarily. It used to be that the old GSC had a
crawlbot limit rate
. Meaning that the bot was limited to the amount of requests (URLs crawled) per second it makes to your site when crawling; this could adversely affect your rankings if it took a long period of time, so you'd want to suggest to Google which pages are more important for indexing. Now, with the new GSC, this limit has been removed.
Since websites can contain SO many numbers of pages, it's smart to suggest to Google which pages you don't want indexed. Any archived, duplicated, or irrelevant pages like a "Thank You" page don't need to be crawled by Google so you'd leave these out and set them in a robots.txt file.
Here's an example of a simple robots.txt file:

In this example, the "User-agent" tag with the asterisk tells a search engine to allow all robots to crawl this file. The "Disallow" tag tells (in this situation) the Googlebot not to access a particular folder. The "Allow" tag tells the robots they have access to a particular file within the Disallow folder. You can get more technical with the file if you want but the main tags to takeaway here are the ones listed.

The Google Search Console update for 2019

In January of this year (2019), Google released a Beta version of the
new Google Search Console
to the public. Anyone that had a domain listed in the indexing platform was instantly provided access to the new features. During the past several months, Google has been updating the new indexing system to create a brand new interface with many more features than the previous Beta version. Let's go over the
new updates
:

New Data Analysis
Smarter Alerting
Automatic alerts on issues concerning AMP, crawling, indexing, mobile usability, recipes, and job postings

If applicable, reporting on the exact HTML code where a problem could exist

Problem sharing via organization personnel for faster fixing

Google notifications when issues have been officially resolved
Simpler Page Submission and Account Management
Easier process of submitting sitemaps

Submitting individual URLs (arguably the most exciting feature) through the URL Inspection tool

Adding a new site to the account with enhanced user management
All of these features will make indexing and tracking live errors so much easier for the SEO. Along with these features, the entire interface has drastically changed from its previous version making it immensely simpler to access even the most advanced features. So, how do you submit a sitemap in 2019?
Step by step process of submitting a Sitemap

With a new interface, it's important to learn how to submit a sitemap. Like I said, Google has made this process nice and simple so here's a step-by-step how to:
Go to
Google Search Console
, click on "Start Now"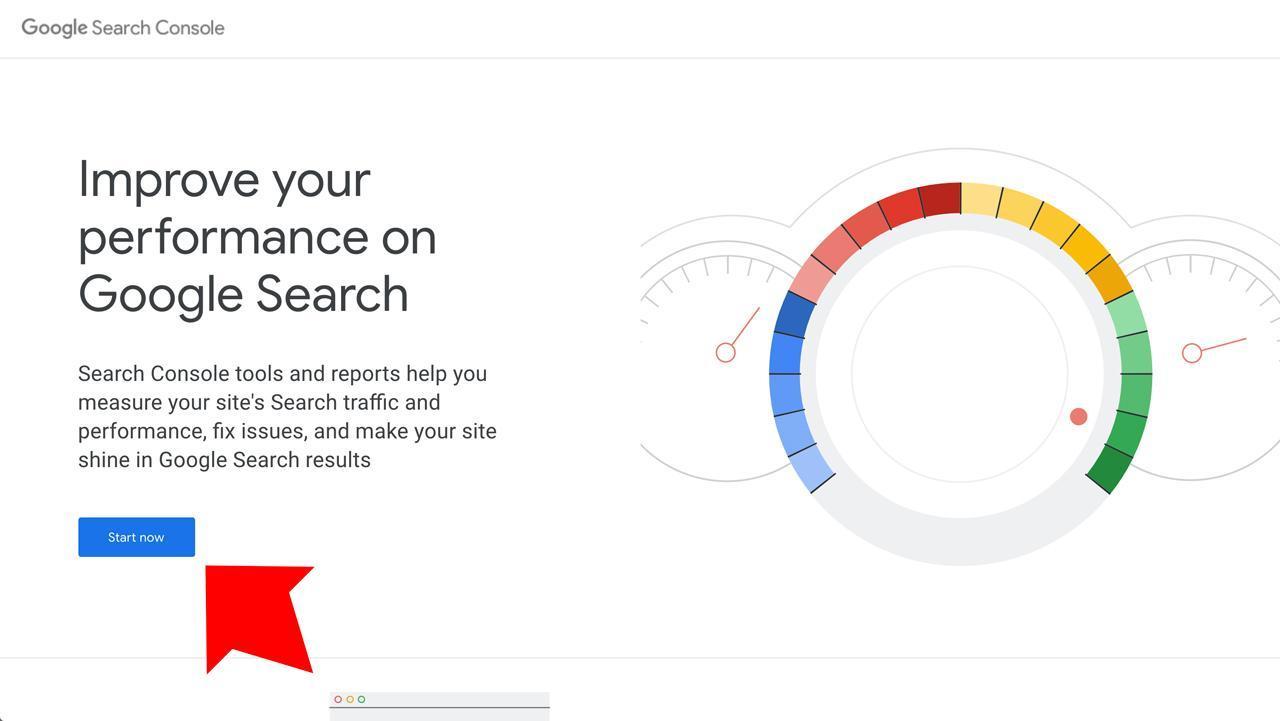 You'll be brought to your new dashboard where you can add properties (domains) or view the current properties you have. Since we don't have any, let's create one. Google can walk you through a startup guide if necessary.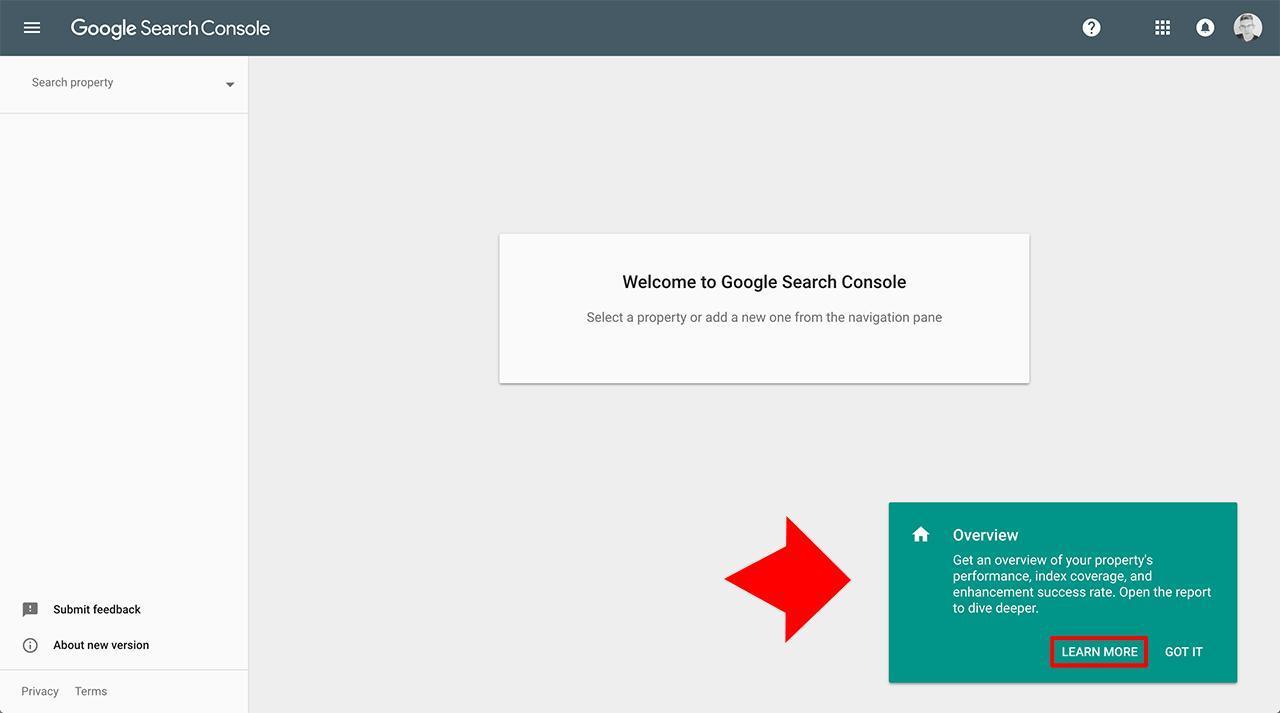 Click the dropdown in the menu pane for "Search Property", select "Add property", add your URL to the domain.

Google accepts four different versions of your domain:

http://
https://
http://www
https://www

Google Search Console recognizes each of these as separate property versions for your domain. You should be indexing all of these because Google views them as separate websites. For this how-to, I'll be indexing our http domain.

Once you add your domain, Google will need verification of ownership. Verification can be done several ways:

Download the Google HTML file (the recommended solution) and
upload the code to your domain
, this won't do anything negative to your domain's code unless you break the code by pasting it incorrectly.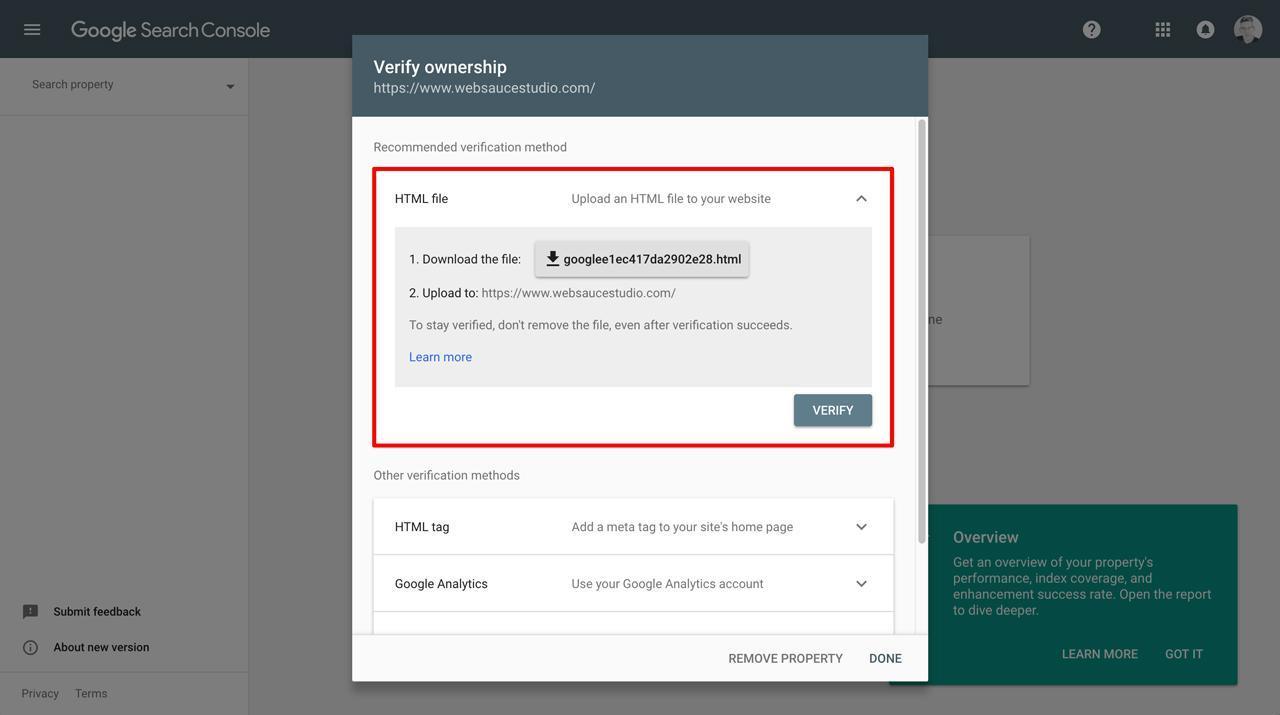 Copy and paste the meta tag to the website's homepage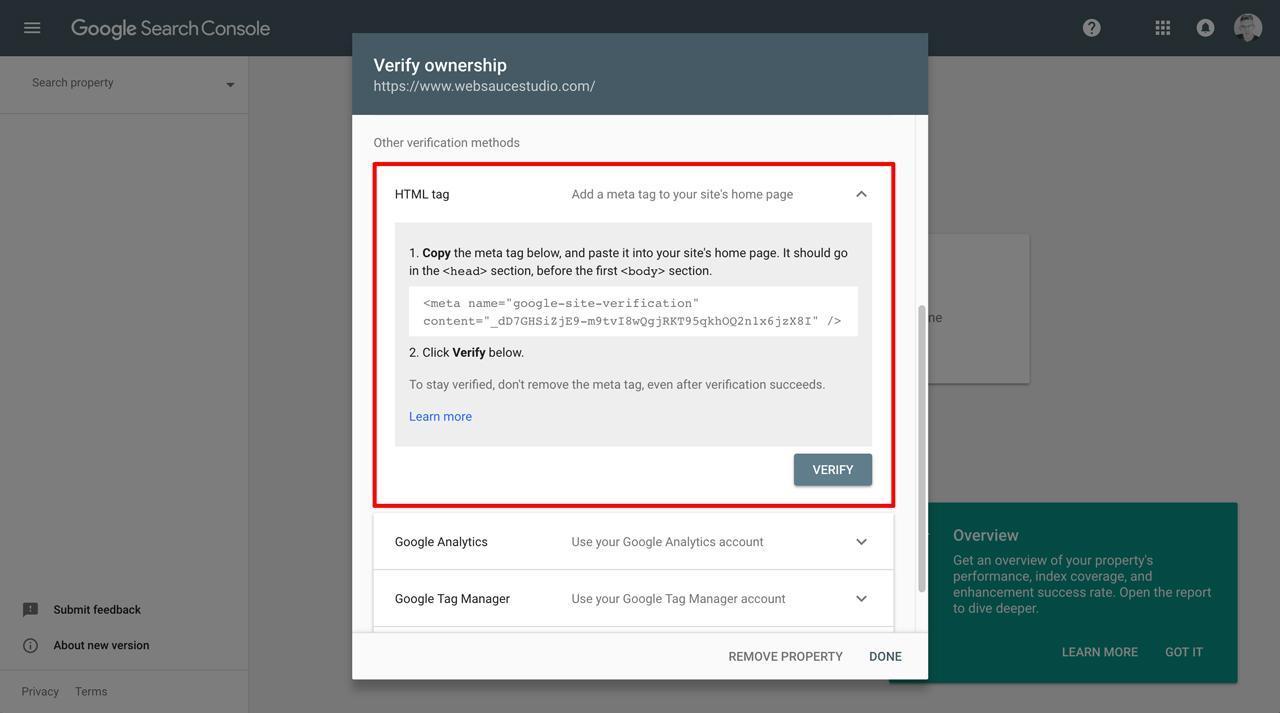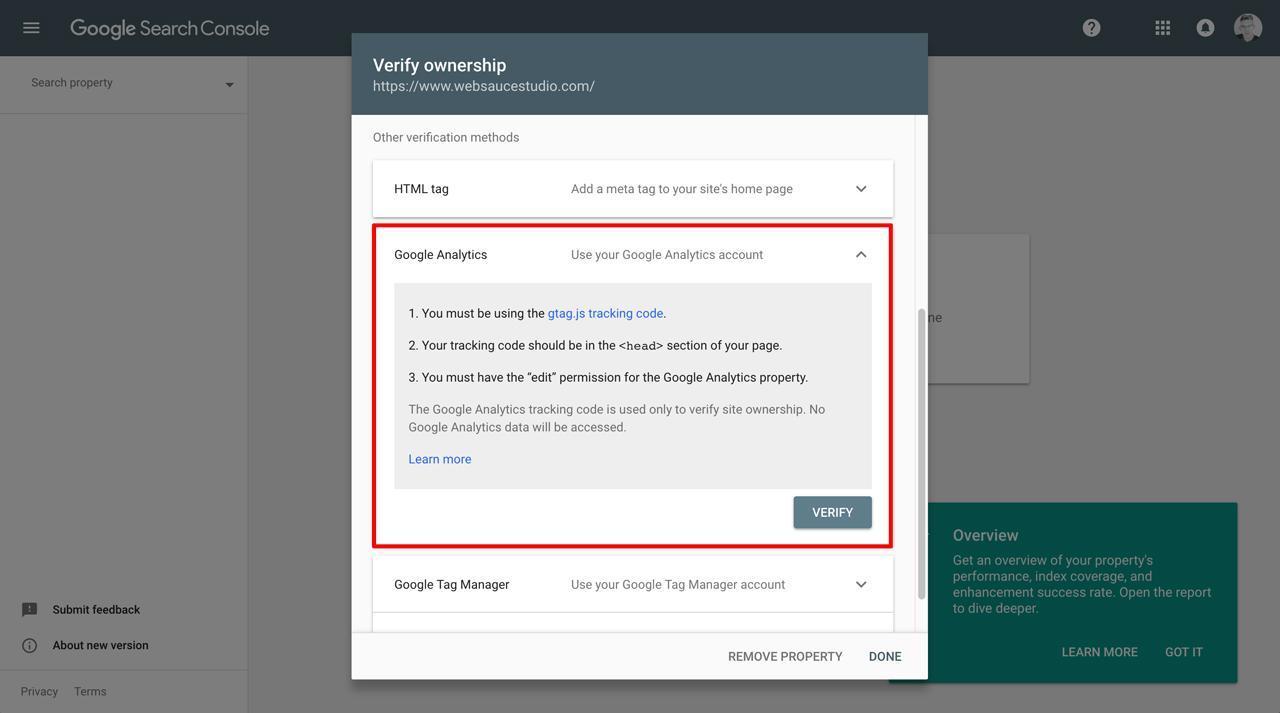 Using your Google Tag Manager account, apply the
container snippet
- with the "manage" permission on.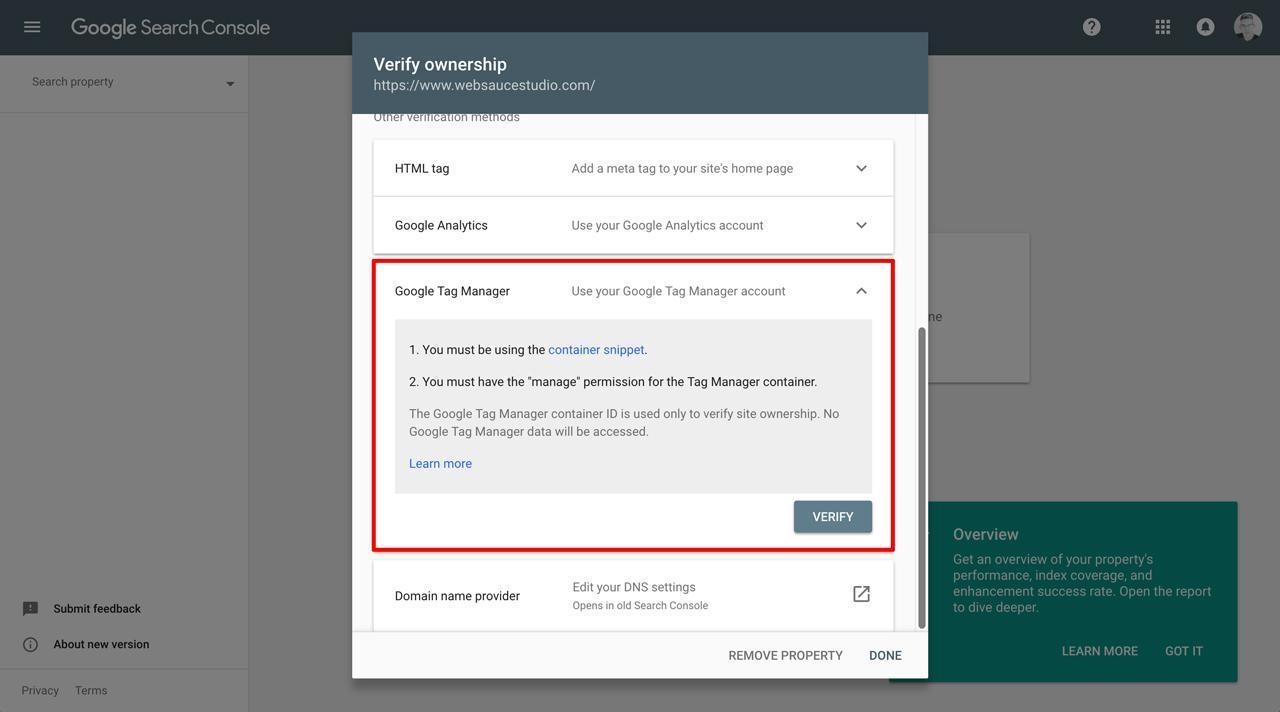 Changing your DNS through your Domain name provider.

When your domain is verified, you'll be brought back to your dashboard with an overview of your website. Here you can view your Performance, Coverage, and Enhancement reports. These will show you data on everything from page clicks to current errors. This is a much cleaner and sleeker look compared to the previous dashboard overview which only showed the status of crawl errors, search analytics, and sitemaps.

Using your menu panel, select "Sitemaps" to continue to the next step.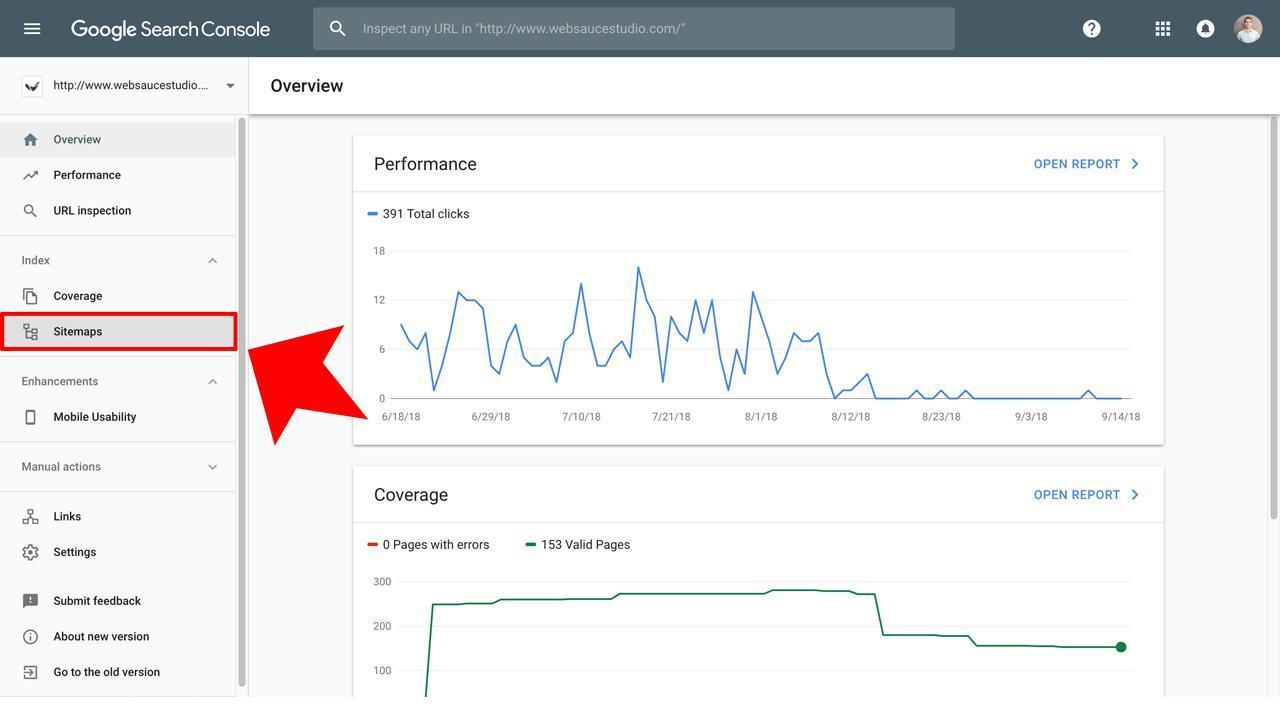 To add a new sitemap, you'll need the XML file URL slug (sitemap URL) of your domain's sitemap, previously discussed. You need only copy and paste the URL slug, not the domain.

Again, keep in mind which sitemap version you are indexing in your property on GSC because you need to match the same versions (i.e. HTTP sitemap with HTTP domain property).

Select "Submit", Google will then crawl all of the pages you've provided and index each one onto the search results pages, if no errors.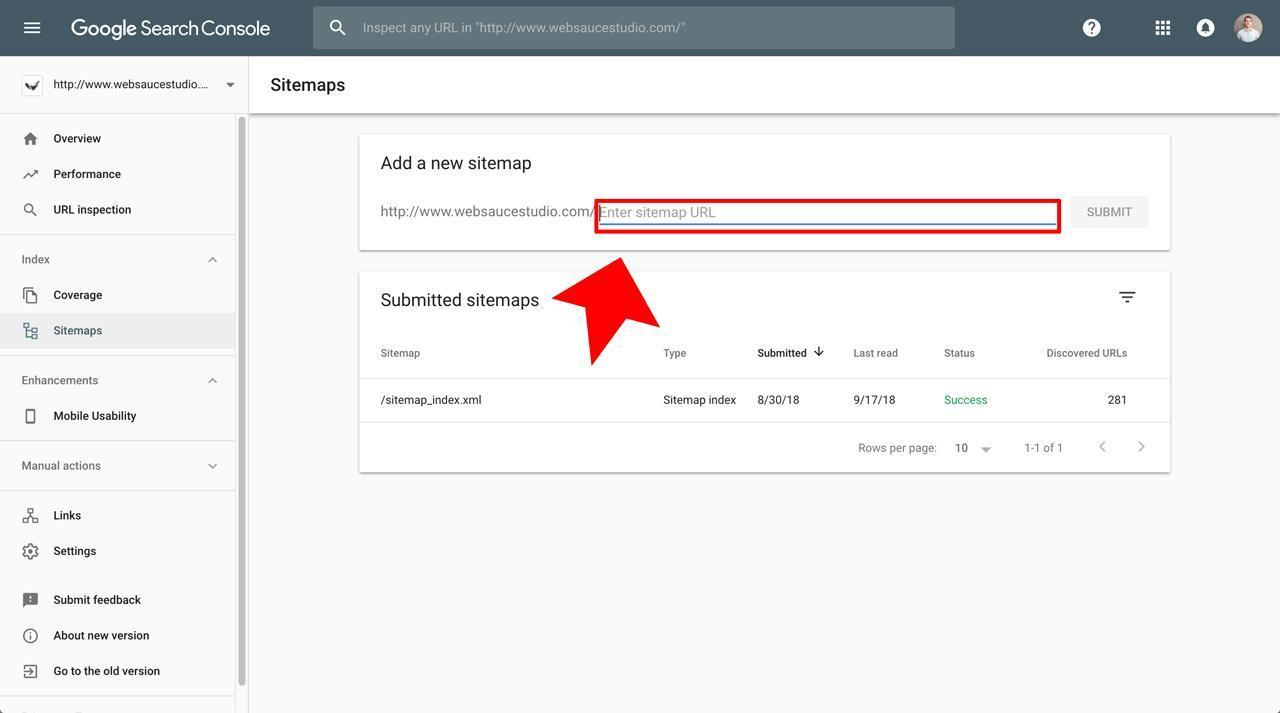 If there are any errors, a report will be provided to you with all fixes necessary to proceed. You will have to look at each individual error and fix accordingly. If you do not have any errors, your sitemap status will be a "Success."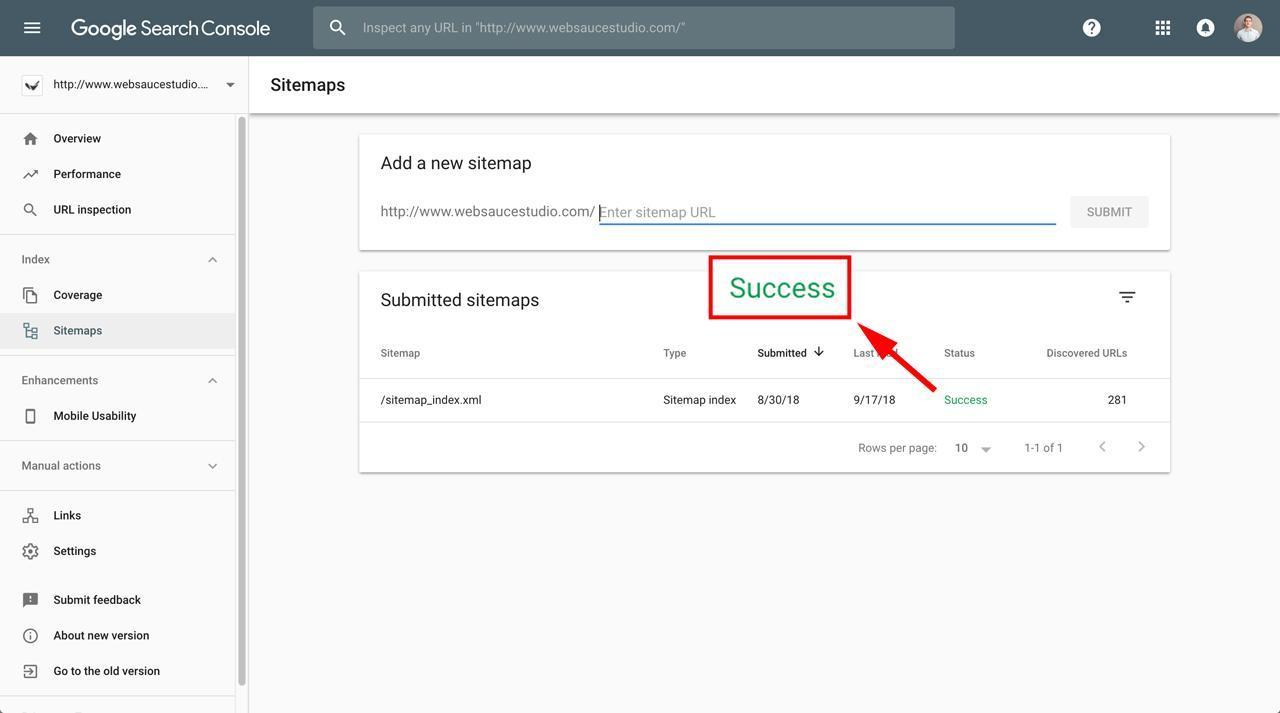 From the sitemap dashboard, you can view:
Which file was submitted, crawled, and indexed
What date the sitemap was submitted
When Google last read the sitemap
The amount of links found by Google's crawler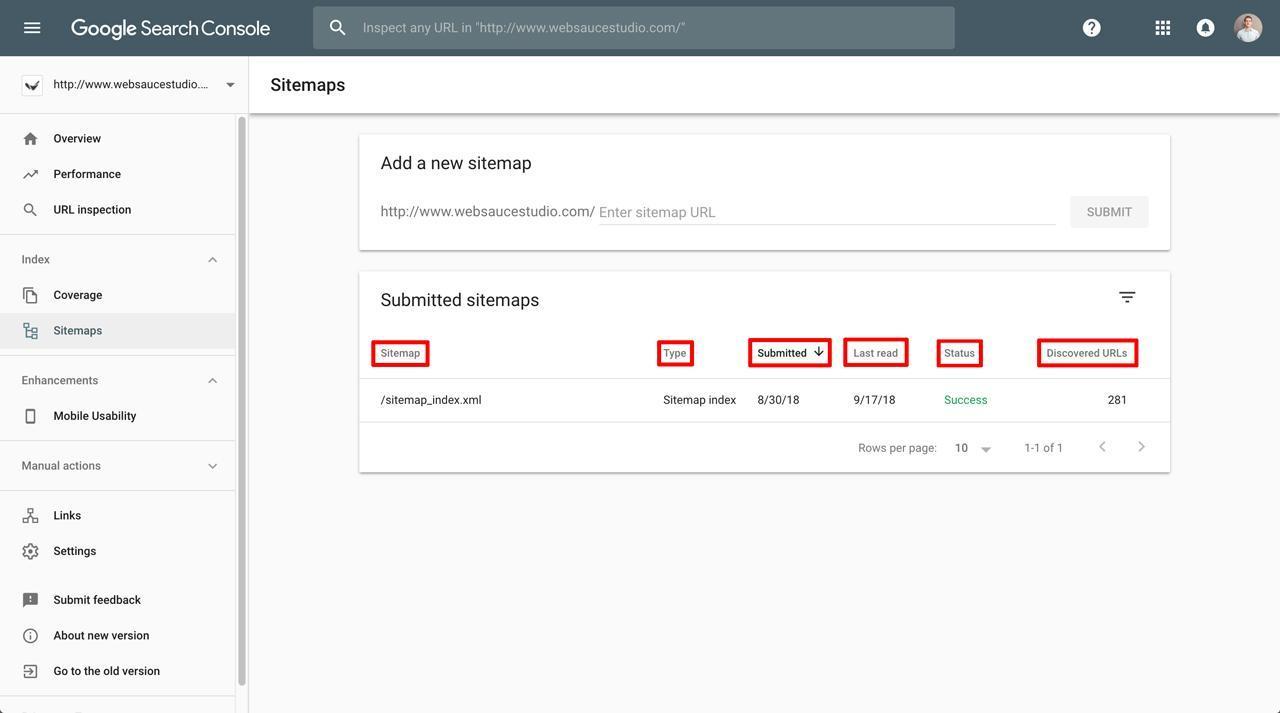 You can even add filters to view the different sitemap indexes added based on these options. If you want to review the sitemap indexed pages and found URLs, you can click on the sitemap index of choice and see the individual updates on the sitemap files you've uploaded. This gives you a macro view on the status of each file, which pages are broken/need fixing, and the different URLs indexed per file.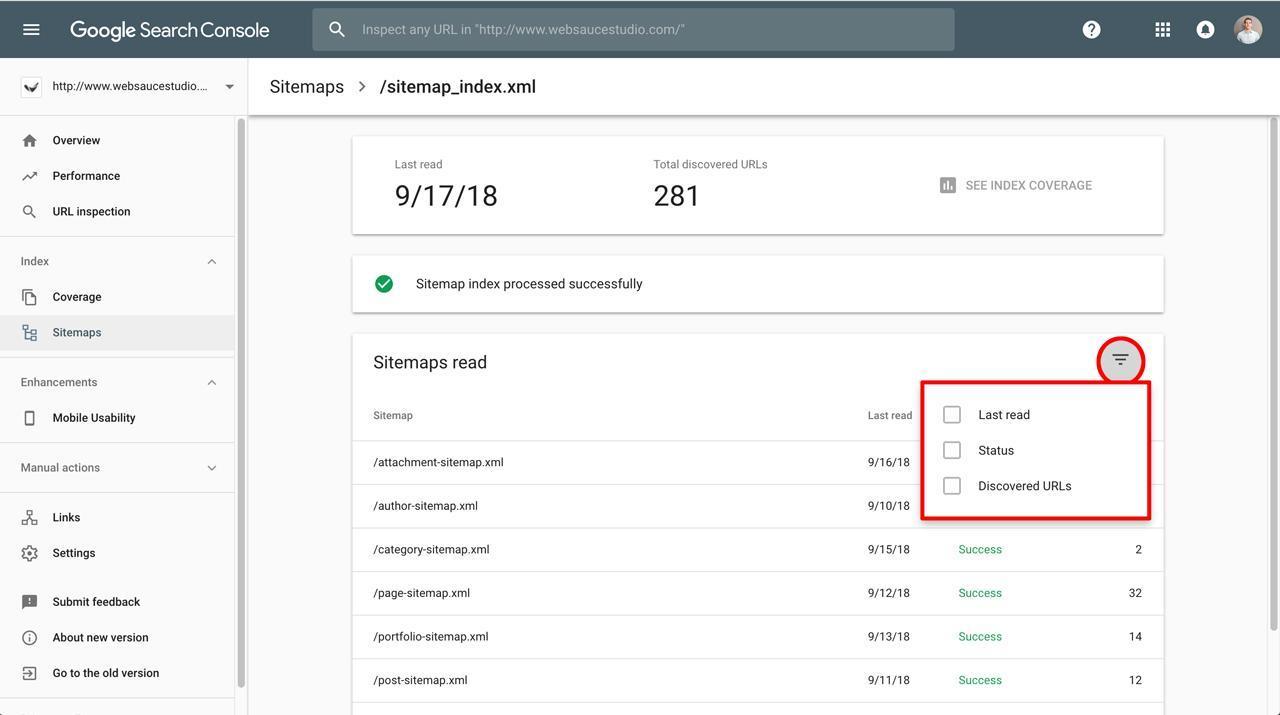 There is no maximum amount of sitemaps you can add to Google Search Console per domain, so whenever you need to add a new/updated sitemap, feel free to come back and add the file.

Step by step process of submitting a URL

One of the new features that Google has so graciously provided in their updates this year is the URL Inspection tool. It's great to be able to submit an entire sitemap index in bulk but if you're just wanting to add an individual link (which I've really wanted to do before), this is the option for you. For this, I'll be reviewing the HTTPS version of our domain.

On any page, click on the "URL inspection" feature in the menu panel or select the URL inspection search bar. Paste the specific URL from the property version you are currently viewing on Google Search Console into the search bar.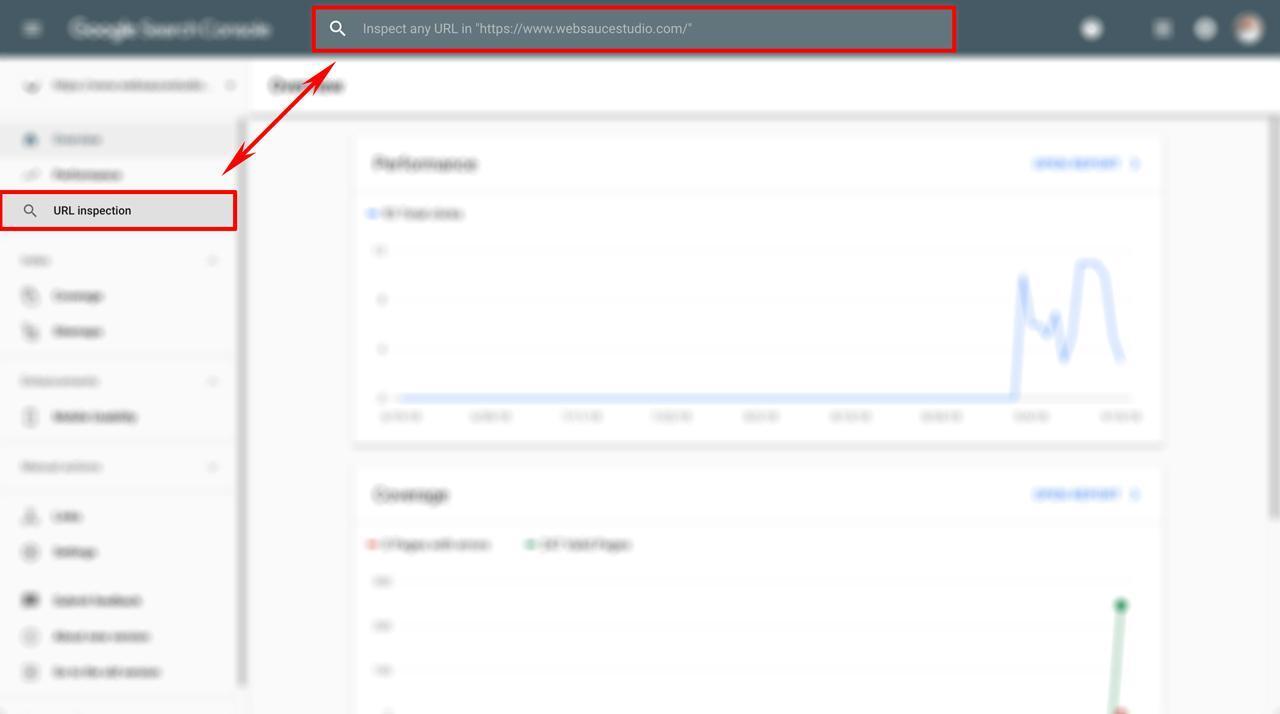 Google will crawl the requested page and will provide a small report on: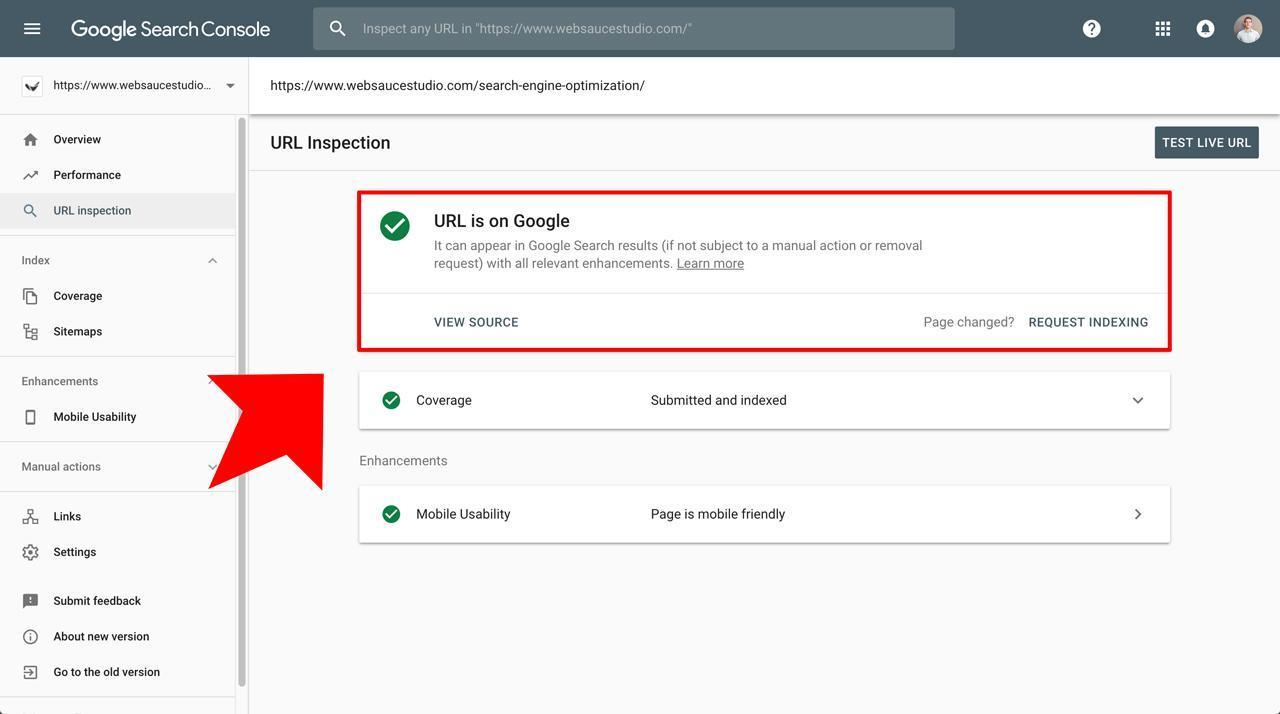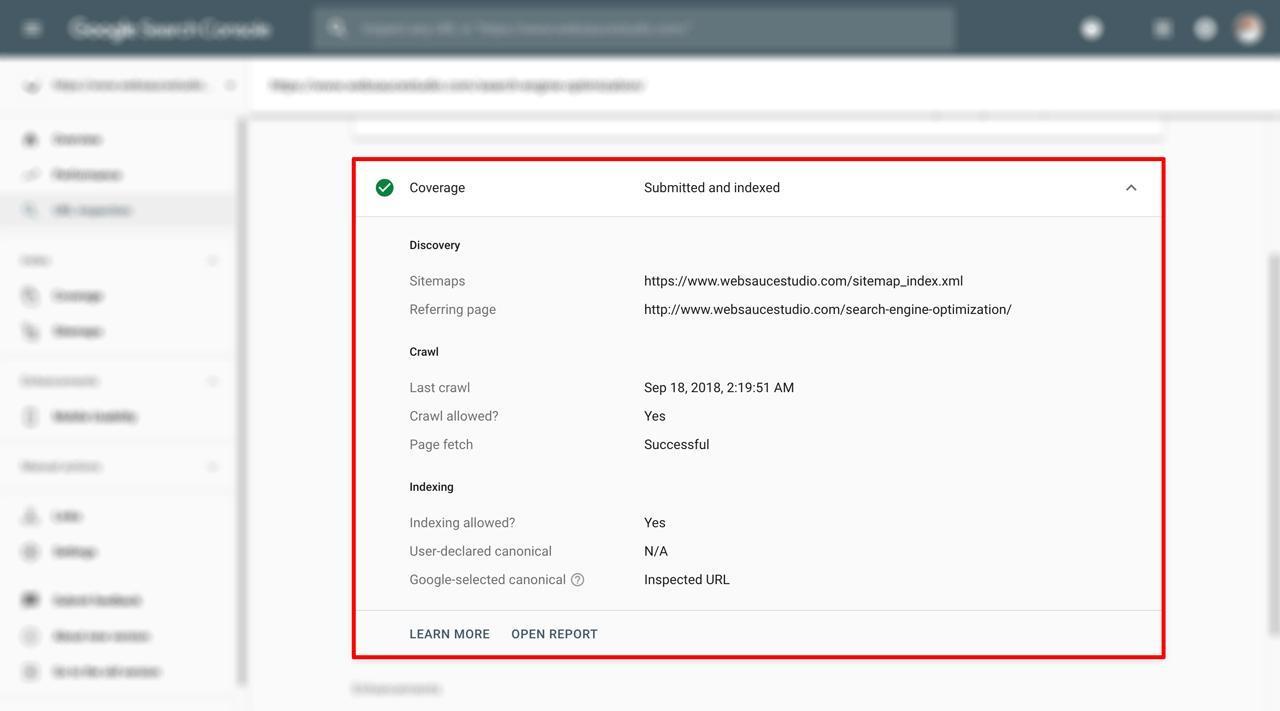 Mobile usability (for mobile friendly pages)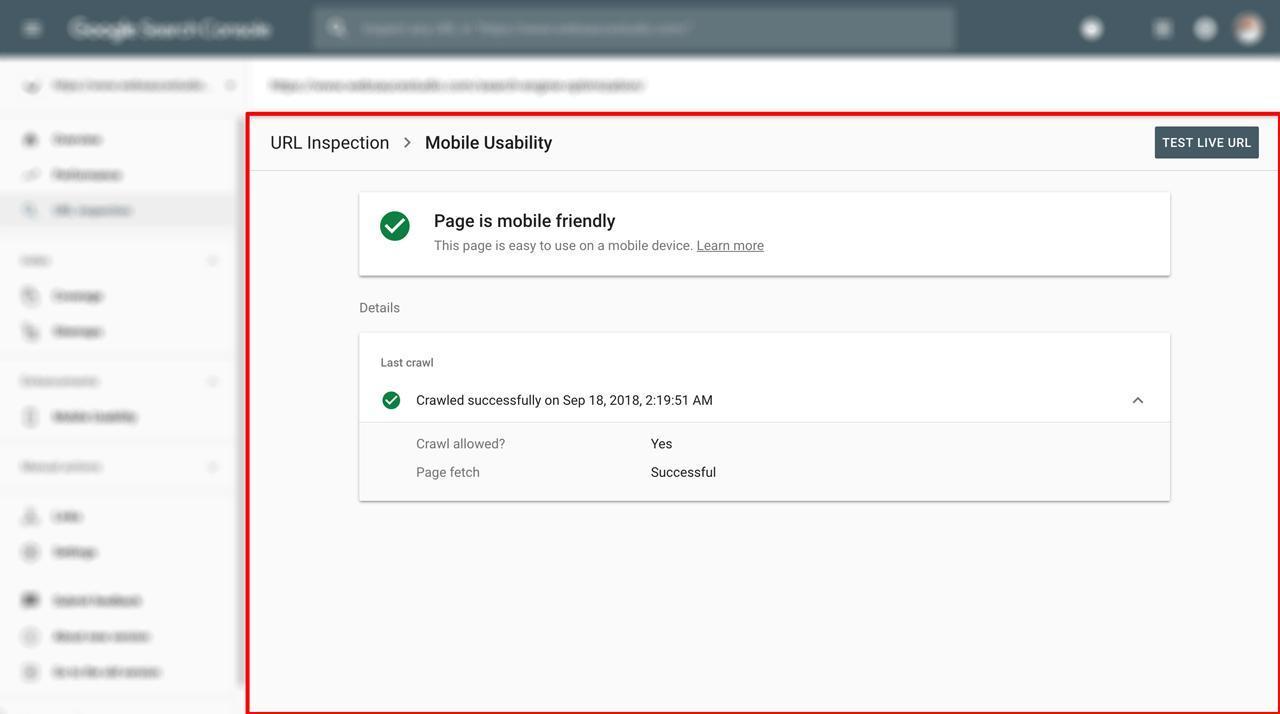 If it's a success, then there won't be any errors, just the happy green checkmarks. If there are errors, Google Search Console will tell you exactly what's wrong and how it can be fixed.

Double-check the "Test Live URL" before you proceed in case there are some other issues that Google alerts you of. For those of you who have errors, it's best to fix these pages so Google can index them appropriately. When errors have been fixed or you have changed the page, select "Request Indexing" for Google to
recrawl
your page. And that's it!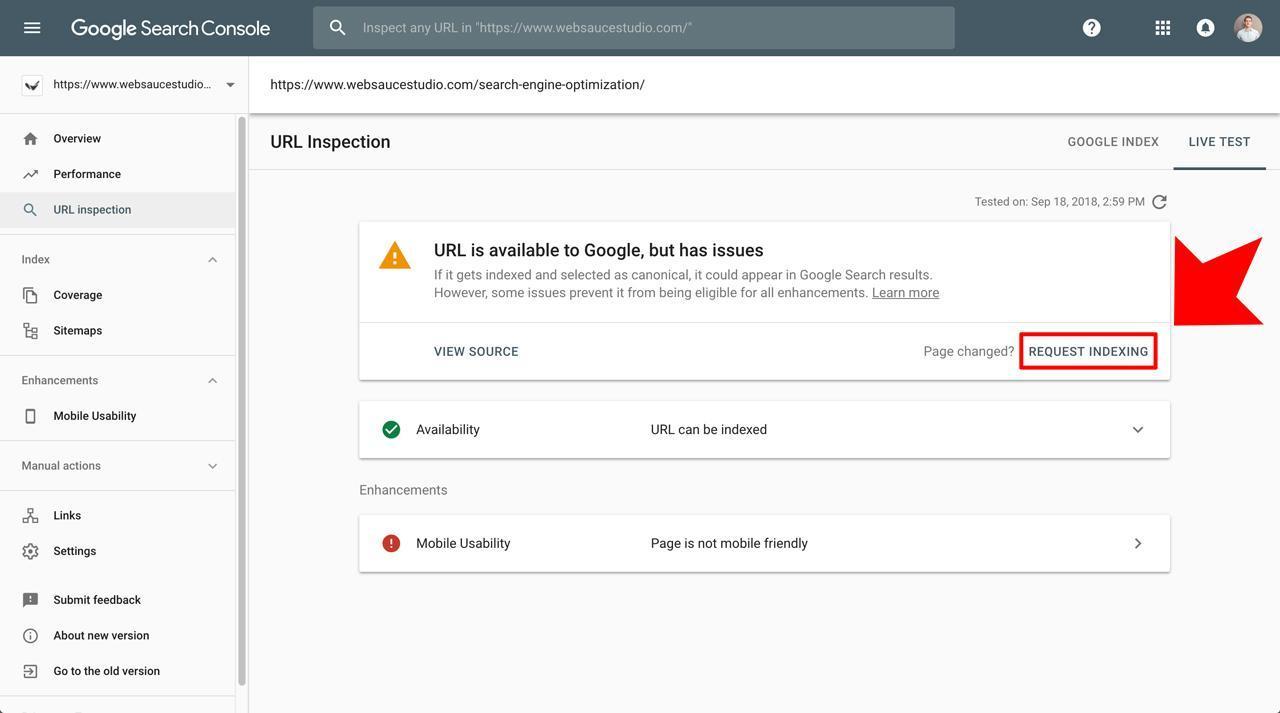 Your Sitemap has been indexed!

Now you can review reports, analytics, and more on your dashboards. Whenever you want to inspect an individual link again, you can use the URL Inspection tool exactly as before and test the live link for any potential errors.

Google still isn't done updating Google Search Console and will be aware of user recommendations, so you too can be apart of the new interface and features! All you have to do is submit feedback on what you'd like to see edited or enhanced.


Did you enjoy the post? Share your opinion in the comments below!
Learn how to get the most out of Serpstat
Want to get a personal demo, trial period or bunch of successful use cases?
Send a request and our expert will contact you ;)
Found an error? Select it and press Ctrl + Enter to tell us
Cases, lifehacks, researches and useful articles
Don't you have time to follow the news? No worries!
Our editor Stacy will choose articles that will definitely help you with your work. Join our cozy community :)
By clicking the button, you agree to our privacy policy.