How to set up geo-targeting and what are its advantages
Geo-targeting is a way of delivering information based on the local location of the target audience. Using geographical targeting makes it possible to select only interested potential customers and exclude irrelevant ones.
What is broad geo-targeting
Suppose you sell office chairs in a store located at Walnut St, New York. This is the only offline store, but you are ready to deliver chairs to neighboring cities by mail after placing an order in the online store. Your target audience is residents of neighboring streets, as well as Internet users from New York and neighboring cities.

Suppose you decide to create an advertising campaign for those who are ready to order chairs to be delivered to another city. Residents of neighboring streets already know about your offline store.
Thanks to geo-targeting, only those people see ads about your store who are permanently or temporarily located in a specific territory that you specify in the advertising campaign.
When you create it, the number of conversions to your site increases, and as a result, your Internet sales grow up. You only pay for clicks from relevant visitors.

If you don't set up geo-targeting and run the common contextual advertising, the ad will be displayed to residents of distant cities and countries that are not interested in buying your product. They won't order it because of the expensive delivery, but you will have to pay for each click. Therefore, it's profitable to focus your efforts on the audience of a particular location, so that the transitions to the website are relevant, and investment in advertising is justified.

You can set up geo-targeting through search engines and social networks. One ad should be adjusted to a single page on your website.
Advantages of geo-targeting
Easy setup in the interface of popular social networks and webmaster tools (Google Adwords);
division of potential customers into groups (segments) to create separate advertising campaigns;
monitoring campaign statistics and the ability to adjust them;
screening out irrelevant visitors.


The main advantage of such advertising is the effective attraction of new customers. In this case, it's important to correctly configure the location for the advertising campaign.
How to set up geo-targeting in Google Adwords
When you start creating an advertising campaign in Adwords, you are offered to specify the geography of future advertising.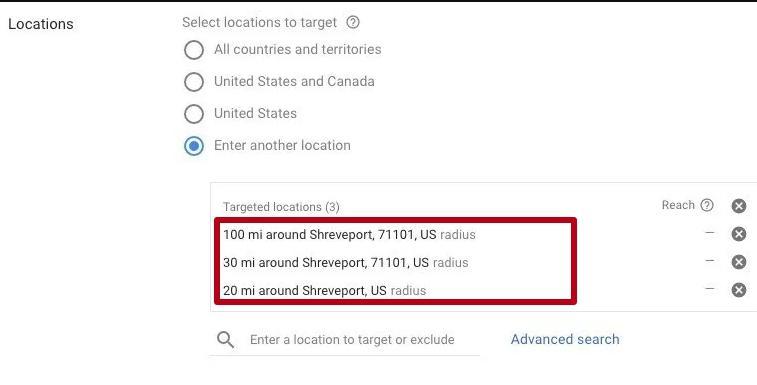 Here you can select the type of future advertising, starting from the physical address of the store, office, or selecting the desired region. If you want advertising to be displayed only to those who are located close to the store, then choose the first option. If you want this ad to be displayed to residents of the entire city, the second option is relevant.

Next, specify the exact location address or city and the radius of the advertising campaign.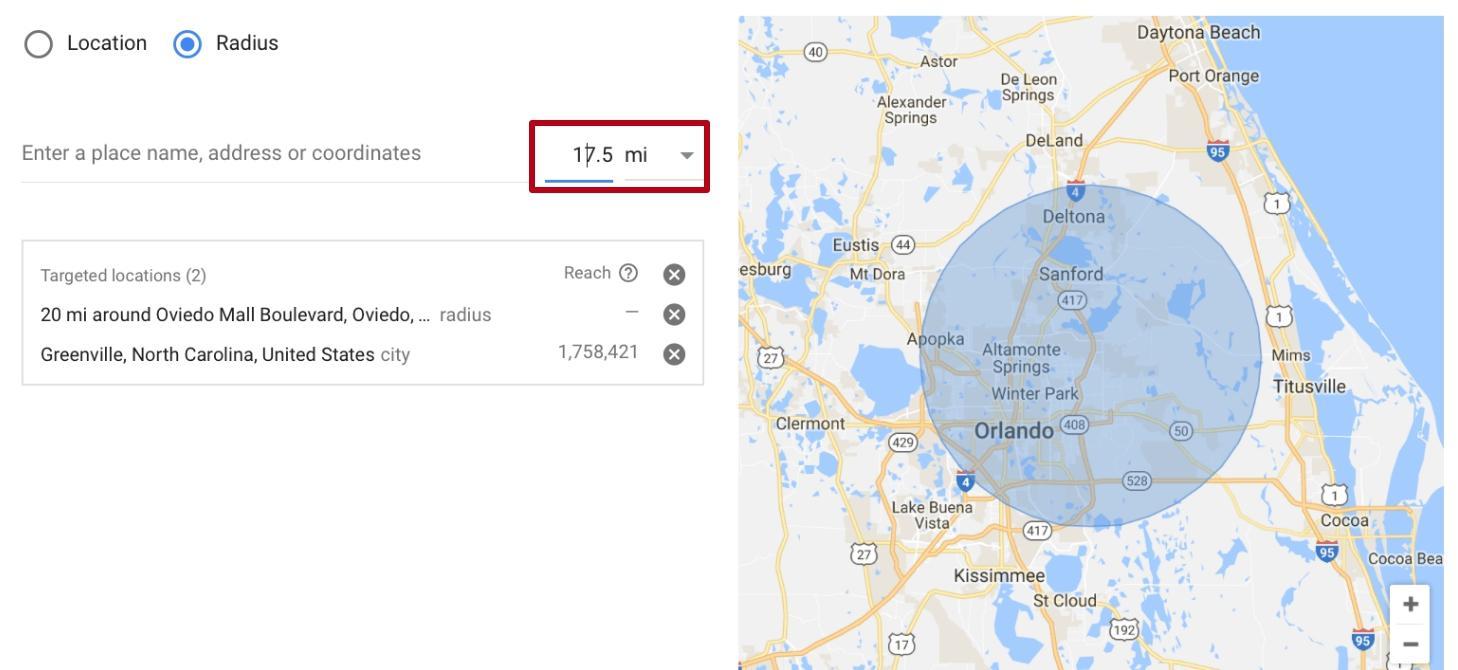 The minimum radius is 5 kilometers. The territory will be marked with a circle on the map. You can't change borders manually.
How to set up geo-targeting on Facebook
On Facebook, local advertising is configured by a point on a map, country, or a specific city. You can pay for a campaign for every click or for a thousand clicks at once.

Selecting a point on the map means starting an advertisement around a specific place. For example, you can invite people from a nearby park to a local restaurant. Or offer visitors from a local shopping center to drop in for a snack in a pizza place around the corner.

Facebook determines the population density of the selected territory. Make sure that the arrow does not fall into the red zone. The best is when the arrow is in the green or orange zone.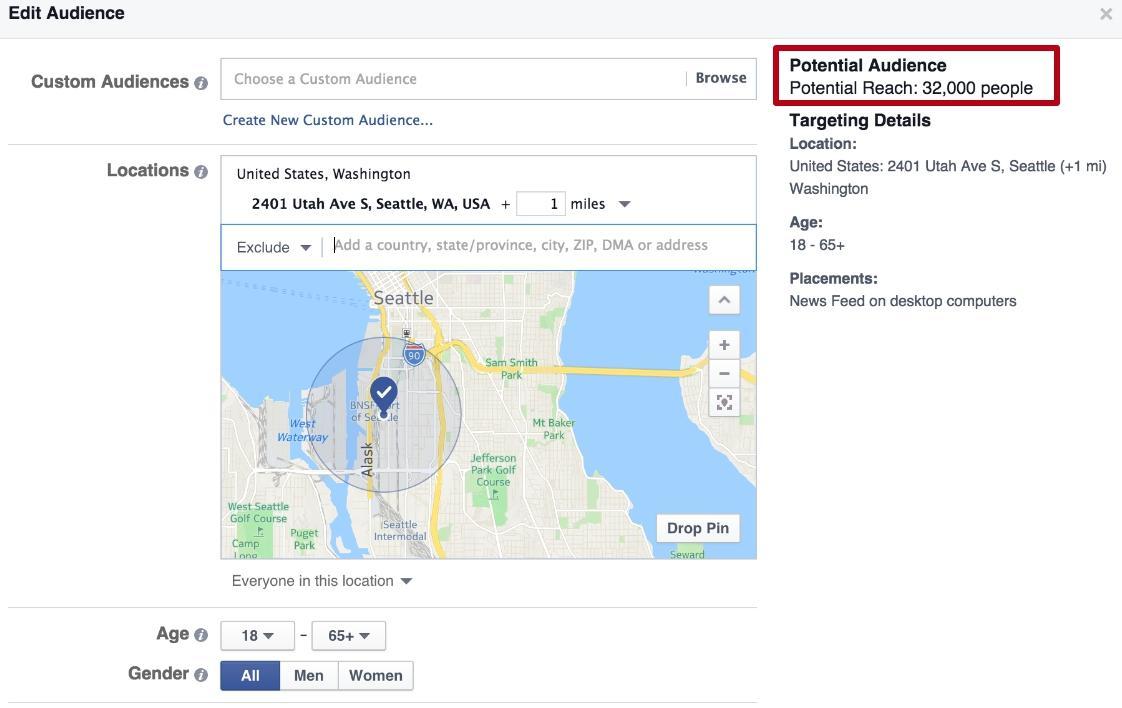 You can choose the type of audience: living here, working, right now, or all groups of people according to the selected geolocation.

Geo-targeting on Facebook by city and country uses the interface shown below: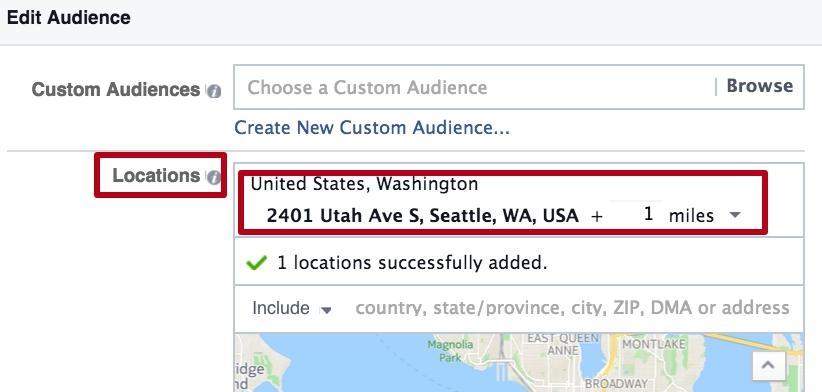 If you plan to sell goods throughout the country, you must include its name. It's important to take into account the competition with other companies and cost-per-click.

If you have a limited budget, it's better to select a part of the city or town with little competition. You can also select to advertise highly-visited large shopping centers. To exclude locals, choose temporary visitors.

How to set up geo-targeting on Instagram
Targeting advertising based on geolocation can be performed through a business account on Instagram or through Facebook. The Instagram business profile looks like this: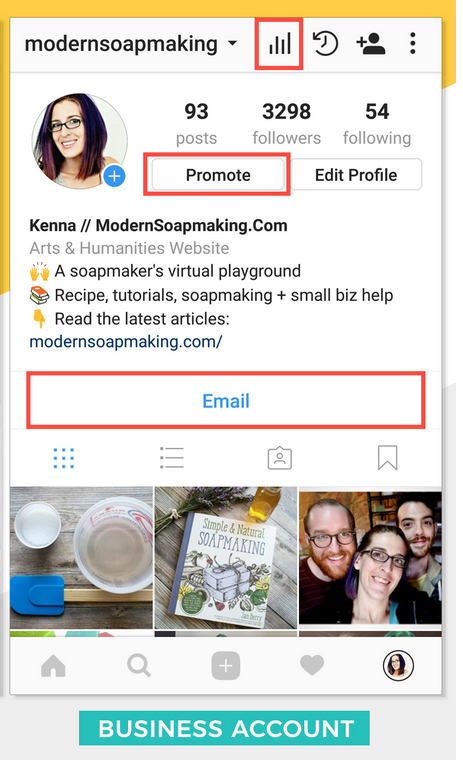 Setting up geo-targeting on Instagram implies a minimum number of parameters.

To precisely determine goals and narrow the target audience, it's better to choose the second option. To synchronize the geo-targeting setup on Facebook and Instagram, you need to click on the triangle in the upper-right part of the profile and select the "Advertising on Facebook" tab.


Next, select a goal, namely, "Store traffic", if you want to distribute advertising depending on the location of potential leads.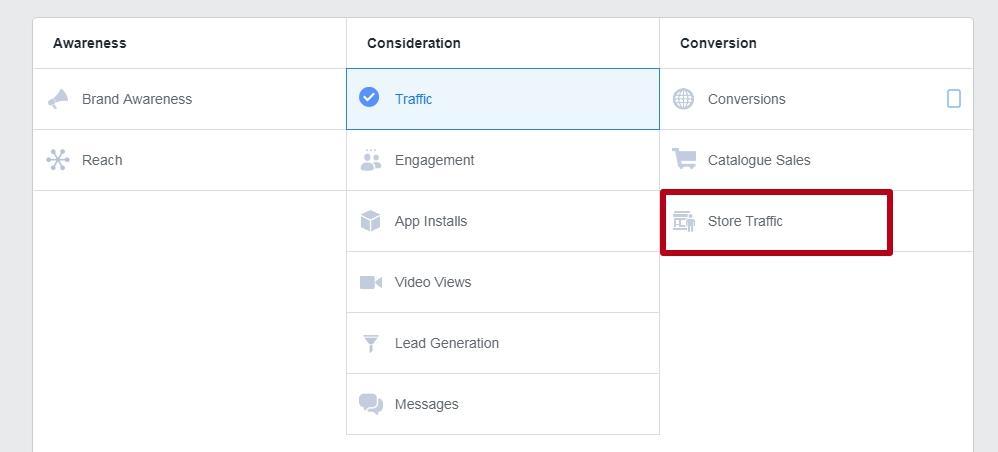 After entering data about your location, specify the parameters of the advertising campaign.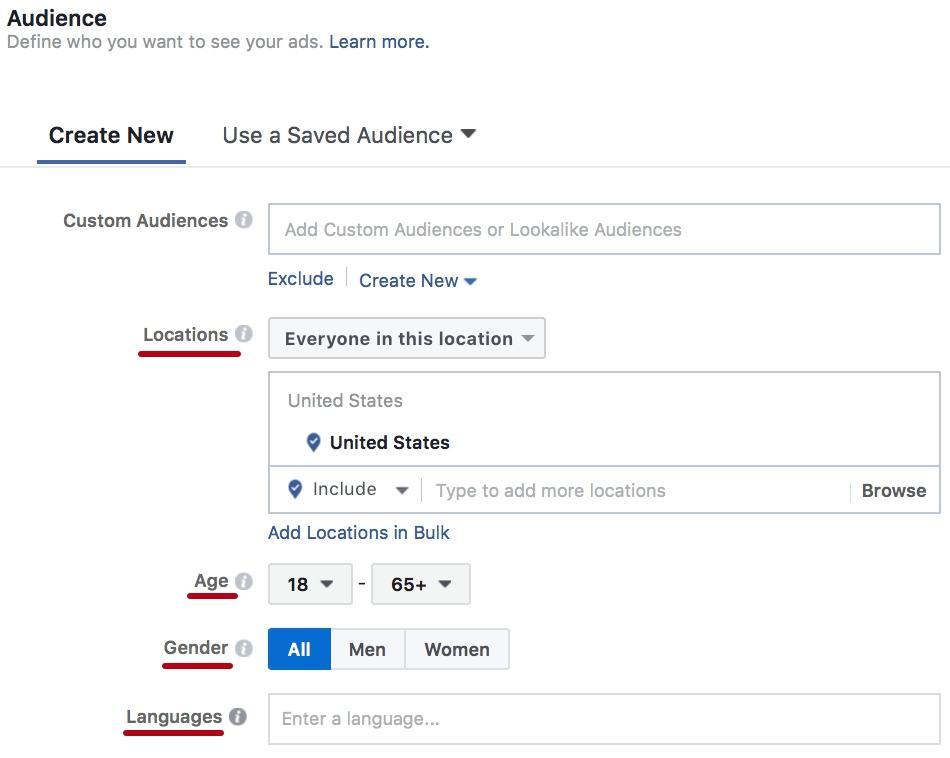 You can select one or more countries, specific regions, or the radius around the crowded area. It's also allowed to indicate the gender and age of the target audience. After entering details about potential customers, it's necessary to mark the placements for advertising.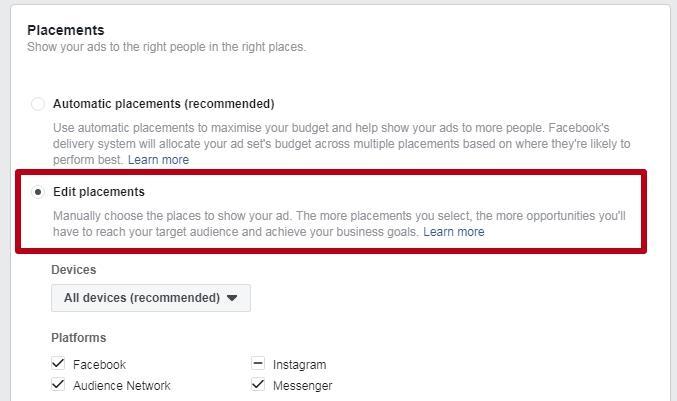 When choosing the first option, the service automatically determines the effectiveness of a particular placement. The second option is the manual configuration of the placements. For instance, you can select only Instagram. In the end, you just need to upload the image and write the ad text.

We advise separating ads on Facebook and Instagram: the use of different placements allows you to get rid of the uneven distribution of traffic.
Geographic targeting involves setting up an advertising campaign based on the physical location of the target audience.

The effectiveness of such advertising significantly increases if you select the right choice of potential leads.

You can set up geotargeting on all popular social networks or using Google web tools.

Speed up your search marketing growth with Serpstat!
Keyword and backlink opportunities, competitors' online strategy, daily rankings and SEO-related issues.
A pack of tools for reducing your time on SEO tasks.
Found an error? Select it and press Ctrl + Enter to tell us
Cases, life hacks, researches, and useful articles
Don't you have time to follow the news? No worries! Our editor will choose articles that will definitely help you with your work. Join our cozy community :)
By clicking the button, you agree to our privacy policy.