How to quickly add a business to Google Maps

Do you want a location map, phone number, working hours, a link to your website and customer feedback about your work to be placed in top in SERP? You need to add it to the free Google My Business service. Check out how to do this and what to look for in this article.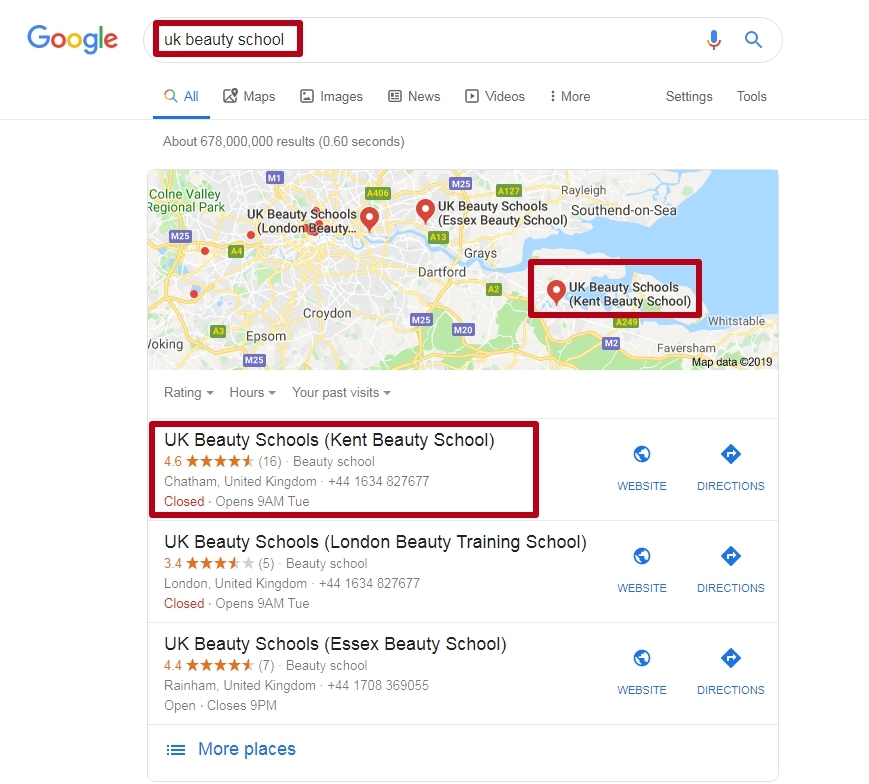 Why is it important to add your business to maps

Your business details will appear in the top of the first page of search results and on Google Maps. Customers can easily find you by simply routing to your office on Google Maps.


Customers will leave reviews about the company; these reviews will be available to potential customers, as they will be displayed near the URL.


Mobile users who are within your service range will see all the companies marked on the map, including your company, and will be able to quickly find and choose you.


Customers will go to your website to get more specific information (the website URL will be placed next to the map), and you will receive additional orders.


Location information can be used for Google AdWords advertising provided the contextual advertising is set up.
Check out more advantages of marking your company on the maps:
Google Maps is free-of-charge.
It is not necessary to own a website to be able to add a company to the maps.
If you have several branches or shops, you can also mark them on the map.
If the business is not linked to a specific location, and you provide on-site services, business registration is also possible.
IMPORTANT!!

Before proceeding with setting up your My Business account using the instructions below, please note this important factor.
There are two types of pages in Google My Business:
Brand Page: It is not linked to the location and is not displayed on Google Maps and Search Engine. It is designed to communicate with brand fans and post different news. Users cannot leave reviews on it.


Company or Organization Page: company page with location information. It is displayed on Google Maps as well as in the search results. Users can leave feedback about the company.


It's important not to confuse and create a company page, not a brand one!
So, now we can start the setup. It's quite easy and will take you not more than ten minutes.
How to set up Google My Business

Step #1
Sign up for Gmail.com
Interesting:

Google's Gmail service has recently overrun the popular Outlook.com email provider, ranking #1 in the world in terms of user experience.
Step #2
Company registration in the "My Business" service. Filling in company information

After signing up in Gmail, follow the link
Google My Business, click the SIGN IN button.
In the next window fill in all the fields (enter information about your company) and click on the "Continue" button. Pay attention to the "Do you deliver goods and services to clients' location?" This means you don't have an office and you are delivering the services yourself.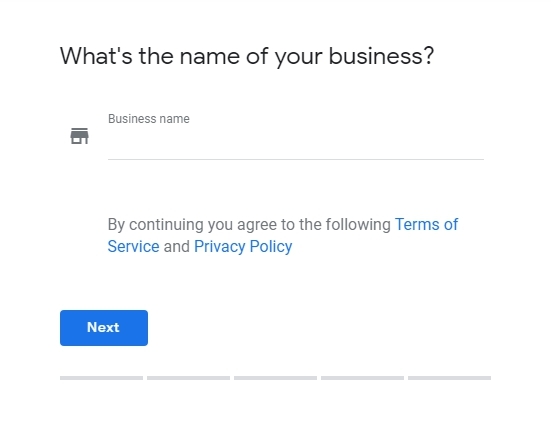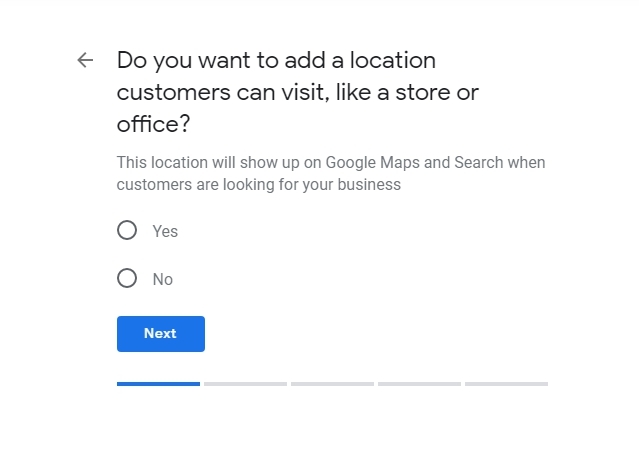 Step #3
Authorization of authority to add a company to My Business

Confirm your authority and agreement with the terms of service: check the box and click on the "Continue" button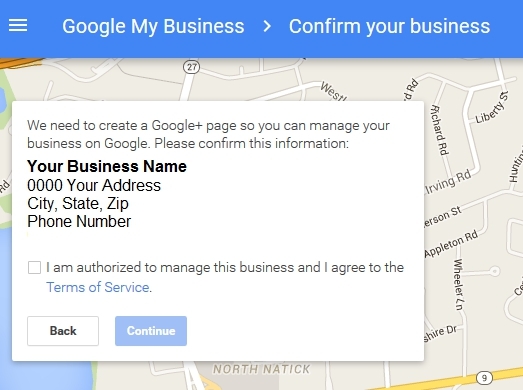 Step #4
Email confirmation for Google to send you the verification code

Next step: You will need to verify your email (Google will send you an email in 1-2 weeks with a code to the specified email). The code is valid for 30 days. In order for Google to send you a letter, click Mail, and in the next screen, click the Send Postcard button.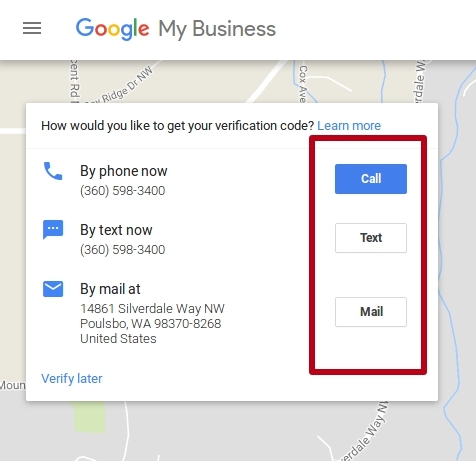 Step #5
Fill in additional company information
Fill in detailed information about the company: business description, phone number, working hours, photos.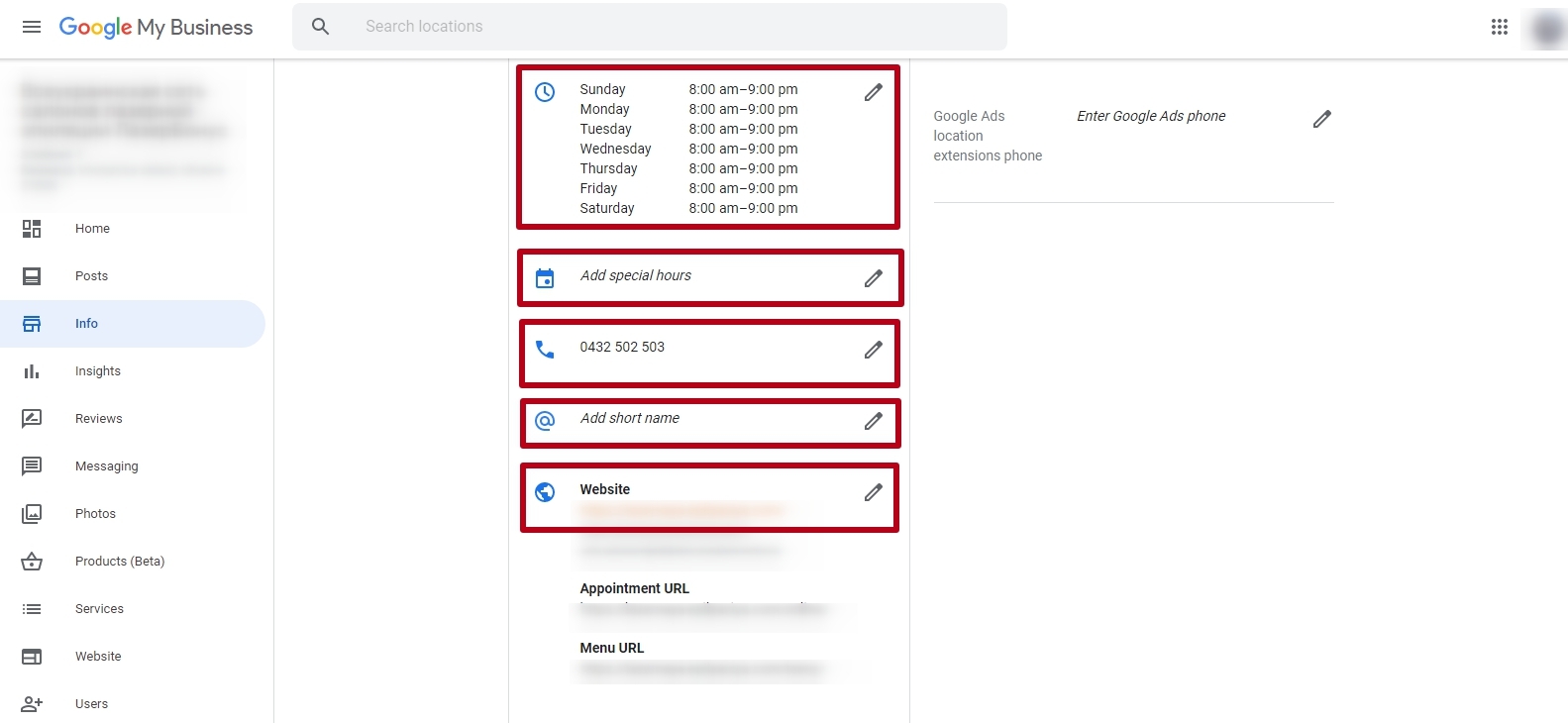 Now you just have to wait for the letter from Google and enter the verification code. That's it! Your business is now on Google Maps.
After confirming your verification code, make sure Google shows:
Correct link to your website,
Proper working hours,
Consumer contact information,
Exact address,
Links to reviews, directories and other information about your business online.
How to share access to my Google My Business account
Google Developers understand how precious a company's CEO time is, so make sure you have the technical ability to delegate your account management credentials to your employees.
Google My Business has the following default accesses:
"Primary owner";
"Administrator";
"Manager".
Add new users to your account in the Users tab: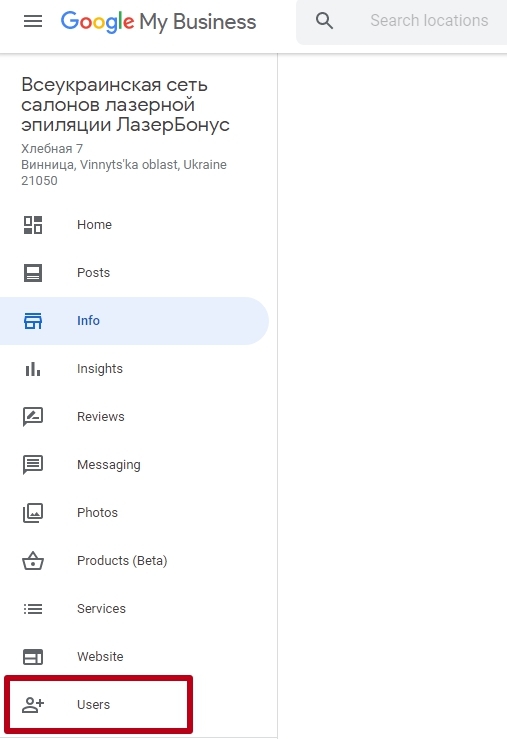 How to find the keywords by using which the map is displayed in search results

First of all, make sure that your keywords are in the category that issues special elements. Use Serpstat to do this.

Enter the keyword and go to Keyword Research→ SEO Research → Keyword Selection. Open "Filters" and select "Special elements in SERP" and "Local pack" items.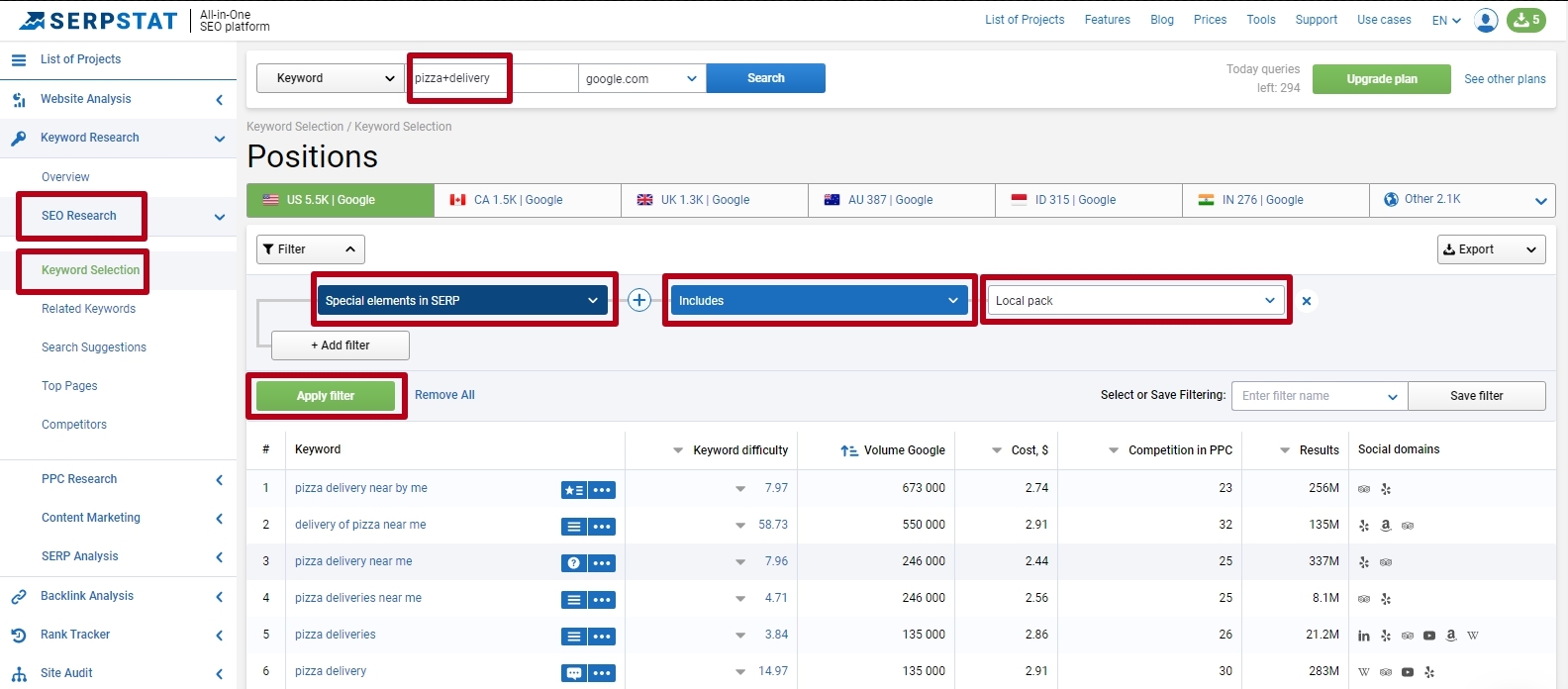 You will receive approximately the following list of keywords that display Google Maps: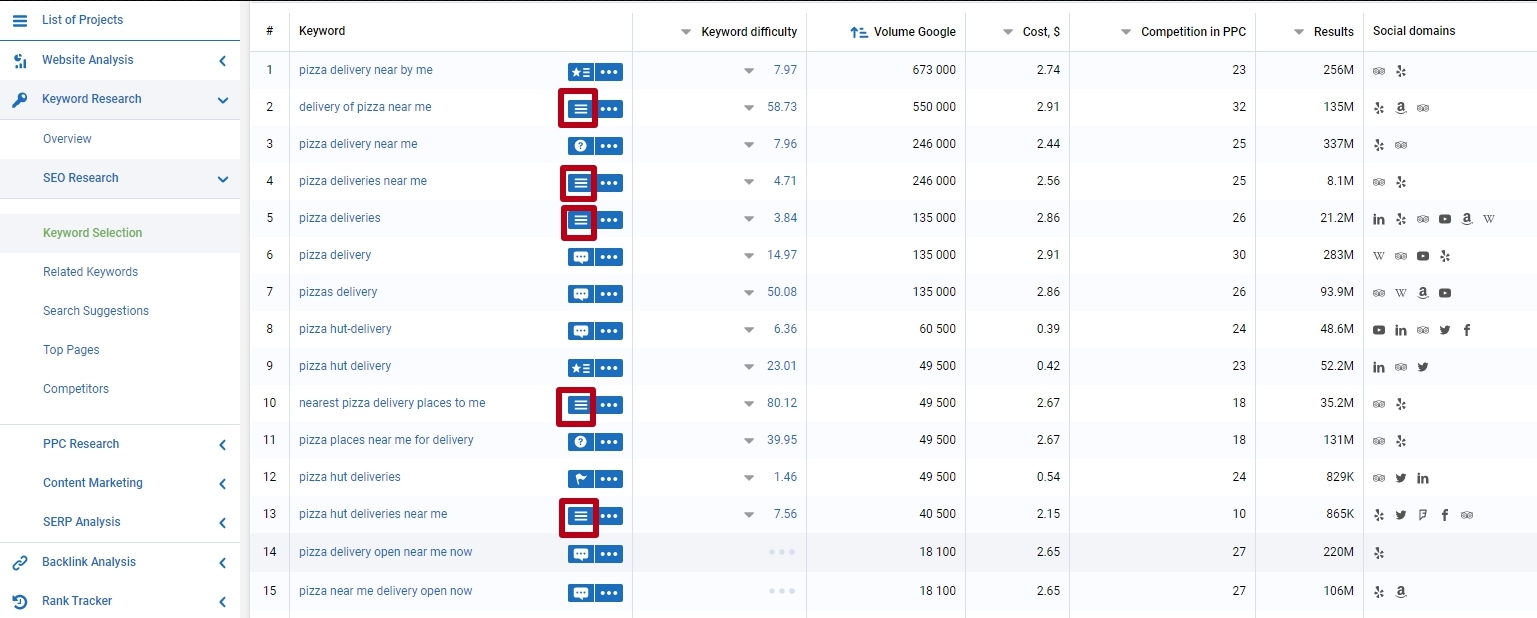 With these keywords, you can optimize your page in Google Plus by publishing posts and reviews that are "tailored" under such keywords. Consult Google Help how to do this. Moreover, these keywords can optimize the internal pages of the website, so that you get to the top under the map. It makes sense if users are not satisfied with a map only;)
Another simple tip. Besides registering a company in My Business, it is important to maximize your business online presence to help customers find you easier:
through the website,
through Google My Business listing,
in online business directories,
on social network pages (VK, Facebook, Instagram, Twitter, Telegram, Google+),
on overview websites,
on review websites.
The more resources that contain information about your business, the easier it is for potential customers to find you through search engines.
Speed up your search marketing growth with Serpstat!
Keyword and backlink opportunities, competitors' online strategy, daily rankings and SEO-related issues.
A pack of tools for reducing your time on SEO tasks.
Found an error? Select it and press Ctrl + Enter to tell us
Cases, life hacks, researches, and useful articles
Don't you have time to follow the news? No worries! Our editor will choose articles that will definitely help you with your work. Join our cozy community :)
By clicking the button, you agree to our privacy policy.