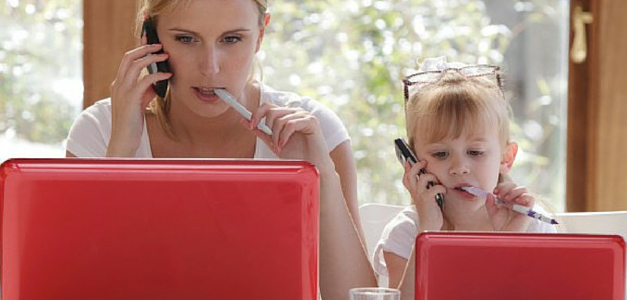 How to Optimize Your Website's Pages Using Competitors' Experience
Finding fresh ideas that spark interest in your audience is always a challenge. This tutorial will give you some tips on how to nail it using Serpstat's numerous features.
Analyzing e-commerce websites
When you're working on e-commerce project, this must be your main focus:
review pages;

category pages for popular products;

popular products' pages.
Some categories and individual pages end up in top results for specific keywords more often than the others. With statistics on these trends, you can estimate revenues from selling individual items or product lines on your website. You can also identify most relevant keywords for optimizing your product pages.
First, let's analyze competitor's domains:
Enter competitor's domain into the search bar (for example,

www.apple.com

).

Go to "Site Structure / URL".



Specify subdomain in filter, if necessary. 

If an item belongs to specific category, use filter to limit results (for example, to show pages that start with

http://www.apple.com/itunes/

).



Set the number of results to "500" at the bottom of the page.


Now you can see which pages of apple.com get the most visits.




Click on external link icon to see the content of these pages.

Click on page's URL to see its semantics.




You'll automatically go to the "Search Queries" section with the full list of keywords for this page:



Use filter to see only those keywords this domain ranks for in top-20.



Export the data in format you find most convenient.



Now you've got keywords from competitor's most popular pages. Make sure to use them later.
Analyzing keywords
Let's start by collecting keywords:
Enter a keyword related to your market niche into the search bar (for example, "buy laptop").

Go to "Site Structure / URL" section.



"URL" report provides a list of niche competitors' domains that contain queried keyword



As you can see, top 3 pages for this keyword are:

laptops page – tesco.com;

laptops review page – expertreviews.com;

main page – amazon.com.

Click on the external link icon to visit the page:



Now you can export the data you've received. Click on URL to get the report.



Click on the number next to page's URL to see what keywords this page ranks for. These statistics are also up for export.



Analyzing informational websites (blogs or news websites)
Mind the difference between viral content and the one that drives organic traffic. If you're looking for organic traffic, try to generate content suitable for long-tail keywords. Viral content draws traffic mainly from social media posts.
Social Media Traffic
To improve social media traffic, you'll have to create content that has potential to be shared on Facebook. It's not that hard, if you know how to analyze your competitors. Let's take www.moz.com as an example and see what content gets most shares:
Enter website's address into Serpstat's search bar.

Hit "Search".

Go to the "Site Structure / URL" section.

Sort out results by "FB shares".
Following pages rank the highest.



These are some of the most shared topics:
The Absolute Beginner's Guide to Google Analytics;

The Basics of Search Engine Friendly Design & Development;

The Beginner's Guide to SEO;

How to Write for the Web — A New Approach for Increased Engagement.
So "how-to" and "guide"-styled articles get the most shares. Take notice that popular content varies on the niche.
Organic traffic
This is how you can find a source of organic traffic:
Enter domain's address into the search bar (let's take elle.com as an example).

Go to the "Site Structure / URL" section.

Filter results by the number of keywords this page ranks best for in SERP.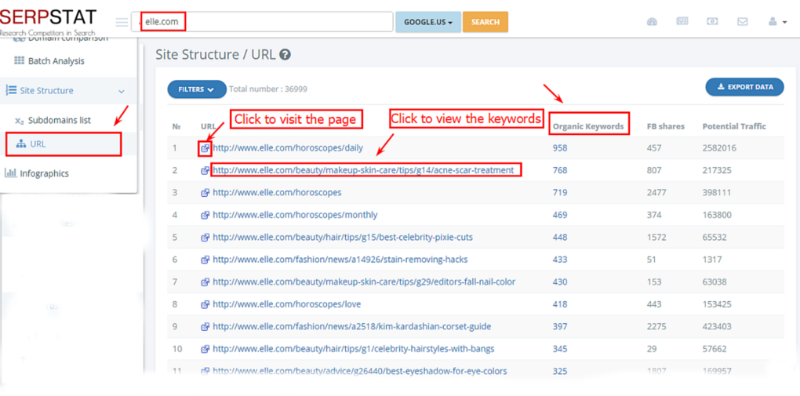 It is important not only to pay attention to traffic-driving topics, but also to keywords page shows up for. Just like before, filter the keywords this domain ranks for in top 20, and you will be able to create a list like this:


Likewise, you can sort out most relevant website pages by specific niche keyword (rather than by keyword used by specific competitor). Enter a keyword into the search bar and switch to the "Site Structure / URL" section. Service will display the list of the most relevant websites that will help you gain the highest traffic.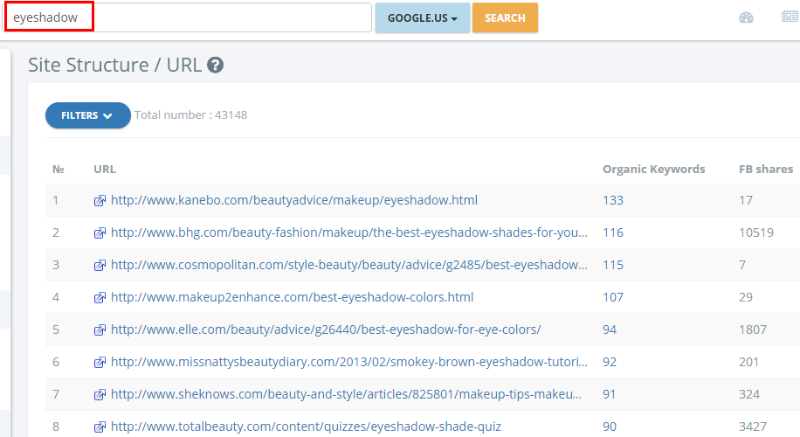 If you are all about improving your ranking, attracting new visitors and creating customers, give these hacks a try. And don't forget to share your experience in comments!