How to increase brand awareness with Google Ads
A lot of things like competitiveness, customer loyalty, and sales numbers depend on the level of brand awareness, communicating its values to the consumer. The right promotion strategy is an important component of brand positioning in the market.
Brand awareness is an indicator of potential consumer awareness of a brand or a company. Google provides free tools for analysis of brand awareness and comparison with competitors. Having obtained the correct data, it is easy to understand the results of the company's marketing activity.

It is important to bear in mind that conclusions based on Google Ads cannot be called a full assessment of brand awareness. Rather, it is an opportunity to compare yourself with other similar brands and assess whether there is a demand for your brand and its services.

Let's see how to measure brand awareness with Google tools and set up advertising campaigns to increase it.

Analysis of brand awareness with Google Ads
Google Ads is a tool for managing ads in Search and Display Networks. While running advertising through it, analyze the statistics - this is the basis for further conclusions on brand awareness.

Launching ad campaigns for brand queries, you will see how many impressions and clicks your ad will receive. This way you will understand whether there are users in the Search Network who are searching specifically for your company by its name.

To research brand awareness, run banner ads on the Display Network and evaluate the CTR. In the banners, use your logo and name with a standard offer. The results will be relative, and can only be taken into account in combination with other performance metrics that you get during the analysis.

This tool provides statistics on specific queries and demonstrates the level of existing user awareness of the brand. To use it, you need an active Google Ads account, which uses funds for advertising. After logging in, go to the "Keyword Planner" section.

With the help of the Planner, you will understand whether users are searching for a brand by its name and similar words. To do this, go to the "Find keywords" section.

Enter the brand name in the box.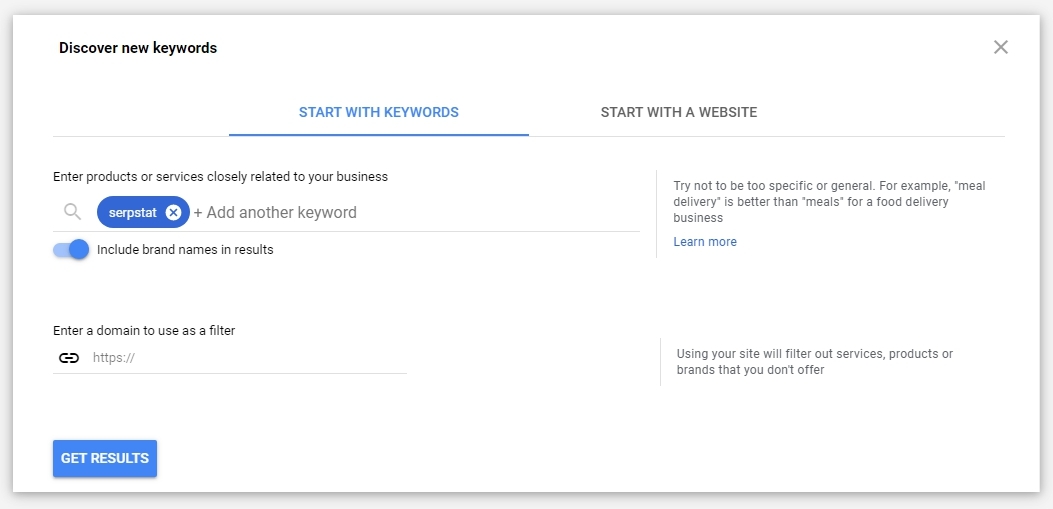 If there are search queries, their number will rise or fall by week, month, year or several years.

Compare the number of queries with a competing brand. Go back a step and enter the name of several brands separated by commas in the field "Find keywords".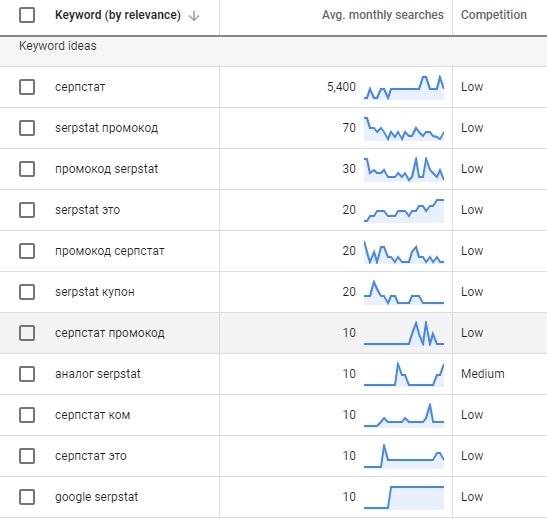 Analyze the average number of brand queries in comparison with competitors and make a conclusion.

For more information or to increase awareness, launch advertising campaigns.

Launching an advertising campaign
Launching an advertising campaign on Google Ads can help increase brand awareness among users. To do this, use the appropriate type of advertising campaign - "Brand awareness & reach".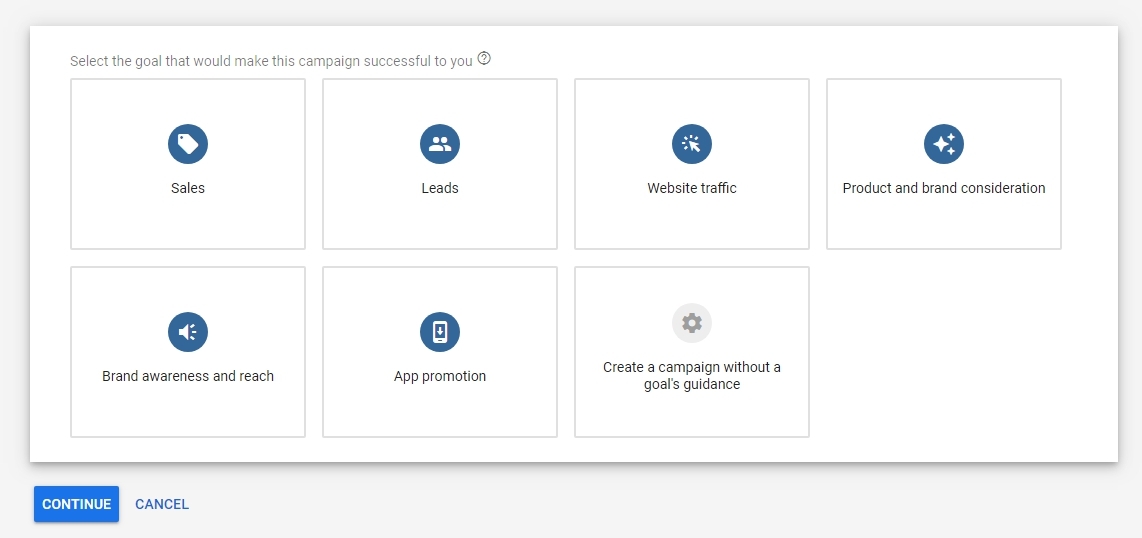 Create advertisements using brand attributes: name, slogan, logo, color and other elements. Place them in the search results, and place graphic and multimedia videos in the Google Display Network. The latter is particularly suitable for strengthening the positioning of the brand, as well as its expansion. Multimedia advertising creates a unique brand image, attracting maximum customers.

Launch an advertising campaign and analyze the data. To get telling statistics, plan your budget to get at least 1 thousand clicks. When the campaign is over, look at the level of user engagement. In the admin panel, it is CTR. A high CTR in the Display Network (> 1%) indicates awareness, trust in the brand and its promotional offers.

Google provides free statistics collection tools. All these figures are necessary in the process of analyzing brand awareness, but are not always sufficient for correct conclusions.
To get correct analysis:
identify key metrics that indicate awareness: the presence of brand queries, the rise or fall in their number, CTR, the attractiveness of advertisements;

collect statistical information regularly;

analyze statistics over time. Compare the results with the previous periods;

compare relevant periods: winter with winter, year with year, etc .;

use different tools, but collect information of the same type;

compare yourself with an equal competitor.

This article is a part of Serpstat's
Checklist
tool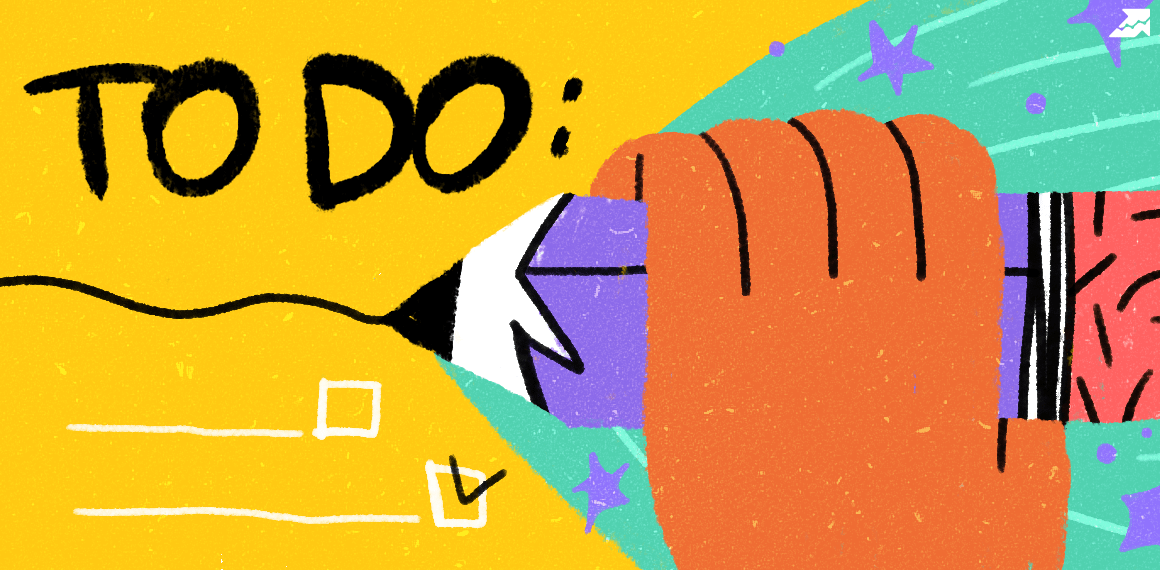 " title = "How to increase brand awareness with Google Ads 16261788340932" />
Checklist is a ready-to-do list that helps to keep reporting of the work progress on a specific project. The tool contains templates with an extensive list of project development parameters where you can also add your own items and plans.
Speed up your search marketing growth with Serpstat!
Keyword and backlink opportunities, competitors' online strategy, daily rankings and SEO-related issues.
A pack of tools for reducing your time on SEO tasks.
Found an error? Select it and press Ctrl + Enter to tell us
Cases, life hacks, researches, and useful articles
Don't you have time to follow the news? No worries! Our editor will choose articles that will definitely help you with your work. Join our cozy community :)
By clicking the button, you agree to our privacy policy.