How to design a portfolio on the website
A portfolio is the same important section of the company's website as the main page. This is a showcase that, on the one hand, clearly demonstrates experience in the field, and on the other, allows you to turn every visitor into a potential buyer. The main thing is to arrange it properly.
How to create a portfolio
There are different design options for a portfolio website. They can be selected depending on the type of company business. It is only important to ensure that the structure is intuitive. The simpler is everything on the page, the better it is.
Each completed project was a specific task once. With exactly the same task, other potential customers will come to the company. And if they see that they coped with it brilliantly here, they will gladly place their order.
That is why, when creating a website for a portfolio, you need to look at it through the client's eyes. And he will definitely want to see under each project:
The order options. What goal was set, what were the deadlines?


The job description. How they performed, what difficulties they encountered, how they managed to overcome them?


The result. What has been achieved, preferably in numbers?

For example, some people prefer to show how the budget has increased.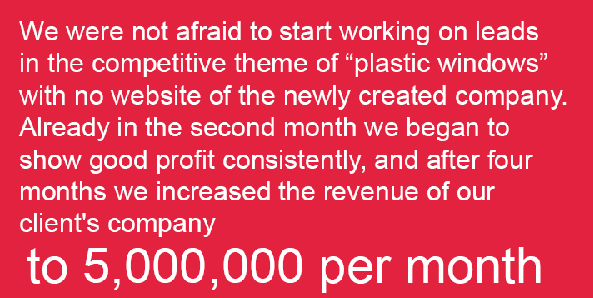 At another service company, the technicians showed a positive trend in the promotion.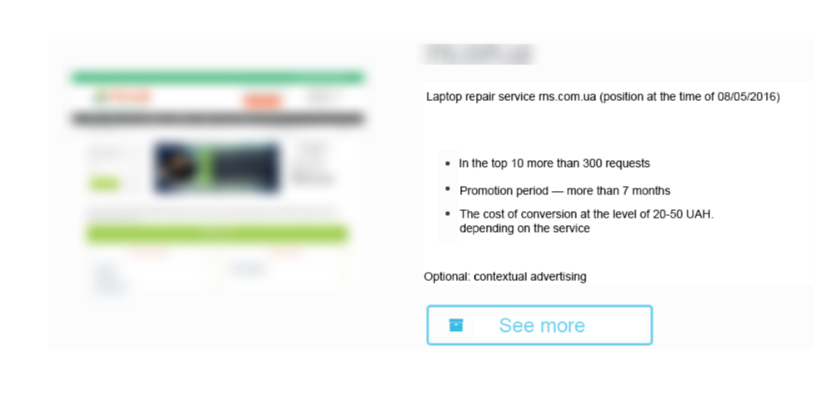 It's desirable to illustrate each project. If this is an atelier for sewing wedding dresses, their pictures from different angles are suitable and for a furniture assembly workshop, assembled chairs, or tables in the interior.

If desired, and if possible, you can specify or mention the budget in passing — it helps customers to ask the price and make a choice in favor of the company.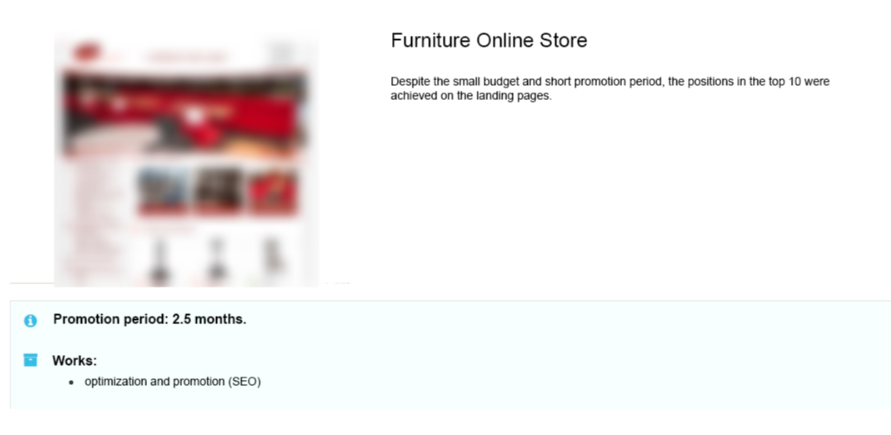 The final and most important stage is feedback. On the page, it is advisable to make a block "Checkout". The same Call To Action-block will not interfere on pages with each project. For example: if the company is engaged in the creation of sites, then after the description of the task and work, you can add the button "I want such a site". This simplifies the ordering process for the customer and pushes the latter towards him.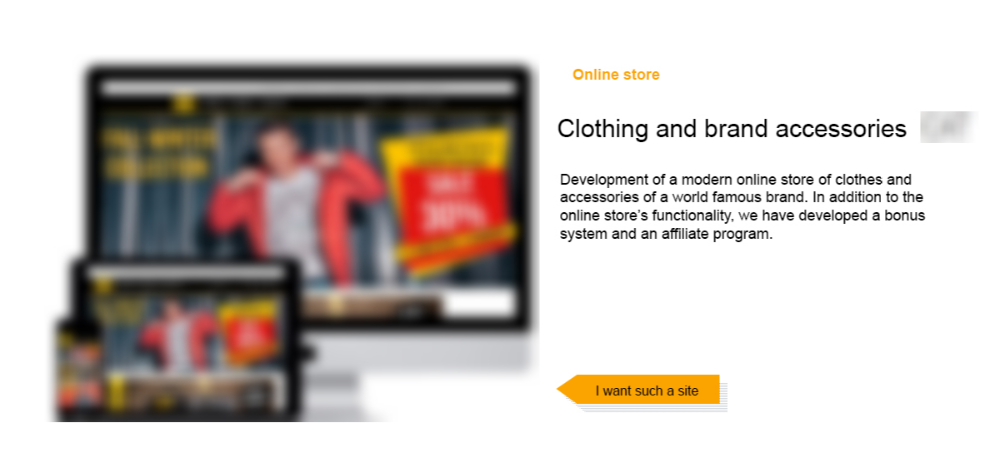 How to arrange a portfolio
The most common mistake when designing a portfolio site (or a separate page with examples of work) is negligence. Content is downloaded randomly, and it's hard for customers to figure it out.

The hardest thing is with a portfolio of large companies — there are many projects, and it is not possible to find a similar one to your own. To avoid such inconvenience, it is enough to structure the material, divide everything into sections or categories. Below is one of the options.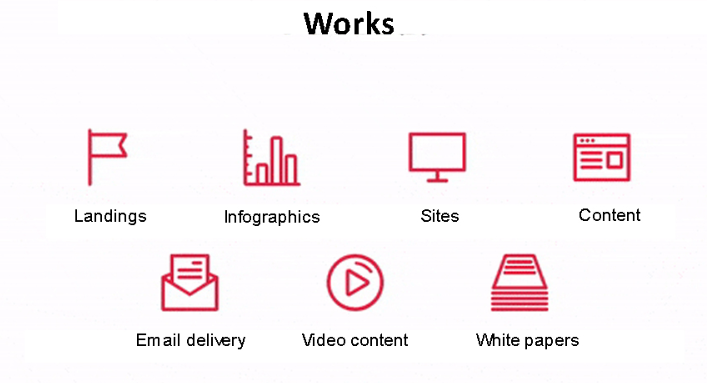 Here is an example of design, when the number of works is calculated in the thousands. Pay attention to the "All Tags" button — the list is expanding:


It is very important to strive not only for quality but also for quantity. The more work is, the more solid the company looks. At the same time, when there are few completed projects, you can do with a neat and convenient list without categories. The main thing is that everything was simple and clear in it.

Portfolio design elements: examples
It does not have to be many for each project. The main thing is that it is clear, informative, and catching attention. An absolute plus is a professional shooting.

Not only the photographer's portfolio website should have high-quality images. For example, if a company is engaged in the creation of sites, portfolios are often illustrated with high-quality photographs of a screen with a loaded web page: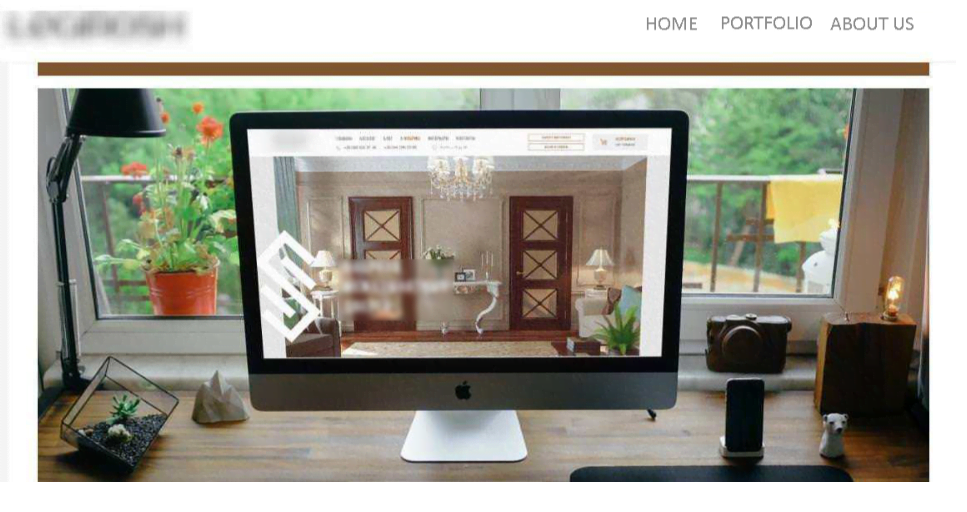 Here, they clearly demonstrated that the developed resource would look good both on a PC and on your favorite gadgets: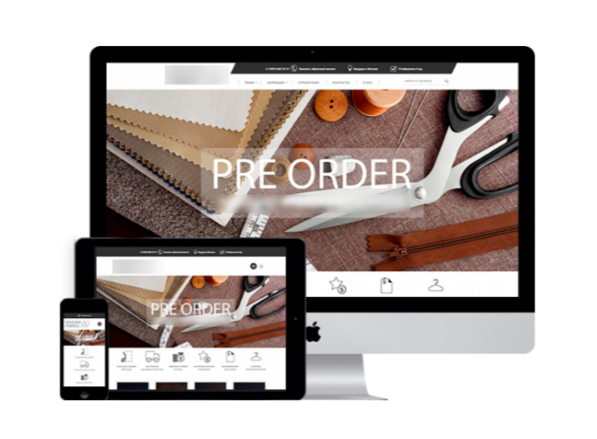 It is advisable to make brief descriptions for photographs — under them or when you hover over them.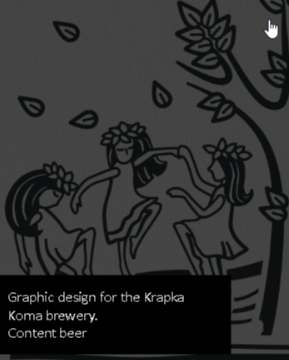 It's up to you in what order to post photos. If companies collaborated with large and well-known clients, they often put logos instead of pictures — they are already recognizable.
A description should be concise and understandable, you need to write in simple language. At the same time, it is mandatory to indicate what the goal was and what they did.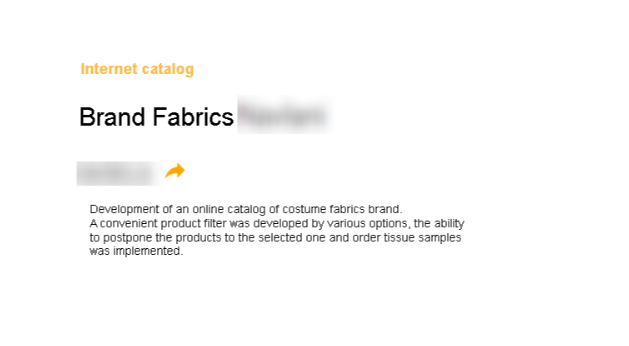 How to make a portfolio perfect
The success of any enterprise depends on the ability of its owner to sell, even if it is not associated with sales. The same situation is with a portfolio. This page sells the skills of people who work in the company. In order for the price to suit all potential customers, sometimes it's enough to simply pay due attention to the little things.

Internet marketers advise:

Carefully select the projects that you will place as the examples on the page. Each of them should be the subject of your pride. Accordingly, everything should be perfect in it.

Here is an additional plus — the portfolio will not be oversaturated. In addition, not all customers have time to view all the work. Some just need to see a couple on their topic to make a choice.

Pay attention to trends and recent tendencies. This advice is especially relevant for companies whose activities are related to design. If they show that they are able to surprise, customers will go to them.
Focus on diversity — this will reach a wider audience. If the agency makes sites, then it should illustrate its best projects for online stores on the page, as well as examples of business card sites, entertainment portals, information resources, etc.
Make sure that the work looks stylish and advantageous together. To do this, they are usually executed in the same style, as, for example, here:

Constantly update the portfolio. Firstly, it is important to add new projects — this demonstrates the relevance of the company and causes more confidence among customers.

Secondly, if a company has been in the market for more than three years and is constantly being improved, it is worth gradually replacing old works with new ones. This is very relevant for the website of the designer's portfolio: trends and technologies are constantly changing, and against this background, it is very easy to seem outdated.

Pay attention to details. Some website promotion agencies write in the description of the project, those who worked on it, list the names and surnames of employees and their positions. A foreign graphic design studio went even further — they also indicated the paper they used and the fonts.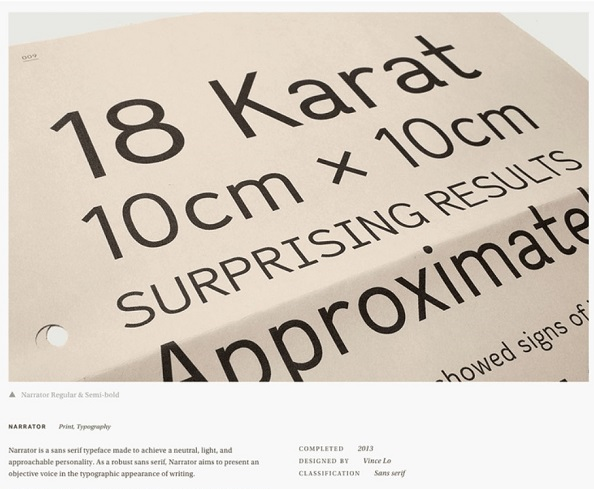 Listen to the opinions from the outside. If there are many projects, the eye may become blurred. At the same time, colleagues or friends will tell you whether the page looks good, whether it creates the impression that professionals worked on projects.
Browse the portfolio of other companies, as well as competitors, and if they have interesting ideas, implement them at home. One such idea is portfolio search. It saves a lot of time to the visitor.

Add reviews. It is good if, under each project, customers will leave a few words about their impressions of cooperation with the company and the results. So, that the texts do not repel and illustrate exactly what is needed, it is advisable first to draw up a short list of questions, and then forward it to customers.
Take care of sharing. This advice is more likely for freelancers (designers) who draw up their portfolios on the site. If they set up sharing buttons on social networks under their own work so that users can share pictures, their names will gradually become recognizable and will soon begin to attract new customers.

Finally, you need to apply creative. One of the options is an unusual arrangement of project photos: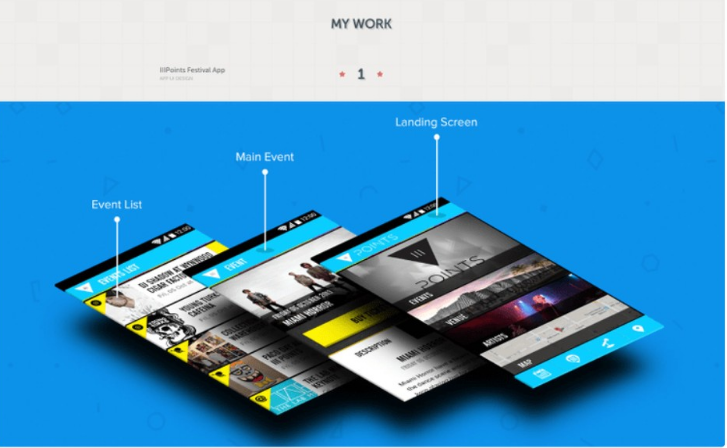 A portfolio can both attract and frighten customers; therefore, it is important to compose it correctly:
only the strongest projects should be included in it;


to each of them you need to make a high-quality photo, add a brief but useful description;


periodically, it is desirable to update the work;
the final touch is feedback. It is necessary to enable customers to place orders directly below the description — this will save a lot of time;


also on the page with the portfolio should be intuitive navigation;


if there are many works, it is better to divide them into blocks. Another option is to configure the search. Projects can be arranged in different ways. The main thing is that everything looks simple and clear.

This article is a part of Serpstat's
Checklist
tool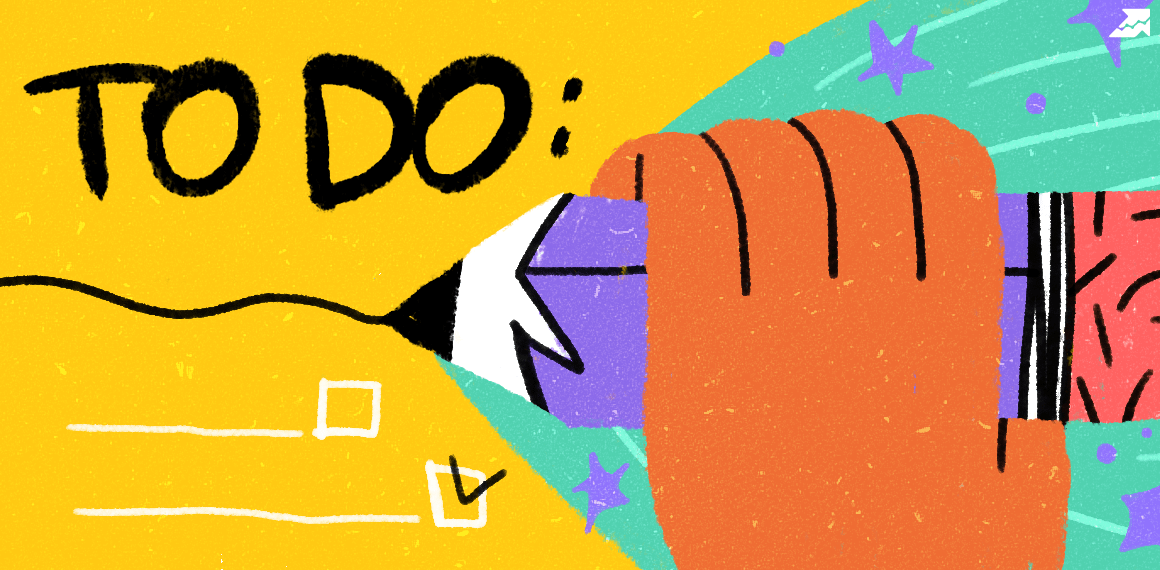 " title = "How to design a portfolio on the website 16261788379251" />
Checklist is a ready-to-do list that helps to keep reporting of the work progress on a specific project. The tool contains templates with an extensive list of project development parameters where you can also add your own items and plans.
Speed up your search marketing growth with Serpstat!
Keyword and backlink opportunities, competitors' online strategy, daily rankings and SEO-related issues.
A pack of tools for reducing your time on SEO tasks.
Found an error? Select it and press Ctrl + Enter to tell us
Cases, life hacks, researches, and useful articles
Don't you have time to follow the news? No worries! Our editor will choose articles that will definitely help you with your work. Join our cozy community :)
By clicking the button, you agree to our privacy policy.