How to Create an Effective Newsletter?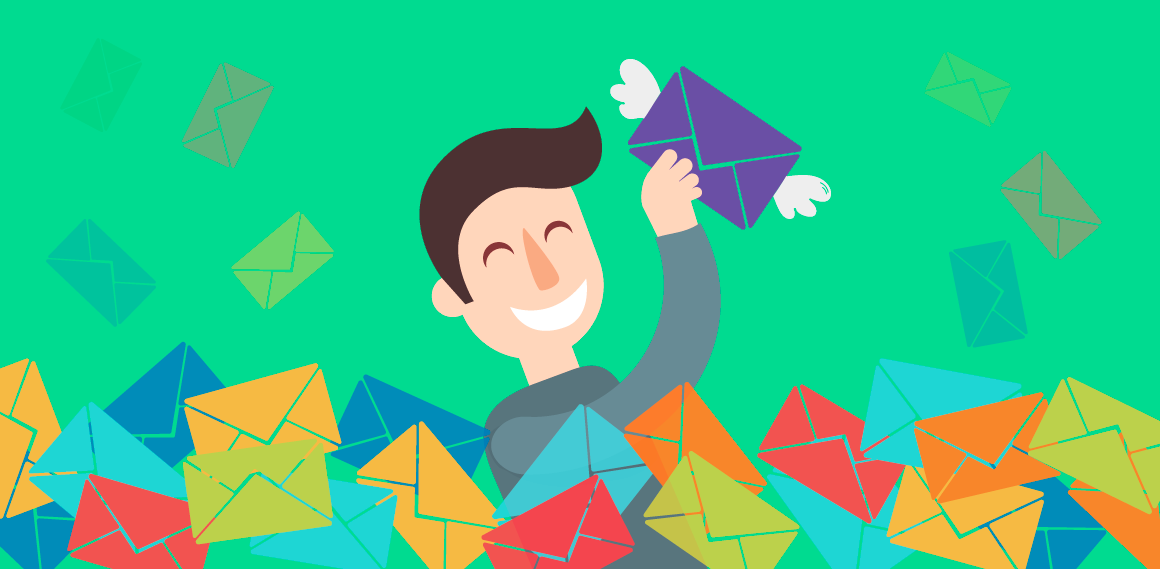 In this post, I'll answer all these questions, share some tips on how to gather a newsletter subscription base, and show you how to setup your first newsletters, maintain and raise its results.
An email newsletter is one of the most effective tools of modern marketing. According to
Statista, currently, there are 3.7 billion registered email addresses worldwide, from which more than 225 billion emails are sent daily. An average office employee receives around 121 emails a day, with nearly a half of them (49.7%) landing in the Spam folder, according to a recent
Lifewire report.
Lifewire also reports that an average newsletter campaign open rate is not more than 30.6%. If we take a look at the
average email campaign stats of MailChimp customers by industry or
average open, click-through, and bounce rates of Constant Contact customers by industry, it becomes clear that the problem of improvement of the effectiveness of the newsletter is a topical and complex issue, since the majority of emails from any industry fly out of the window and don't bring any positive results.
Still, every marketer dreams of all of their subscribers opening, reading and clicking through every of the emails sent to them. In a perfect world, the subscribers would also perform the desired action.
How to build email list and where to find subscribers?

To launch your email newsletter, the first thing you need is a list of subscribers. Depending on the type of your business, you can build the base of subscribers using different methods. The main thing you should avoid is buying a newsletter subscription database from a third-party company, no matter how attractive their offer seems. Sending newsletters to people who didn't give their permission will sooner or later result in your e-mail (or ever server) being banned. What's more, it throws a shadow upon the reputation of your company, and for sure you don't want that to happen.
In many countries, the law regulates email business and prohibits sending newsletters to users without their voluntary compliance. Sending newsletters to users who previously unsubscribed from receiving the emails is also prohibited in this case. For instance, here is a
CAN-SPAM Act, a law that sets the rules for commercial emails. As you can see, you should approach the issue responsibly and attentively.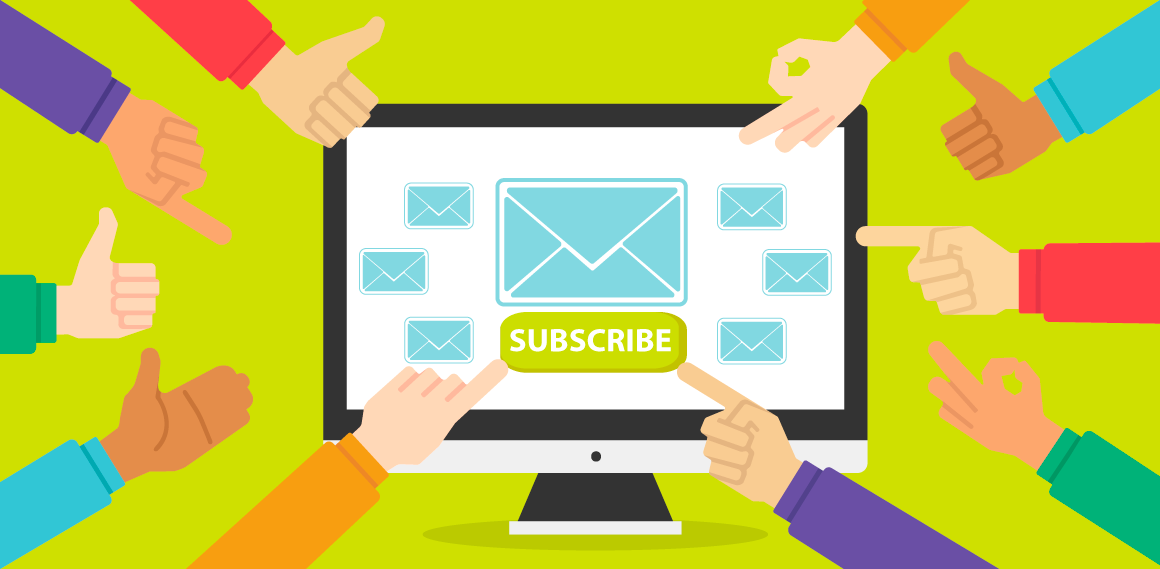 Here are some safe and efficient ways of building and expanding your database of subscribers:


Install a convenient and easily visible subscription button on your blog/website (we have this button in the top right corner of a blog article);

Publish relevant and comprehensive information regularly, for example: news coverages, educational articles, valuable pieces of advice and other useful exclusive materials: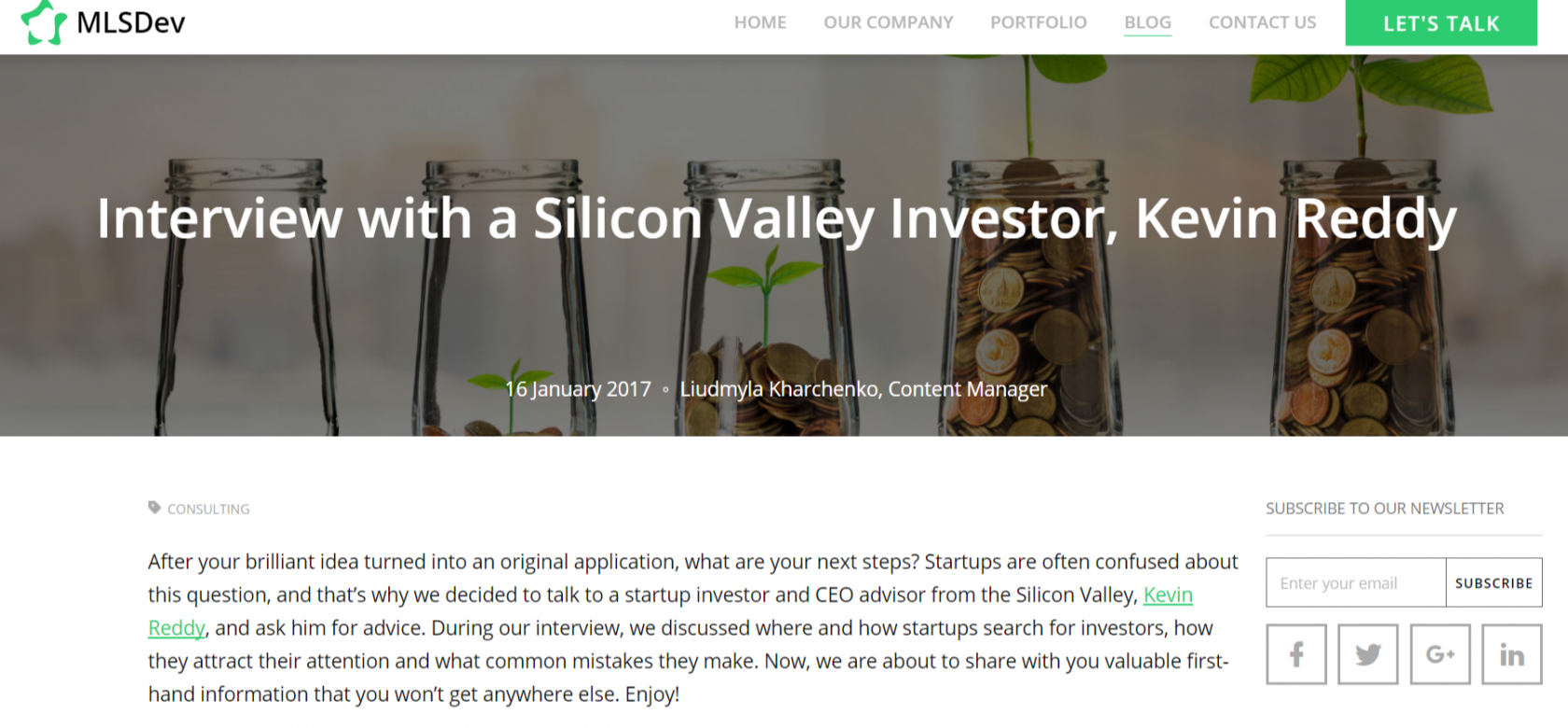 It is extremely important to make sure that your subscribers (both current and potential) receive exclusive and relevant information, which cannot be found elsewhere. By sharing trite content, you will surely see the number of your readers diminish quickly. Someone might even get angry and shove your email to the Spam folder.

Note that nowadays it is harder to protect yourself from information than find the way to receive it. Publish content your clients wouldn't want to miss, and the subscriptions will roll in. Ask your subscribers, what they are interested in and would like to read about in your future emails: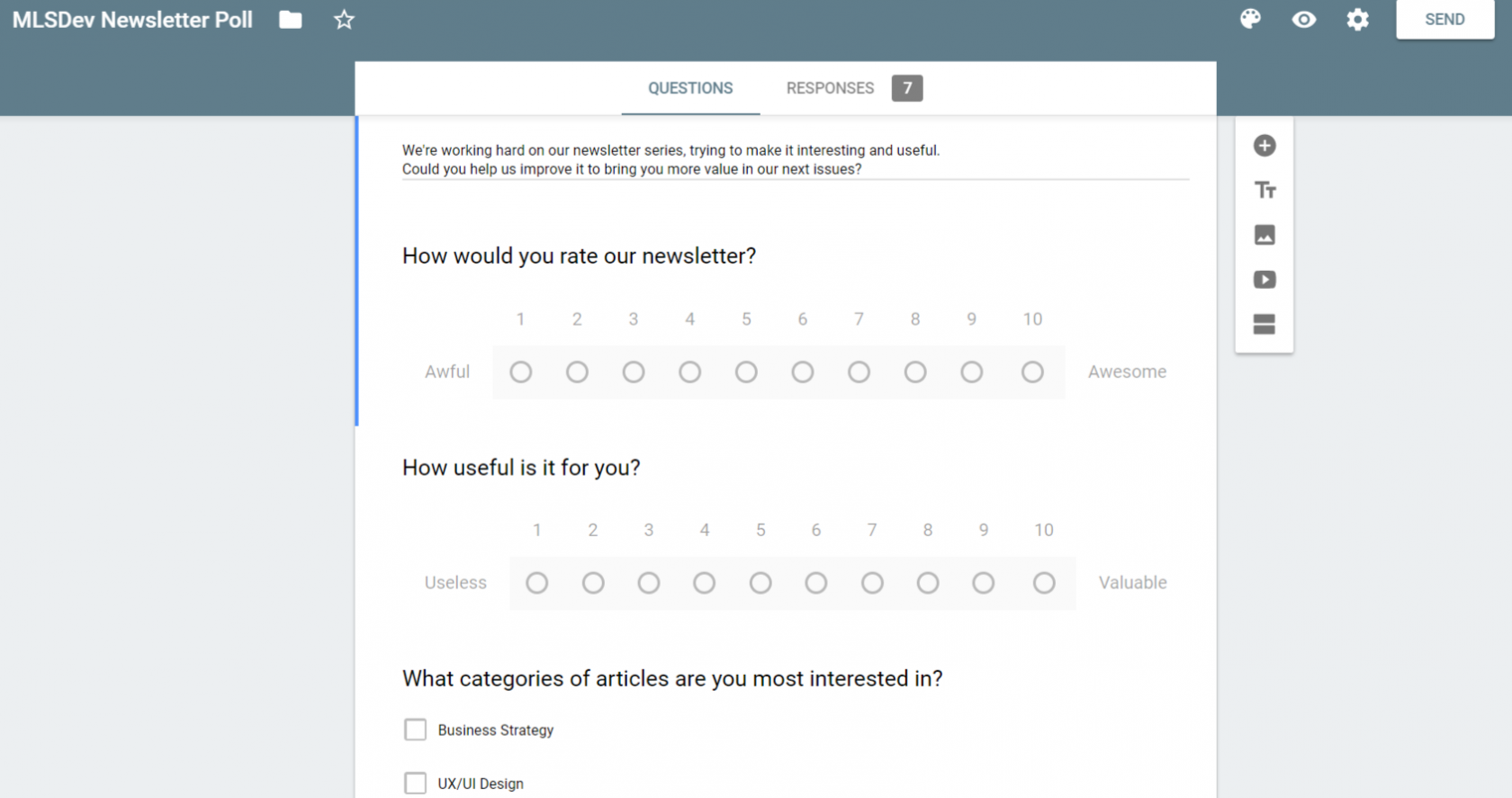 Create a subscription page that will offer your website visitors to download useful material in exchange for their contact data;

Announce your newsletters on social media on your company pages and offer you followers to subscribe to it following the link (which would redirect them to your subscription page):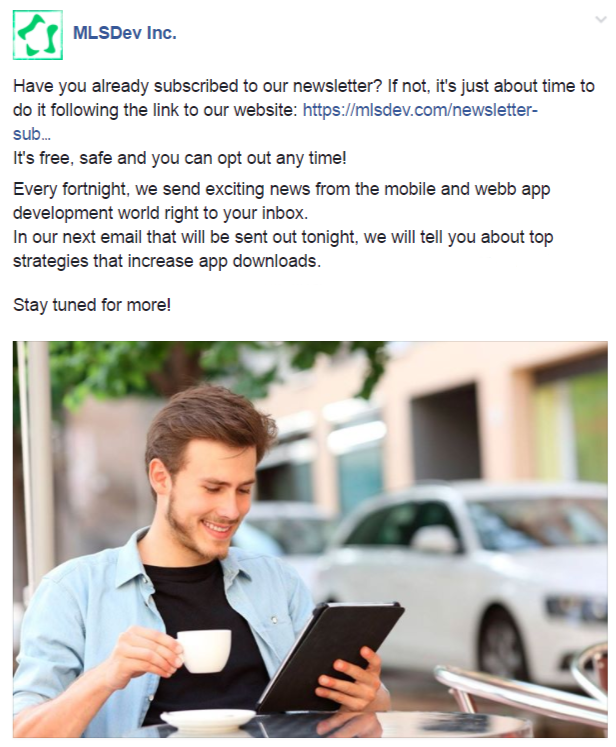 Set up an online chat on your website, that would require name and email or other contact data;
Arrange a competition or a poll;

Hold an webinar, seminar, conference, take part in the named events of other influential companies, sponsor top relevant events from your industry:

Where to start and how to launch your newsletter

Below I'll introduce steps of launching a newsletter based on our experience. Using these steps we achieved an average open rate of 30-40%. We hand-picked these steps through trial and error, and we share with you only what worked or still works for us.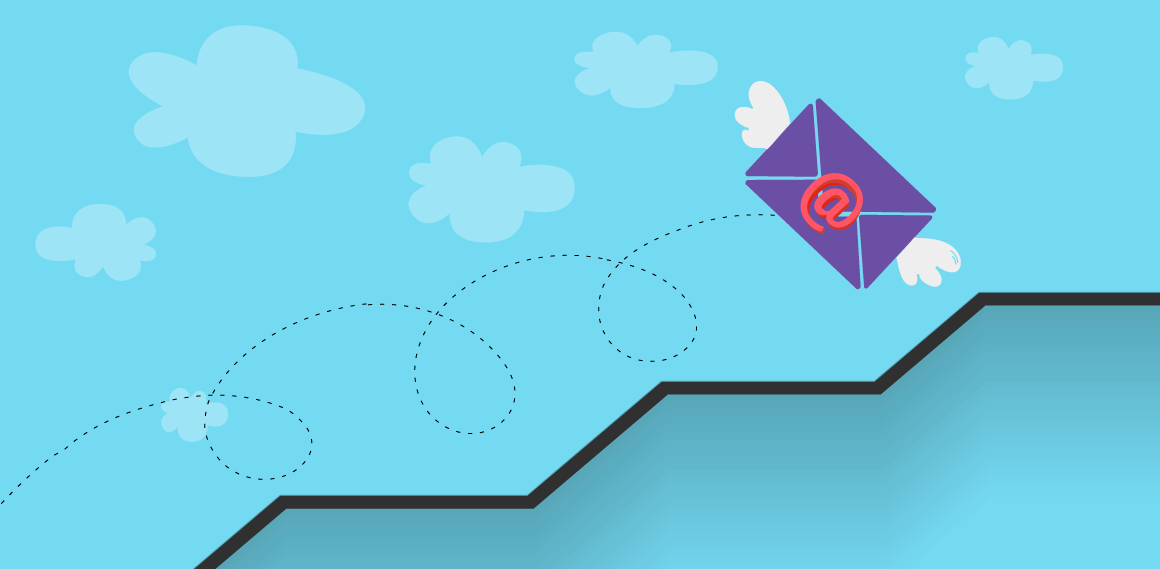 1. Create an auto marketing chain that consists of 3-5 emails

The primary purpose of these emails is to introduce you and your newsletter your subscribers and let them make a decision whether to continue or cancel their subscription. Another purpose of this email chain is to segment the subscribers based on the actions they perform or fail to perform. For instance: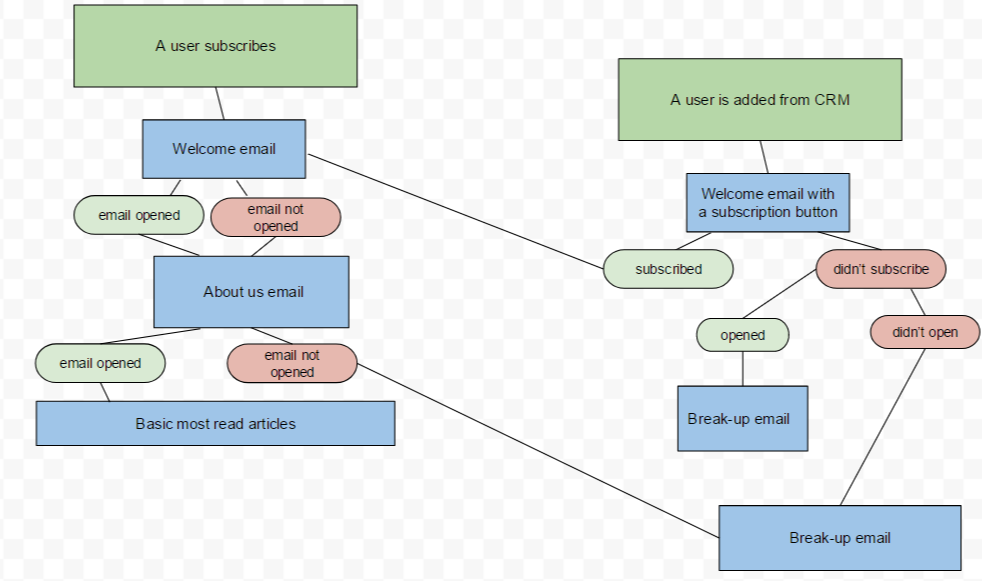 Here's how our first newsletter looks like: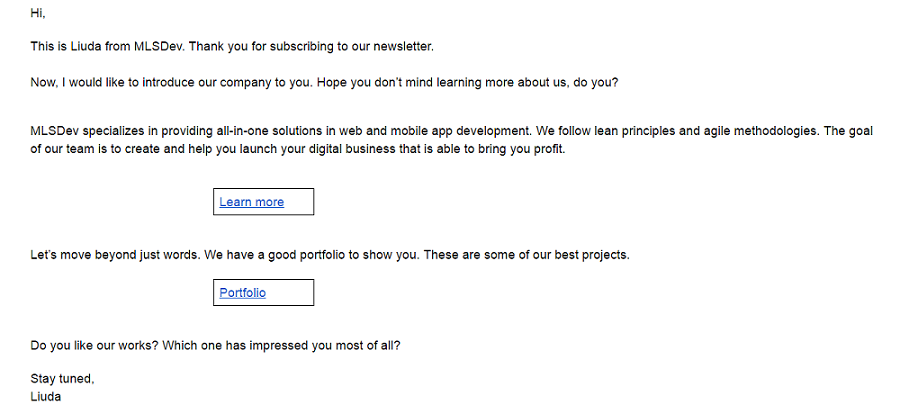 After a couple of initial emails, you will get a segmented user base. Now, you need to establish workflows for every segment based on the behavior of your subscribers and the goals of your email campaign.


2. Use the individual approach

Set up your segmented automatic newsletter chain so that every user receives relevant and interesting information, tailored especially for them. To do this, you need to track the behavior of your subscribers. In order to track it, send the most varied content in your newsletters and see who responds to what. For example, if you send articles on design, consulting and development in three emails, you will see which subscribers interact with which type of content.

This way, you can take the necessary data from the newsletter analytics and segment your base of subscribers even further. You will be able to prepare newsletter chains with information, tailored for a specific subscriber.

3. Define a perfect time for sending out your newsletters

Based on our experience, we can say for sure that you should not rely blindly on any advice that you find online. Perfect is different for everyone. The best way to find what works best for you is to
test different days and time slots and perform testing. Thursday night, between 6 and 8 p.m. works best for us, for example.
4. Don't be afraid of experiments, but stay consistent and avoid extremes

A/B testing will help you determine the most effective headlines, calls to action, images, texts and just every other element of your newsletter. This way, you will continuously improve the performance of your newsletters and reach higher heights with your newsletter campaign. Try to use different headlines and send one newsletter with different headlines contemporaneously to equal numbers of subscribers to see what works better. Let's imagine you have a newsletter where you offer a discount for web design.
There are various options for the subject of your email, for example:

1. Get a discount on design development today, our hottest offer is inside!
2. [Name], it's time to give your website a makeover
3. [Name], can you find a better offer?
4. What did Jack Sparrow say in the last scene of the Pirates of the Caribbean?
At the same time, it is worth remembering that newsletter is one of the ways of communicating with your clients, through which you form the image of your company. It is a part of your image on the market.
For this reason, no matter how lame it may sound, proofread everything you write and double-check it before you hit the Send button. Here at MLSDev, we use
Grammarly to avoid grammatical mistakes. Also, we send a test newsletter to our team for double-checking before the clients receive the email. Two heads are better than one.
Following these simple four steps, you will be able to receive subscribers, interested in your newsletter and willing to help you reach the goals of your newsletter campaign.
How to keep newsletters effective?

Don't forget that every of your addresses receives tens or even hundreds of emails daily. For this reason, you need to think of a peculiarity that will help your emails stand out in the fully-packed mailbox. Everything depends on who your subscribers are, what communication style they prefer and what image of your company you want to create in your newsletter.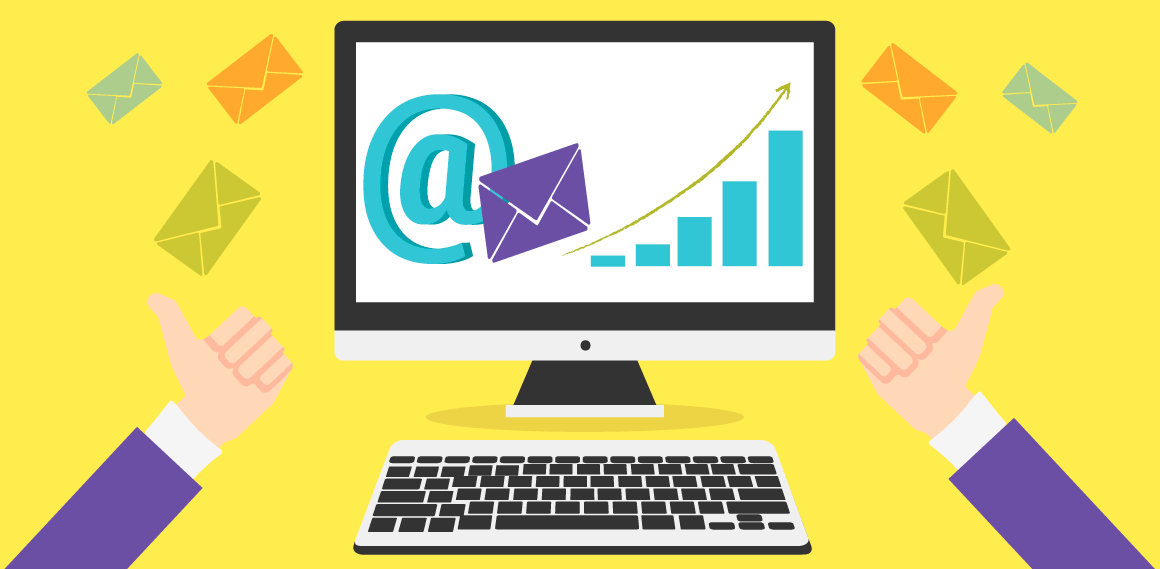 Below we will provide the main effective methods of maintaining the high results of your newsletter:

Systematically perform testing in order to determine which subject lines/content/format/time and date bring the best results. We perform A/B split testing regularly, changing only one condition at a time: time, style or content. Based on our experience, we can say that the subject line and time matter most of all.

Also, every time before sending out a newsletter, we test it on our colleagues, gather feedback and polish our newsletter even further before our subscriber sees it;

Clean your subscriber database regularly and keep it updated. For example, set up a chain of auto marketing so that a subscriber who doesn't open 5-10 emails in a row is automatically deleted from the subscription database;
Automate and customize the newsletter maximally with the help of the tools for auto marketing (SendPulse, Userfox, MailChimp, Constant Contact, Market Hero and many other services offer a simple and customizable setup of auto marketing with a step-by-step guide and online support).
Share only exclusive information that is nowhere else to be found. For example, we publish exclusive interviews with thought leaders, the solutions of our developers and designers, and also share the results of successful work on the projects of our clients: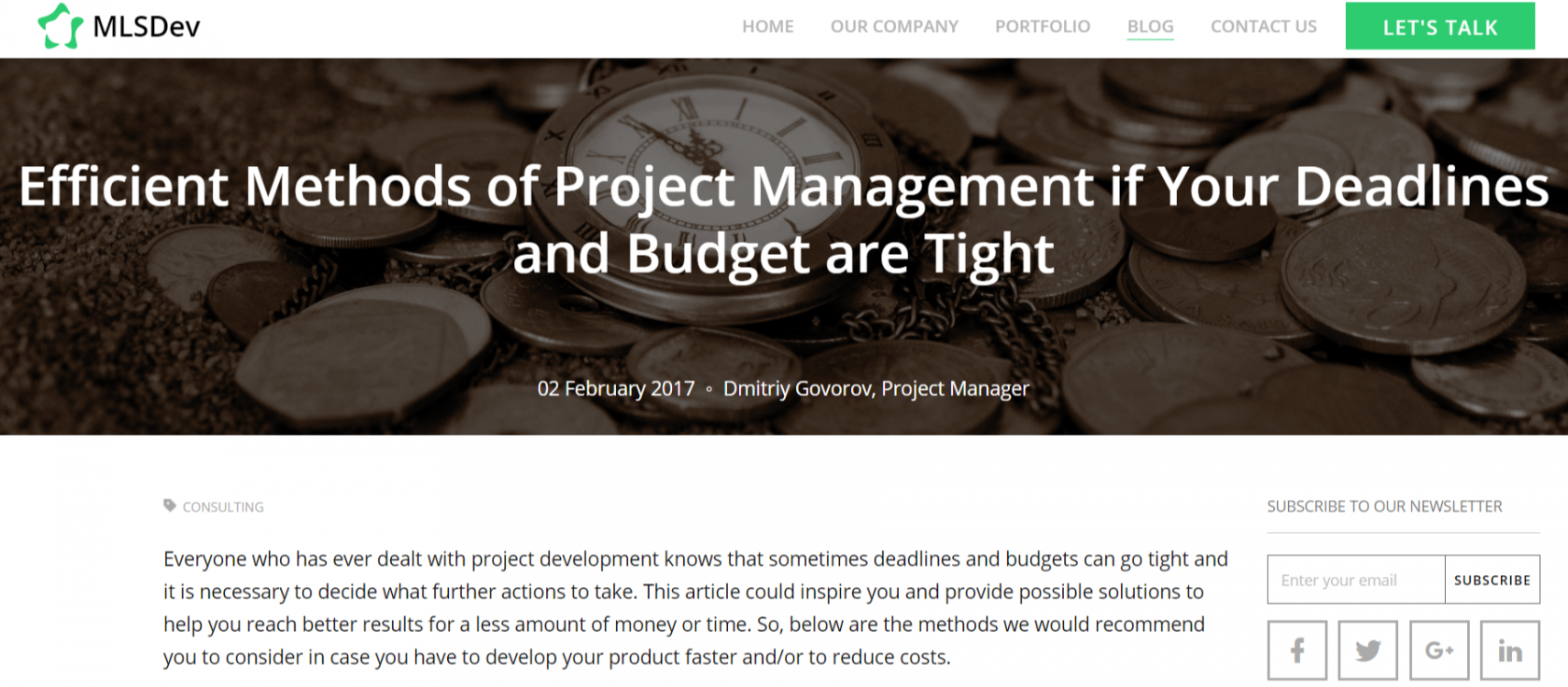 An email newsletter is one of the most effective and efficient marketing tools, but handling it is not as simple as it may seem. In order to create a really effective newsletter you need to do the following (minimum):

Build a newsletter user database in a legal way;
Create automatic chains of emails to activate and segment your base of subscribers;

Inform your potential subscribers about your newsletter and provide them with opportunities to sign up for it in a convenient and quick way;

Create interesting, relevant, topical and truthful content;

Define a perfect timing and frequency, day and time of your emails. Choose what works best for your business based on the pieces of advice from the opinion leaders of your niche and your own experience;

Constantly experiment, learn and polish your newsletter based on the feedback and results you receive;

Always keep your base of subscribers updated and do everything you can to expand it.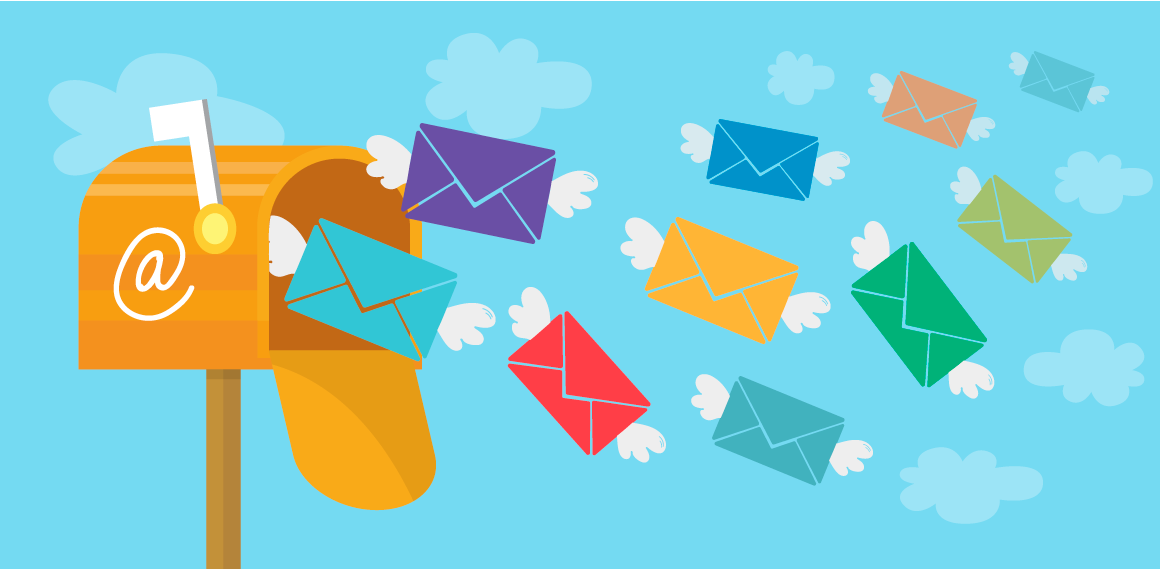 Remember that only a newsletter campaign that is constantly analyzed, tested and polished can become successful. Create newsletters that your readers will be waiting for with great enthusiasm, ones your clients will share with their friends and colleagues, and the ones they will never unsubscribe from!

May the number of your loyal subscribers grows with every post that you make and every newsletter that you send out!

Speed up your search marketing growth with Serpstat!
Keyword and backlink opportunities, competitors' online strategy, daily rankings and SEO-related issues.
A pack of tools for reducing your time on SEO tasks.
Found an error? Select it and press Ctrl + Enter to tell us
Cases, life hacks, researches, and useful articles
Don't you have time to follow the news? No worries! Our editor will choose articles that will definitely help you with your work. Join our cozy community :)
By clicking the button, you agree to our privacy policy.