How to create an advertisement in Google Ads to increase the clickthrough rate
Paid search advertising is one of the important tools for promoting products and services on the Internet. It includes a large number of different settings, as well as factors affecting the purchase: analytics, semantic kernel, geographic and time targeting.
One of the important components of paid search advertising is an advertisement. It is with the help of it that we must cut off non-target customers, solve the pain of a potential customer and direct them to the page where they can find a clear answer to their query.
Let's figure out what you need to know and consider in order for your advertisements on the Google search network to be as effective as possible.
Before you start creating advertisements, you need to:
examine the product/service;

analyze the market and competitors;

create a unique selling proposition (USP);

identify the target audience;

work out the semantic kernel;

work out the structure;

group keywords;

analyze competitor advertisements.

Let's analyze the key points of this algorithm in more detail.
How to analyze competitor advertisements
You can do this in many ways, but I will only describe two of them.

The first one is very simple: we type a query that will be in keywords and look at the Google search results. Then we study what are the advertisements, competitor USPs, etc.

The second method is more interesting since you can analyze data not only by key queries but also by competitor domains. To do this, you can use the Serpstat API and upload all the advertisements to Google Spreadsheets where you can easily copy them from and compare.

A lot of calls to action are usually repeated. We write them out in a table in percentage terms and see which ones are found most frequently. Later we will be able to test the advertisements; the first one with that call to action and the second one with a unique call to action, if possible.
Features of displaying text advertisements in search
Headlines may appear in different combinations.

The third headline is not always displayed.
You cannot use "!" in the headline.
Only one "!" can be used in the description

What you can't do when writing ads:
Write a meaningless set of words.

Use a large number of capital letters in a row.
Use redundant repetitions of words.
Make grammar or spelling mistakes.
If you want to show any text in all ads, you can pin it using a special icon.

This can be done in one of the headers and in one of the descriptions. It is not recommended to pin more elements since in this case the meaning of the responsive advertisement is lost because its advantage is precisely in the fact that the system selects various text combinations itself.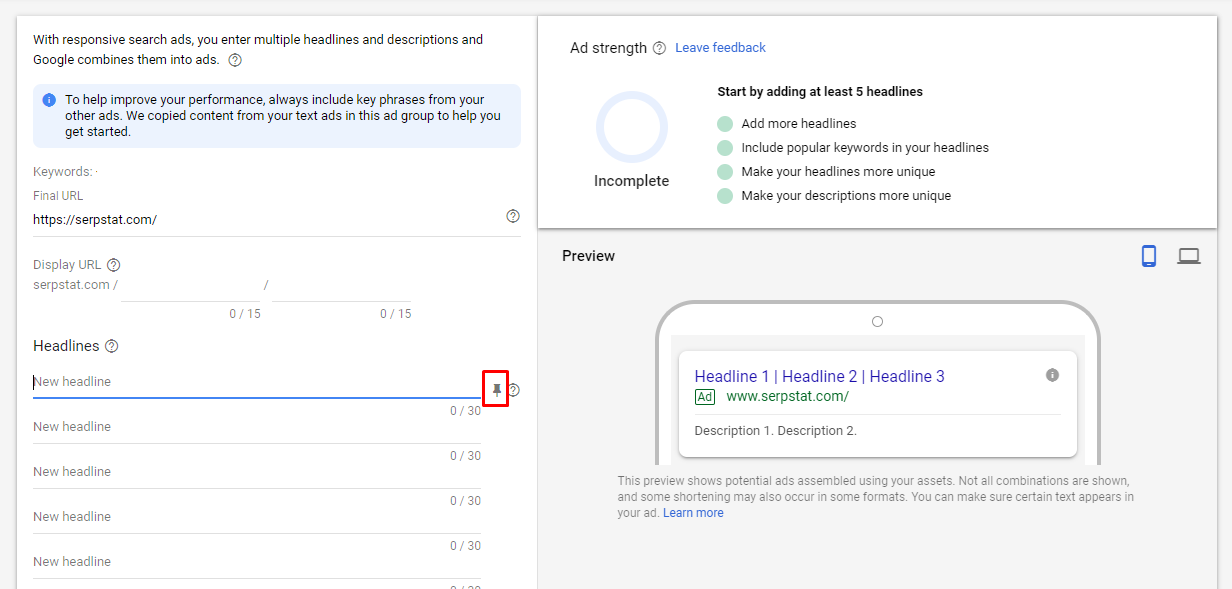 How to make your advertisement visible and increase your clickthrough rate
It is most often used for specific offers depending on the device. For example, if a visitor opens a Google search from a mobile device, you can offer them a discount on a call right now, a delivery deal, etc.

It is also possible to specify conditions in the rules to show a certain offer only to those visitors who, for example, added a product to the basket but did not complete order. You can see an example in the picture: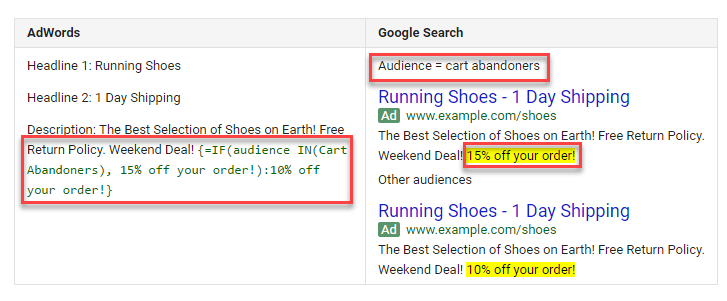 This function works very well for various events and time-limited promotions. Here's an example: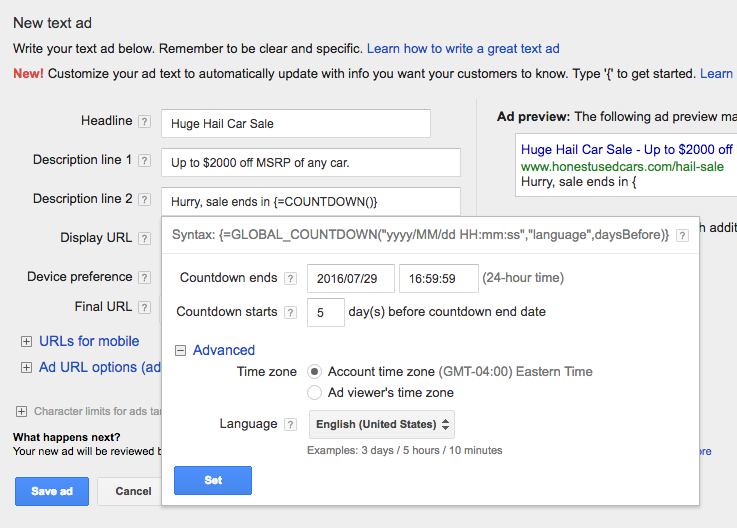 They are suitable for online stores. They allow displaying a city or a particular product in an advertisement. Here's an example:

You can read about the options of using this feature in the official
help article.
Conditions for displaying ads with these modifiers:
for each modifier there is a default value in case there are problems with the substitution of data from the feed;
in the group where this ad is included, there are also regular advertisements (without modifiers);
the restrictions on the number of characters are met when substituting values that replace the modifier;

Google's editorial and professional requirements are met.

Modifiers cannot be stopped separately from advertisements. If necessary, you can temporarily disable them in two ways:
Pause the ads in which these modifiers are configured.

Delete business feeds referenced by modifiers.

For example, to disable a modifier in one of the ad groups, delete the rows that target this group.
What else can be written in Google advertisements
What does your company offer? How are your products or services useful to customers?

What customer actions are you interested in? The call to action is defined here. You need to think about what exactly is expected: a call, booking, appointment, purchase, etc.
What categories and types of products do you offer? It is better to write in numbers and not just a "wide range".
What are your prices? By indicating the price, you cut off ad impressions to those who are not ready to pay such an amount, thereby you do not spend your advertising budget on them.
What special offers do you have? Do not hesitate to write everything about your promotions and discounts.

How to create ads for mobile users
To make sure advertisements are displayed correctly on mobile devices, pay attention to:
Ad text. Sometimes the first two lines are combined with a headline, so write a logically complete sentence for each of them.

Ad extensions. Sometimes Google Ads replaces the second row with extensions if their estimated effectiveness is higher.
Final URL. Specify the link to a responsive website here: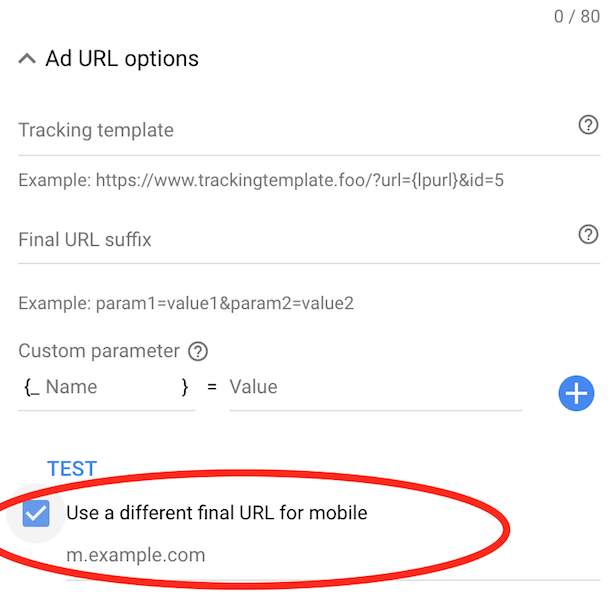 Why sometimes part of the text is reduced to (...)
on mobile, the "Call" button can replace part of the advertising text;

the text has a lot of wide letters (for example, "w") and a few narrow ones (like "g"), and the title does not fit the screens;

To avoid that, reduce the total length of both headlines to 33 characters.
Extensions can be automatic and manual.

In some cases, it is recommended to disable automatic extensions since Google composes them itself and they do not always show what is worth displaying. I recommend controlling the extensions and specifying only those that will help visitors find answers and not distract them from the goal.

The example below shows the types and examples of extensions in advertisements: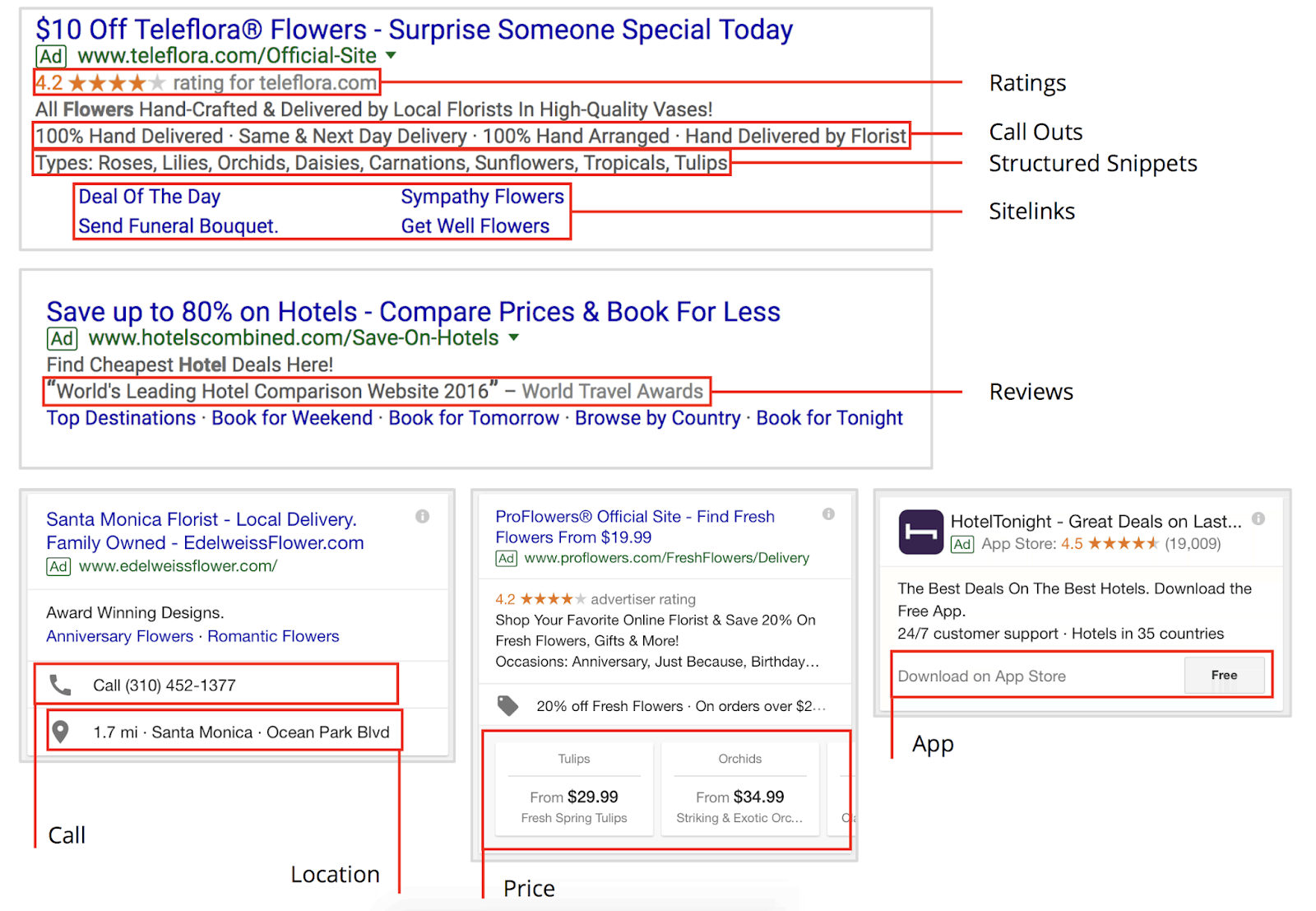 If you have an online store or taxi service, it is irrational to use the "Location" extension since it is better to replace it with more useful data. Below are examples of successful extensions for different target actions: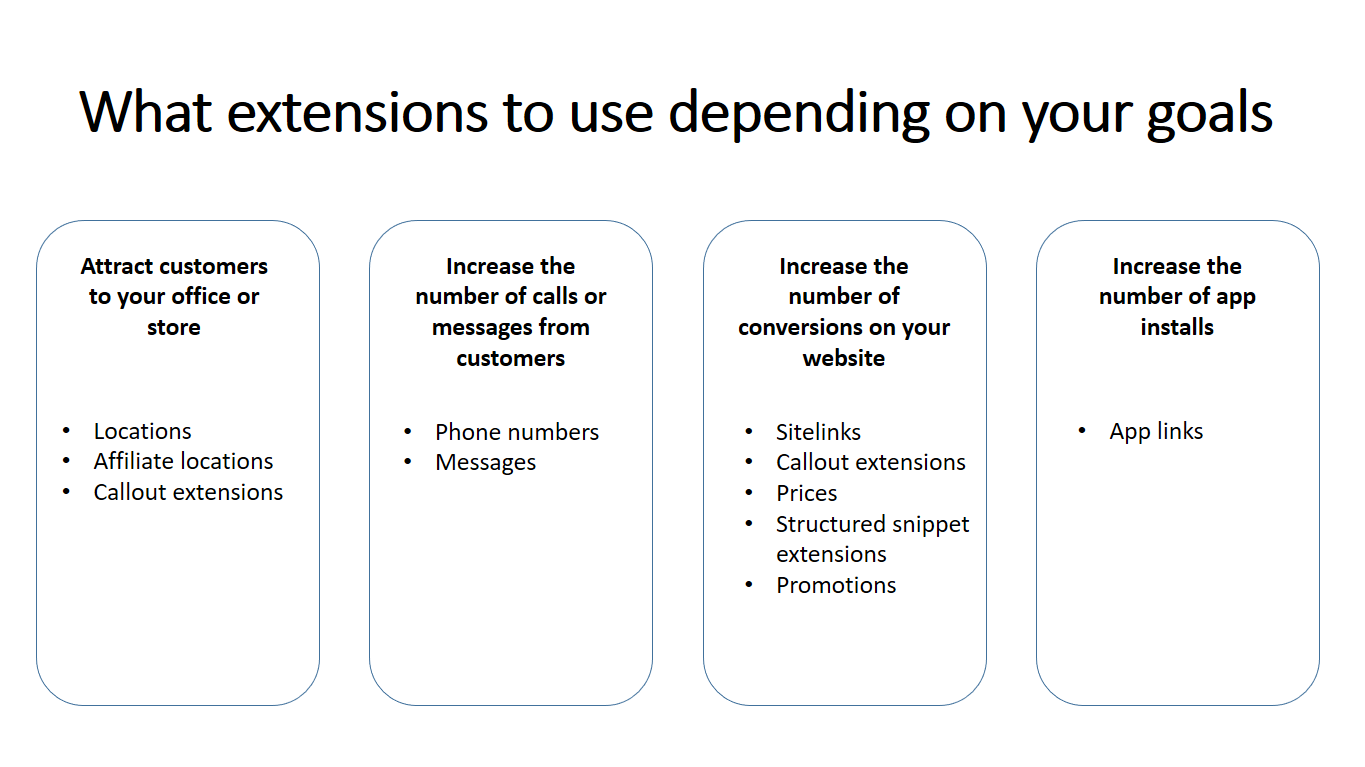 Advertisements on the Google Ads search network are an effective way to attract new visitors, leads, and customers, but they must be composed carefully, thoughtfully and individually in each case.

In this article, we've explored how to increase the clickthrough rate of advertisements (CTR) by analyzing competitors, configuring responsive ads, using keywords, functions, modifiers, extensions, and other tools.

Eventually, the performance of each tool and the overall payback of paid search advertising depends on the specialist who launches it and the customer who orders it.

Speed up your search marketing growth with Serpstat!
Keyword and backlink opportunities, competitors' online strategy, daily rankings and SEO-related issues.
A pack of tools for reducing your time on SEO tasks.
Found an error? Select it and press Ctrl + Enter to tell us
Cases, life hacks, researches, and useful articles
Don't you have time to follow the news? No worries! Our editor will choose articles that will definitely help you with your work. Join our cozy community :)
By clicking the button, you agree to our privacy policy.