How To Check The Quality Of Your Domain's Optimization With Serpstat
As you know, we've recently added new tools to our SEO platform — serpstat domain optimization. Now let's see what does sdo stand for, how it works, what results provides, how it calculates the optimization score and more.

What is SDO? Let's take a look at Serpstat's Audit tool and refresh our knowledge of some basic audit steps.
What Is SEO Audit And Why Do You Need It?
Technical
SEO audit and website analysis
is a process of finding and eliminating internal errors on a website to make it fit the requirements of search engines.
Audit is often done when a website becomes an object of sanctions or gets a filter from a search engine. It's hard to miss when a filter is applied to a website: positions in search and organic traffic are dropping extremely fast. When this happens, it's necessary to find and eliminate errors on the website to get back its positions and traffic.
But removing a filter is not the only time when SEO audit is necessary. Even websites that work fine can be improved to get more traffic and higher positions in search.
SEO always starts with an audit, any specialist need to make sure that website is working properly and there aren't any basic errors that will stall the optimization process.
So, how does Serpstat audit works? Let's have a look.
Creating A Project for SEO audit

Go to the list of projects and create a new project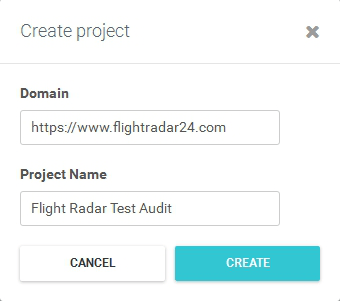 Enter a domain that you want to analyze and name your project. Click "Create"

The project will be added to your projects list. Click on the "Start Audit" button in project overview panel to proceed
Set crawling parameters (number of pages to check and number of simultaneous requests)

Wait for the crawlers to check the pages

When audit is done, information about your project will update and you'll see an SDO rating next to the general info about the domain from your project.
SDO (Serpstat Domain Optimization) Score is our own metric that shows the quality of the domain's optimization. SDO Score means correlation of the errors we found the total number of errors possible. Score also depends on whether the errors found were critical or not. Higher score is better.

Our test website got a score of 40%, which means there's a lot of room for improvement.
First thing you see when you open an audit report is SDO score and a number of errors divided into 3 groups: high, medium and low priority, depending on the influence that an error has on the optimization score.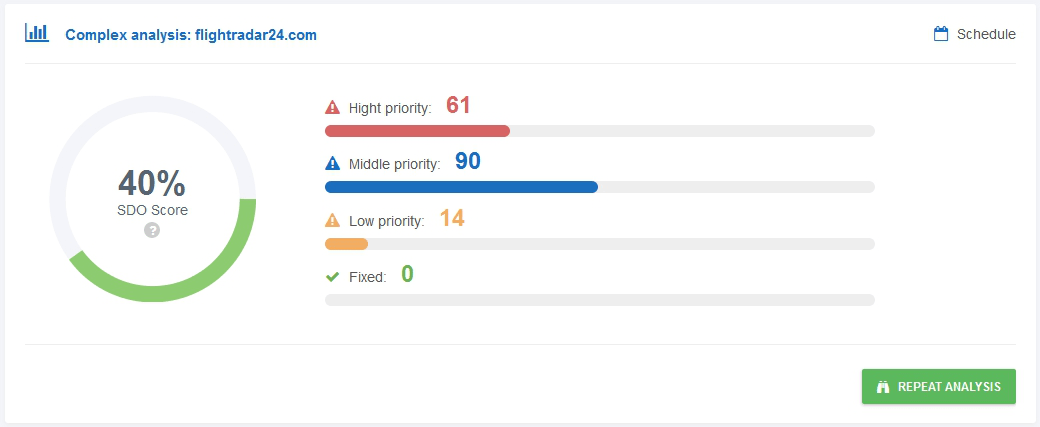 SDO score in audit report
Lower on the same page you will find a list where errors are sorted by type: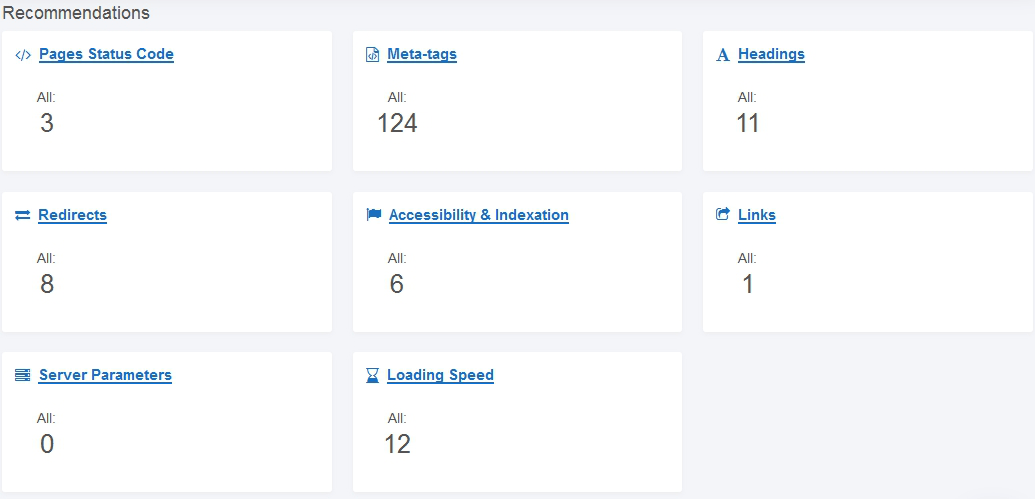 Website quality score checker and list of errors
You can open each block from this list to learn more about the errors.
Detailed Analysis Of The Types Of Errors by the audit tool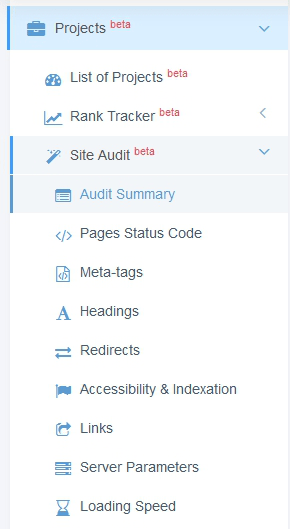 As mentioned above, you can click on a block from the list to open detailed report or you can open a category from the sidebar menu
Serpstat finds errors and gives recommendations on how to fix them. It also defines what errors were fixed since previous audit. There are seven types of errors in Serpstat audit.
Pages Status Code
When a user or a crawler addresses a website, server responds with a certain code. Some status codes mean there's an error on the website, SEO specialists need to know if there's an error on a website and finding pages with corresponding status codes helps them with it. Status codes show if there's a missing page on a website or if there are problems with a server.
Serpstat find pages that return a status code 5xx (500-599)and 4хх (400-499). Status code report shows:
URL where the error was found,


Error code,


Number of pages linking to the page with error.
Meta-tags
Title and Description are the most important meta-tags when it comes to optimization. Information from both of these tags is shown in SERP and should give users an idea of what they will see by following the link. Title and Description should also be optimized and there are some rules applied.
First of all, Titles and Descriptions should be unique for every page. We also believe that an optimal length of a title is 10 to 70 symbols, and description length should be between 70 and 160 symbols. Serpstat can find the following errors when it comes to meta-tags:
Empty or missing Title or Description;


Duplicate Title or Description;


Title or Description too long;


Title or Description too short.
Headings
H1-H6 are used to create a structure for html pages. Different levels of H headings are applied to content with different importance.
There should be only on H1 heading per page, and it should be unique for every page. It's also important to keep the order of headings in check.
Serpstat's audit shows two errors that may occur when it comes to headings:
missing H1;


wrong order of h1-h6 headings.
Redirects
Redirects are used to guide users and crawlers to the page with a URL different from the one they followed.

301 redirect means that page has been moved to a different address. 302 redirect means that a page is temporarily unavailable at this address.

Internal links should never point to the page which then redirects to another.

Serpstat shows the following issues related to redirects:

- page that redirects to another page; - redirect code (301 — permanent, 302 — temporary); - page to which users are redirected;- number of pages with redirects.

Accessibility & Indexation
Indexation is a process of analyzing, sorting and adding documents to the search engine database. To be indexed a page should be open and accessible by crawlers. There are few ways to speed up the indexation process:
Sharing links to the page on the social media,


Acquiring backlinks to the page,


Adding a page manually through webmaster panel,


Serpstat shows what pages on a website are hidden from crawlers and will not be indexed:
Pages hidden with a noindex tag;


Pages hidden in robots.txt;


Pages with insufficient text;


Improper use of canonical meta-tag;


Outdated flash elements on page;


Iframe.
Server Parameters
Serpstat checks the following:
Is there a SSL-certificate installed;


Are there redirects between the addresses with and without www;


Are there redirects between http and https versions.


Serpstat basically finds duplicates at the domain level. If there are multiple versions available we recommend choosing one and redirect users to that version.
Loading Speed
Websites that load faster have better behavioral factors and improve UX. Faster websites also rank better, so loading speed is an important parameter.
Serpstat shows several ways to improve the UX and loading speed of a website.
Browser caching,


Excessive usage of Javascript and CSS,


Image size optimization,


Font size


And more.
Improving The Optimization Score with SDO
You can schedule Serpstat Audit and get reports on your SDO Score with a desired frequency. Scheduling an audit allows you to track the optimization progress, track the progress and always know what parts of a website still require attention in terms of SEO.


In our upcoming update we will add automatic notifications to let you know if new errors were found and how many errors were fixed.
Need more help with using this tool? This video should help you:
Found an error? Select it and press Ctrl + Enter to tell us
Cases, life hacks, researches, and useful articles
Don't you have time to follow the news? No worries! Our editor will choose articles that will definitely help you with your work. Join our cozy community :)
By clicking the button, you agree to our privacy policy.