Who is a copywriter and how to become one
Copywriting
is a fairly broad concept. One thing is clear: a copywriter works with texts. Their task is to accurately collect words into sentences and make the texts useful, arouse the necessary emotions among readers or incline to a certain action.
To do this, you need to be a little philologist, a little psychologist, a little marketer, because the text is created for a specific purpose for a specific audience.
The task of a professional copywriter is to convey the desired idea in the most accessible form to a reader. It may be in the form of a joke in social media or a boring, but clear manual, depending on the field of activity.
Let's figure out why one copywriter is different from another.

An SMM copywriter writes texts for social media. These are normally short (up to 2 thousand characters) selling or reputational posts that are published on corporate pages.

An SEO copywriter works in an informational style, writes articles for blogs, product descriptions for commercial websites and adjusts them to the requirements of search engines. Therefore, the texts should contain promoted keywords.

For SEO copywriting, it is important that the text is unique, proving the competence of the company and at the same time increasing the ranking of the website in search results. SEO texts are focused not only on the reader but also on search engine algorithms.

A copywriter of advertising texts creates slogans, texts for landing pages, email newsletters, banners, and leaflets. They are able to sell with one catchy phrase.

A scriptwriter creates scripts for commercials or other video content. Texts that are not read, but are perceived by the ear, have their own specifics.

A tech writer writes technical documentation. This is an option for those who want to "enter IT." It is important to know English at the Advanced or Fluent level, think logically, be able to collect and analyze information, and clearly articulate your thoughts.

A UX copywriter is responsible for the text content of the interface: texts of buttons, pop-up hints, push notifications, and more. This profession is not yet popular enough, but in the near future, the situation is likely to change.

A rewriter interprets someone else's text in his own words so as not to infringe on copyrights or fall under the sanctions of search engines for plagiarism. This is similar to the work of a copywriter as a common task which is creating text content. However, the already written text is taken as the basis. Sometimes copywriters are engaged in rewriting, collecting information from several sources.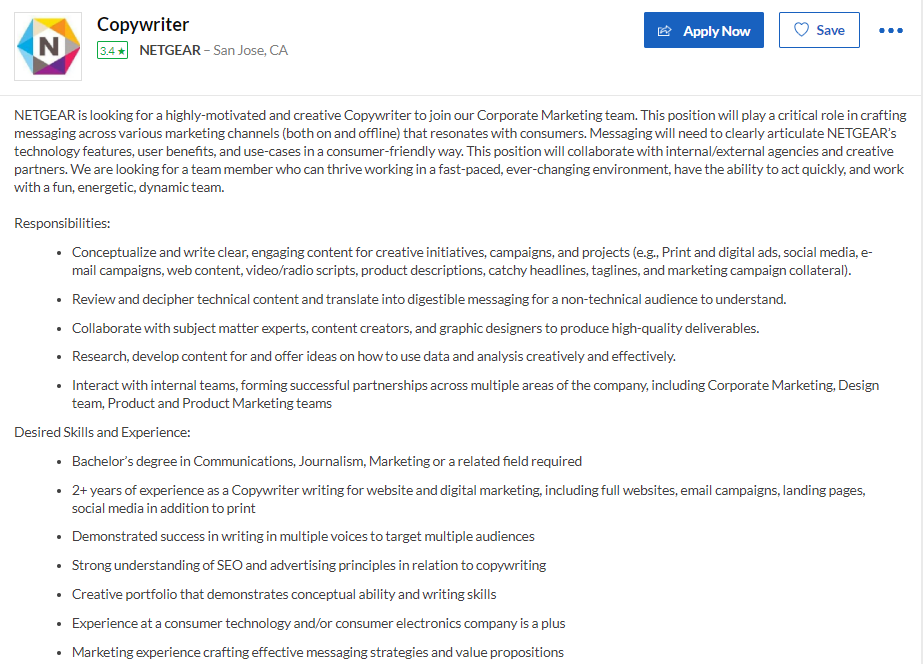 An example of the English Copywriter job offering in an IT company

How to become a professional copywriter?

It is advisable to get higher education (not necessarily a philological degree). It is not enough just to be literate and to know grammar at the school curriculum level. Literacy is important, but it is not a pass to the profession.

But what we mainly learn at the university are the general erudition, the ability to quickly find information, fact-checking skills, strict adherence to the requirements for the document design. In the end, everyone who wrote an essay from online sources overnight and did not plagiarize is already a little bit of a rewriter.

Liberal education will be a plus. This is the case when the phrase: "I am more into humanities" is a competitive advantage and not an excuse for not being able to count without a calculator.

However, it is necessary to continue studying. Even if you graduated from a philological faculty or journalism and think that you know how to write well, learn to copywrite. Sales texts are different from SEO articles and journalistic materials. Tech writers should forget about the existence of synonyms and not try to make their text more colorful.

It is important to understand this specificity. There are plenty of offline and online copywriting courses available.

Here are some pieces of advice for those who want to make copywriting their profession

Read. A person who does not read cannot write well.


Write. Not only for working purposes and for money. Write longreads for your personal Telegram channel, short posts on Twitter. Get yourself an online diary.


Translate. Yes, you are not a translator, but most likely you will have to write not only in English. Translations train a sense of style well and teach to "ennoble" the text.


Don't wait for inspiration, just work. The muse will not come. Stephen King even advises writers to do this: in the morning, regardless of your mood, sit down at the table, take a pen and write.


Edit yourself. Firstly, not everyone is lucky to work in conjunction with a proofreader or editor. Secondly, it is verified: the text only gets better if you return to editing it after a while. You will at least find typos. Or you will want to rewrite the text completely.
How can a copywriter start a job search?

Draw up a decent CV. Who will entrust writing texts to a person incapable of creating a presentable text about himself? To do this, you can use not only traditional pdf documents, but also create a page using a simple website builder like Tilda.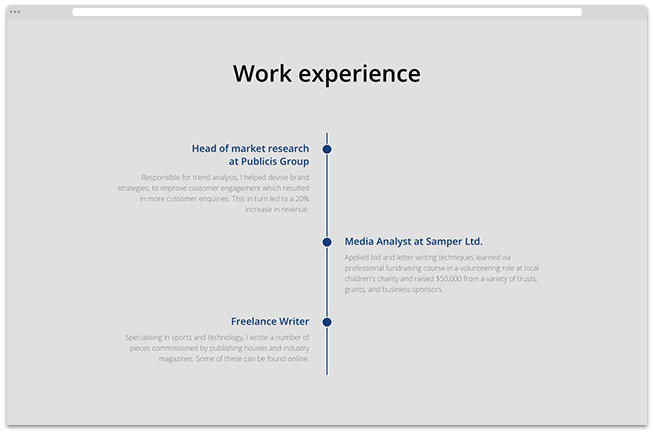 An example of a CV made using the Tilda website builder
Work on your portfolio. Lack of experience in copywriting does not mean that you never wrote anything. A personal blog can also become part of the portfolio. In addition, on freelance marketplaces, there is such a way of making money as selling ready-made texts, rather than on-call writing.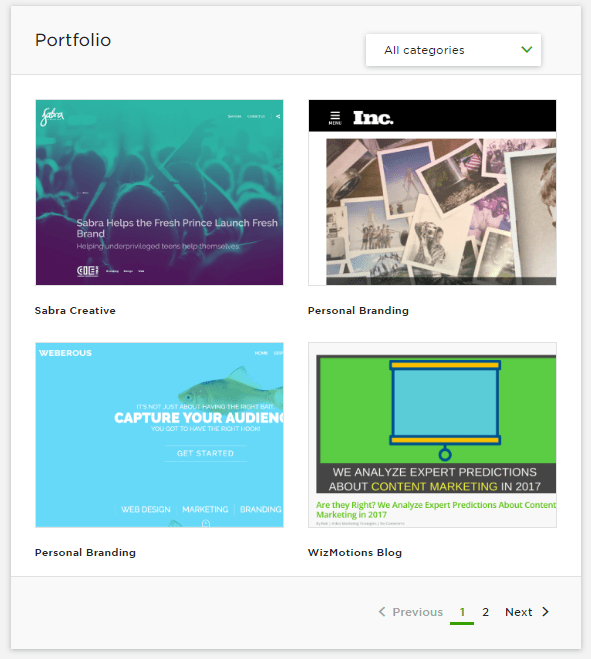 An example of a copywriter's portfolio on the Upwork
You can search for the first copywriter job on specialized websites, Telegram channels, and Facebook groups. Networking is still in force; tell your friends that you want to try yourself in copywriting, and the job itself will find you.
Be prepared to complete a trial assignment. Copywriting is not a specialization where a person gets a job after only one interview.
A list of the must-read books for a beginner copywriter

Kenneth Roman, Joel Raphaelson "Writing That Works, 3rd Edition: How to Communicate Effectively in Business". This is the classic guide that helps you communicate your thoughts clearly, concisely, and effectively.


Stephen King "On Writing: A Memoir of the Craft". Immensely helpful and illuminating to any aspiring writer, this special edition of Stephen King's critically lauded, million-copy bestseller shares the experiences, habits, and convictions that have shaped him and his work.


Allan Pease, Paul Dunn "Write Language". No matter how many letters or emails you write, this book will help you communicate more effectively.


Mark Levy "Accidental Genius: Using Writing to Generate Your Best Ideas, Insight, and Content". Levy shares his six secrets to freewriting as well as fifteen problem-solving and creativity-stimulating principles you can use if you need more firepower.


William Zinsser "On writing well: An Informal Guide to Writing Nonfiction". It is a book for everybody who wants to learn how to write or who needs to do some writing to get through the day, as almost everybody does in the age of e-mail and the Internet.


Joseph Sugarman "The Adweek Copywriting Handbook: The Ultimate Guide to Writing Powerful Advertising and Marketing Copy from One of America's Top Copywriters". In this practical guide, legendary copywriter Joe Sugarman provides proven guidelines and expert advice on what it takes to write copy that will entice, motivate, and move customers to buy. For anyone who wants to break into the business, this is the ultimate companion resource for unlimited success.

Copywriting is a creative work for those who love order and clarity. Representatives of this profession make the world a better place by explaining complex things in simple words. A copywriter is the voice of a brand or a company. They reveal the essence of the work and convey values. If you like to write and are ready to improve yourself daily in this, this specialization is for you.
Speed up your search marketing growth with Serpstat!
Keyword and backlink opportunities, competitors' online strategy, daily rankings and SEO-related issues.
A pack of tools for reducing your time on SEO tasks.
Found an error? Select it and press Ctrl + Enter to tell us
Cases, life hacks, researches, and useful articles
Don't you have time to follow the news? No worries! Our editor will choose articles that will definitely help you with your work. Join our cozy community :)
By clicking the button, you agree to our privacy policy.