How to add a live chat to a site
If users can't find answers to their questions, they just leave the site and continue searching for them on other resources. In order to avoid it, you'd better add a live chat software to your site.
To simplify the process of searching some additional information and cut the time spent on it, site owners add the live chat service. This instrument allows users to have quick answers to any question they may have and prevents them from leaving the site.
Live chat software is a special tool which helps a visitor to get all the needed info concerning the current site or product online.
In a
research provided by eMarketer, it is claimed that 38% of interviewed consumers did their purchases exactly due to chatting. Moreover, according to Zendesk company's statistical study, most of the internet users prefer online consultation as a way of communication with the seller and 92% of them are totally satisfied with it.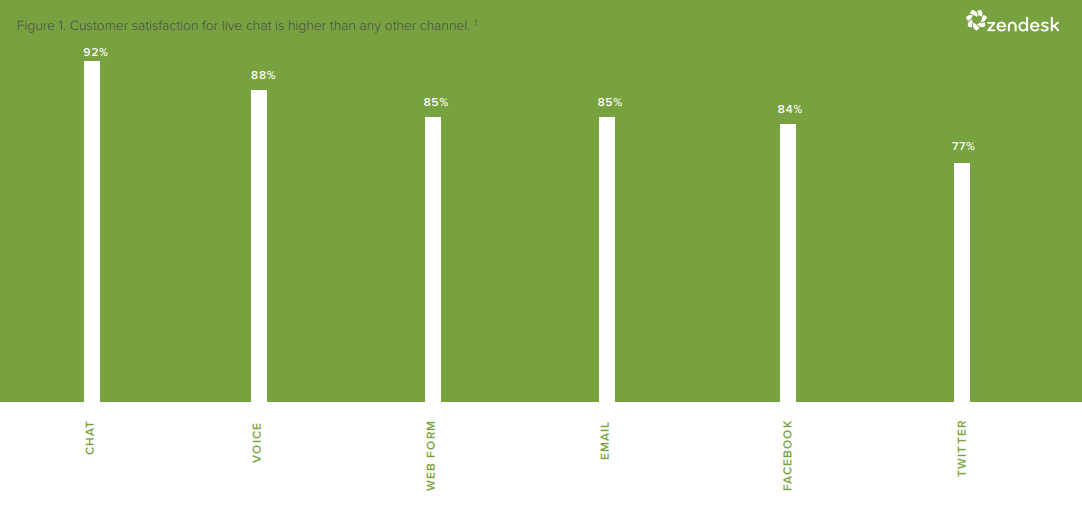 Live chat software advantages for site
There are several feedback types: to make or order a call, send an email, etc. However, the visitor is not always in the mood for talking to somebody, waiting for a callback or email reply. Sometimes, people simply don't have enough time for it, but getting the needed pieces of info is necessary.

This is the main live chat upside for the user — a suitable feedback form is always right at hand. You don't have to go to other pages for emailing or sending a message. Everything is much faster, easier and user-friendlier.

For site owners adding such a tool also means many advantages. Furthermore, all of them positively influence the conversion:

Loyalty. Accessible service and quick reaction to the customer's requirements show your care about the clients. This improves trust and increases the chances that the client will be back for a new purchase.
Goods/services promotion. While talking with a customer, an agent can suggest having a look at other goods, site sections which may call the customer's interest. This is a great way to lead the client to the target action — purchase.
Individual approach. Live message exchange allows both seller and buyer to communicate in a "single language". This also positively affects the customer's trust and seels-rates.
Time-saving. Unlike while talking via phone, one agent is able to lead several chats at the same time.
Investigation. All the chats are saved and on their basis, we can form statistical reports concerning the most frequent customer's problems, deal with various site's issues: both informational and technical.
These are not all the upsides. Using such a tool has an individual character and in different cases, it is differently useful according to the site goals, sphere specificities, etc.
Live chat software disadvantages
However, live chats have also some shortcomings. If the tool was adjusted and is used wrongly, it can negatively influence the site performance:
it may be extremely obsessive. Quite often site owners make the chat widget too big, add useless animation and sounds which do nothing but irritate users;


design of the chat may not meet the general site design and conception. This looks at least ridiculous. Most of the live chat software providers allow their users to adjust the chat design. However, site owners often ignore such an option;


if the site isn't optimized and works slowly, this widget will slow the page loading speed further. This will also negatively affect site performance, ranking and sells.

In order to avoid these problems, it is better to check the site statistics after 1-2 months since the tool had been added to the site. If there aren't any positive results, it worth thinking off whether the consultant adjustments are correct and whether it is needed at all. However, a correctly adjusted tool won't negatively influence performance.
There are two types of online chats: inactive and active. The former is launched only when a user wants to open it themselves. The chat becomes available after a click on an icon. The main problem of such a type is that the user may not do this and simply leave the site.

Active one opens automatically. The moment it happens depends on settings. The key options may be some particular visitor's actions, the time spent on the website, etc.

It is essential to choose the right moment for the widget's activity. There is a common mistake when the tool is adjusted so that it is automatically launched without any need. For instance, a user has just entered the site and the support team already suggests their help, although nothing has happened yet. It is important not to overtry and not to make the service obsessive.

Some services provide free live chats for sites. In most cases, the free version has restricted functions. However, it still can be pretty useful if you:
don't require additional data protection;

can go along with other company's logo;

don't need to control the software activity.

Whether default functions are enough or not depends on your goals and tasks. This also influences pricing. Let's consider the most popular live chat providers.
Zendesk chat
— this is one of the most popular live chat providers. They offer their clients four tariff plans according to the version of the software and functions you would like it to have. All of the widgets can be customized regardless of the version.
Lite — it is free and means having 1 concurrent chat. Moreover, you are provided with a 30-day chat history;


Team — pricing starts from $14 per month. Means unlimited chats, 2 triggers which let you automatically create actions based on specific criteria. Also, you can group your agents into no more than 2 departments;


Professional — pricing starts from $29 per month. Create an unlimited number of triggers and departments. Allows adjusting chat routes and provides conversion tracking;


Enterprise — pricing starts from $59 per month. The version includes all the mentioned functions but also has lots of advanced ones providing you with all the needed data concerning your customers and site performance. Also includes many widget settings.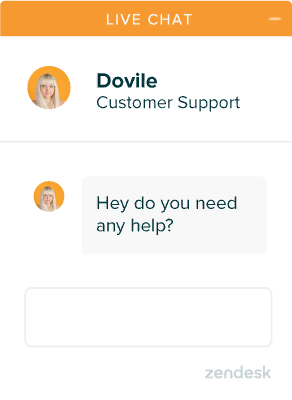 Intercom
offers three tariffs with 14-days trial period. The basic functions suggested in all of the widget versions are:
ability to manage conversations from both email and chat;

collaboration with other agents to solve customers' problems;

integration with Hubspot, Google, etc.

The pricing starts at $38 per month, while the price for Premium version is determined personally according to the chosen functions and VIP services.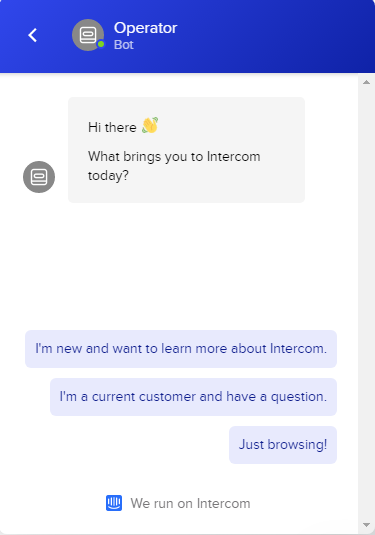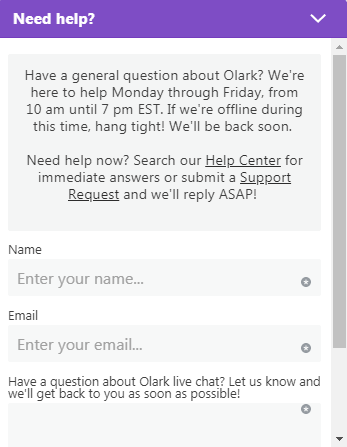 Let's consider Zendesk as an example of how to install and adjust the widget to your site. In section "Pricing" choose the needed plan. In our case, as for the sample we use Support version, but you can choose any other suitable option. To install the live chat you need the following:
Get registered on the site. After clicking the plan, you will see a registration form where you have to enter your email and create a password.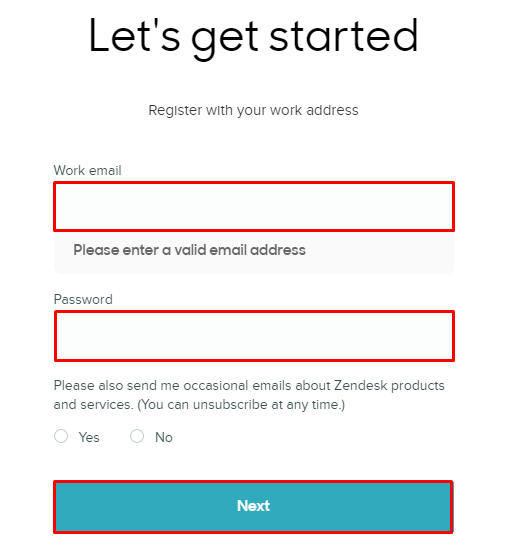 Then you have to enter your company's name, choose its size and enter some contact and personal data. At the end of the registration, to your email will be sent a message from the service.
Set up the widget. Choose the needed option and click "Set up".

Implement the chat. There are plenty of ways to do this. Let's consider the quickest and easiest of them.

Copy the widget code and paste it to the root folder of the site before the closing </body> tag:
<!-- Start of YOUR_COMPANY_NAME Zendesk Widget script -->
<script id="ze-snippet" src="https://static.zdassets.com/ekr/snippet.js?key=feeae2ff-c5a1-40c0-9f99-333a2f5ce08d"> </script>
<!-- End of YOUR_COMPANY_NAME Zendesk Widget script -->
Refresh the page. Now, the live chat is installed to the site. In the dashboard, you can change various settings, track visitors, view analytics and manage the software function, change its live chat design, etc.

All the widgets work and are installed in the same or pretty similar way. So, if you have chosen another service, there also shouldn't be any problems while installation.

Live chat is a great way to increase sales. This tool helps to keep a client on the site, improve customers' loyalty and general service quality.

Support service live chat suits best for online stores and big websites with a large amount of information or products.

This article is a part of Serpstat's
Checklist
tool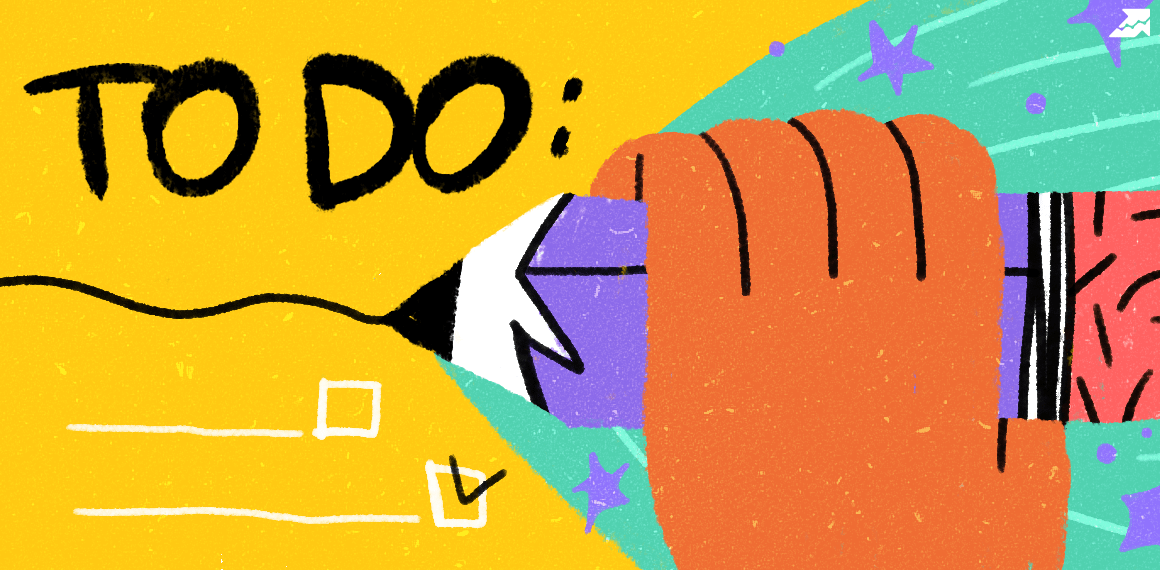 " title = "How to add a live chat to a site 16261788304063" />
Checklist is a ready-to-do list that helps to keep reporting of the work progress on a specific project. The tool contains templates with an extensive list of project development parameters where you can also add your own items and plans.
Speed up your search marketing growth with Serpstat!
Keyword and backlink opportunities, competitors' online strategy, daily rankings and SEO-related issues.
A pack of tools for reducing your time on SEO tasks.
Found an error? Select it and press Ctrl + Enter to tell us
Cases, life hacks, researches, and useful articles
Don't you have time to follow the news? No worries! Our editor will choose articles that will definitely help you with your work. Join our cozy community :)
By clicking the button, you agree to our privacy policy.