AdWords for SEO? WHAT? Or How AdWords Quality Score Metric Affects Search Engine Rankings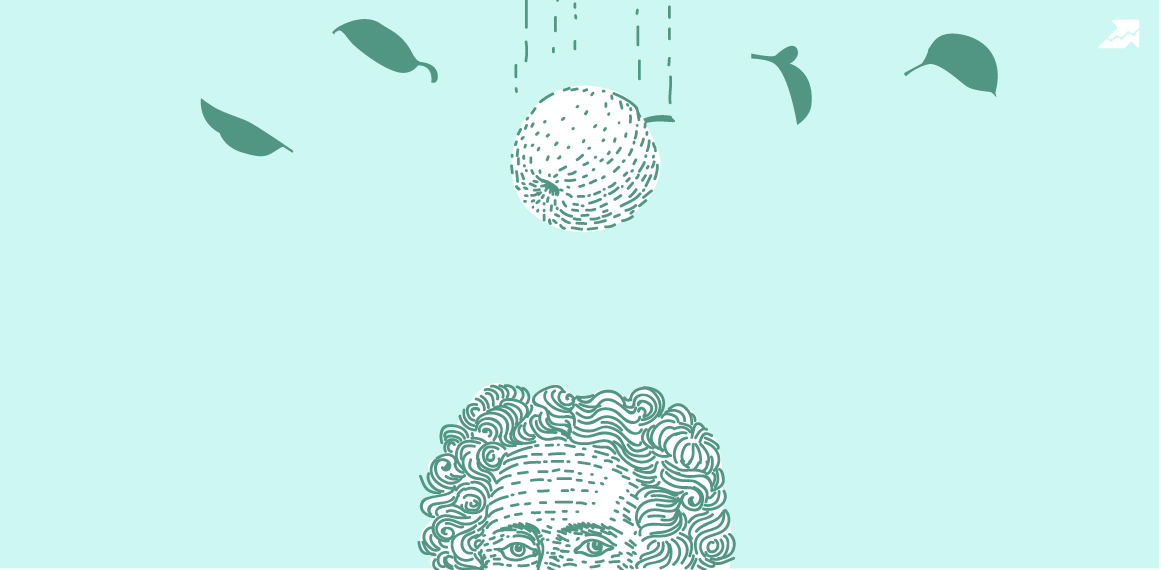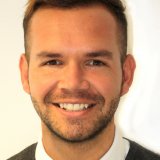 James Cox
Managing Director at JRC Marketing — an ROI driven digital marketing agency.
If you have been in the PPC and SEO game for a while now, no doubt you have come across many blogs that state that there is no relationship between PPC and SEO regarding success.

This, for the most part, is true. Spending more money on PPC won't do anything to improve the search engine ranking position of the keywords you are bidding on. However, spending money on PPC and achieving good quality scores can, in fact, help you with your SEO strategy.

Quality score is Google's main "go to" metric along with the cost per click bid you set when Google decides where you appear on the search results page for PPC ads. Quality score is made up of 3 main components, historical & expected click- through rate, ad relevance, and the landing page experience.

We have a number of clients for whom we perform both SEO and PPC management. We wanted to go beyond just using PPC to identify keywords to target for SEO. Everyone uses good performing PPC keywords as their SEO focus. It's logical, these keywords make money and produce good ROI when paying for them, so they can produce an even higher ROI if you rank organically and don't pay for them.

We started investigating the correlation between Quality Score and the ease of raising a web page's search engine ranking position. When Google is giving you a good quality score, what they are also doing is saying "hey, this page is a really good fit for keyword x, and on top of that, the wording you used in your ad seems to be relevant and get higher than usual CTR's." What we found was this, when a page has a PPC quality score above an 8, it was considerably easier to rank that page organically in a shorter time frame.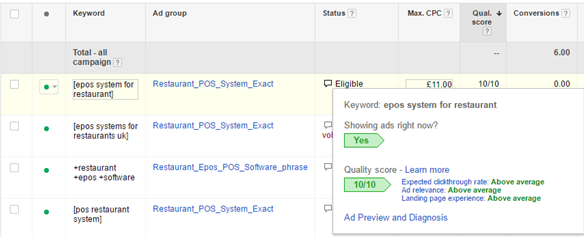 Simply by reusing a similar piece of copy to the PPC ad as our meta description, and by implementing a solid backlinking strategy with focussed anchor text, we significantly reduced the number of weeks it takes for us to rank a website on the first page. When you look at keywords with a quality score of below 7, we found it took up to 8 weeks longer to make the same progress.

At the screenshot below there's a client's AdWords account. As you see, we have very good QS for +restaurant +epos +software and closely related terms.

Seeing this as an indication from Google that the page we were sending that keywords traffic to was an appropriate one (the keyword is highly relevant to the web page), we utilized that page as part of a backlinking strategy focussed around the keyword term restaurant epos software. It's worth bearing in mind that you should only focus on keywords that you know will bring "the right type of traffic," you should not just begin building out an SEO plan for every high-quality score keyword.


After implementing a backlinking strategy in the form of guest posts, infographics and outreaching integration partners utilizing the anchor text as the keyword but also in other varied forms closely linked to the keyword, we were able to increase the rankings of the keyword in a remarkably shorter time span. Below is a 90-day screenshot showing rising and steadying rank as well as rising impressions and clicks.



So, what does this tell us?

As an SEO practitioner, it becomes obvious that PPC data can go beyond merely identifying keyword search volume and keywords that perform well vs. a certain goal, be it an inquiry or sale. We can harvest that PPC data and the checks that Google carries out on PPC accounts to ensure that we get the web pages we want to rank into the optimum position to easily rank on page 1.


The quality score component of AdWords is a great health check of on-page optimization for a given keyword. It's also works for demonstrating what meta description copy will deliver the best click-through rates. Most SEO's simply ensure the keyword text is in the meta description.

However, PPC managers have to go one step further and try to ensure their ad copy is engaging enough to "win a click" vs. their competitor's ad. Applying this same philosophy to organic listings in meta descriptions not only delivers more traffic but also helps you to increase your search engine ranking position, as Google recently confirmed that SERP CTR is an algorithm factor.

Thus if you're in position 9 and get better CTR's than 7 & 8, Google will take note and assume that your website page is a better fit for that keyword query as more people are clicking on your link vs. links higher up the page.


How can I implement this?

Look into your AdWords account and find the top performing keywords for your set goal.

Experiment with the ad copy and landing page copy as well as your bid until you get to a quality score that is above 7.

Alternatively, identify keywords that work for your set goal but already have a quality score of 7 +.

Implement a backlinking strategy to secure high Domain Authority links with the chosen keyword or cluster keywords as your anchor text.

Monitor the results & repeat.
Speed up your search marketing growth with Serpstat!
Keyword and backlink opportunities, competitors' online strategy, daily rankings and SEO-related issues.
A pack of tools for reducing your time on SEO tasks.
Found an error? Select it and press Ctrl + Enter to tell us
Cases, life hacks, researches, and useful articles
Don't you have time to follow the news? No worries! Our editor will choose articles that will definitely help you with your work. Join our cozy community :)
By clicking the button, you agree to our privacy policy.