Before promoting your social media networks, you need to analyze your competitors and borrow the most successful strategies from them. Read this article to learn how to conduct social media competitive analysis and what tools to use.
5 steps of social media competitive analysis
First of all, you need to make a list of your main competitors. Enter a niche keyword to Serpstat's search box and go to "Keyword Research," then "SEO Research" and finally click on "Competitors."


Then you need to choose first 15-20 links and analyze each of them to make sure that this or that company is your competitor. Then you need to find social media widgets on the main page of these sites and have a look at them. The widget's position depends on the design of the site but they are usually placed at the top or the bottom of the main page. Here is how widgets usually look like:


Then you need to analyze their social media and answer these questions:
Does your target audience use social networks?
Which social media are the most popular among your target audience? And thus which social networks to choose for your promotion?
How should the perfect public in your niche look like?
What type of content do your competitors post?
How often and when should you post it?
What products or services of your competitors do their customers like the most?
Answering these and other questions will help you specify the goals of your social media marketing strategy.
Assess the most important parameters of social media competitive analysis
Basic data that you should pay attention to while conducting social media competitive analysis:
A significant number of subscribers makes no sense if the most of them are passive subscribers. But you should take this parameter into account just to assess whether it makes sense to create company pages on social networks and if yes what social media to choose. You need to compare and find out which social media has the biggest audience of your potential customers.
Use
Rival IQ to find this out. You can analyze the unlimited number of your competitors on such social networks like Twitter, Google+, Facebook, Instagram, Youtube and compare their benefits with yours. To get this data create an account, enter your company website and add the websites of your competitors. Then click on any social media icon on the right and go to "Detailed Metrics."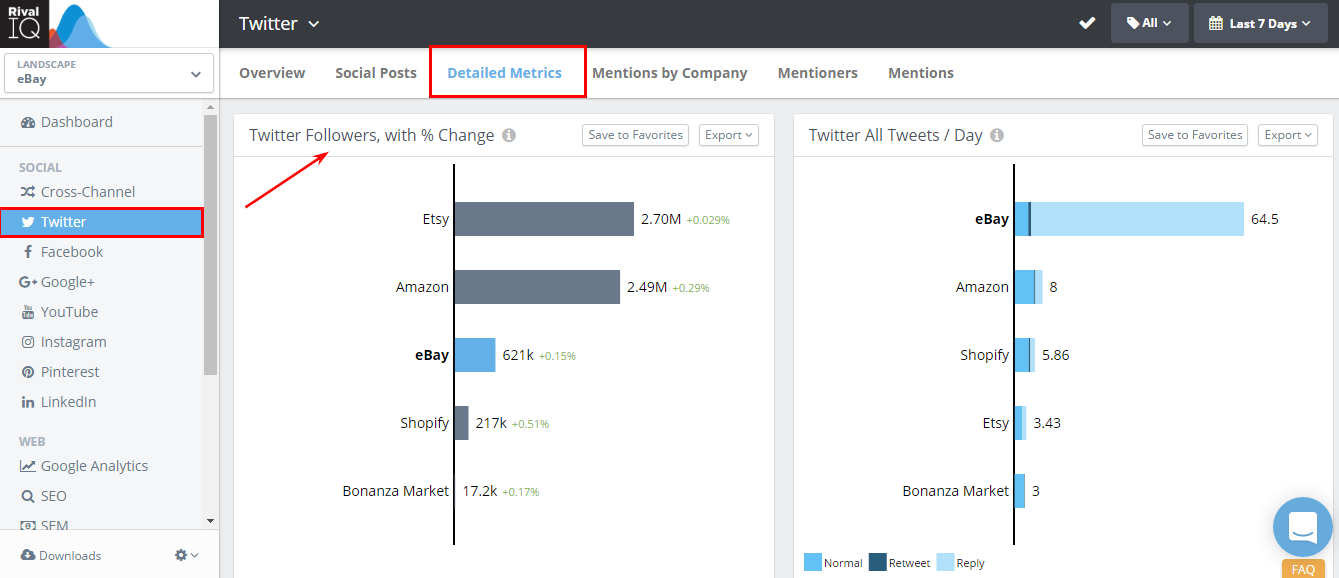 Level of social media engagement


Then you need to estimate the level of engagement (number of likes, shares, and comments) of your competitors' social networks. Using
Simplymeasured you can analyze the most popular social media. Choose the one you want to analyze and enter the business page's URL. You'll receive a bunch of important data, such as level of engagement of every page and post and also a top posts table.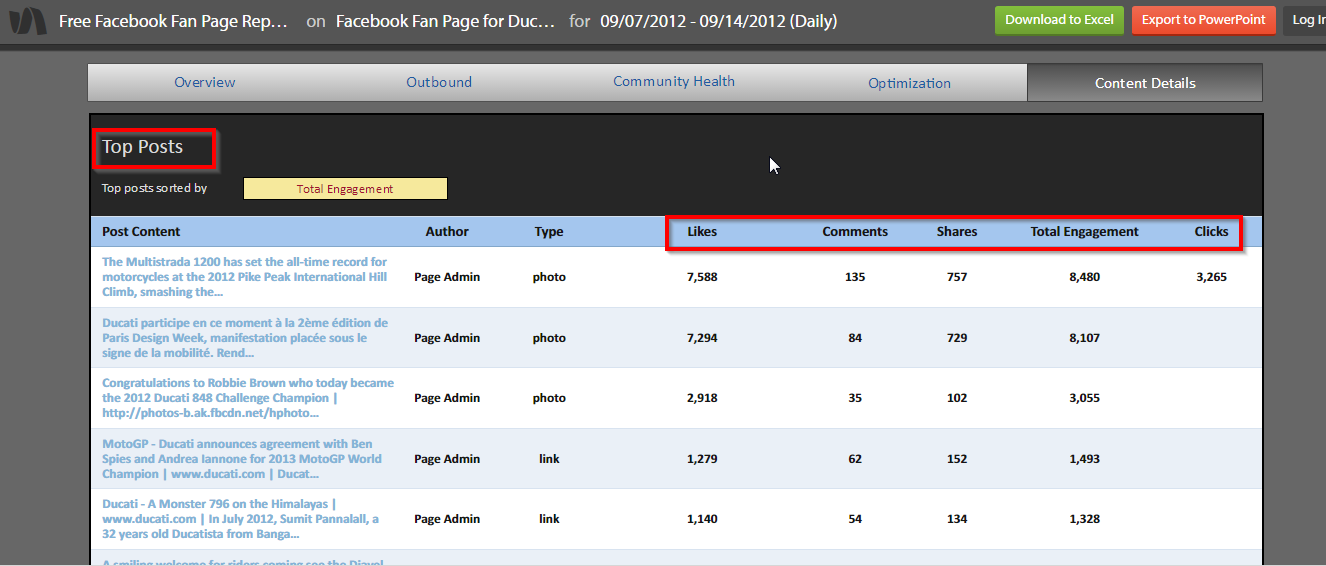 Design is a significant part of this analysis. You need to assess it to make your page look better. Pay particular attention to colors that are used for cover, icon and avatars.
Company's description on social media pages makes the first impression about the company. Analyze the descriptions of your competitors using
Rival IQ that was already mentioned above. Choose the desired social media, click on "Detailed Metrics" and scroll to "Description" part.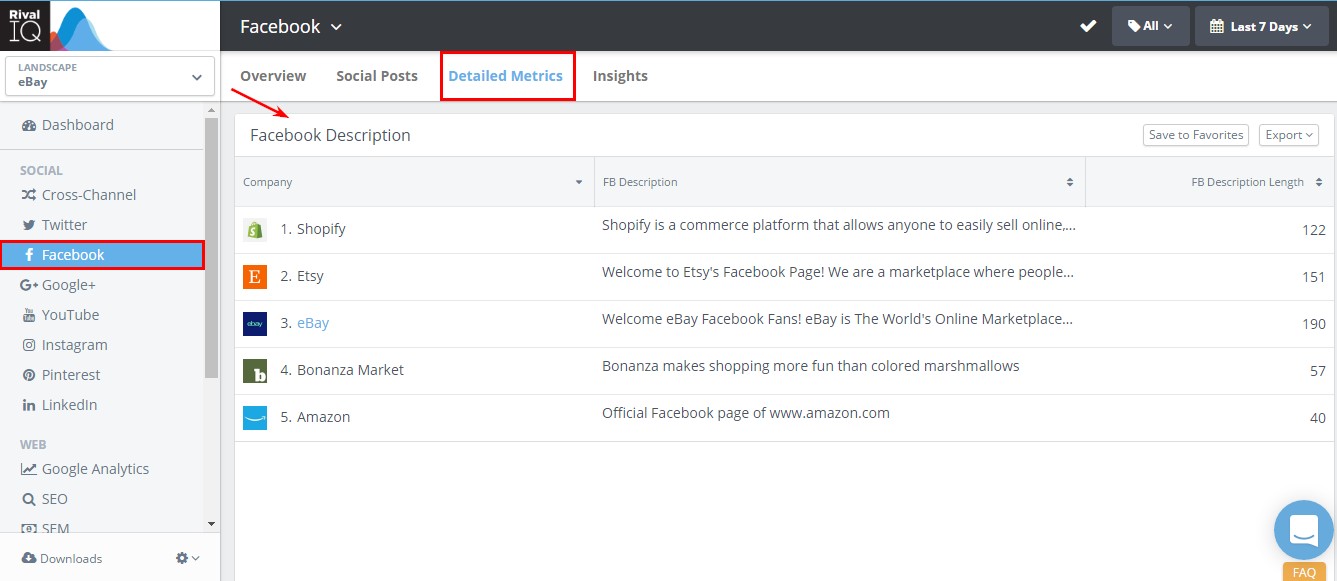 Identify the most shareable content


Analyzing the most shareable content of our competitors will help you to find out which topics your target audience is interested in. So that you'll post only relevant and useful information. To find the most shareable content of our competitor, enter the domain to Serpstat's search box, go to "SEO Research" and click on "Top Pages". There you'll see columns with the number of Facebook, Linkedin, Google+ shares. Analyze which content is the most shareable at different social networks. You can also analyze the frequency of posting using
Simplymeasured.

Track the web mentions of your competitor
Besides analyzing the competitors' social media pages, we need to find and analyze the web mentions of your competitor. It will help you to:
Analyze your target audience;


Make a list of web platforms that cooperate with your competitors and get in touch with them to tell about your brand;


Track the appearance of the new competitors in the niche or new services, unique offers of existing ones;


First of all, you need to make a list of niche keywords to track the mentions, to do this enter your competitor domain (or your) at Serpstat's search box and go to "SEO Research" then click on "Positions."

You should conduct such analysis on regular basis not just once.Track the social media activity of your competitors and the users' attitude to them regularly. This will help you follow the latest niche trends and meet audience demands. Learn new tools,
analyze competitors
and borrow the best stuff from them.
Found an error? Select it and press Ctrl + Enter to tell us
Cases, life hacks, researches, and useful articles
Don't you have time to follow the news? No worries! Our editor will choose articles that will definitely help you with your work. Join our cozy community :)
By clicking the button, you agree to our privacy policy.